Spain has some of the most diverse mountain ranges in Europe. With rugged green mountains in the north and the peaks of the Pyrenees in the west, hikers and nature enthusiasts will be glad to discover the Iberian Peninsula's "heights of life."
Travelers to Spain don't even need to be expert mountaineers to enjoy its peaks. In this country, there are mountains for climbers of all levels, and depending on the range, sometimes you can take a ski lift or a gondola up to a mountaintop to avoid a long trek. Here are the most beautiful mountain ranges in Spain to visit on your trip.
1. Sierra Nevada: The Snowy Marvel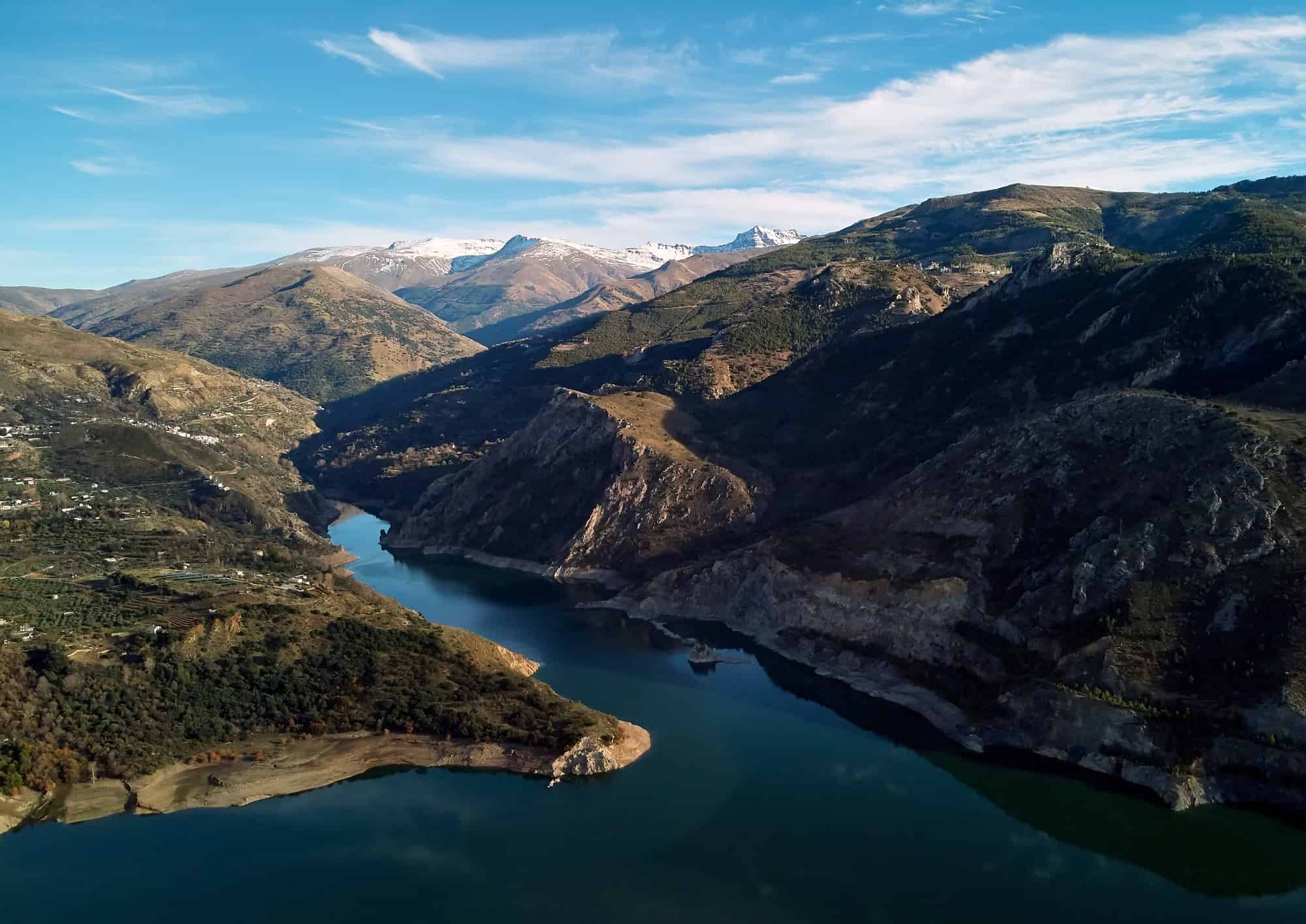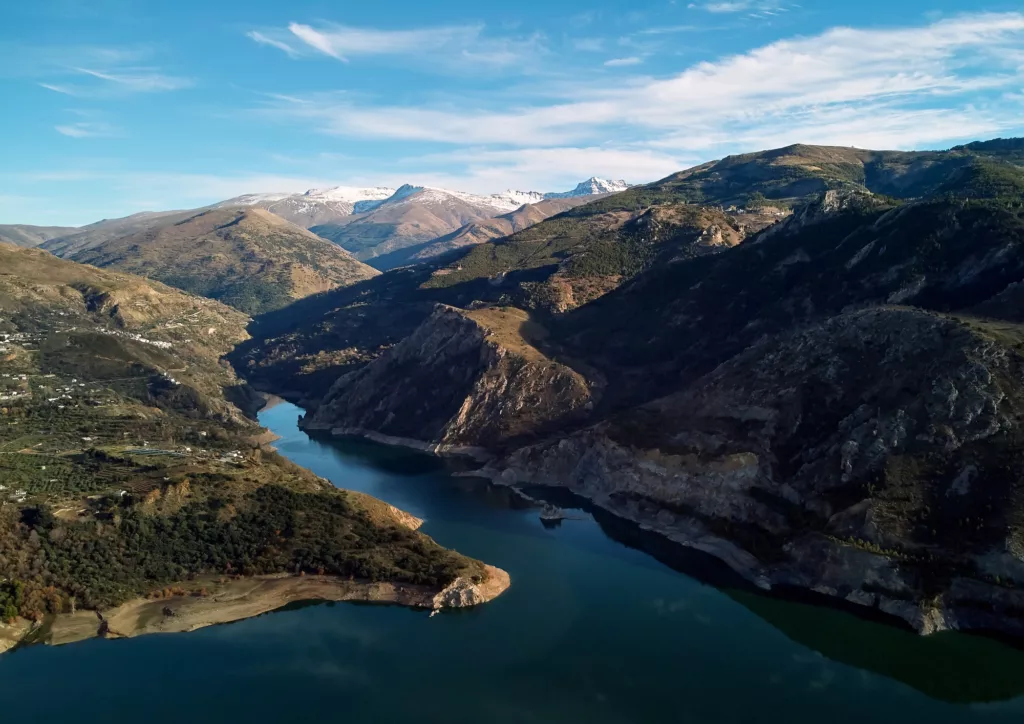 The Sierra Nevada is Andalusia's snowy marvel, towering majestically over the city of Granada. The range contains the highest point of continental Spain at 3,479 meters above sea level, making it a great destination for expert hikers. 📍 Sierra Nevada location.
The Sierra Nevada is also a popular tourist spot for skiers due to its high peaks, and it's one of the few places in Andalusia where you can see snow in Spain during the warmer months. The Sierra Nevada has a similar vibe to the European Alps and the North African Atlas mountains, and they were actually formed by the same mountain-building event over a million years ago. Therefore, when you visit the Sierra Nevada mountains, you are stepping foot on a prehistoric wonder.
2. Serra de Tramuntana: Mallorca's Gem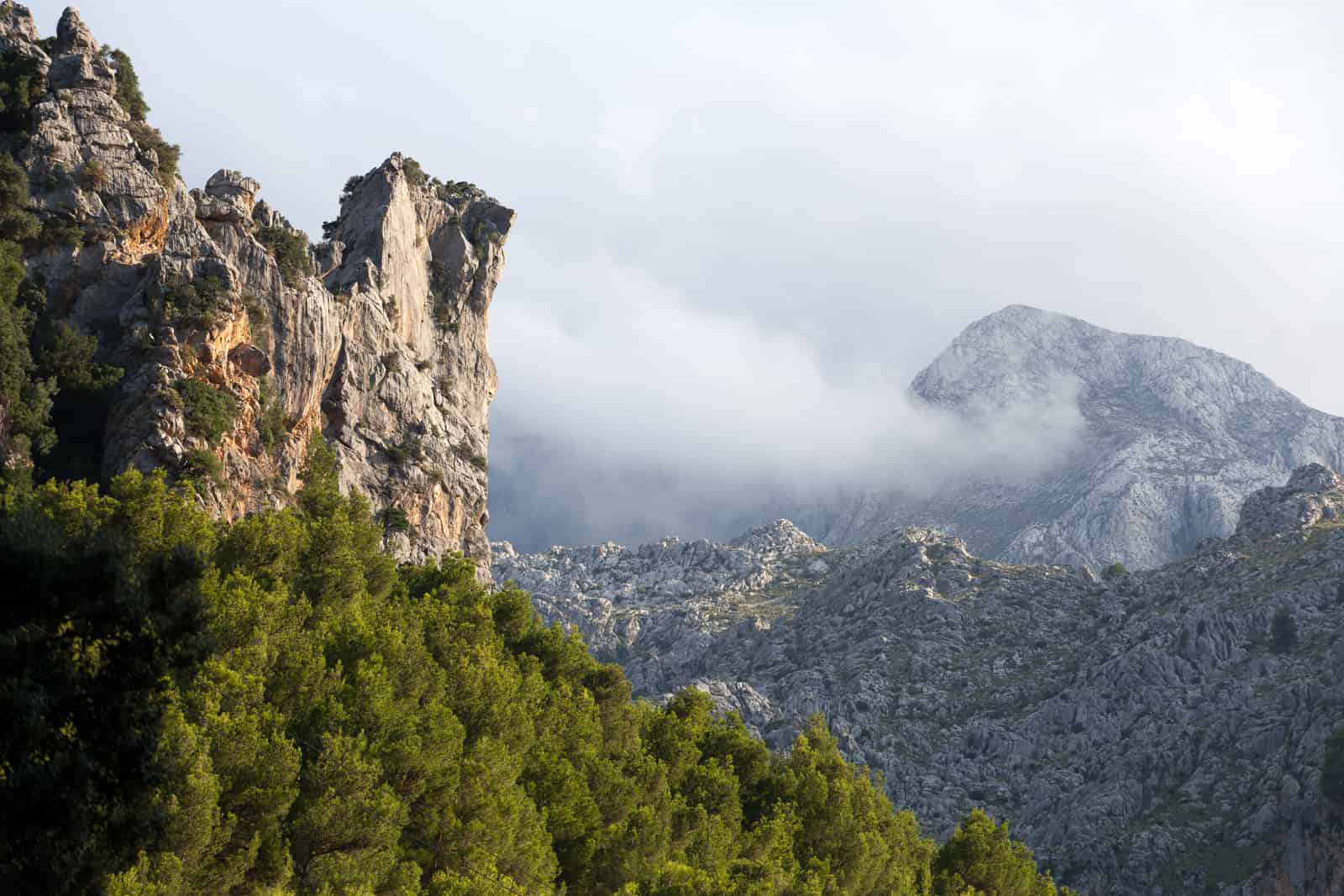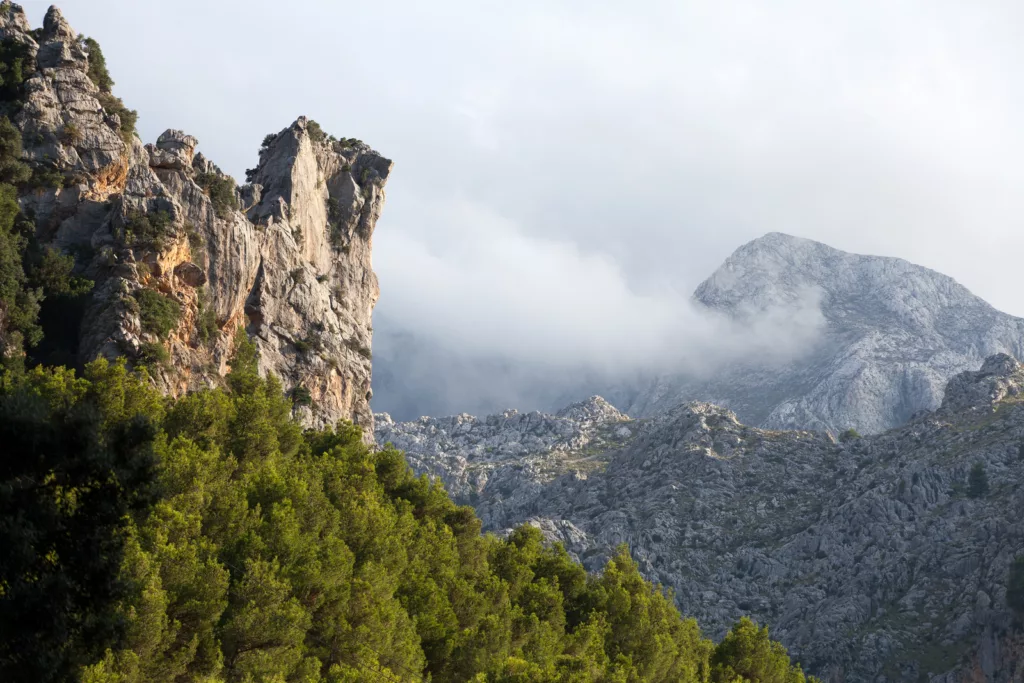 The Serra de Tramuntana has some of the best views in Mallorca, providing an awesome nature activity for those visiting the island. The range runs the length of Mallorca's northwestern coastline and extends for over 90 km, giving tourists multiple spots to see the turquoise waters of the Balearic Sea. 📍 Serra de Tramuntana location.
In 2011, the Serra was declared a World Heritage site by UNESCO due to its amazing landscapes, so it's definitely something that tourists to Palma can't miss. You can wander through forested hills and stumble upon barren crags and peaks on its trails. Plus, derelict blonde stone houses, monasteries, and picturesque villages along the way help give the range a timeless ambiance. You can even see the towering mountains from the beaches with pine-covered slopes leaning into the sea.
3. Pyrenees: The Natural Border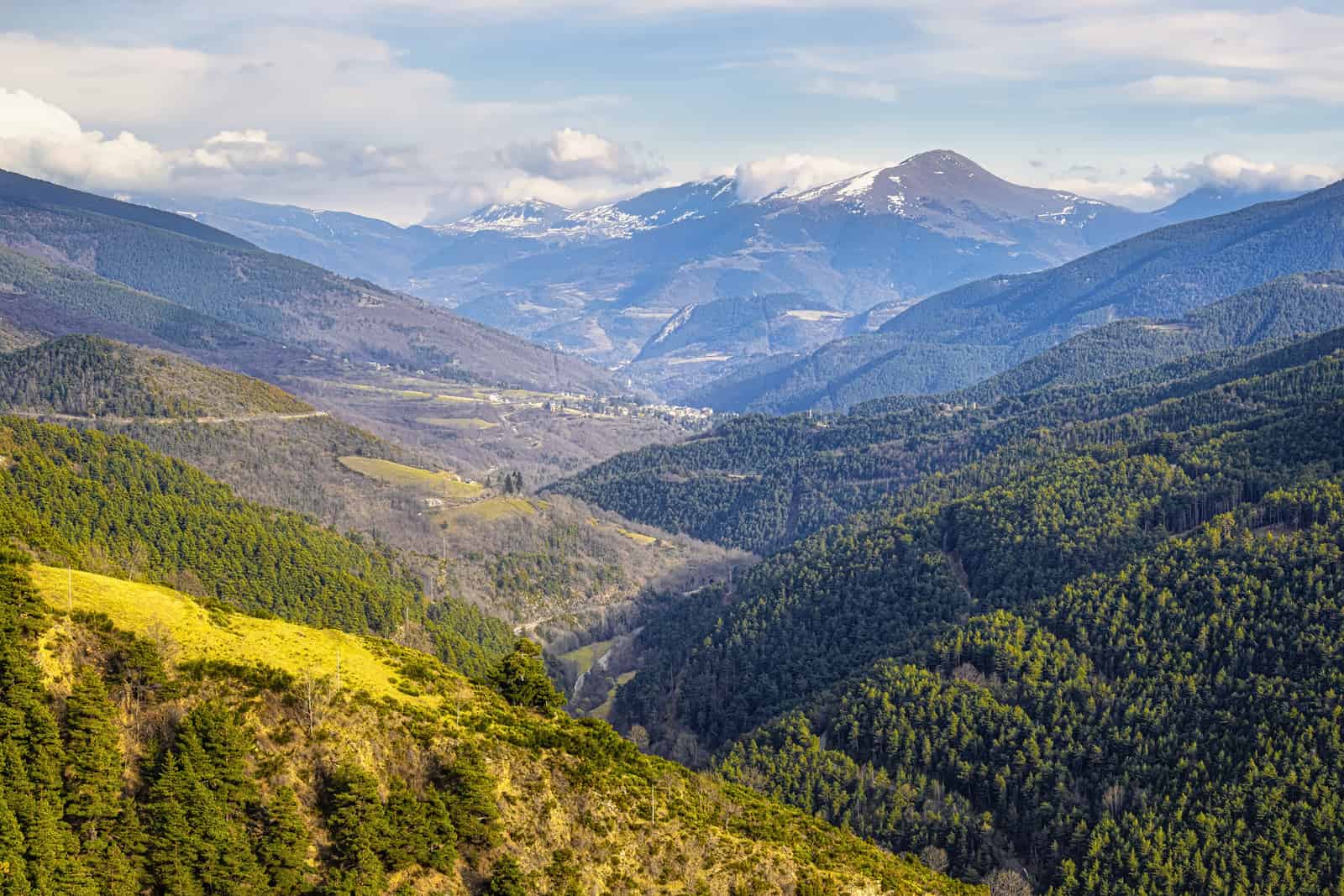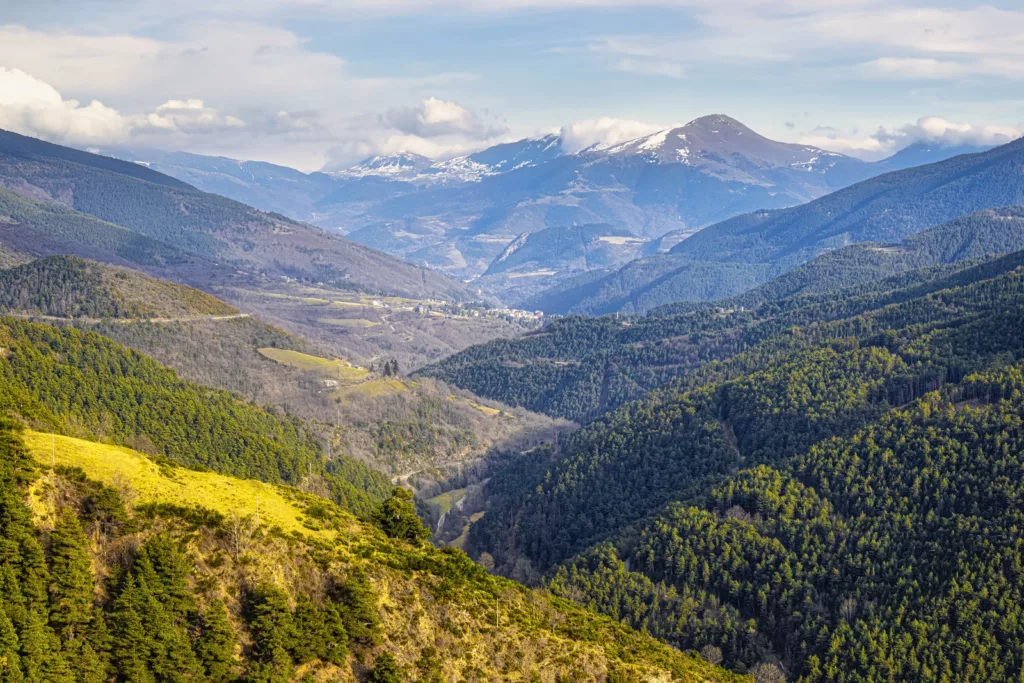 When I flew over the Pyrenees on a flight from Spain to France, I couldn't get over the beauty of its snow-capped mountains in the winter. This mountain range is known for being a great place to ski and acting as a natural border between Spain and the rest of Europe. 📍 Pyrenees location.
The Pyrenees extend for more than 400 kilometers between Navarra, Aragon, and Catalonia, and its highest peak, Aneto, reaches a maximum height of 3,404 meters, making it one of the country's most impressive ranges.
Most of the foothills of the Pyrenees are in Spain, which is good for hikers. Catalonia is one of the best regions to start a climb. If you're visiting with younger ones, you can check out the family-friendly Carros de Foc trail about four hours northwest of Barcelona. Or, if you're an experienced hiker, you can climb the Porta del Cel, the highest point of the Catalan Pyrenees. This mountain range definitely has something for everyone.
4. Sierra de Grazalema: Rainiest Place in Spain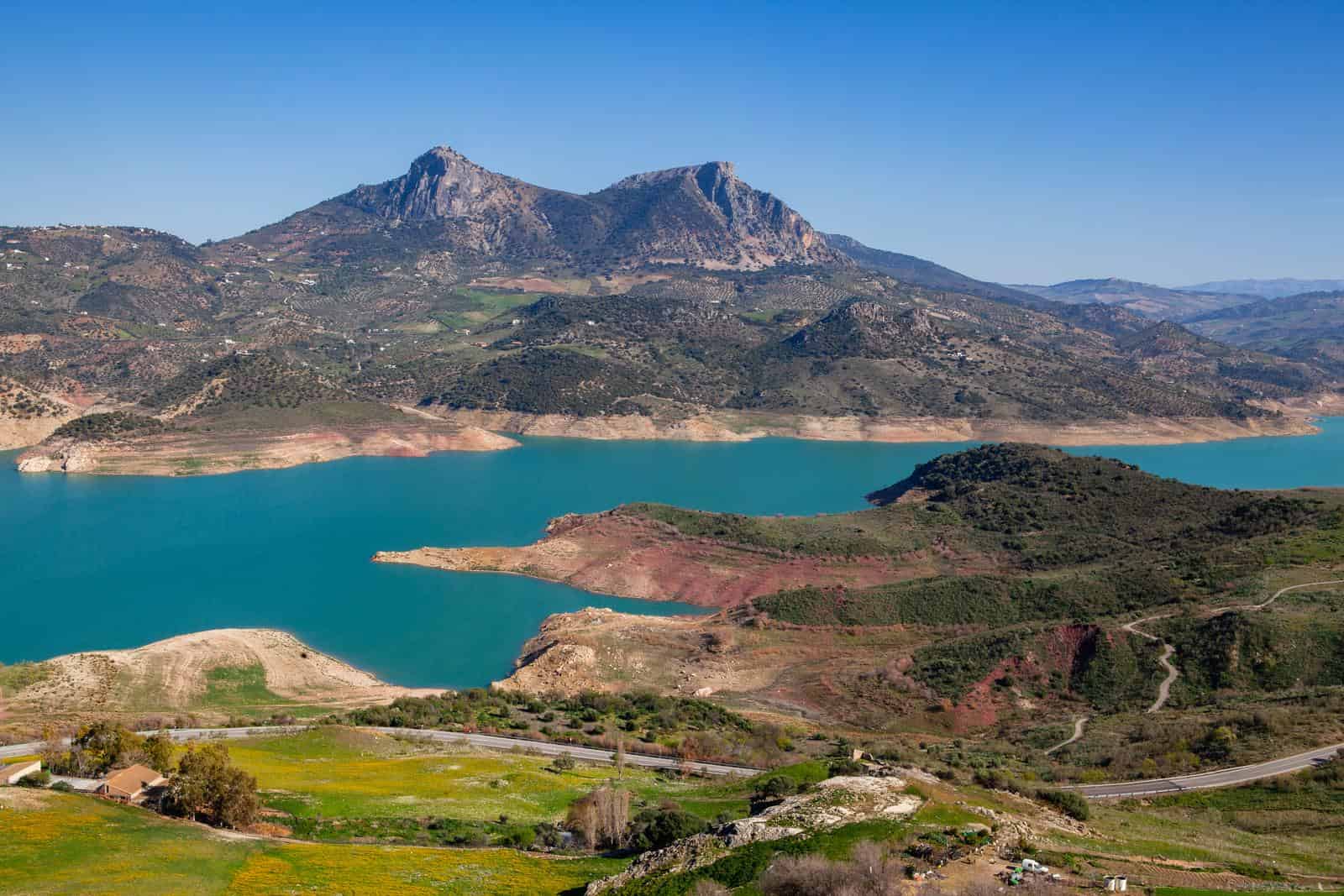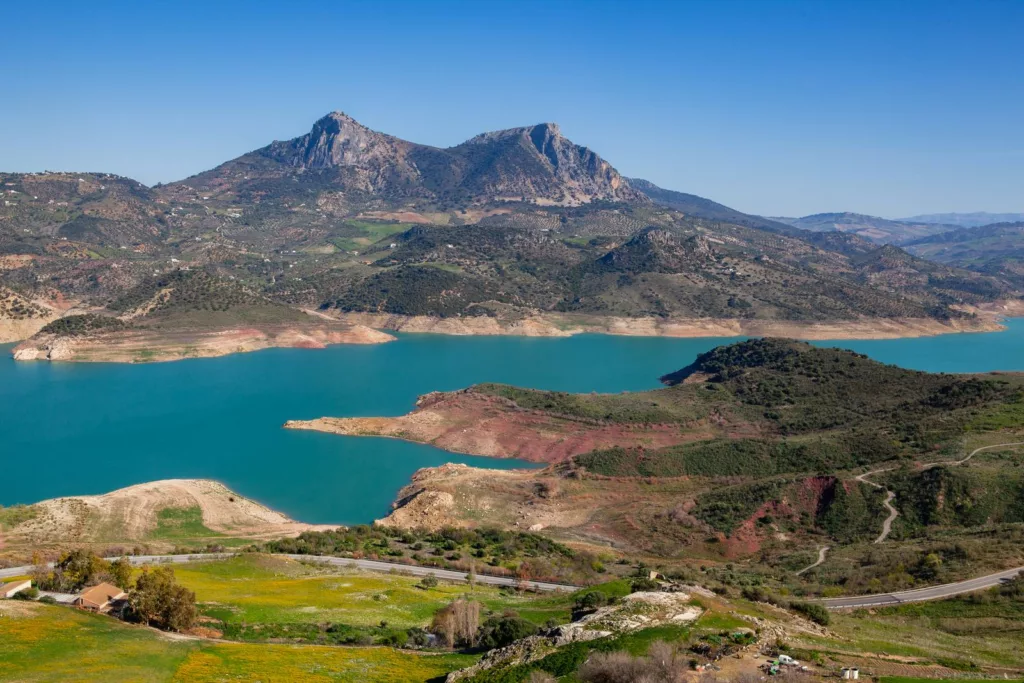 Situated between Cadiz and Marbella in Andalusia is the Sierra de Grazalema Natural Park, the rainiest place in Spain. Yes, you heard it, folks. The rainiest place in this country is in Andalusia, not the north, which makes it an interesting place to visit and hike. 📍 Sierra de Grazalema location.
The high rainfall is a determining factor for the great ecosystems and biodiversity that are present throughout the region. The Sierra de Grazalema is home to a dense Mediterranean forest of oak trees, 130 species of birds, 44 species of mammals, 24 species of reptiles, and 10 species of amphibians, so if you're a nature lover, you definitely don't want to miss it. Plus, if you're interested in beautiful, white-washed Andalusian towns, you can see those in the natural park too.
5. Montserrat: The Saw Mountain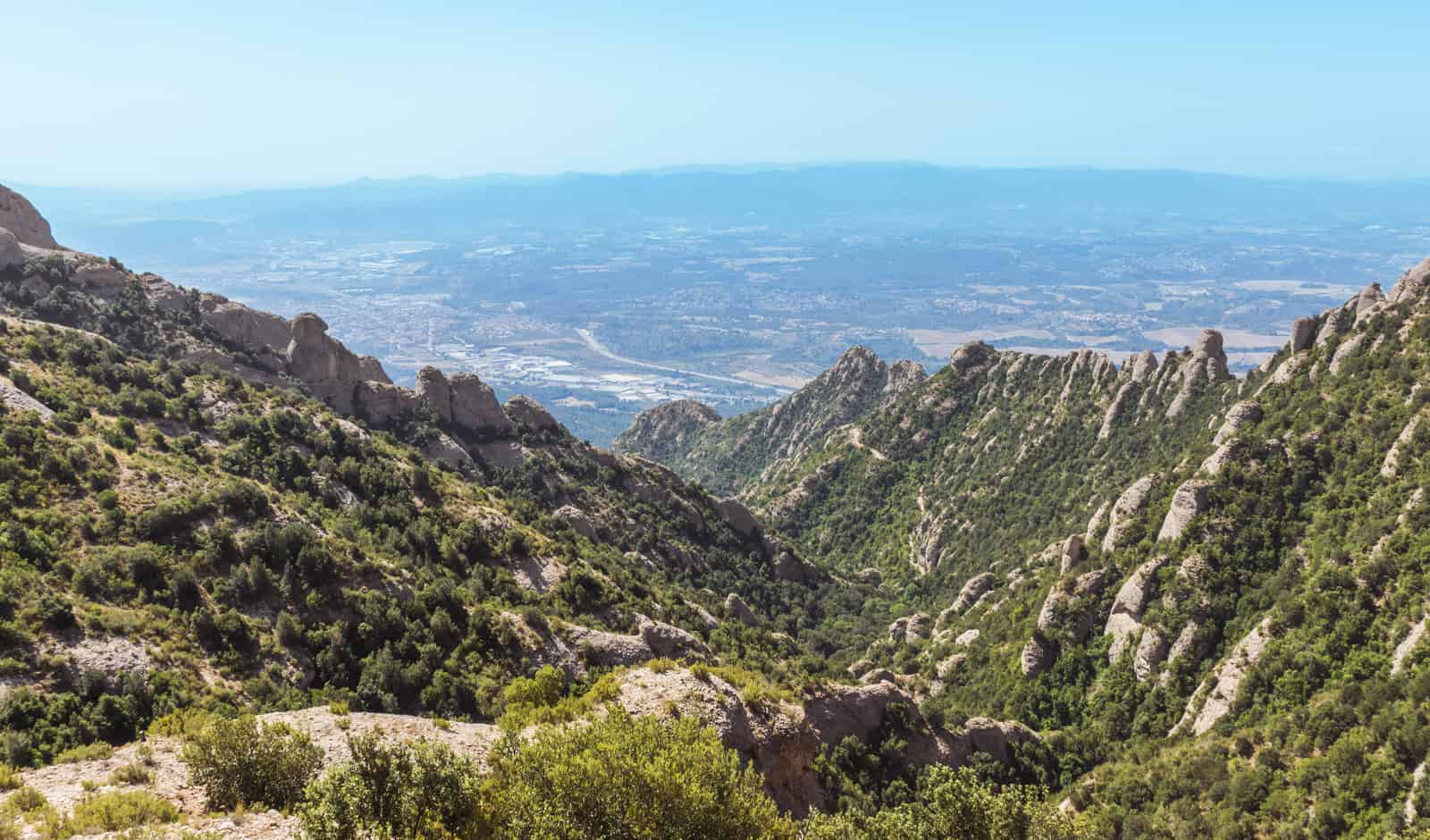 Montserrat, which means "serrated mountain" in Catalan, is both a sacred religious site and a marvel to see. The range's peaks are miraculously shaped like a saw, and the natural landmark is also home to the Santa Maria de Montserrat monastery, which houses the famous "Black Madonna" in its basilica. Montserrat is easy to get to from the Catalonian capital, just one-hour northwest of Barcelona by train. 📍 Montserrat location.
When I visited Barcelona, I did one of these tours myself, which made visiting the monastery a relaxing treat. After we got off the tour bus, we took the Rack Railway train from the bottom of the mountain all the way up to the top. The views were spectacular, and seeing the Black Madonna in the basilica, an ornate, darkened sculpture of the Virgin Mary, was awe-inspiring, to say the least.
6. Sierra Blanca: The White Range
When most travelers to Spain think of Marbella, they visualize beach partying rather than mountains. However, this white-washed resort town in the Málaga province has a gorgeous range in its shadow. 📍 Sierra Blanca location.
The Sierra Blanca's name means the "White Range" in Spanish due to the lack of vegetation on its slopes, which exposes the pale gray limestone rock. This makes it a rugged sight to behold and also gives it some of the easiest trails to navigate along the Costa del Sol in Andalusia. They include a path to the spectacular Camoján waterfall and a trail to La Concha, a craggy peak decorating the mountains' top.
The Sierra Blanca also ranks as one of Marbella's most popular areas for luxury property. So, if you're looking for a high-end stay with a magnificent panoramic view on your holiday, this is the perfect place to rent a vacation home. It's also one of the best spots for cycling as well.
7. Picos de Europa: Europe's Peaks
The famed Picos de Europa is a mountain range running through the Spanish regions of Asturias and Cantabria, 20 km inland from the Bay of Biscay. With over 150 trails to choose from in the Picos de Europa National Park, there are plenty of paths on this range for climbers of all skill levels to take. This range is perfect for hiking, from green snow-capped mountains to grassy valleys. 📍 Picos de Europa location.
However, if you don't feel like hiking a mountain, you can always access the heights of the range by cable car. One of the best trails in the national park is the Lakes of Covadonga hiking route, which leads to one of the top natural wonders in the north of Spain. You can gaze at pristine waters during a hike here and take in the fresh Asturian air around you.
8. Sierra de Gredos: The Rugged Terrain
The Spanish capital city of Madrid is teeming with a splendor of grand architecture, but did you know that there are also majestic mountains to enjoy as well? The Sierra de Gredos is a mountain range in central Spain that spans the provinces of Ávila, Salamanca, Cáceres, Madrid, and Toledo, surrounding historical regions of Spain that contributed to the birthplace of the country. 📍 Sierra de Gredos location.
The Sierra de Gredos has gorgeous vertical faces made from granite, providing high summits for expert hikers to trek up toward the sky. If you choose to climb this range, there are three lovely animals that you may see during your hike.
There's the Gredos Ibex, a wild mountain goat with large horns, the Gredos Fire Salamander speckled with bright yellow spots, and bulls that you may see walking the range's trails. Visiting the Sierra de Gredos is one of the best nature activities that you can do while visiting the big cities of central Spain. So, go hiking in the natural park to explore everything it has to offer.
9. Serra de Barbanza: Galicia's Pride
On par with Asturias, Cantabria, and the Basque Country, Galicia is one of the greenest regions of Spain, with mountains boasting some of the most breathtaking views of crystal blue water. 📍 Serra de Barbanza location.
One of the ways you can witness these gorgeous vistas is by hiking the Serra de Barbanza Mountains, located between the Muros-Noia estuary and the Arousa estuary.
Not only will you be able to see cows and wild horses, but you'll also get to see the estuaries and the Cies Islands at their peaks of 600 meters. Stay until the sunset for the view of a lifetime.
10. Sierra de Villuercas: Spain's Hidden Jewel
If you're traveling to Madrid and want to see green sierras rather than snow-capped mountains, the Sierra de Villuercas is the hidden jewel you've been looking for. This serene mountain range near Caceres, Spain, gives tourists the ultimate city break. 📍 Sierra de Villuercas location.
The natural geopark is home to more than 40 geological sites with a rare paleontological wealth compared to the rest of Spain. The archaeological sites contain materials over 560 million years old, which include sea fossils and the Cueva de Castañar de Ibor cave, an underground marvel with unique rock shapes and colors. Visitors can also witness prehistoric rock paintings, old mines, a chestnut forest, and panoramic viewpoints.
11. Sierra Madrona: Nature's Canvas
The Sierra Madrona Natural Park is full of tunnels, abundant flora and fauna, and even a volcanic lagoon. The range in Castilla La Mancha is truly nature's canvas. Prehistoric art shelters are amongst its many trails and viewpoints where you can behold colorful sunsets. You can even trek through magical oak groves. 📍 Sierra Madrona location.
One of the most interesting parts of this mountain range is its thriving ecosystem. The natural park is home to stags, black vultures, and Egyptian vultures. It also houses Iberian imperial eagles, black storks, and Iberian lynxes. Iberian wolves, golden eagles, and wild cats can also be found there. Additionally, there's the appearance of the Iberian wolf. The golden eagle, mongooses, and a variety of bat species are also present. It's practically a Spanish safari, so who wouldn't want to visit?
Why the Mountain Ranges in Spain Are a Must-Visit
Visiting Spain's mountains has truly broadened my view of the world, which is why I recommend putting some on your itinerary. Through visiting mountain ranges in Spain, I have witnessed the beauty of the Black Madonna at Montserrat, have learned how Asturian cider and Cabrales cheese are made in Asturias, have beheld the majestic Lakes of Covadonga, and have seen the Rias Baixas and the Cies Islands from Galicia's highest heights.
Spain is a country with some of the most diverse landscapes in Europe. There are emerald greens in the north, golden rolling hills in the south, and rugged, rough peaks just outside of Madrid. Therefore, if you're traveling through the country for any sort of extended time, you should try to see as much as you can. But even if you're on a short trip, taking a guided tour to a mountain range should definitely be on your bucket list.
Seeing Spain's countryside from a bird's eye view will help you connect with nature and yourself, especially if you climb one. When I climbed some of my first mountains in Spain, I felt so accomplished. Doing a 2 to 4-hour hike or even a 30-minute trail can help you get some exercise, test your endurance, and prove to yourself that you can really do anything.
Fun Activities to Do in Spanish Mountains
Overall, these mountains are must-see destinations for nature lovers of all types. You can bird-watch in the Sierra Madrona, check out prehistoric archaeological sites in Sierra Villuercas, witness radiant wild horses in the Serra de Barbanza, and venture through the craggy peaks of the Sierra de Blanca.
With tons of tours to choose from, you can mountain bike, taste wine, hike high summits, and even camp in these mountain ranges. There are dozens of fun activities to do, so why not try them all? Start planning your trip with tips and tricks from us.
Tips and Tricks for Traveling to Spanish Mountains
When choosing a Spanish mountain range to travel to, make sure that you consider regional climates and the season you're trying to visit. The climate of Spain is very diverse. There is a wet, oceanic climate in the northwest, a continental Mediterranean climate in the south, and a cold semi-arid climate in some regions in the east.
Though the regions of northern Spain have some of the most beautiful mountain ranges in the Iberian Peninsula and are attractive spots for climbers, the climate can definitely pose some problems if you visit in the fall and winter months. This is when the weather in north Spain is usually very rainy, which can prove hazardous for hikers trying to climb high mountains.
Therefore, if you're trying to visit Spain in the fall or winter, head to the south or east of the region for climbing. Don't forget your hiking boots, walking sticks, and water for your big trek.
Conclusion: Mountains in Spain
The great thing about Spain's mountains is that any traveler can visit them. If you're not fit for a climb, you can do a guided tour, and if you're an advanced hiker, there are loads of peaks that will definitely challenge you.
You don't have to be super experienced at climbing or even lower your hiking standards in this country. Spain's mountains offer a myriad of majestic possibilities for tourists far and wide. Check out our list of best airlines to fly to Spain, book a flight to one of its regions, and see the beauty for yourself.
Just letting you know
When you buy something through my links, I'll earn a small commission—don't worry, it won't cost you any extra! It's a win-win, right?
Exclusive Heymondo Travel Insurance Offer
Planning a trip? Make sure you're covered! We've teamed up with Heymondo to give our readers a special deal: 5% off travel insurance. Grab this deal and know you're looked after on your next trip.