This blog goes beyond the sunny beaches of Spain. Instead, we are taking you to the hidden Spanish countryside where narrow streets meet, cobblestones tell legends, and castles stand as silent witnesses. So prepare for a journey to Babieca, Tossa de Mar, Ujué, and many other charming villages in Spain.
However, we provide not only insights into their history and culture but also expert recommendations for tours and accommodations, saving you the hassle of extensive research.
1. Valldemossa, Mallorca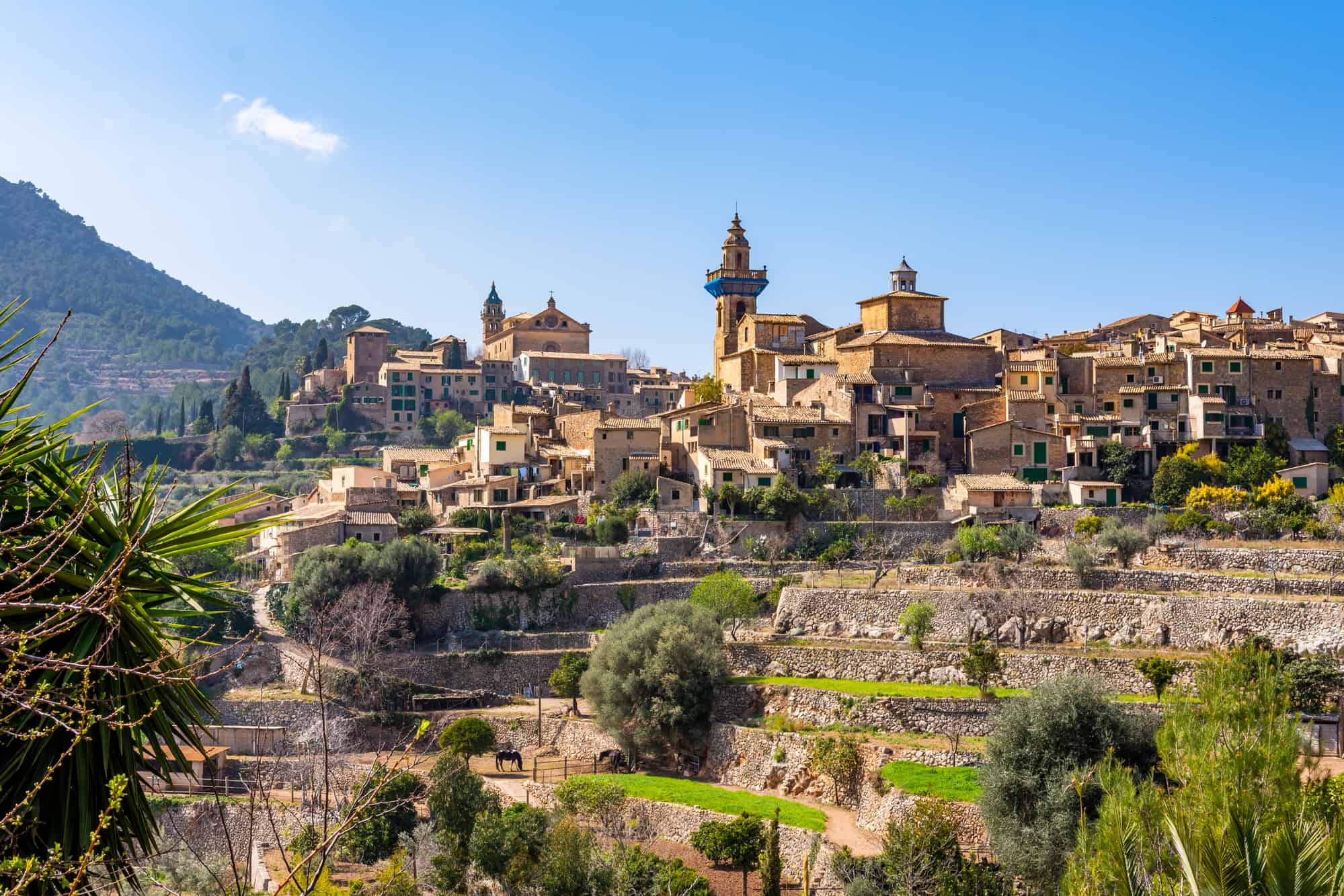 Valldemossa is an old-stone city nestled in the Tramuntana Mountains of Mallorca, with the west-coast attraction, Carthusian Monastery, lying in its heart. As you explore the monastery, pass through the cloister. Straight into the abbey apothecary, you will find a collection of 18th-century furniture preserved. Pretty cool!
2. Morella, Castellón, Valencia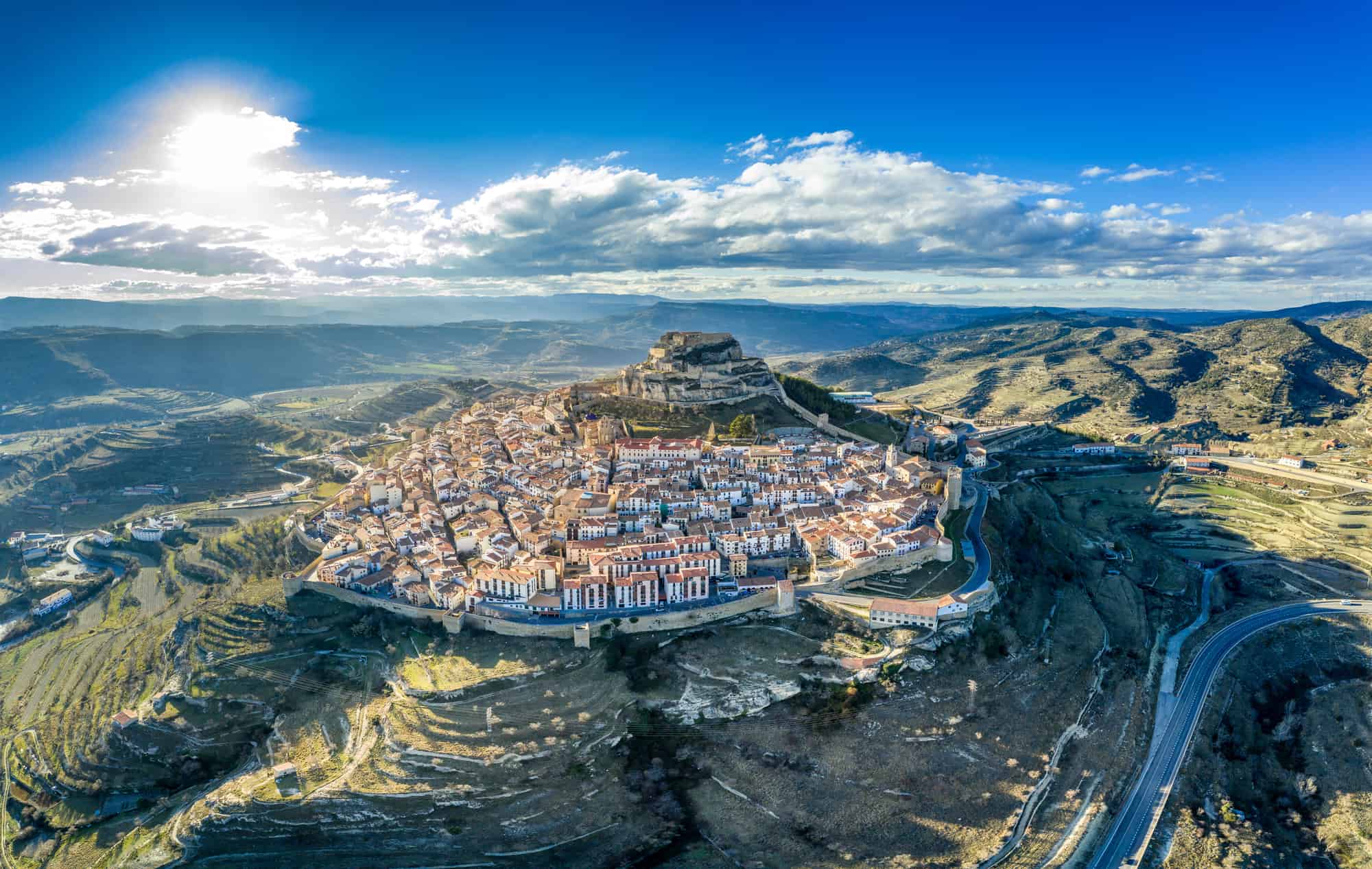 The town Morella in Castellón, Valencia, held a historical importance. Its strategic position between the Ebro and Valencia's coastal plain led to frequent conflicts from the 17th century all the way to the Spanish Civil War. Its roots trace back to the Iberians, Greeks, Romans, Visigoths, and Moors, whose echo can still be felt today.
Morella is also well-known for its 2.5 km long ancient wall that stood as a defensive wall against attackers. It encircles the old town, the castle, and the gothic basilica, Església de Santa Maria la Major in Morella.
3. Zahara de la Sierra, Andalucía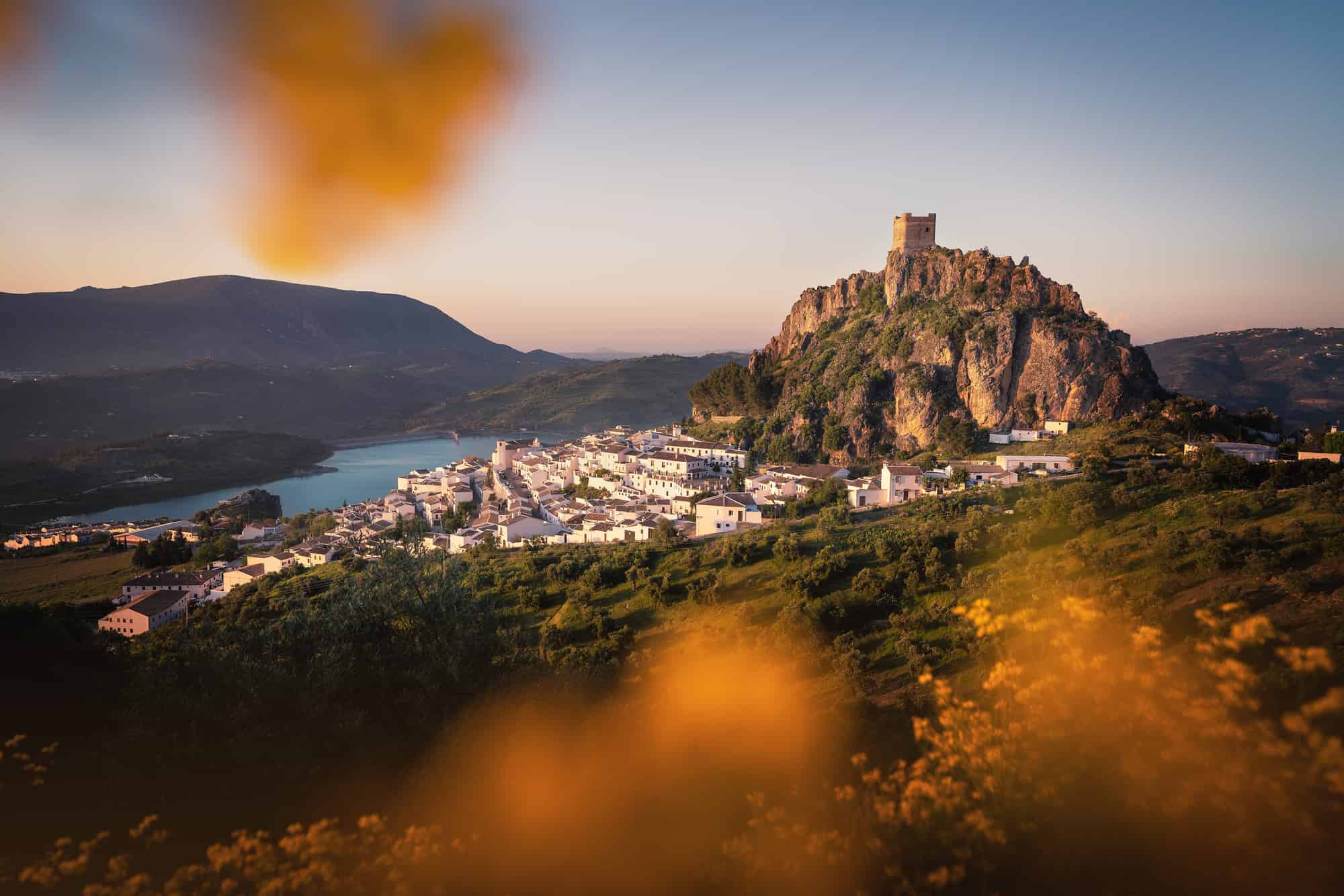 Zahara de la Sierra is a village located in the province of Cádiz, Andalusia, Spain. It is perched on a hill and features Moorish architecture, with the castle of Zahara on top, which was under Arab rule until 1407.
The village's name, Zahara de la Sierra, is derived from the Arabic word "Zahra," which means "flower" in English. It overlooks the valley, which enabled its inhabitants to see if anyone was approaching to attack. Today, this vantage point provides us with a perfect view of the Sierra de Grazalema Natural Park.
4. Frigiliana, Andalusia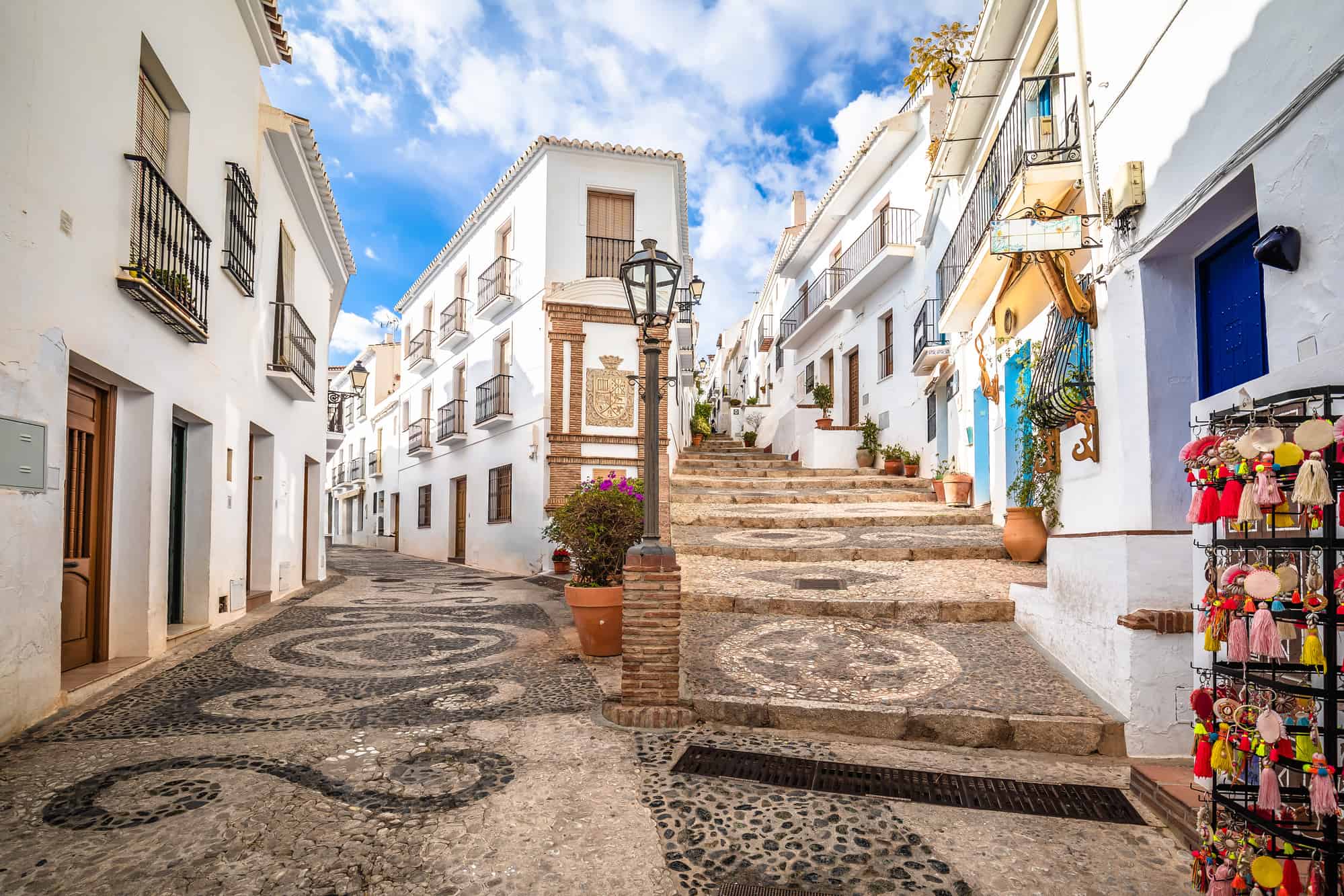 Frigiliana, the little town dressed in white in the Southern part of Spain, is only around 70 km away from Malága city. The Spanish Tourist Board voted it as the prettiest village in Andalucia.
The white-washed houses, narrow alleys, architecture, and the use of traditional ceramic tiles all display its Moorish heritage that shaped Frigilina's culture for centuries.
You can also witness its local artisan scene and take home high-quality, handmade crafts and artworks, such as pottery, textiles, jewelry, and more.
5. Pedraza, Castilla y León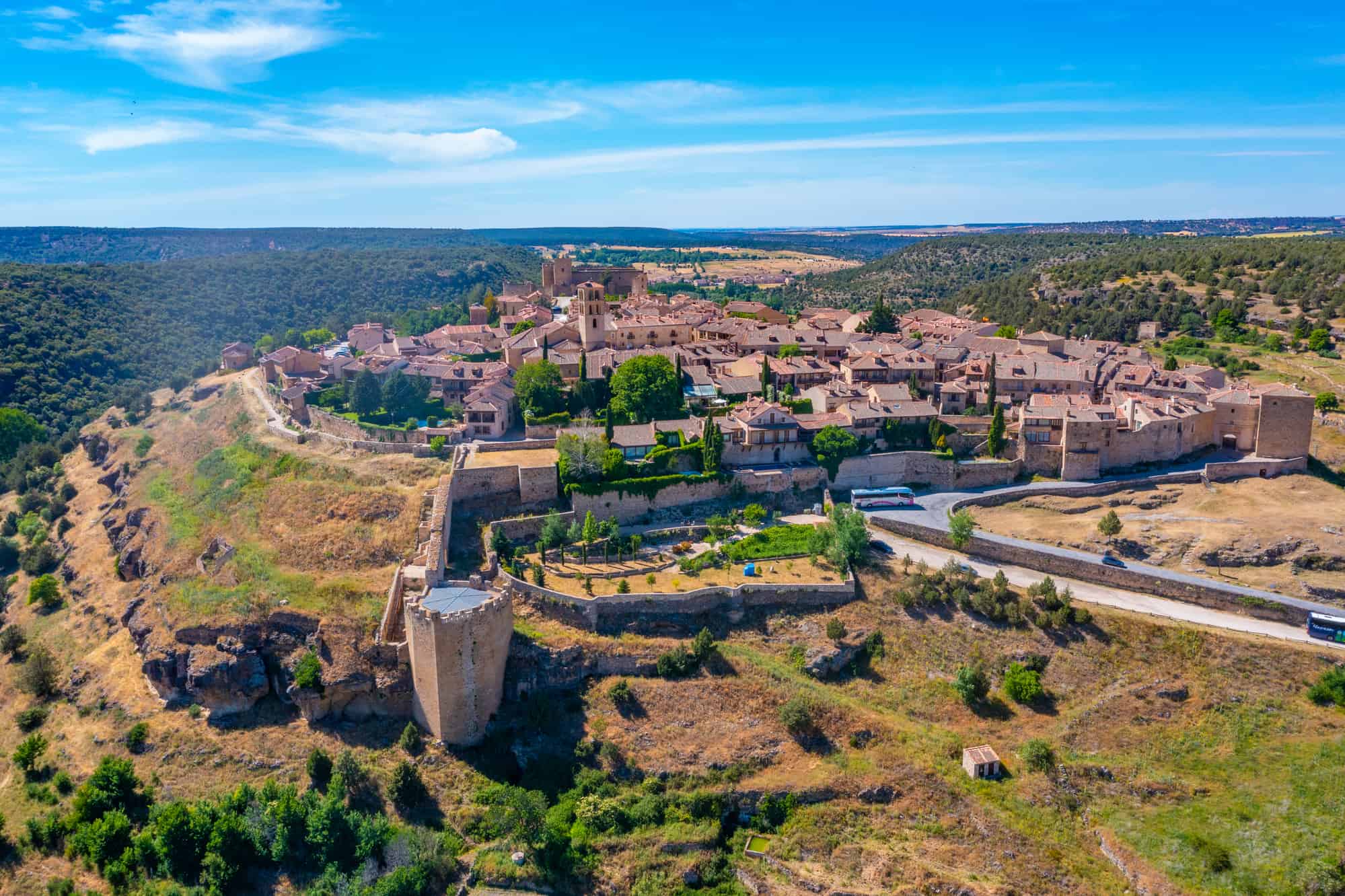 Pedraza sits in the province of Segovia in the Castilla y León region, 127 km north of Madrid. It's one of the most beautiful little towns in Spain, surrounded by a stone bastion (guard wall).
The 13th-century entrance gate welcomes visitors to admire Pedraza's cobblestone streets and the historical Pedraza castle. This preserved medieval architecture will take you back in time.  
Pedraza also hosts a famous cultural festival annually in July (first two Saturdays), known as the Concierto de las Velas (Concert of the Candles). During this festival, the town is lit with thousands of candles, creating a magical atmosphere you've never experienced before.
6. Pastrana, Castilla-La Mancha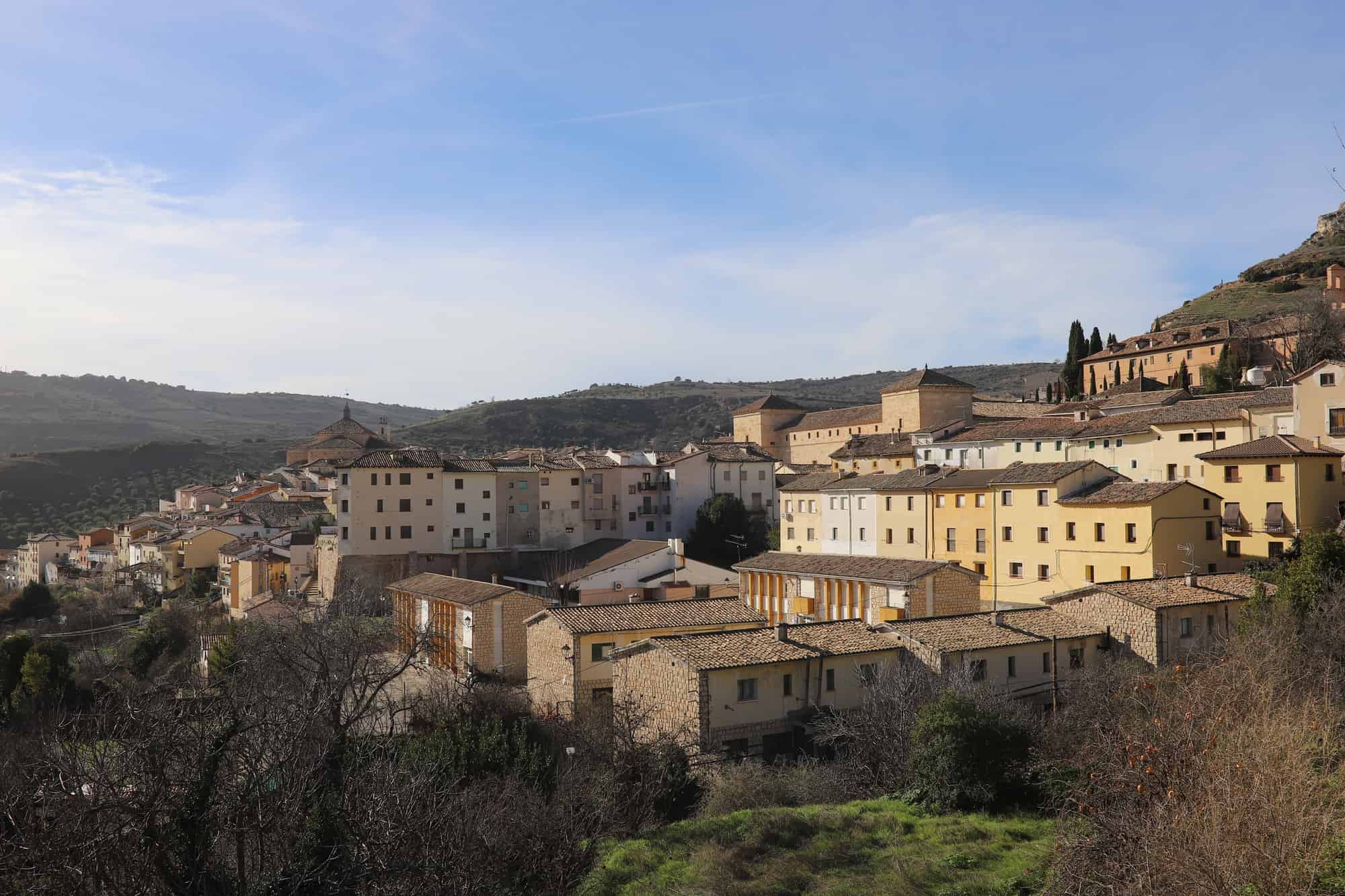 Pastrana is a village with lively, scenic streets, nuzzled in the heart of Castilla La Mancha, Spain. It's the ideal destination for a day trip from Madrid, with only a 1.5-hour drive away from the capital.
The town boasts historical landmarks, like the Ducal Palace and Monastery of Carmen, that offer a glimpse into its past. It takes you to discover the convents founded by Santa Teresa de Jesús and uncover the history and legend behind the life of the princess of Éboli, who resided in the Renaissance Ducal Palace.
7. Llanes, Asturias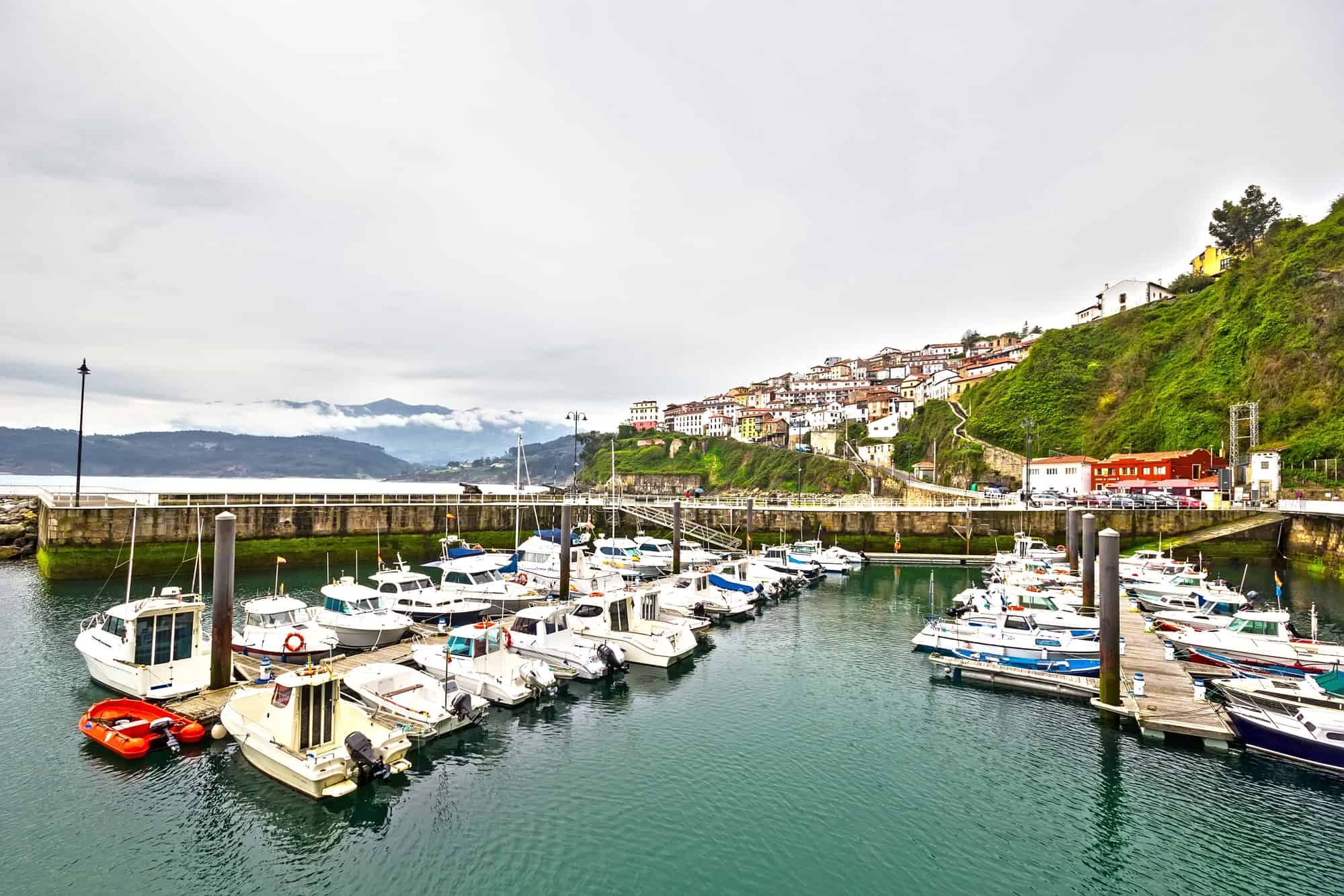 Llanes is situated in the region of Asturias, Spain, known for its stunning coastlines and white sand beaches. There is a spot for every beach lover, including Playa de Toró, Poo and San Antolín.
When you arrive in Asturias, anticipate more clouds than the typical Spanish sunshine. Yet, on fortunate summer days, you might find those perfect moments of clear skies to enjoy a bit of sunbathing.
Along the way, observe Llanes' proudly preserved fishing traditions, and when your stomach rumbles, choose from the fresh selection of seafood in the local cuisine.
8. Santillana del Mar, Cantabria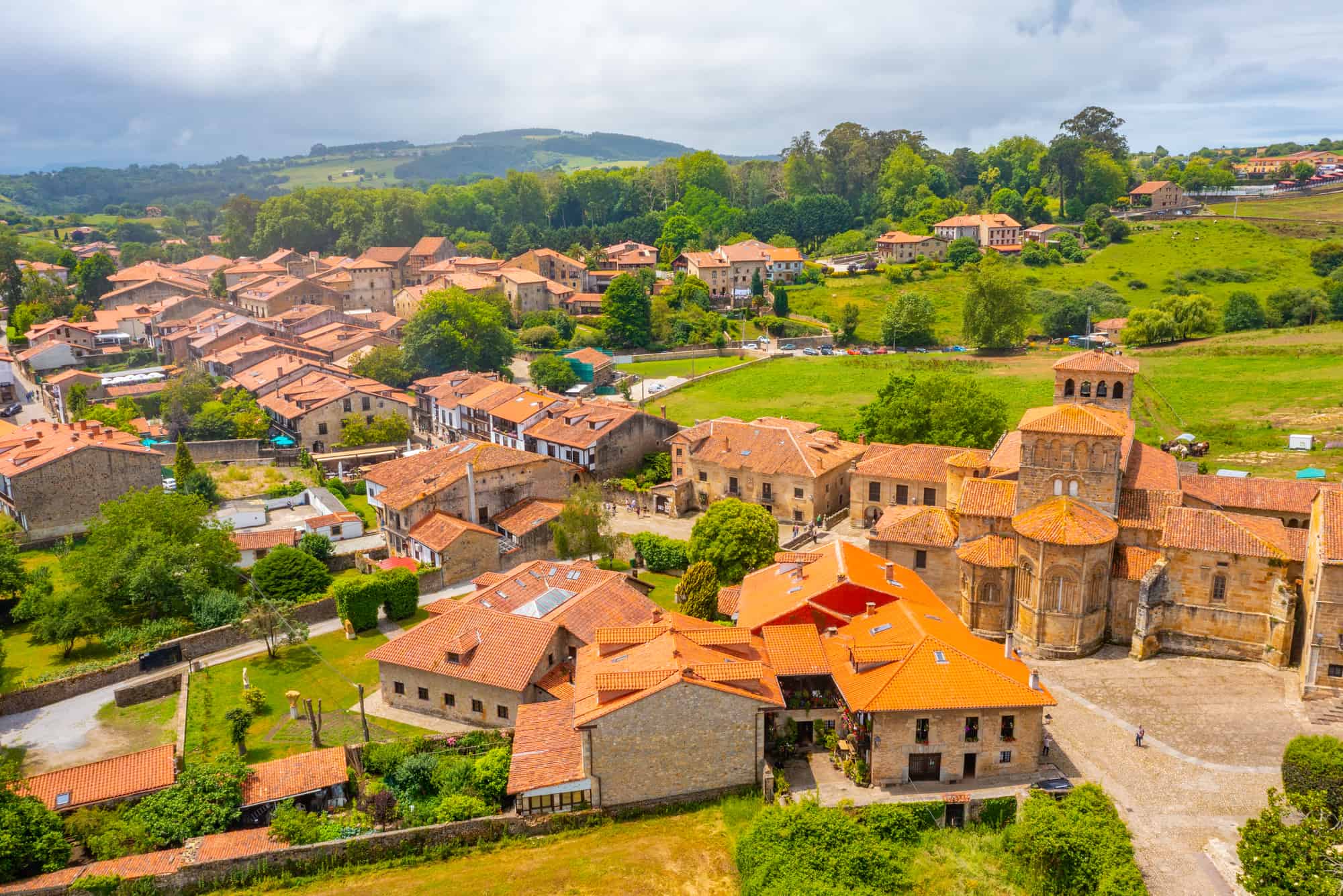 Santillana del Mar is located in the northern part of Cantabria, Spain, pretty close to Reinosa, one of the coldest places in Spain. A light jumper and a relaxing hotel will do the trick!
Its well-preserved medieval architecture will take you on a journey through history. Be sure to visit the Romanesque church and Benedictine monastery, Colegiata de Santa Juliana, and the Altamira Museum and Research Center, exhibiting the prehistoric Altamira cave arts, which are part of the UNESCO Heritage.
9. Puertomingalvo, Teruel, Aragon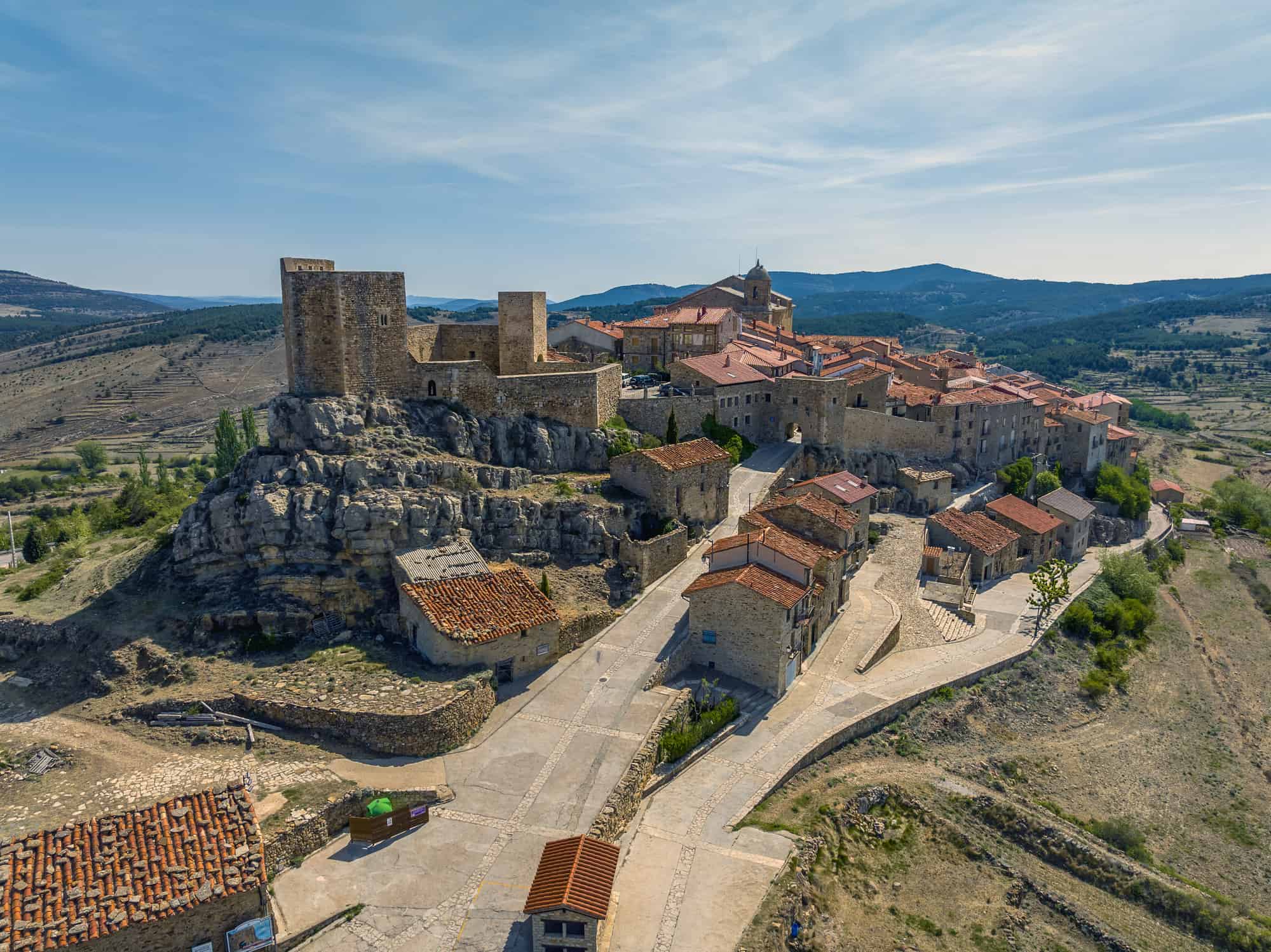 If you are looking for a quiet retreat with rich nature and middle-aged architecture, Puertomingalvo is for you. Its prominent landmark, the Castillo Puertomingalvo, sits on a commanding hilltop in the center of the village. Dating back to the 11th-12th century, this castle has been well-preserved.
The village is situated in the province of Teruel, Aragon, a rural area of Spain, awaiting you with mountains, forests, an eighteenth-century baroque church, medieval housing stock, and various trails and picnic areas.
10. Ujué, Navarra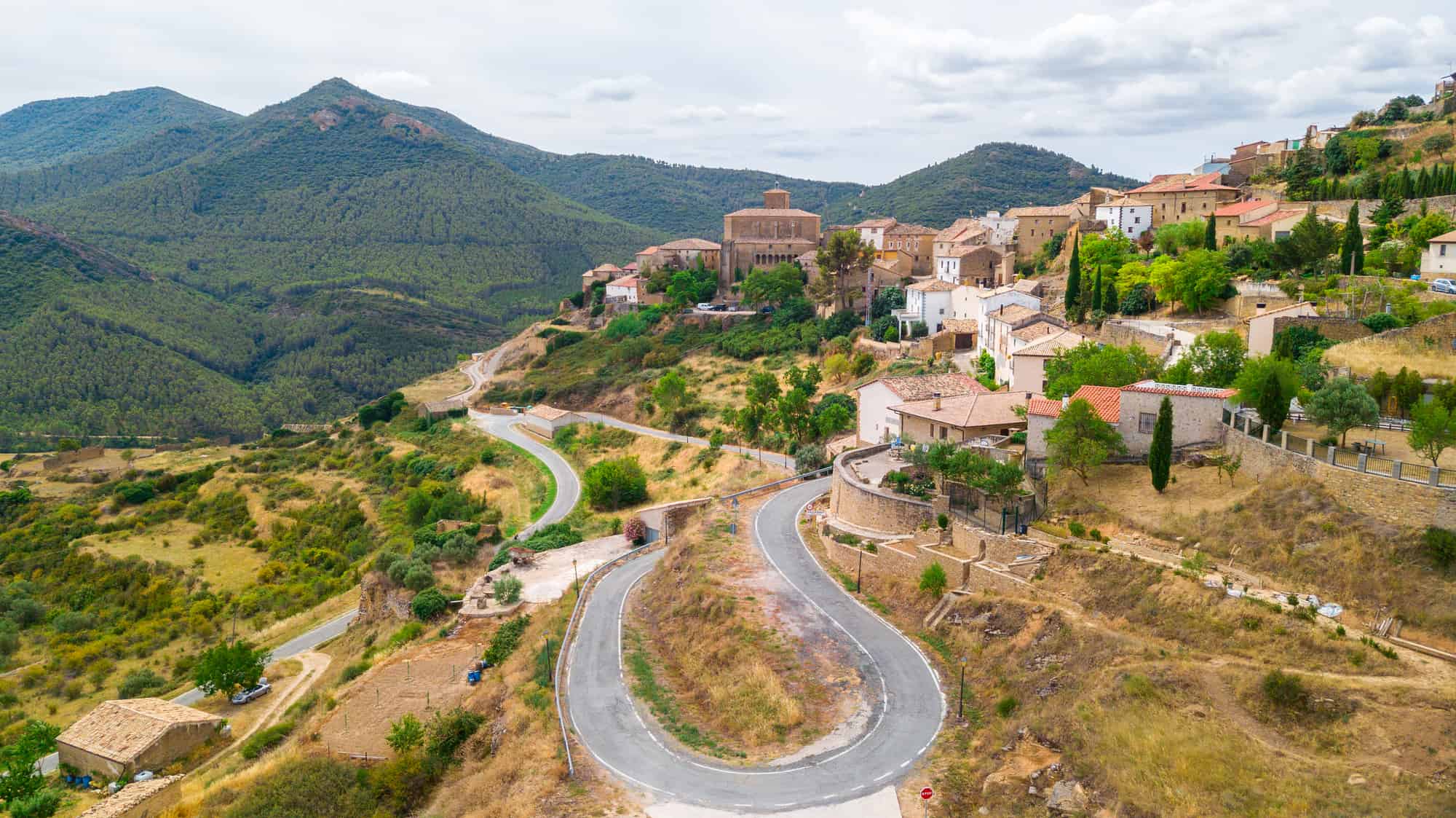 Ujué is a northern Spanish village in the province of Navarra, characterized by its narrow streets and medieval atmosphere.
And while you are there, don't miss out on Ujue's mouth-watering local specialties like Pochas de Sangüesa, a type of white bean stew, and Migas de Pastor, a dish made from bread crumbs and sausage.
The town's name comes from a legend where a curious shepherd witnessed a dove entering a hole in the rocks, where he then found a picture of the Virgin Mary. The town received its name from the Basque word Uxua, meaning dove.
It is also recognized for its Romanesque and Gothic-style church, Santa María de Ujué, built between the 12th and 14th centuries.
The perfect time to make these trips is from March to September when the weather is warm and dry. Closer to September, there may be some cloud cover. The weather in Northern Spain during winter tends to be cooler and unpredictable, characterized by frequent rain, cold, and freeze transitions.
11. Tossa de Mar, Catalonia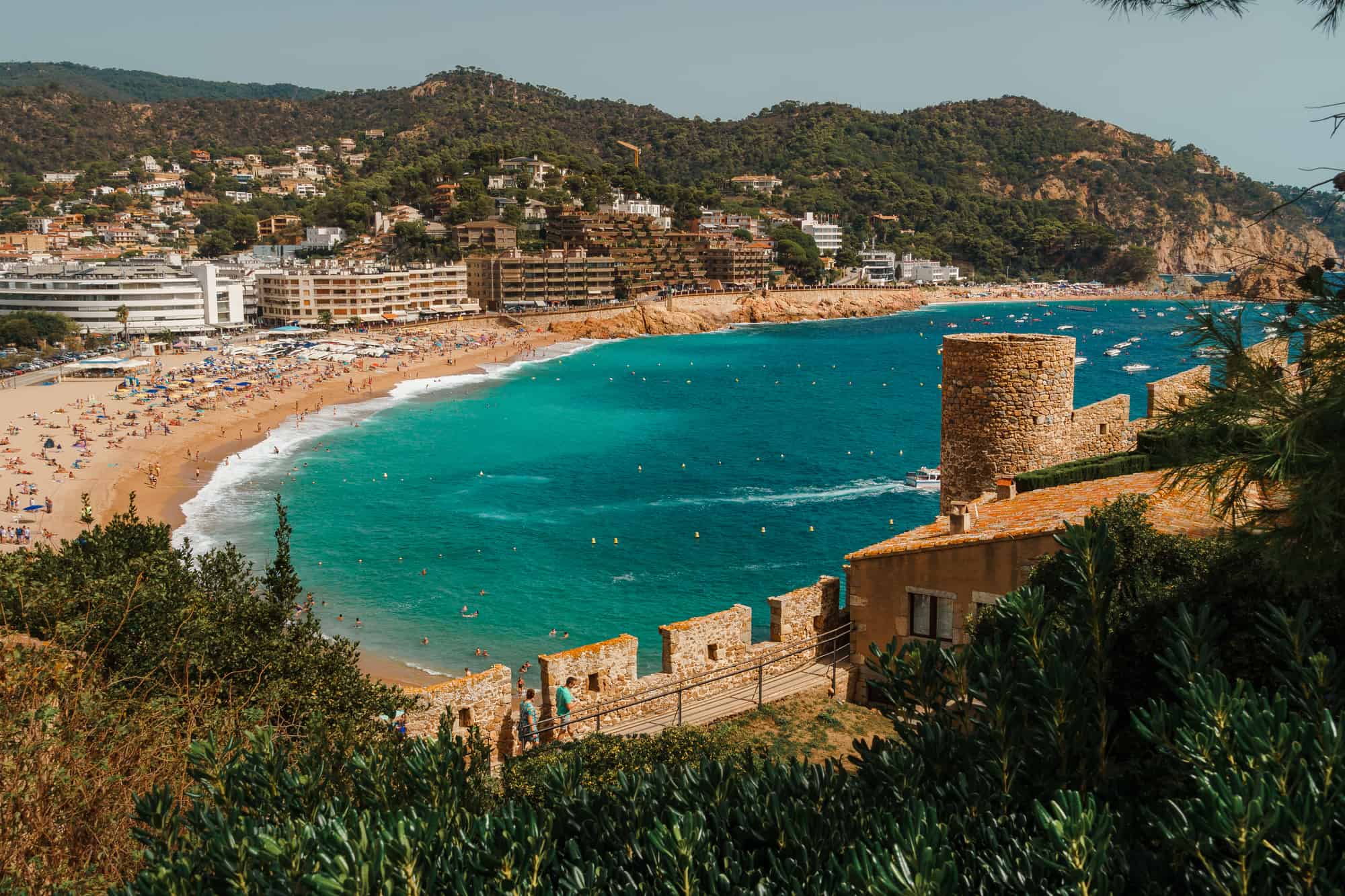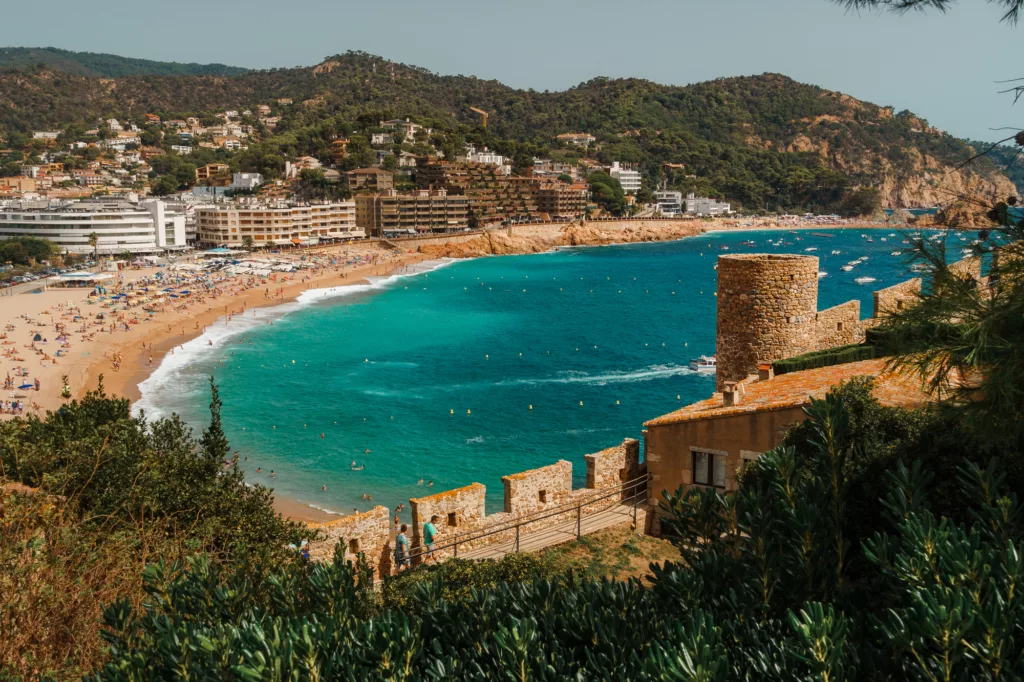 Get your bikini and sunscreen ready for a seaside adventure! Among the best places by the sea in Spain, we've handpicked Tossa de Mar in the province of Girona for you.
Wrapped in ancient walls, this town is the perfect combination of history, beaches, gastronomy, and local shopping.
When you're ready to take a break from the sea and beach activities, you can explore the old town's narrow streets, admire its medieval architecture, and indulge in some mouthwatering seafood dishes, such as paella or grilled sardines.
12. Cazorla, Andalucia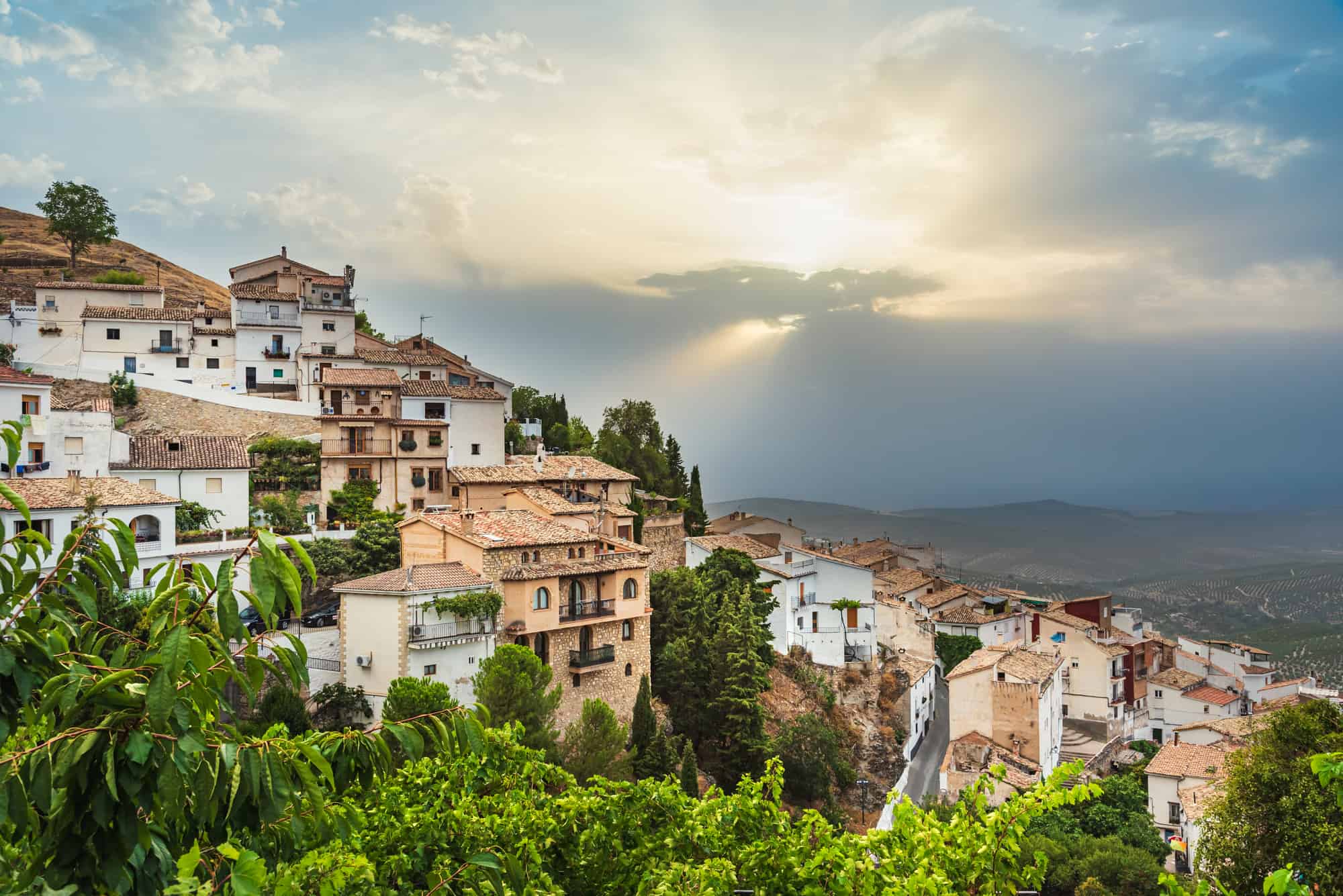 Cazorla is a town situated in the province of Jaén, Andalusia, within the biggest and most visited natural wonderlands of Spain, Las Sierras de Cazorla, Segura y Las Villas Natural Park.
The protected park is famous for its valleys, cliffs, canyons, mountains, and flatlands. It's also home to many pine trees and diverse wildlife, making it the perfect getaway for nature, animal, and outdoor activity lovers.
While its surroundings are limitless, Cazorla itself has loads to offer, too. For example, the castle of La Yedra, known as the Four Corners, the Plaza de Santa Marí­a Square, the surrounding olive trees, narrow stone-paved streets, and a huge variety of restaurants, coffee shops, and mountain hotels.
13. Ainsa, Aragon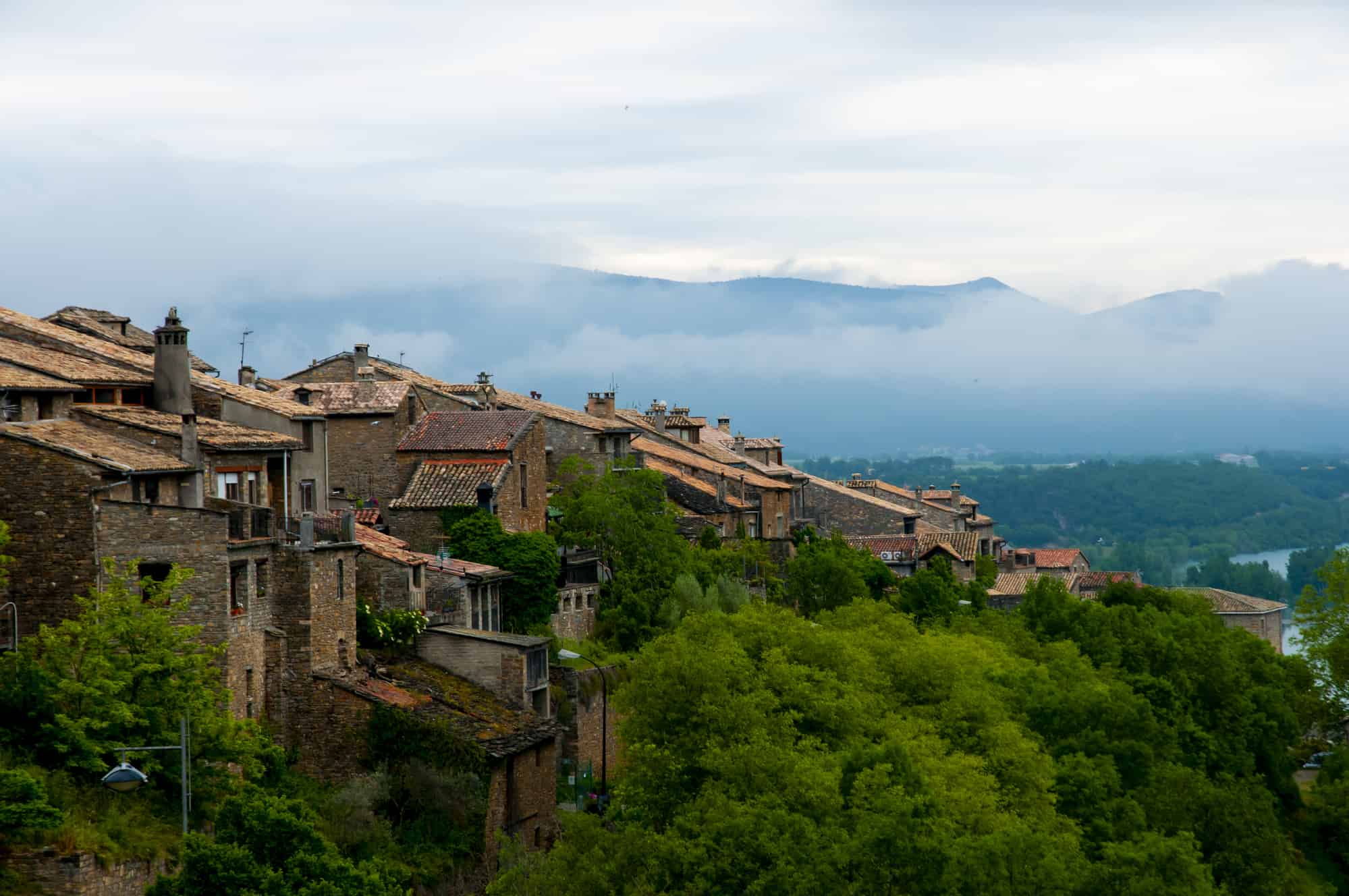 Aínsa is a village situated in the province of Huesca, Aragon, Spain. It awaits visitors with medieval squares, like Plaza Mayor, the center spot for the La Morisma Festival, celebrating the historic Christian victory over the Moors. Old-age buildings, like the Romanesque Church of Santa María in the old town, and several cafes and restaurants to experience the Aaragonese cuisine.
All this is surrounded by the Pyrenees mountains and Ordesa and Monte Perdido National Park, part of the UNESCO World Heritage—the perfect getaway for hiking, cycling, and discovering all its hidden spots and culture. If you're looking for activities with snow in Spain, the Pyrenees mountains are also a good destination for skiing and snowboarding.
The Ainsan castle offers panoramic views of the surrounding mountains, nature, and countryside. It also hosts an annual music festival with pop, rock, and folk music.
14. Binibeca, Menorca, Balearic Islands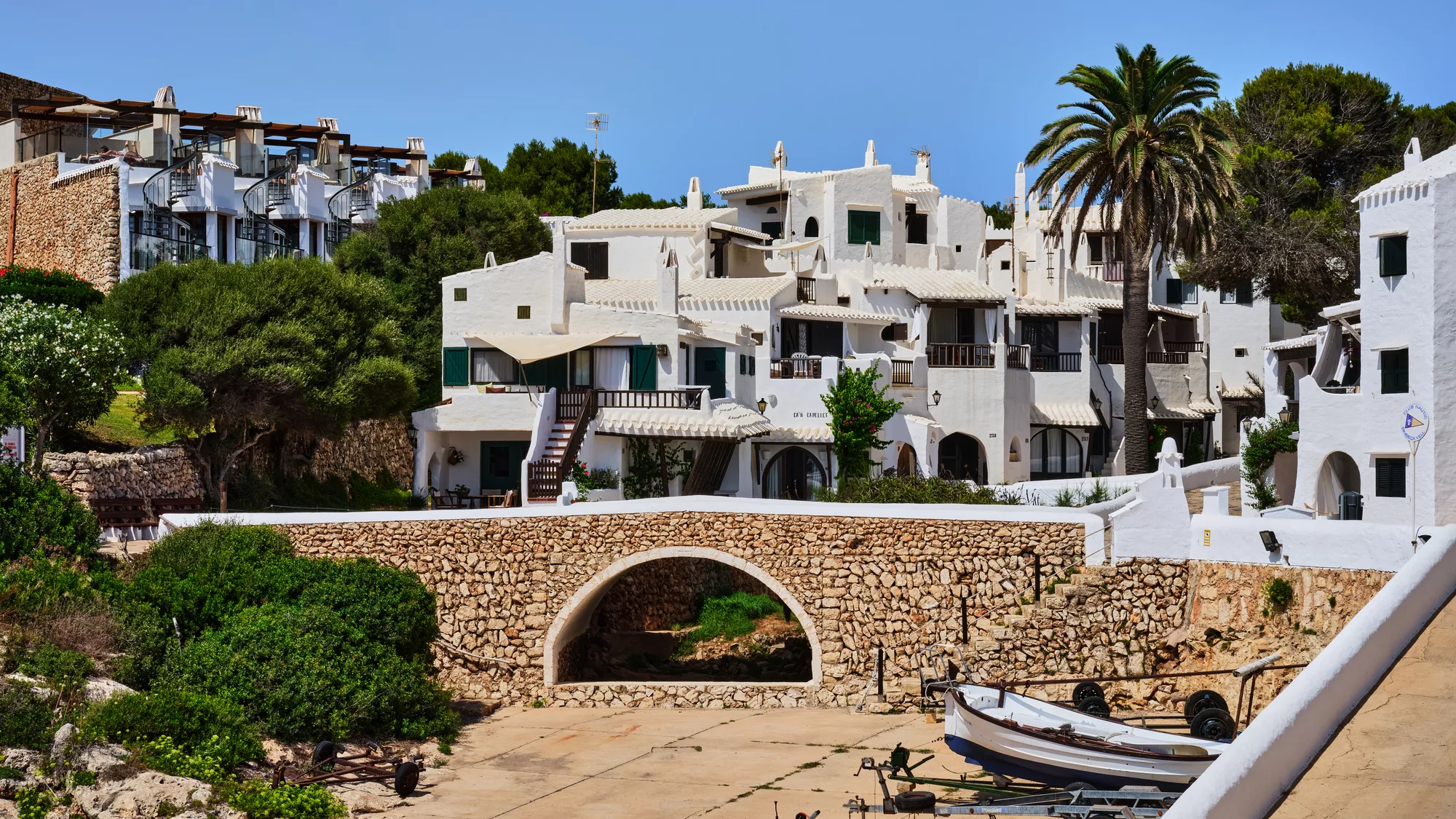 Binibeca is Menorca's white-washed fisherman's village. It stretches 3 km along the coast with its old part, Binibèquer Vell, where all the fishing takes place, and its new part, Binibèquer Nou, with villas, local houses, and a famous sandy beach, with shallow water playa de Binibeca. Perfect for families with children.
Compared to the Greek island of Santorini, Binibeca exudes a similar allure. The villas are spacious and affordable, accommodating your comfort.
Although exploring this beauty can be challenging by public transport, organized trips are the way to go. Don't forget to try the local seafood with a sunset table looking right at the Mediterranean Sea.
15. Bubión, Andalusia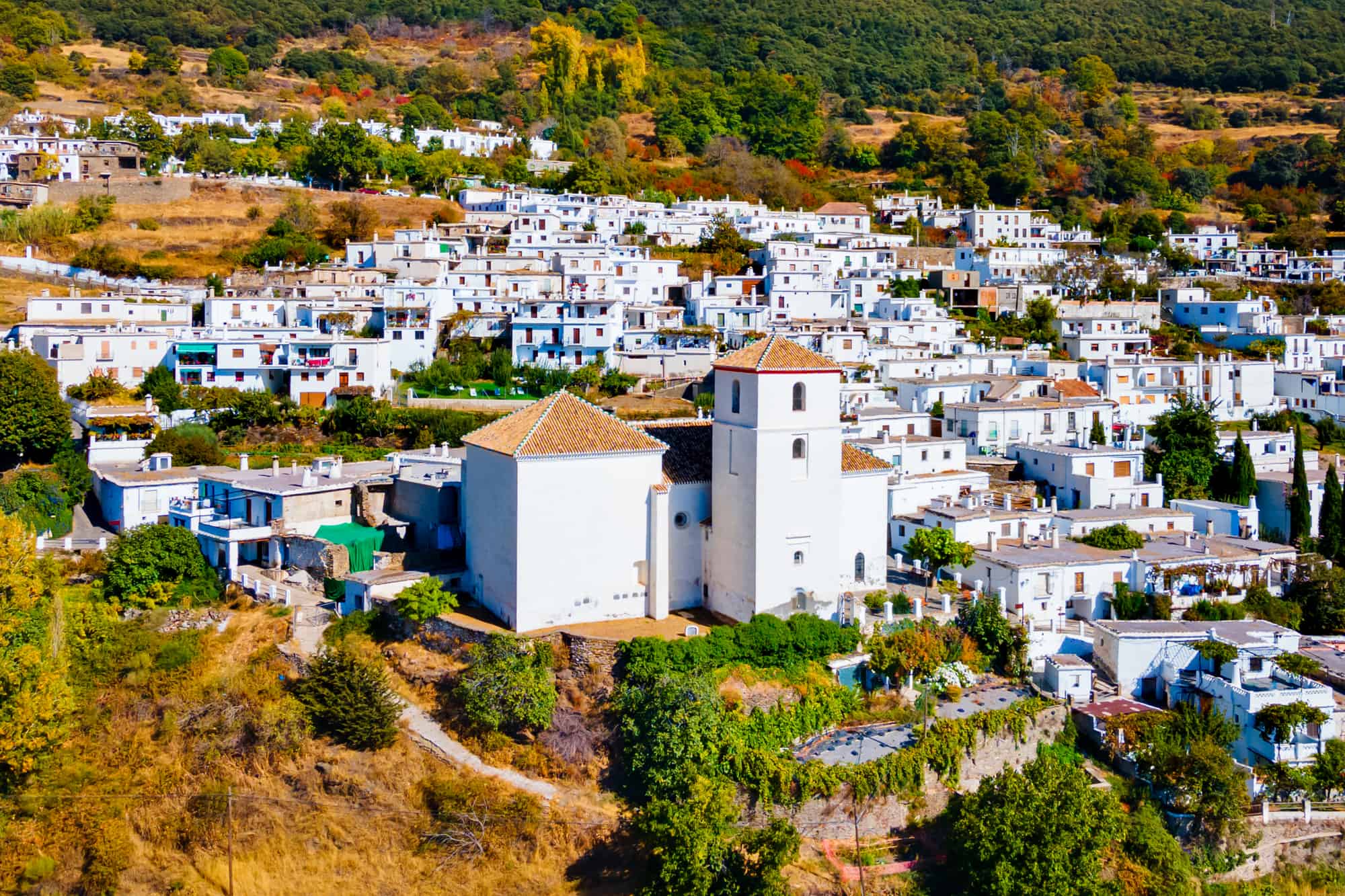 Bubión is an Andalusian village nestled in Alpujarras Granadina in the shadows of the Sierra Nevada mountains with a population of just 400. Disregarding the numbers, it has a rich history behind it.
The Romans founded it, and later in the 7th century, it was populated by the Moors, who converted to Christianity, leaving cultural marks on this little village. The 16th-century Bubion Church sits on the cliff, dominating the view with the Museo Casa Alpujarreña hugging it below.
There are many things to do, like biking, hiking, horse riding, and walking the Sierra trails.
You can discover more mountain ranges in Spain alongside the Sierra Nevada mountains, each offering a unique experience.
16. Rupit, Catalonia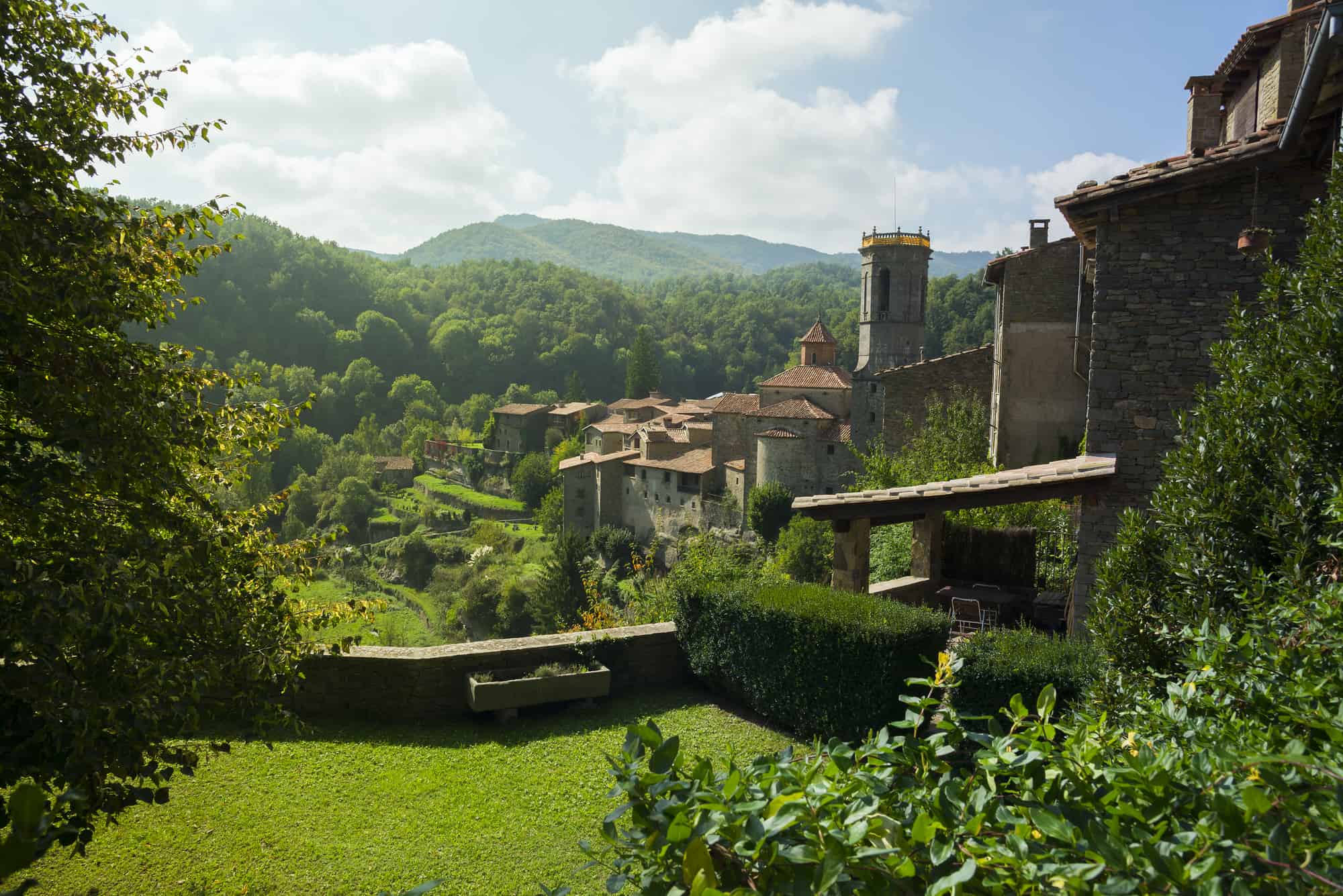 Calling all adventurers to Rupit, the medieval town in Catalonia. With only a 1.5-hour drive from Barcelona, you can roam around its narrow streets with 16th-century stone houses and shops.
You can stand on its iconic hanging bridge, leading to the heart of Rupert's old town, where the 17th-century church, Sant Miquel Arcángel, stands.
17. Pals, Girona, Catalonia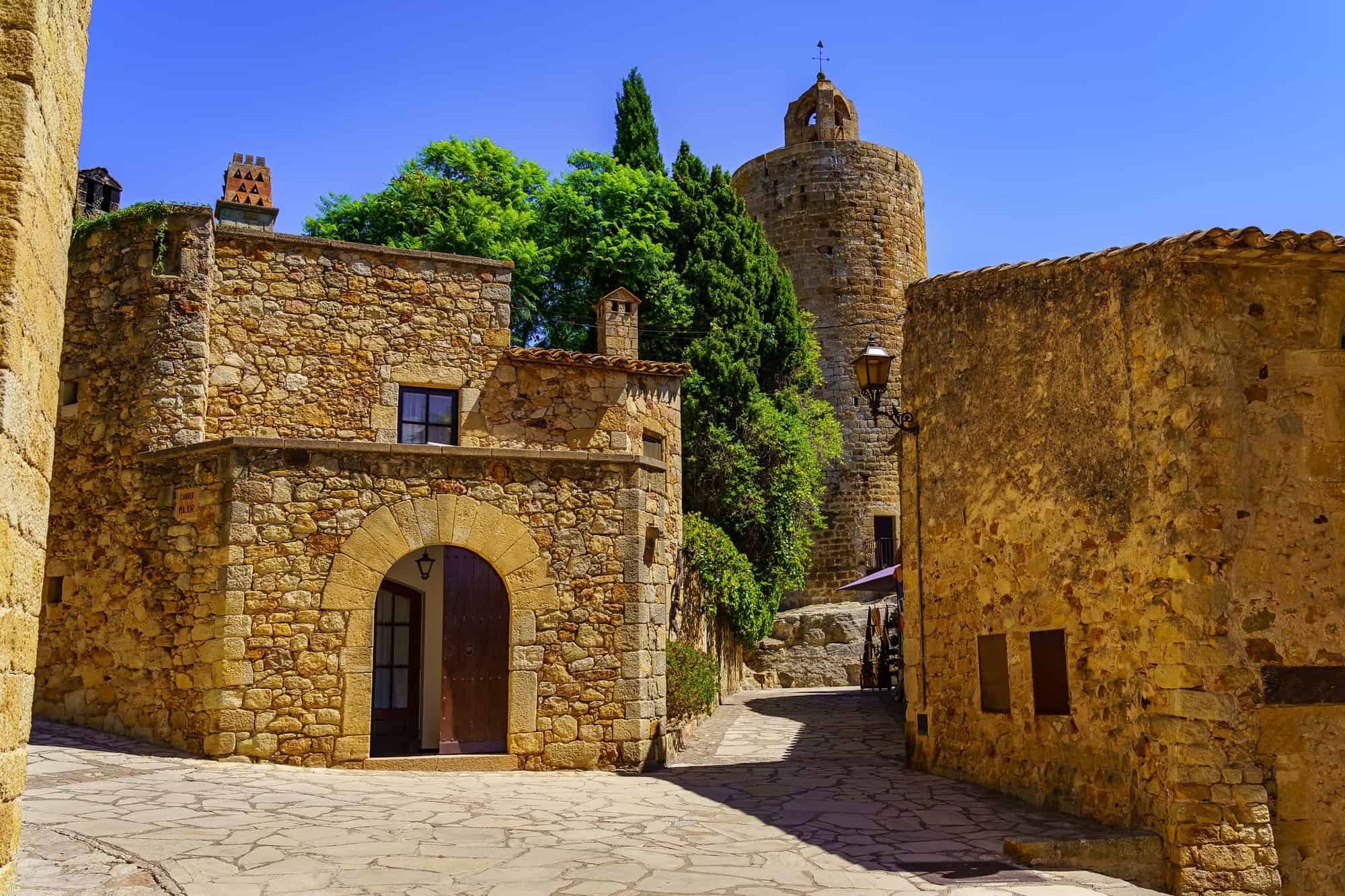 If you're planning a trip to Catalonia in the northeast of Spain, I recommend starting with a Barcelona to Girona day trip. Girona, just over 100 km from Barcelona and recognizable from "Game of Thrones," is a great place to begin your journey.
After visiting Girona and possibly indulging in the themed tour, it's just a few short miles to Pals. This town, with a history dating back to the 9th century, is located 40 km from Girona and 50 km away from the Costa Brava beaches.
The lovingly restored medieval architecture, gothic windows, and cobblestone streets of Pals give you the feeling of stepping back in time. Continue your journey by exploring Pals before heading to the coastal town of Calella de Palafrugell.
18. Peñalba de Santiago, Castilla y León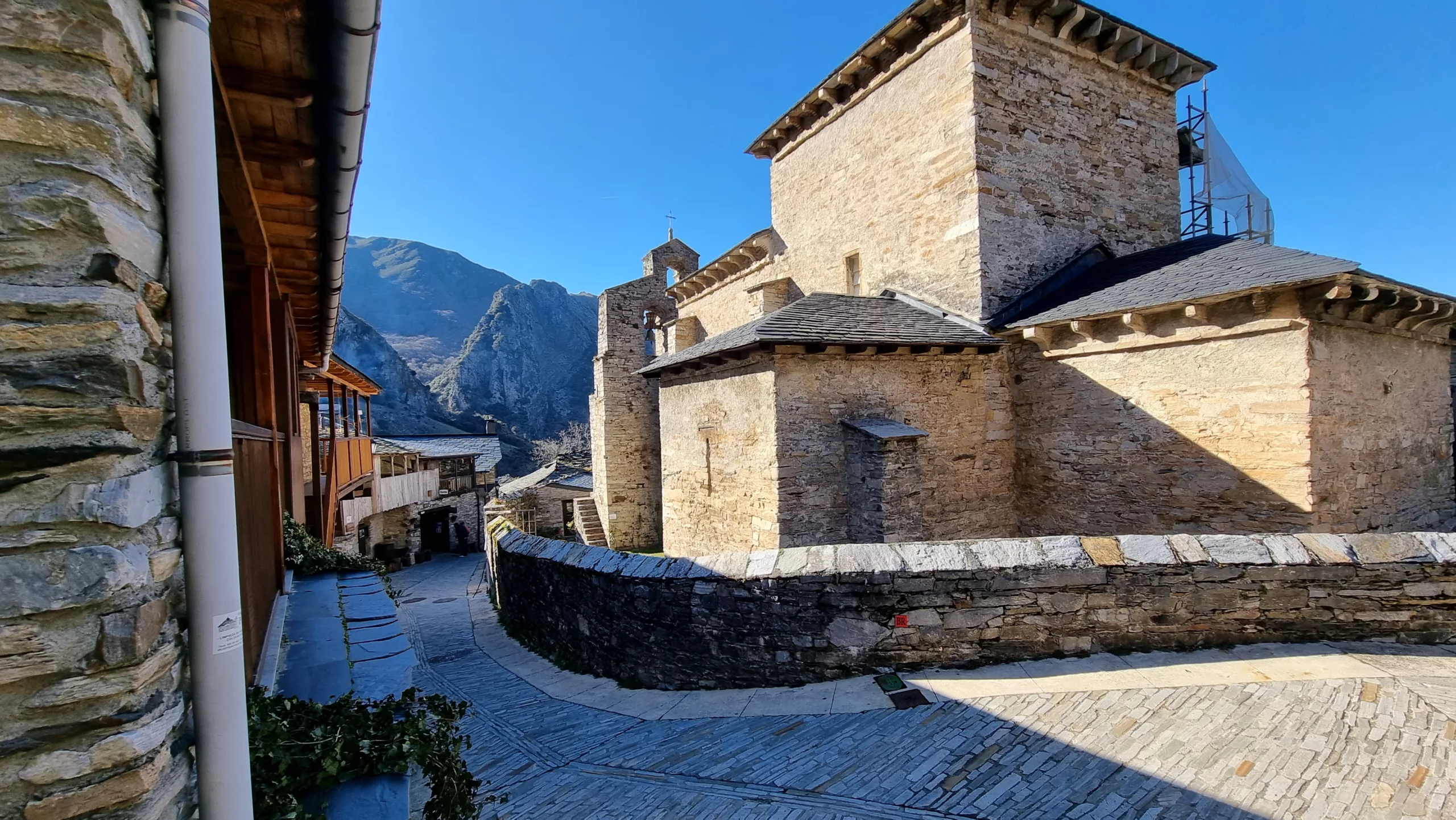 Peñalba de Santiago is a scenic village with stone houses, wooden balconies, mountains and valleys, situated in the province of León, within the community of Castilla y León.
Peñalba de Santiago serves as a destination for nature enthusiasts and hikers, offering trails with a pleasant Spanish climate and breathtaking views of the surrounding landscape.
You can track a moderately challenging route to Alto de Cueto, only 3.5 km away from Penalba, or hike to the San Genadio cave by yourself. This route takes you through the valley of the Silence and Rio Oza (Oza River).
The trip is easy, too, with several tourist signs guiding your route all the way to the silent waterfall (Cascada del Silencio) and back to your hotel.
19. Besalú, Catalonia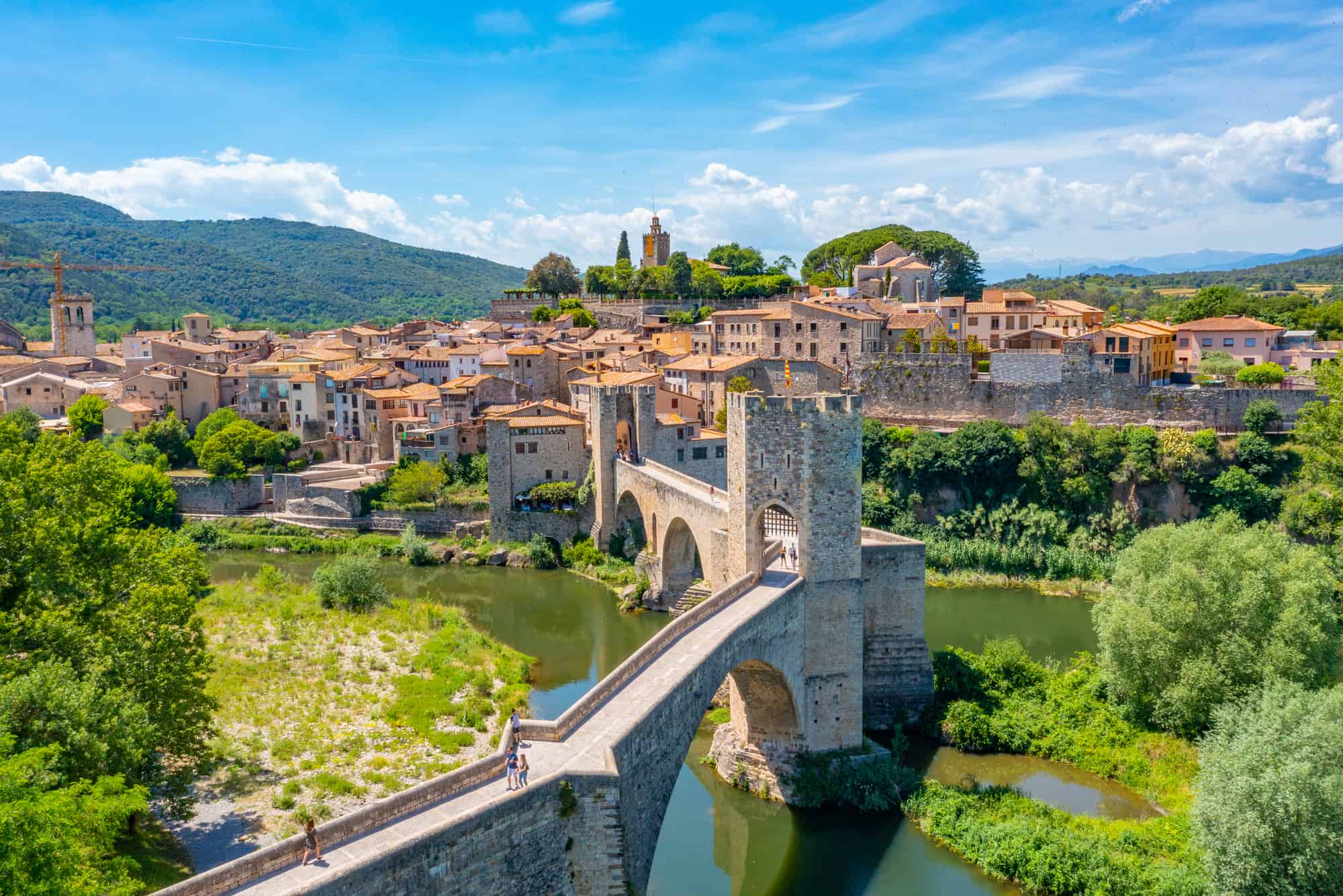 Besalú, another Catalonian village, has preserved Gothic architecture, cobblestone streets, and alleys that are perfect for leisurely walks.
Its rich Jewish history also adds to the heritage, with Besalú having one of Spain's oldest synagogues, the Sinagoga judíos de Besalú, and a Jewish ritual bathing, Mikve de Besalu. It also features a 12th-century Romanesque bridge with arches and defense towers over the Fluvià river.
Additional Tips for Traveling in Spain
I've only touched on a few practical tips above, but there are some important ones I'd like you to know.
For instance, public transport in the rural areas of Spain can be tricky or may require a long wait. For seamless travel, consider renting a car or using tours that offer hotel pick-up services, which many do.
You can also use Uber in Spain, but be sure to confirm with the driver if they are willing to undertake a long journey. If you opt for public transport and find yourself in the countryside, renting a scooter or enjoying a hike are good options. Of course, if you don't mind waiting, you can always take a bus.
Try regional specialties like Pochas de Sangüesa, a white bean stew from Ujué, or migas de pastor, a dish made with bread crumbs and sausage. Don't miss out on seafood dishes such as paella or grilled sardines from Tossa de Mar, and of course, the freshly caught fish from the fisherman's village of Binibeca. Pair these with your favorite Spanish wines, or time your visit to coincide with one of the many exciting wine festivals in Spain.
If you're considering guided tours in the aforementioned villages, also think about the month of your visit. Touring some parts of Spain in December can be much cooler, especially if you're seeking snow-related activities in the Pyrenees mountains. Be sure to pack your snow boots and a waterproof jacket to stay comfortable in the Spanish climate.
Just letting you know
When you buy something through my links, I'll earn a small commission—don't worry, it won't cost you any extra! It's a win-win, right?
Exclusive Heymondo Travel Insurance Offer
Planning a trip? Make sure you're covered! We've teamed up with Heymondo to give our readers a special deal: 5% off travel insurance. Grab this deal and know you're looked after on your next trip.