Are you considering a Barcelona to Girona day trip? Girona is much smaller than Barcelona, which gives it a cozy and friendly vibe, but it also packs a punch, offering a beautiful medieval Old Town and a whole host of Game of Thrones filming locations.
Getting from Barcelona to Girona is super quick and easy, thanks to its handy train links, making it a cinch to explore more of the vibrant Catalan region. So, take a day away from Barcelona to explore the historic streets of this lesser-known gem – you won't regret it.
Hi, I'm Timon!
I've experienced the heartbeat of Spain firsthand. Over the last five years, I've immersed myself in the dynamic cities of Spain, truly living the Spanish way. My insights into this beautiful country are rooted in genuine experience.
Is Girona Worth Visiting In 2023?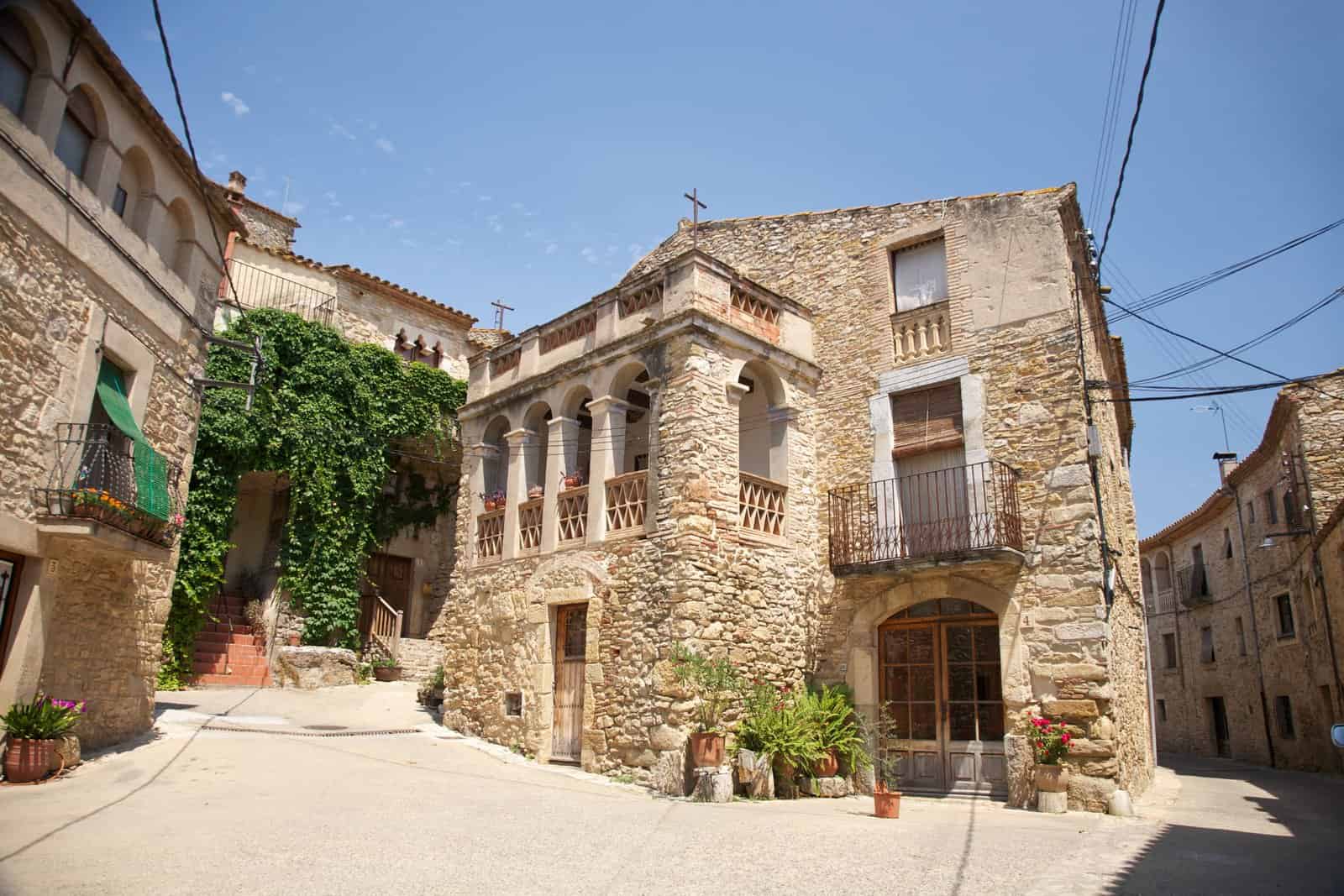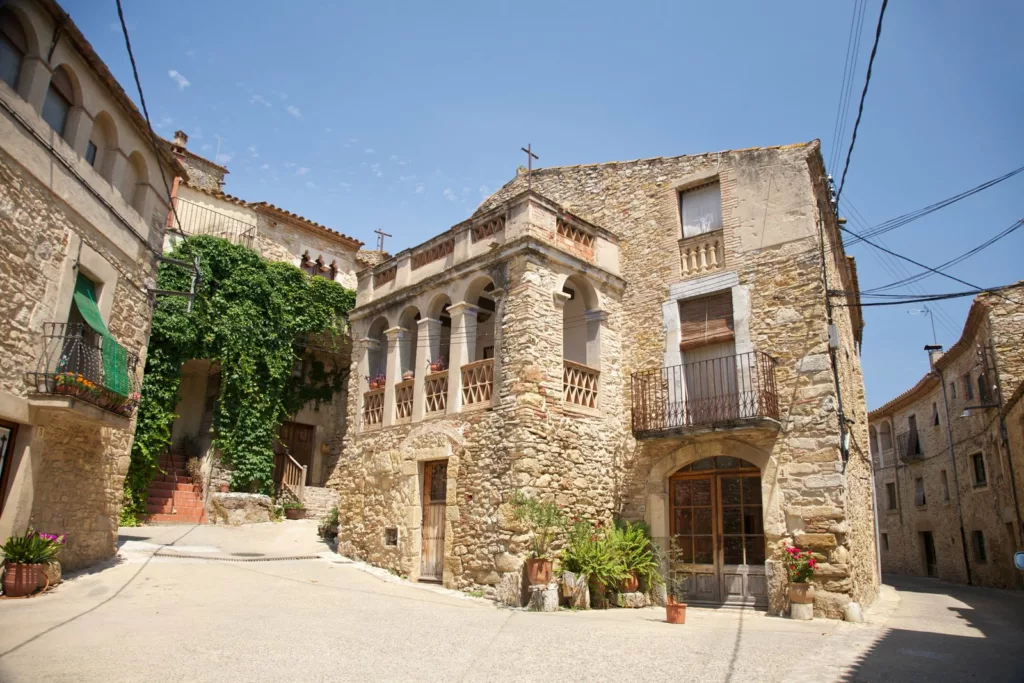 Absolutely, yes! I'm a convert to Girona after visiting earlier this year. It's bustling without being overcrowded, and its compact medieval center is a charming place to lose yourself for a few hours. Walking the city walls is a must-do while you're there!
If – like me – you're a bit of a Game of Thrones buff, you can also take in some of the key filming locations from season 6 of the hit show – so why not take a self-guided Girona Game of Thrones tour while you're there?
While in Girona, you can also explore one of the region's best-preserved Jewish areas, called El Call, where a significant Jewish population lived between the 10th and 15th centuries. Little has changed here in the last thousand years, which you can see for yourself as you explore the dark, narrow streets that wind through the area.
Where is Girona?
Girona is located in the northeastern corner of Spain, sandwiched between Barcelona to the south and the French border to the north. It's the capital of Girona province, which stretches east to the Costa Brava and west as far as the Pyrenees.
Girona is around 30 miles from the coast, with the popular tourist destinations of Lloret de Mar and Tossa de Mar a short hop southeast of the city.
What is Girona known for?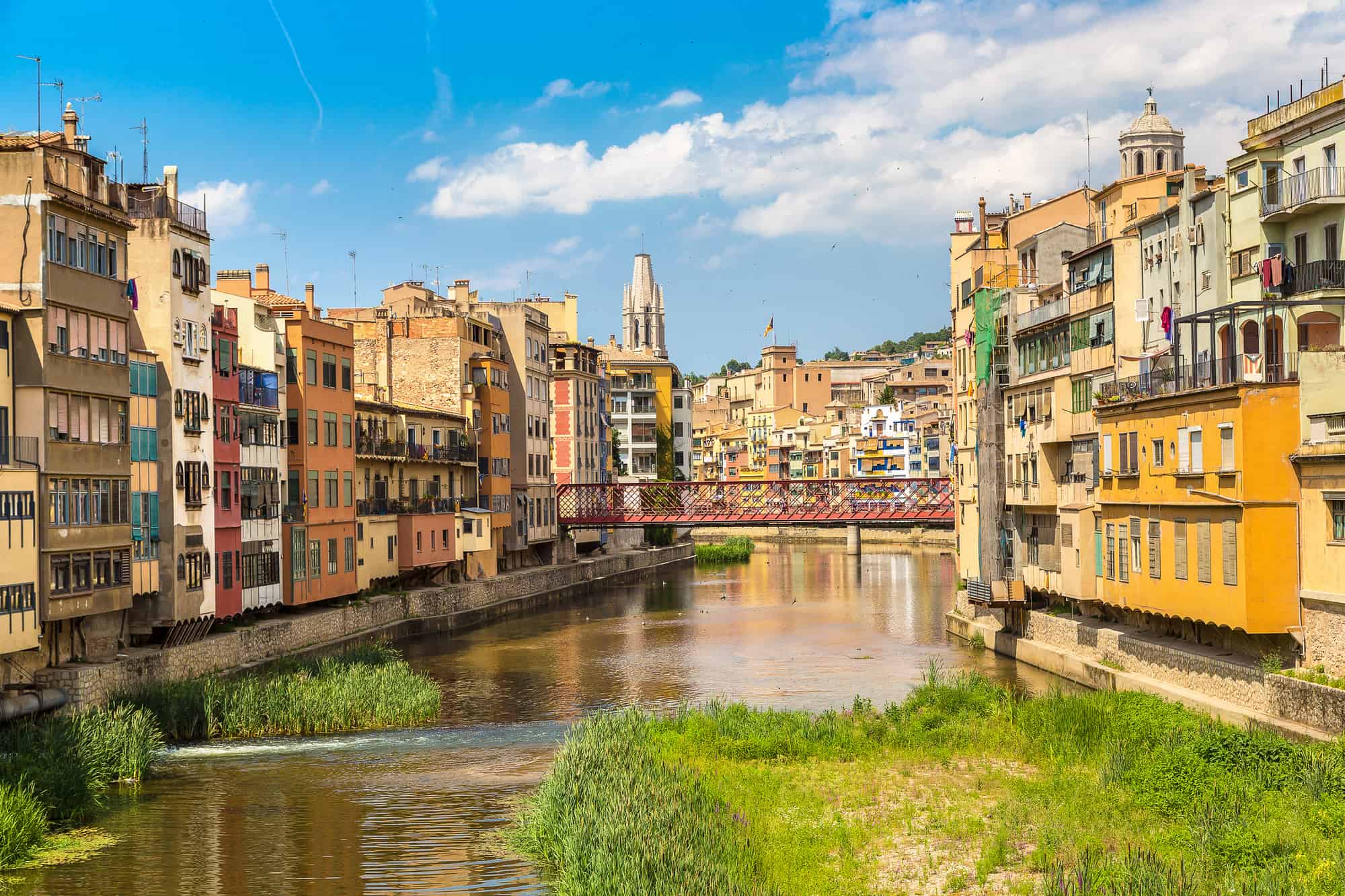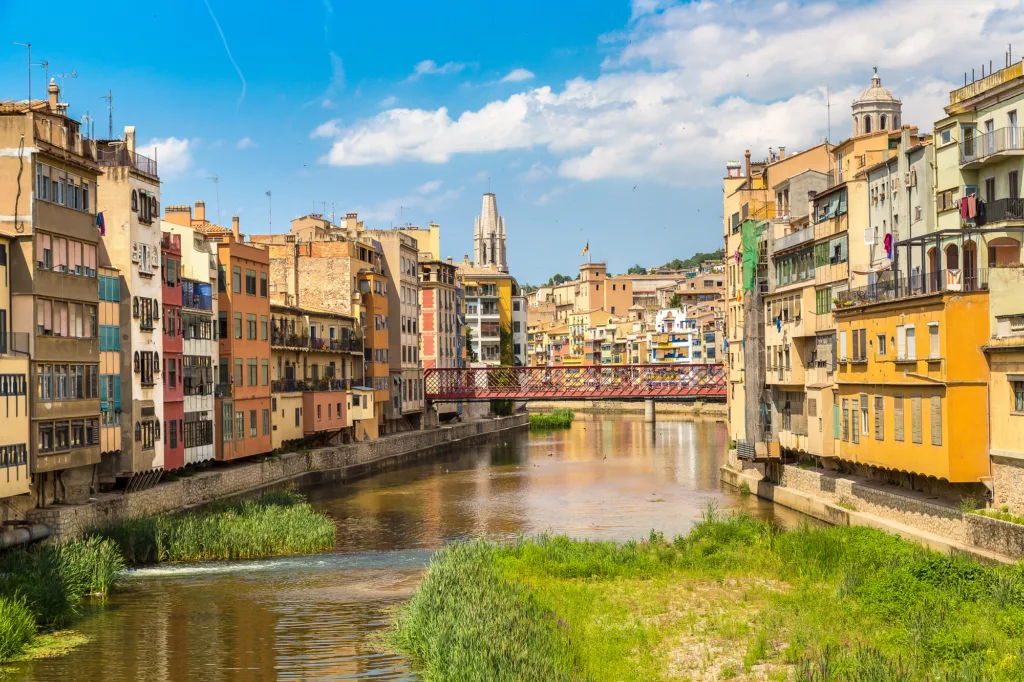 Girona is well known for its Old Town, which is truly a standout. The eastern part of the city has well-preserved Medieval city walls that you can still explore all these years later – and if you're anything like me, you'll score some amazing photos looking into the heart of Girona as you walk.
The city also has a famous red bridge called the Pont de les Peixateries Velles, which was constructed by Gustave Eiffel – yes, the same guy responsible for Paris's Eiffel Tower.
Girona becomes the city of Braavos in season 6 of Game of Thrones, so don't miss the opportunity to check out the filming locations while you're here, most notably the impressive – and imposing – Girona Cathedral.
How far is Girona from Barcelona?
Girona is located around 100 km north of Barcelona. Although you may think this puts it outside comfortable day-trip distance, you'll be pleased to hear there are plenty of quick and easy ways to get between the two cities, which make a day trip an enticing possibility.
How to Get to Girona from Barcelona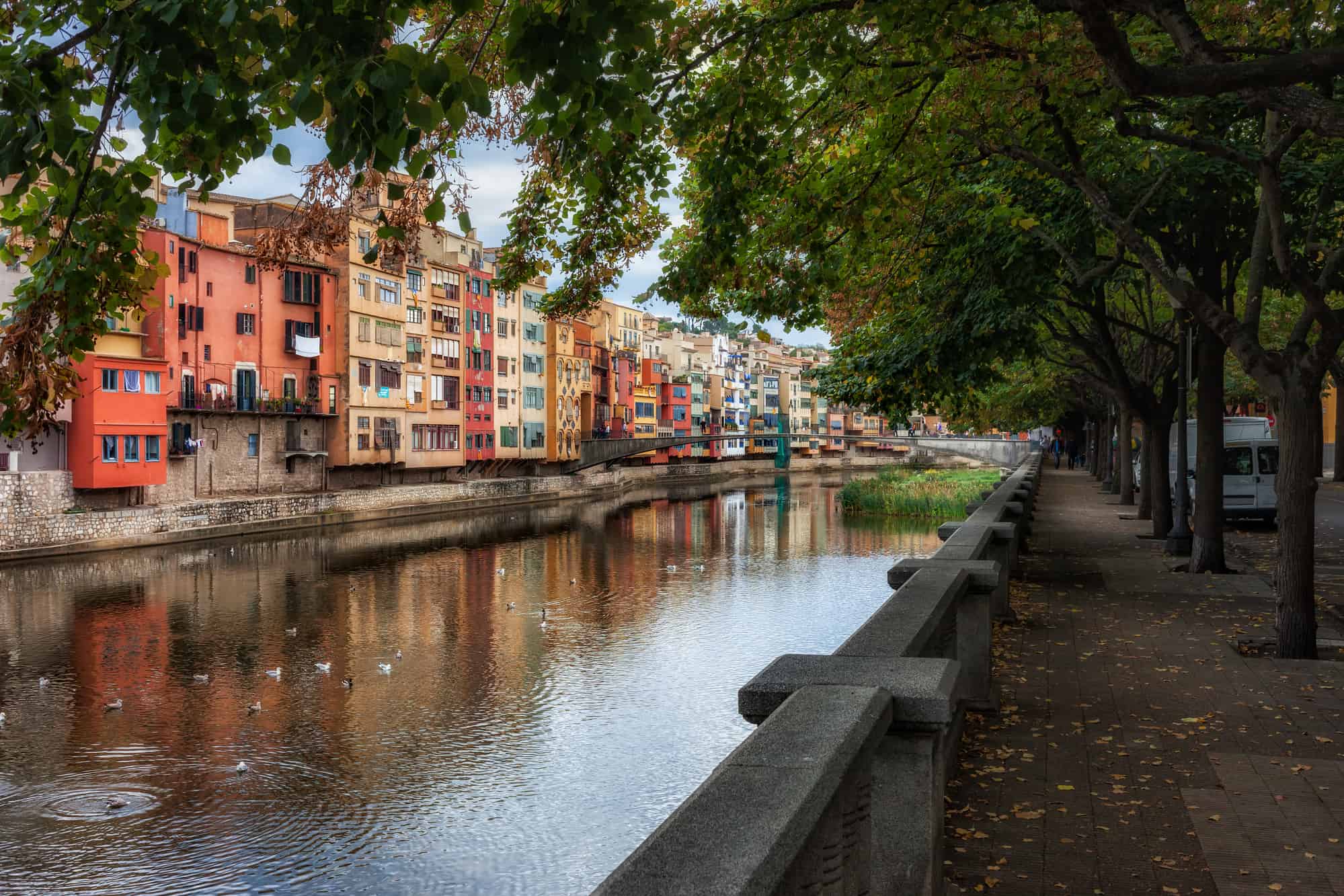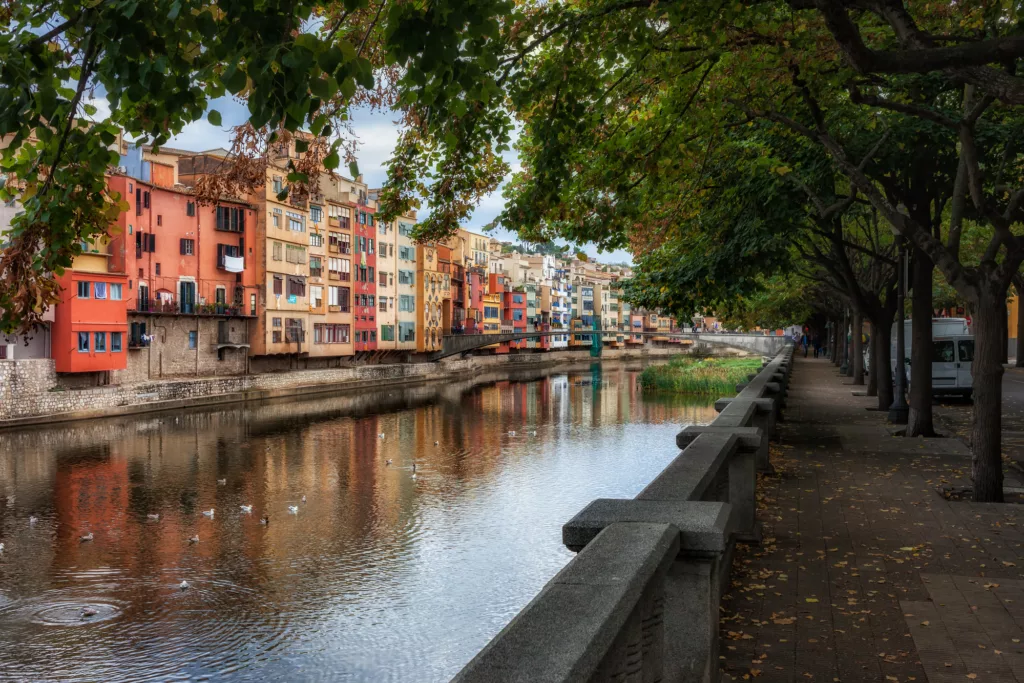 Train, tour, bus, or car – it's up to you how you cover the 100 km between Barcelona and Girona.
The train is by far the quickest mode of transport, and the prices are pretty reasonable for a high-speed option.
A guided tour will make your Barcelona to Girona day trip simple and stress-free, allowing you to see other top attractions in the area too. However, it'll also add to the cost.
If you choose to drive between the two cities, like I did, you'll benefit from being completely flexible. There's no waiting around for other people and no schedule to follow, which gives you the ultimate freedom.
Several bus companies run the route between Barcelona and Girona. Still, you may need to get to an inconvenient bus station location, and buses can be a pretty slow way to travel. The major pro is that it can be very cheap, so this is an option to consider if budget is a priority.
By Train
Happily, there are high-speed train links between Girona and Barcelona, meaning the whole distance can be covered in just 38 minutes. Trains are quite frequent – around every hour during the week. They depart from Barcelona Sants train station, the city's main station, which is easily accessed on foot or via the Barcelona Metro.
Train tickets for your Barcelona to Girona day trip can be purchased in advance using the Spanish rail company Renfe. This is a good idea during peak season when services can be very busy. However, out of season, you're usually able to buy your ticket on the day you travel.
Prices vary for tickets on high-speed services – you can pay as little as €9 or as much as €60 for a one-way ticket.
By Guided Tours
A guided tour is a great idea if you don't want to think about navigating public transport alone or planning a schedule. You'll benefit from an expert guide, so you're guaranteed to see the main sights in Girona and other top attractions en route.
GetYourGuide and Viator are trustworthy tour companies offering well-rated excursions. Here are two of my personal favorites – one is a private tour by train, and the other is a group tour by coach.
➡️City Explorer: Girona Private Day Trip

➡️From Barcelona: Medieval Girona Tour
By car
If you're driving on your Barcelona to Girona day trip, expect it to take you a little longer than the train – the journey will be 60 to 90 minutes with normal traffic levels. However, we all know how busy Barcelona can get, so exiting the city can add a little time to your journey.
When I drove the 100 km between Barcelona and Girona, it took me around 90 minutes, including finding a parking spot in Girona, which I thought was pretty good, especially for the flexibility it gave me when I was planning my day.
While you can easily grab an Uber in Barcelona, finding one in Girona might be challenging. Given this, I recommend renting a car to avoid running into any problems on your way back.
If you want to rent a car for your Barcelona to Girona day trip, I recommend Discover Cars. I've always had a great experience when renting with them, and they offer reasonable prices and loads of convenient pick-up locations too.
By Bus
Taking a bus from Barcelona to Girona is less popular than the train, mainly because it takes longer and services run less frequently. However, it can be a nice way to take in some extra sights, and tickets can be found at a bargain-basement price if you book in advance. The following bus companies run routes between Barcelona and Girona:
| | | | |
| --- | --- | --- | --- |
| Bus company | Journey time | Frequency | Average cost |
| Flixbus | 1 hour 15 minutes | 2 times per day | €9-15 |
| Sagales | 1 hour 40 minutes | 3 times per day | €6-9 |
| ALSA | 1 hour 35 minutes | 1 bus per day | €14-22 |
| Blablabus | 1 hour 25 minutes | 5 times per week | €6-10 |
The Historic Charm of Girona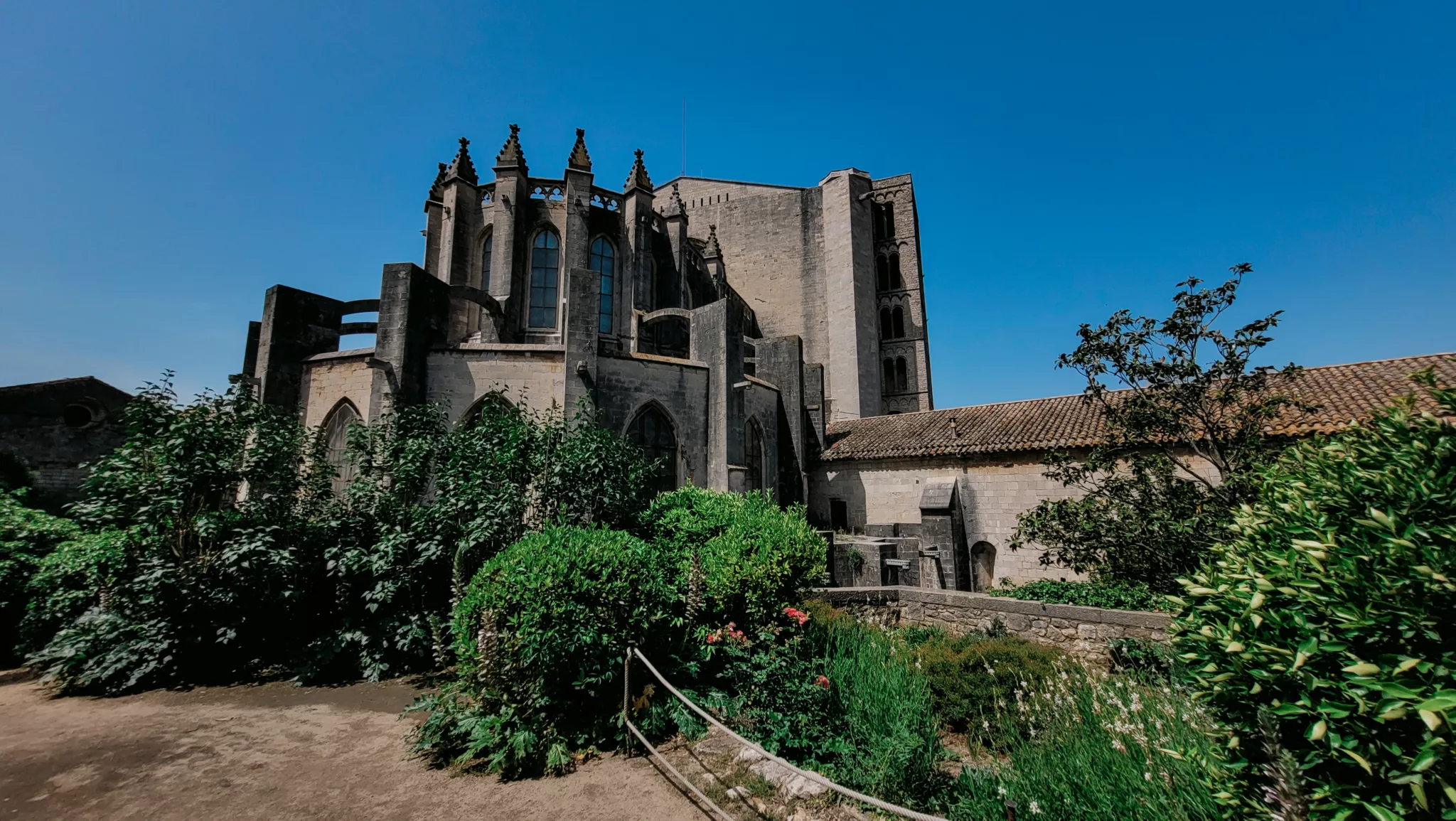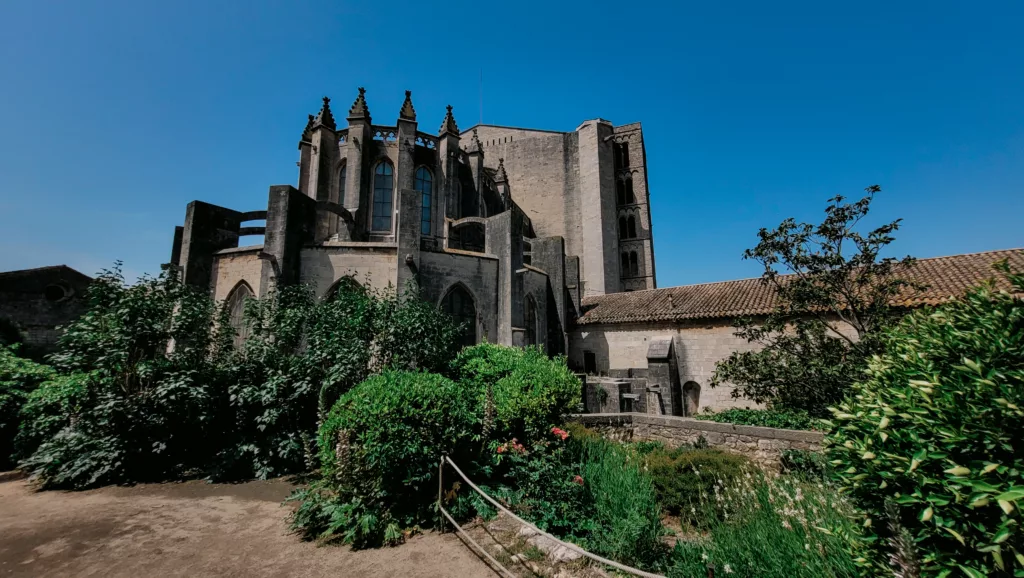 Although Girona isn't one of Spain's most well-visited cities, how do you compete with nearby Barcelona? It has a lot to offer visitors, especially when it comes to history.
Girona dates back to the first century BC when the Iberians settled it. The Romans followed, constructing a citadel and calling it 'Gerunda.' There have been many battles through the years to capture this geographically important city, with the Visigoths, Moors, and even Charles the Great ruling it for a time.
Because of the different influences over the years, there's a variety of architectural styles in Girona now, with some of the most popular – and beautiful – being the Gothic Cathedral, the Medieval city walls, and the historic Arab Baths.
Explore the Game of Thrones Filming Locations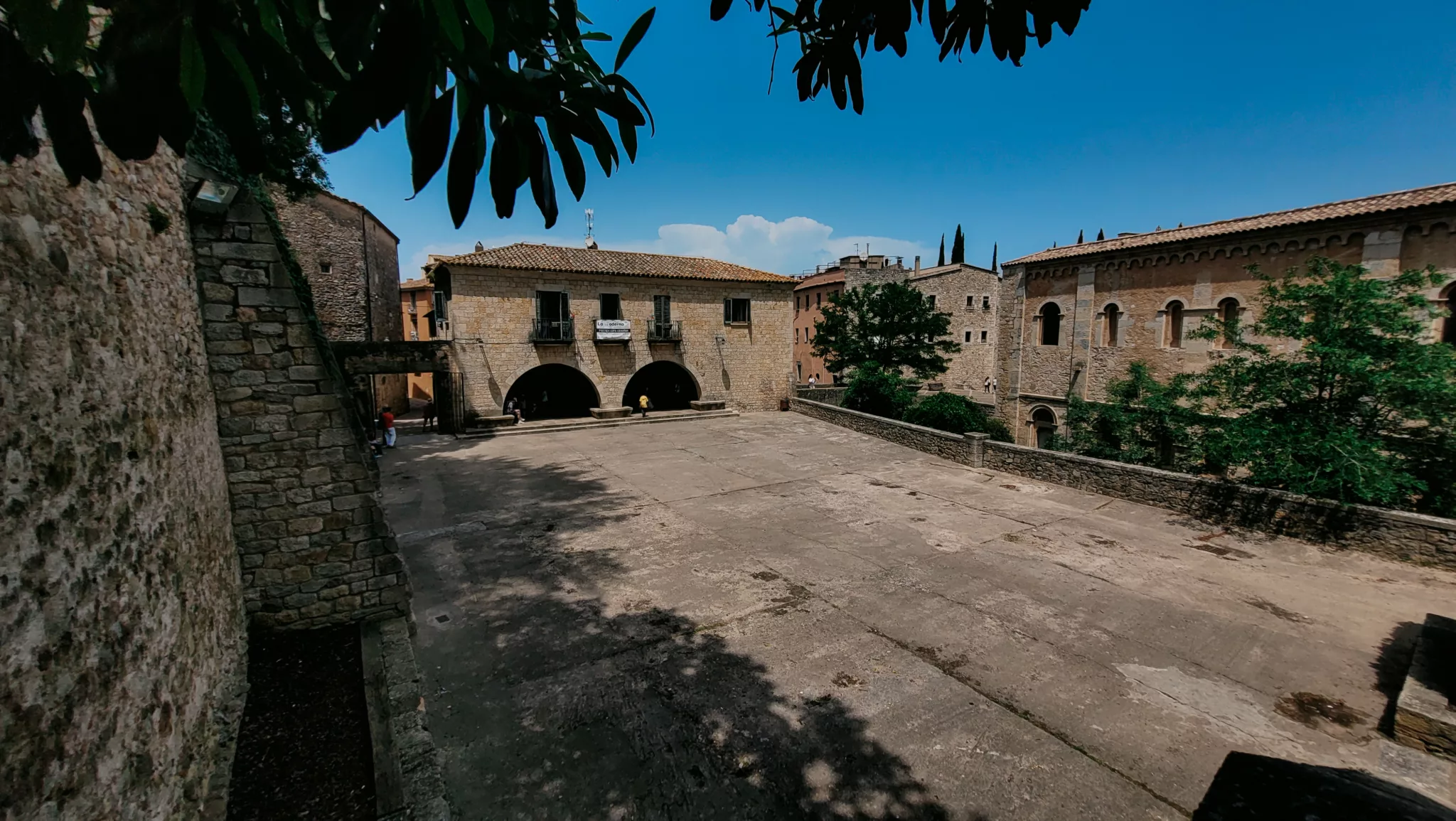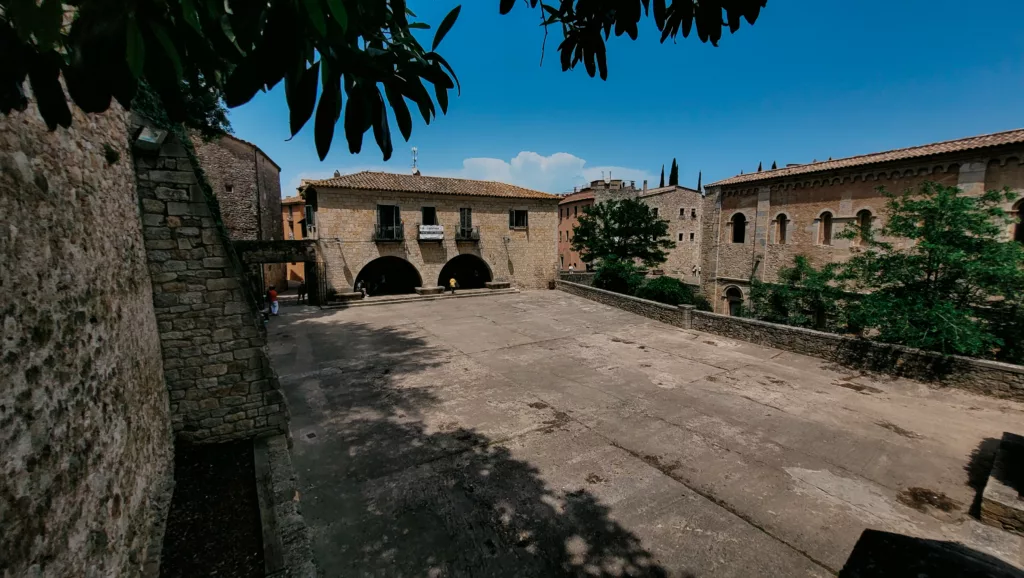 Game of Thrones location scouts used Girona to represent Braavos and select parts of Kings Landing in season 6 of the hit fantasy show. This was thanks to the city's narrow, winding streets and unspoiled Old Town.
Discover the Historic Arab Baths and Esglesia de Sant Feliu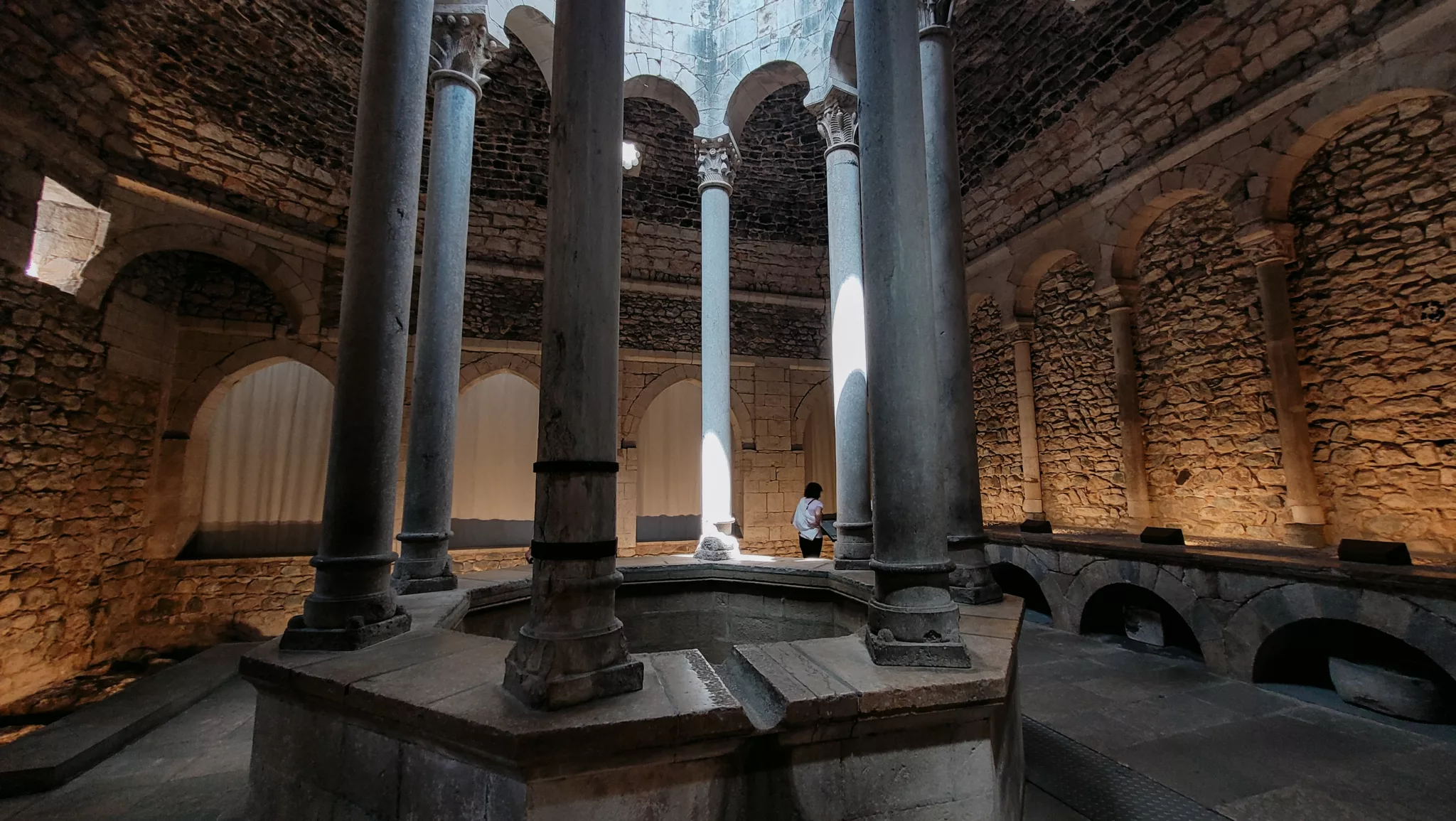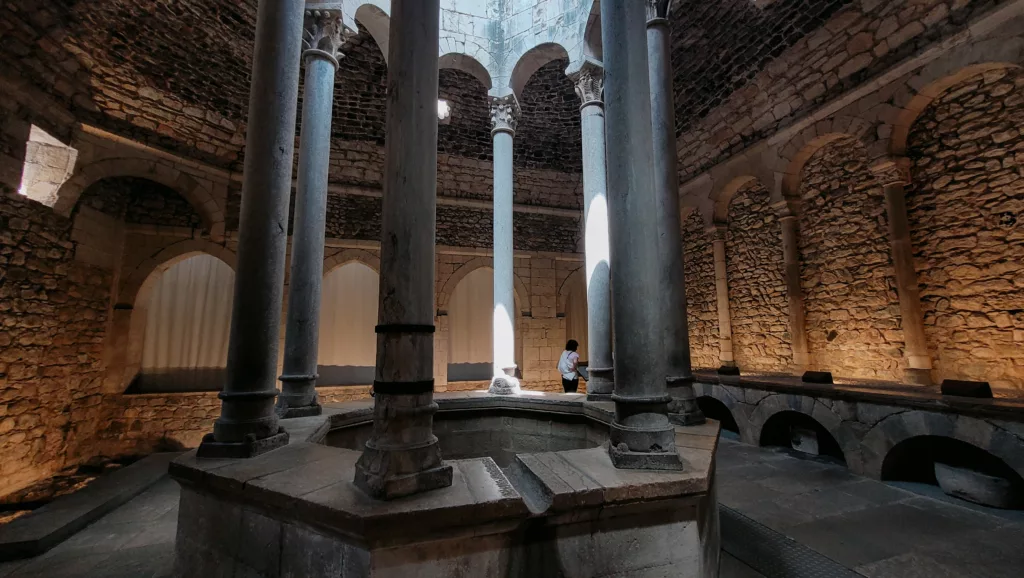 Girona's Arab Baths date back to at least 1194. They were created as a way for Girona's residents to keep clean at a time when bathrooms didn't exist in private homes.
The Arab Baths bear the proud title of 'best-preserved Romanesque baths in Europe'; having visited them, I can vouch that they're worth seeing. It's a small attraction, but impressively, the inside is virtually unchanged from hundreds of years ago when it was still in use. Follow the route from the changing room and socializing space to the 'Frigidarium' where bathers would plunge into cold water to finish their bathing experience.
Next to the Arab Baths is the Esglesia de Sant Feliu, which was the city's largest church before the Cathedral was built. It contains Roman, Baroque, and Gothic architectural styles and if you explore the interior, you can see the decorative coffins of eight Roman and Christian settlers, some of which are around 1,800 years old.
A great way to see the Arab Baths and Esglesia de Sant Feliu is on this guided Girona walking tour, which includes all entry fees to the Baths and Esglesia, as well as taking in the Jewish Quarter, the city walls, and Girona Cathedral.
Must-Visit Sights for Your Girona Day Trip
There are a lot of must-visit sights to include in your Barcelona to Girona day trip. History combines with nature to create a charming city that's compact enough to discover in a day but has enough to keep you interested if you decide to stay a little longer.
Girona Cathedral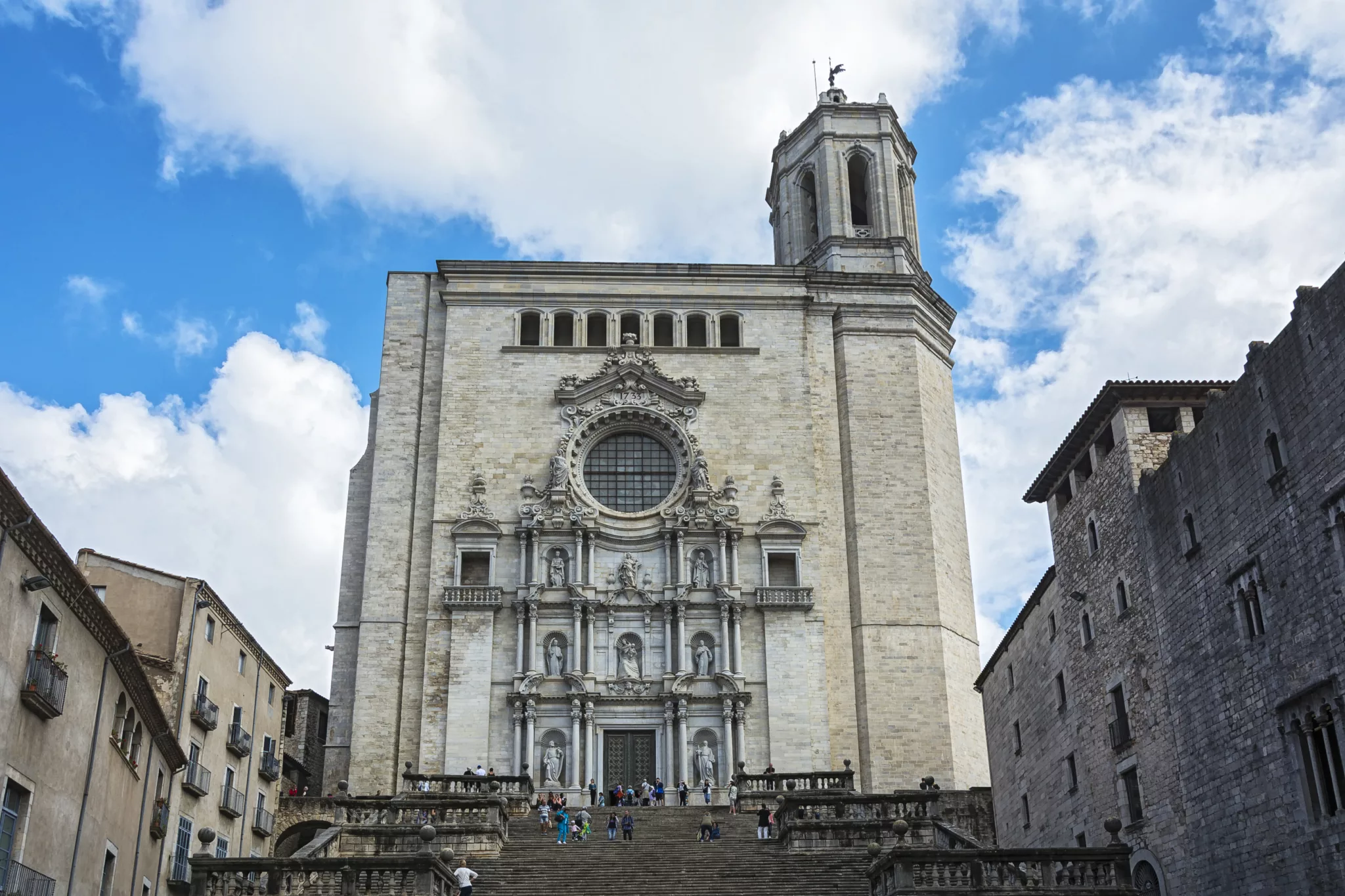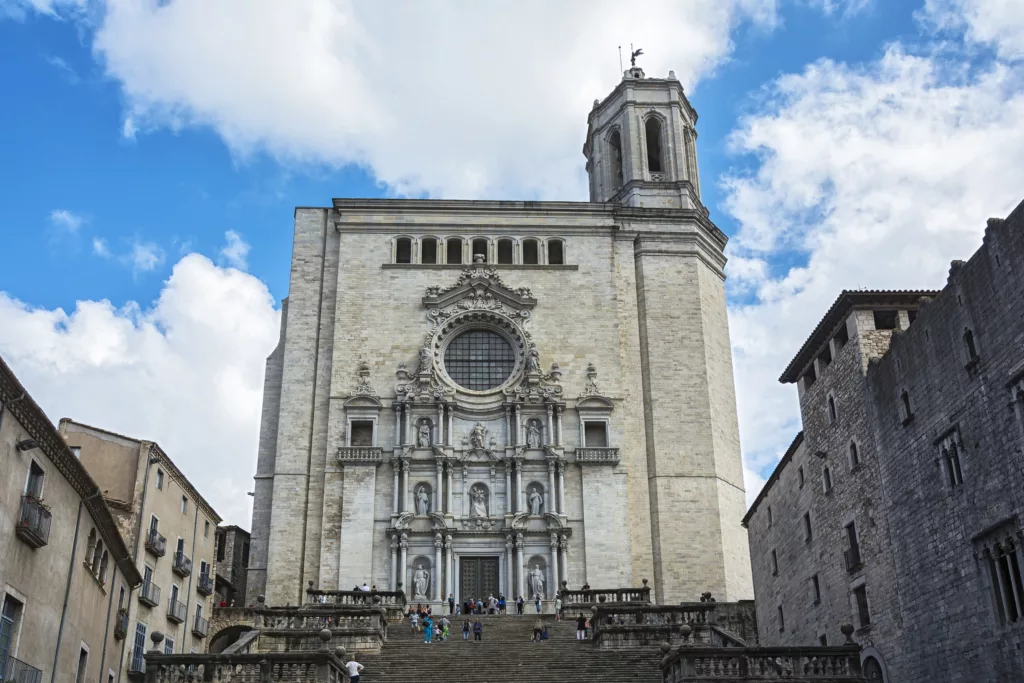 Girona Cathedral is by far the city's most recognizable landmark, even if you haven't seen Game of Thrones, in which it plays a starring role.
The cathedral was built over several hundred years – the oldest parts date back to the 11th century, and the most modern flourishes were added in the 20th century – so many architectural styles are at play here. Inside the cathedral, you can see the world's longest Gothic nave (central aisle).
But, if you look beyond its history and world-class credentials, the cathedral is worth visiting for its beauty alone. I don't know how long I spent there taking photo after photo of the stunning exterior, which was perfectly framed by those bright blue Spanish skies. Those steps you see me sitting on were ideal for taking the weight off and soaking up the atmosphere of this popular part of the city.
The Jewish Quarter (El Call) and the Medieval Quarter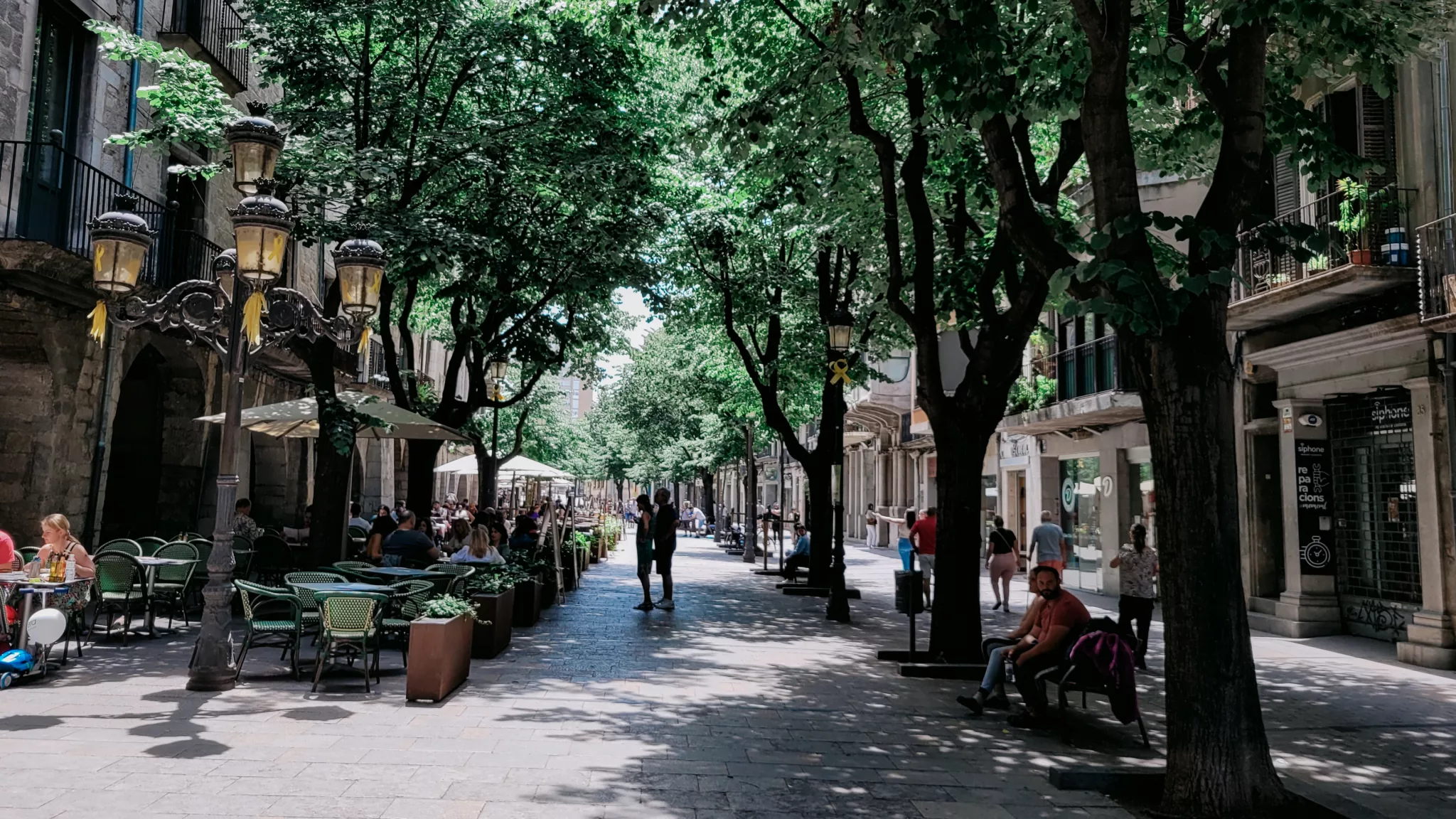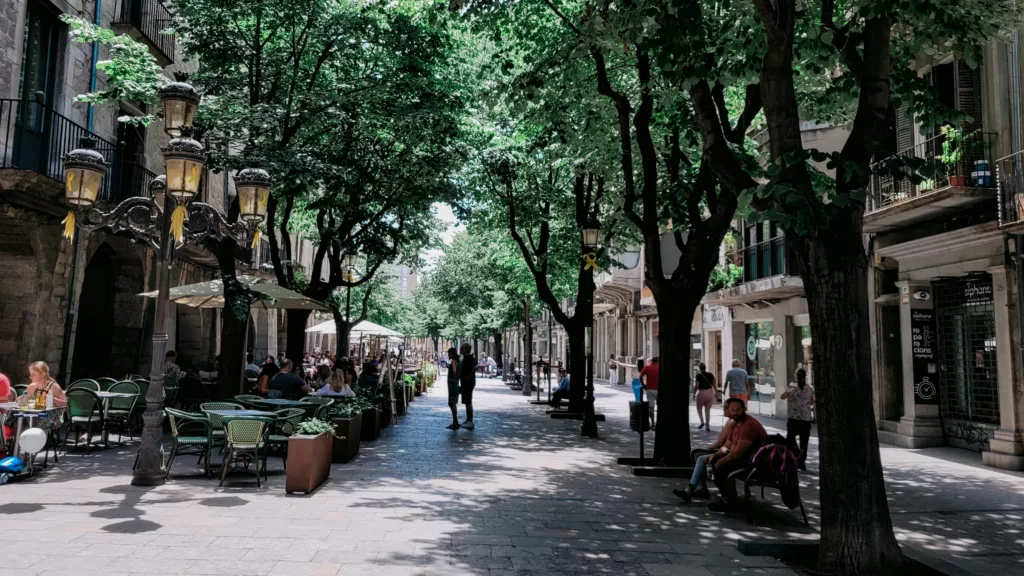 I didn't understand the important history of Girona's Jewish population before I visited the city. But I now know this was one of Spain's most important Jewish areas during Medieval times.
You can wander around El Call freely, enjoying this district's cobbled streets and preserved buildings. Calle de la Forca is the main street in the Jewish area and is where you'll find the Museum of Jewish History, which I'll discuss further below.
The Onyar River and the Hanging Houses
The Onyar River flows through Girona, and as it passes the heart of the city, you can see the unique 'hanging houses' which line the river. These are brightly colored homes built over several centuries that have become synonymous with the city of Girona.
Most of the homes are privately owned, but one belongs to the family of Rafael Masó, a premier Spanish architect. This home has been converted into a museum and is now open to the public, and although I didn't visit Casa Masó myself, I've heard good things about it.
Connecting the old and new sections of Girona across the River Onyar is the Pont de les Peixateries Velles, an unmistakable red metal bridge designed by Gustave Eiffel, the architect responsible for the Eiffel Tower. You can see me crossing the bridge in this photo – I'm on my way back from taking some pictures of the hanging houses, naturally!
Museums and Cultural Experiences in Girona
I always enjoy digging a little deeper into the culture of a city, and Girona has some great museums to consider during your visit, whether your interest is archaeology, religion, or art.
The museums I cover in this section are all easy to get to, and they have information in English. Still, if you're keen to make your visit easier and to learn a little more while you're there, you could join one of the quality tours I've highlighted below.
Museum of Archeology of Catalonia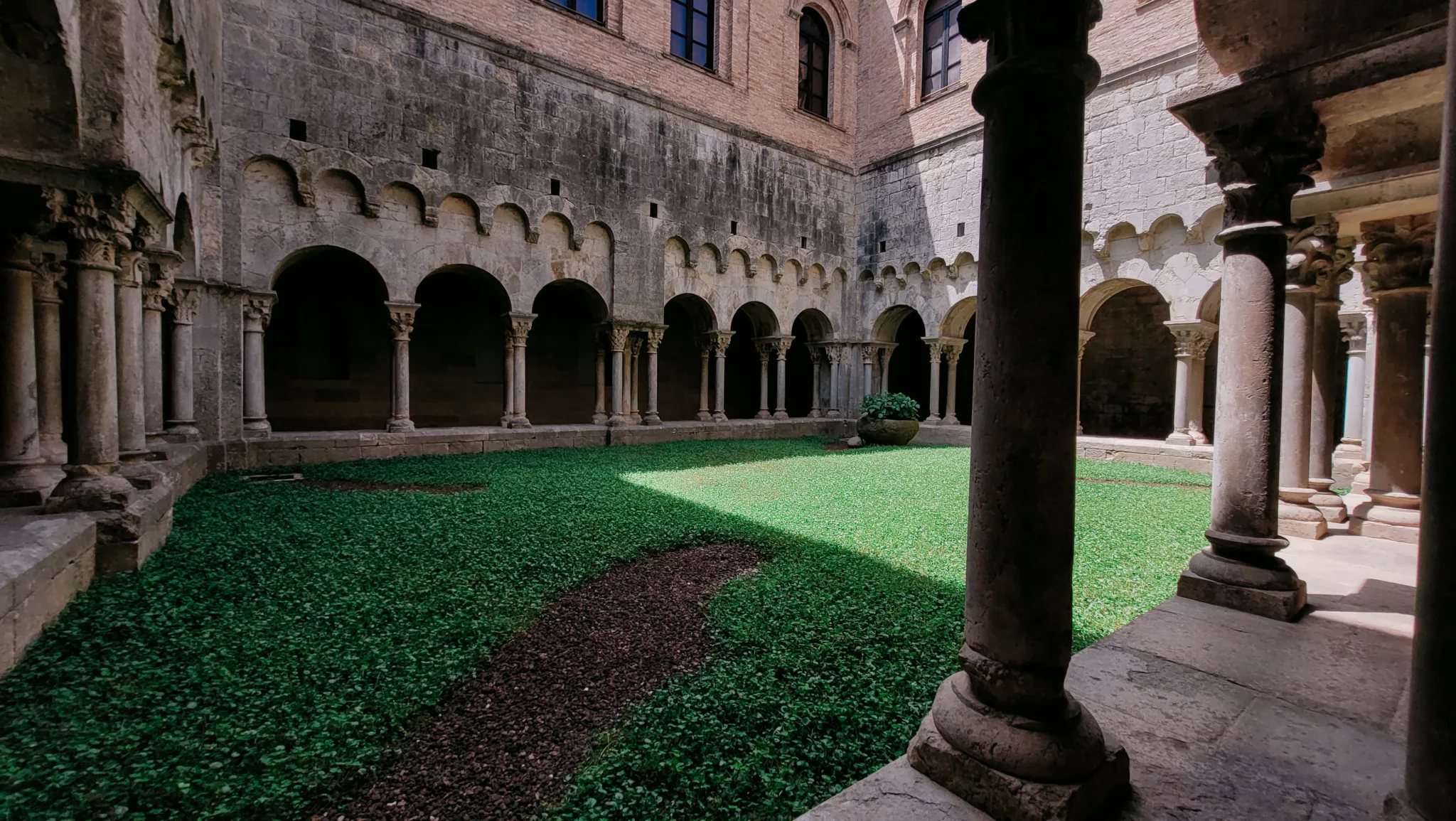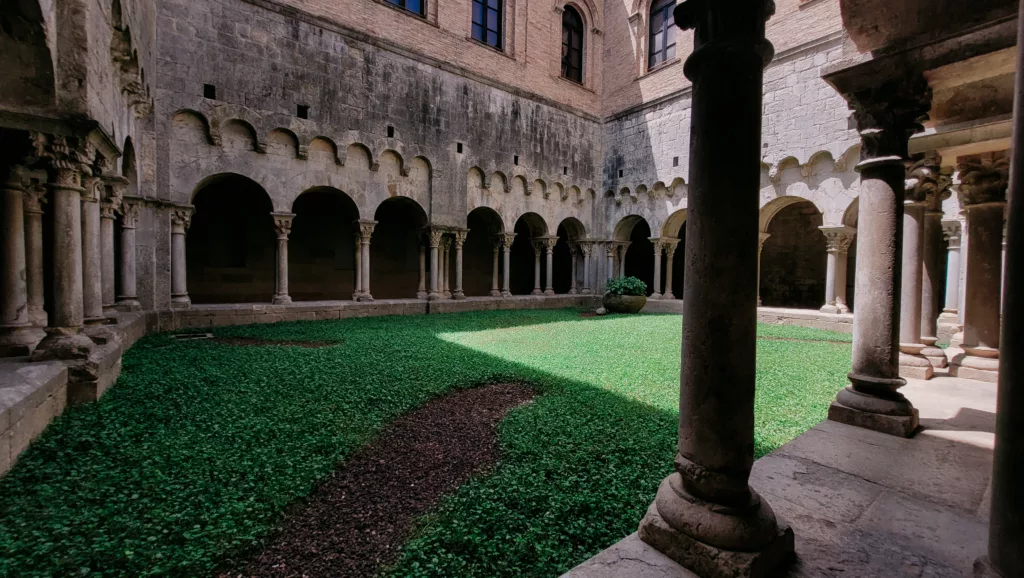 If you find the history of Girona and the Catalan region as fascinating as I do, the Museum of Archaeology of Catalonia is a strong contender for your must-visit list.
The museum charts the city's journey from its ancient roots through to the Middle Ages, exhibiting a wide selection of items discovered during archaeological digs. Even the museum building is pretty spectacular – it was once the Sant Pere de Galligants monastery and dates back to the 10th century.
The museum is open most days of the year and entry is a bargainous €6 for adults.
The Museum of Jewish History
In medieval times, Girona's Jewish population was the largest in Spain. They significantly contributed to the culture and history of Girona and the wider region at that time.
The Museum of Jewish History displays many artifacts, including clothing, jewelry, and even tombstones. You can explore the museum solo, but by joining one of the well-rated guided tours below, you can make the most of your visit, expanding your knowledge of a little-known but important aspect of Catalonia's history.
➡️Girona: Jewish Heritage Guided City Tour and Museum Visit

➡️Girona Jewish Heritage small group from Girona
Girona Art Museum and Museum of Cinema
To get the lowdown on Girona's artistic side, consider visiting the Girona Art Museum or the Museum of Cinema, two of the city's world-class cultural centers.
Tomàs Mallol was a collector and filmmaker whose fascination with the moving image led him to gather thousands of cinema-related items in a collection that's now on display in Girona. The Girona Art Museum is housed in the stunning Episcopal Palace and has art from Roman times right through to contemporary Catalan art pieces.
Both museums are understandably popular and can get busy, but luckily you can purchase tickets in advance to make sure you're able to visit on your chosen day – and without waiting in long lines.
➡️Girona Film Museum – Entrance

➡️Entrance ticket to the Girona Art Museum
Girona's Unique Highlights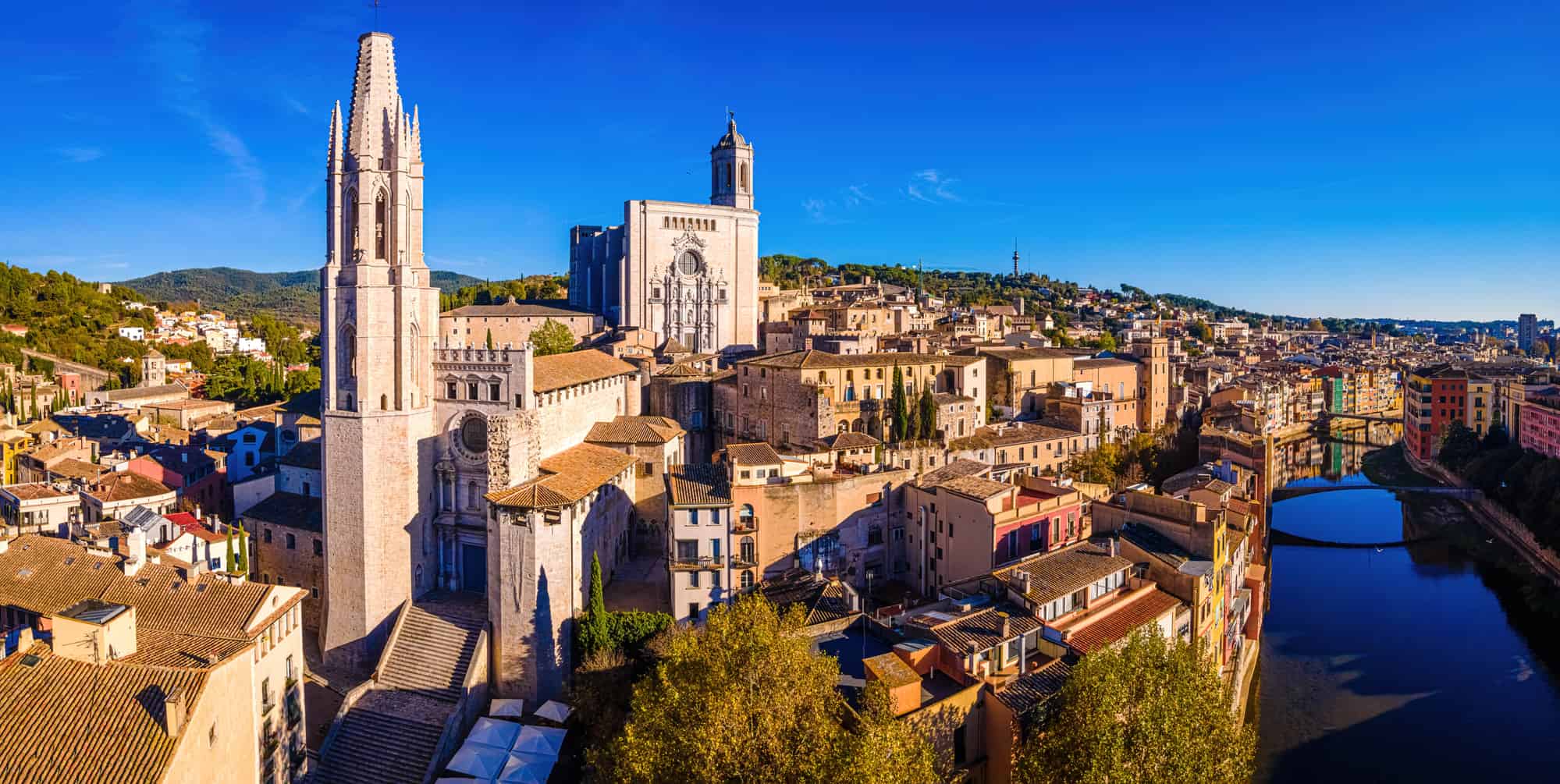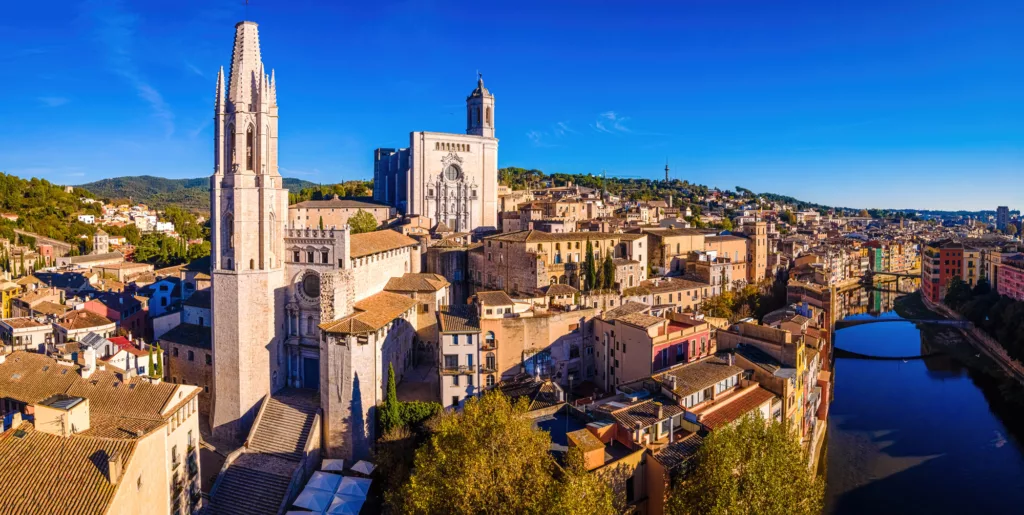 While there are plenty of well-known tourist attractions in Girona, don't worry; there are still some lesser-known gems to be discovered too. From myths and legends to tasty treats, here are a few of Girona's off-the-beaten-path spots to hunt out during your visit.
The Flies of Saint Narcissus and Statue of Saint Narcis' Foot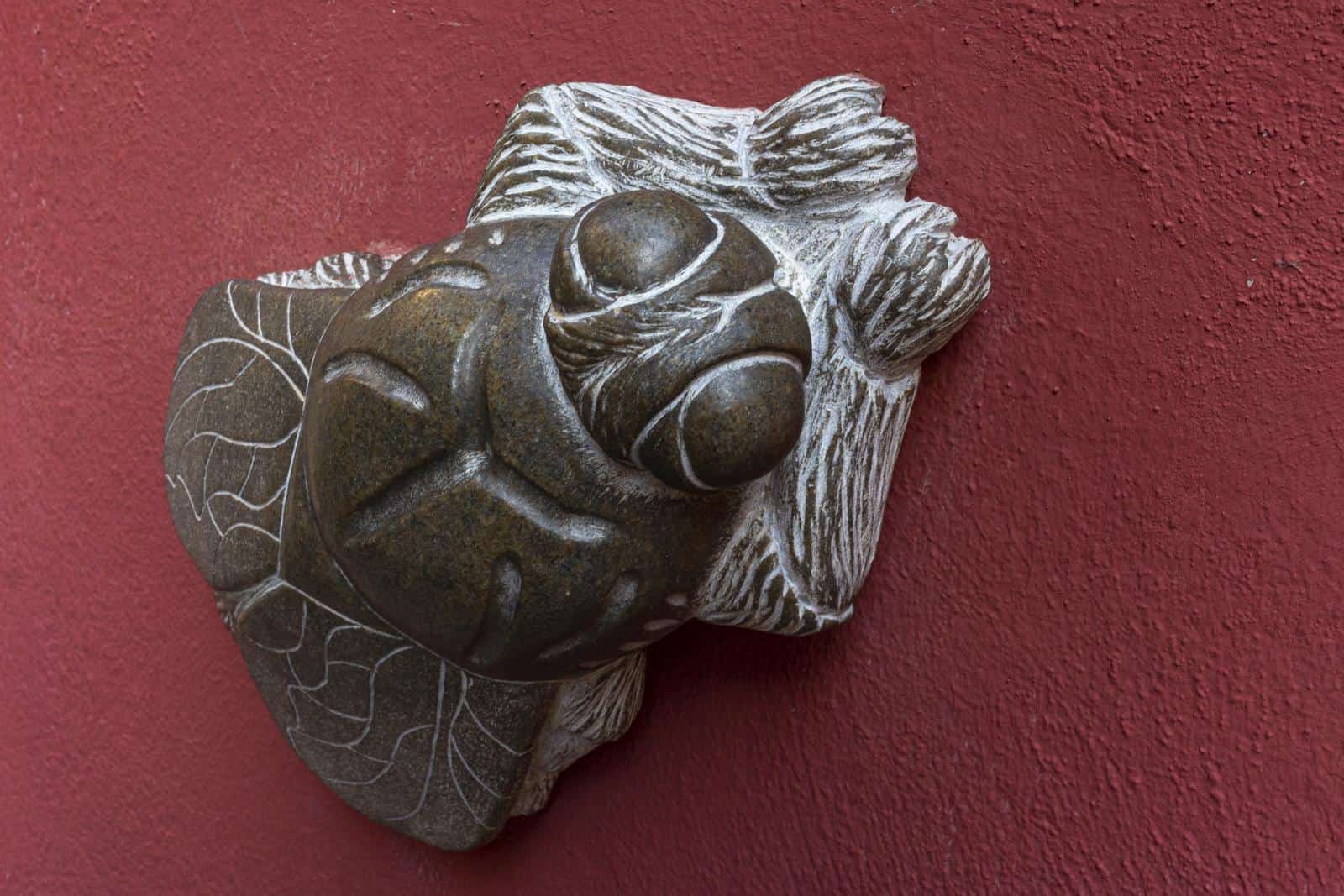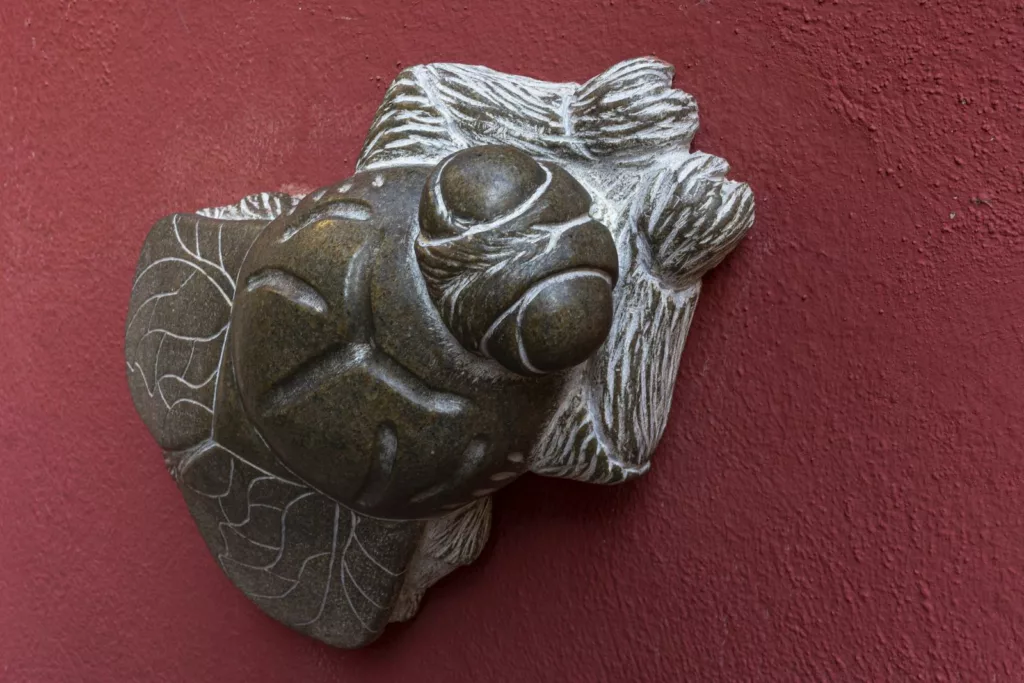 You may wonder why Girona's city emblem is a fly – well, it's an interesting story. Girona has dealt with many invasions in its time. Still, during a French siege in 1286, enemy soldiers ransacked the city's churches, opening the tomb of Girona's beloved patron saint, St Narcissus (also known as Saint Narcis). It's said a swarm of angry flies flew from the tomb attacking the invaders and driving them out of the city.
These days, you'll notice stone flies that commemorate this story attached to Old Town walls, which are said to bring good luck if you rub them.
Another interesting tale about St. Narcissus dates back to the early 4th century. While being hunted by Christian soldiers, clever Narcissus escaped through a window, deliberately leaving a footprint on the exterior wall, making it look like he'd climbed into the building to hide instead.
The trick worked, and he was able to escape – and in celebration, a statue of Saint Narcissus's foot is now on display in the city, commemorating the quick wits of this former Girona resident.
Savour Local Delights: Ratafia, Xuixo, Chocolate from Can Xapa, and Rocambolesc Ice Cream
As you'll find in many Spanish destinations, Girona has some unique culinary delicacies for you to try during your visit. These include:
Ratafia
A sweet liquor made only in Girona province with a brandy base that's steeped with lemon, cinnamon, nutmeg, and nuts and is enjoyed as an aperitif.

Xuixo
Xuixo is a tempting pastry treat, created by a local Girona baker after seeing similar pastries being baked in France. It's filled with crema catalana and is absolutely delicious!

Can Xapa chocolate
The irresistible Pasteleria Can Xapa is something of an institution in Girona province. It's located in Bordils, a little town northeast of Girona, and it's famous not only for its cakes and pastries but for its 40+ varieties of chocolate.

Rocambolesc ice cream
In a tiny shopfront on the west side of the River Onyar, you'll find Rocambolesc, an ice cream shop with a difference. Here, you can buy a 'Golden Hand' – a nod to Game of Thrones – which is a mango and blood orange-flavored recreation of Jaime Lannister's false hand!
Exploring Girona's Green Spaces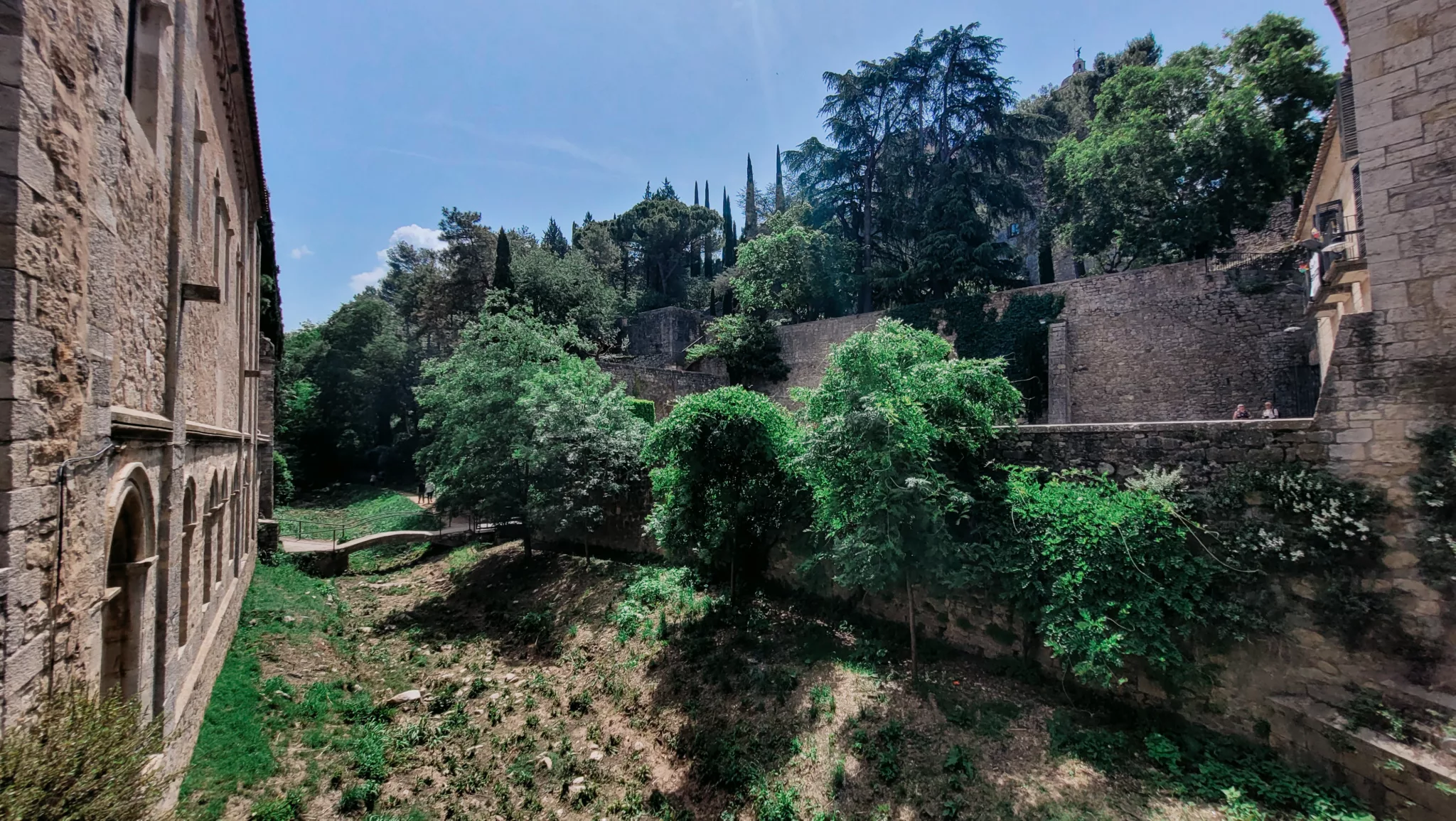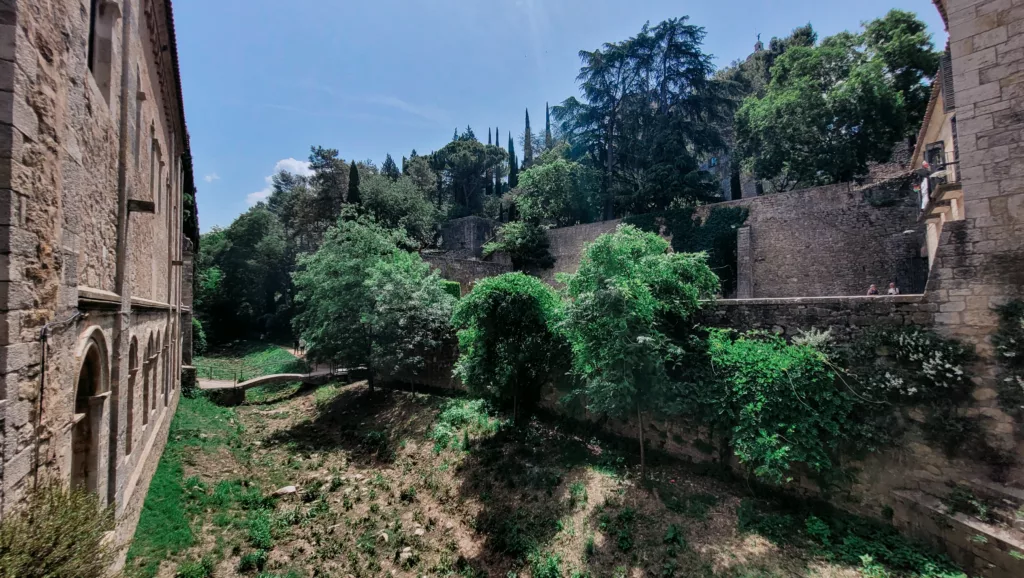 Although Girona has plenty of historic buildings to enjoy, that's not all it has to offer. There are also beautiful parks and gardens which are perfect for a picnic during your Barcelona to Girona day trip. Here are some of the best:
Parc de la Devesa
Located on the west side of the River Onyar, Parc de la Devesa is an inviting place to spend an hour or two in summer. With a woodland area for some much-needed shade and a street market every Tuesday, this 40-hectare park is worth including in your Girona exploration.

Jardins dels Alemanys (German Gardens)
This pretty garden, slightly east of the city center, is a pleasing mix of history and nature. You'll find the remains of 19th-century barracks used by German soldiers – hence the name 'German Gardens'. There's also a structure called the Lightning Tower. Take a walk to the top and you'll enjoy great views back across Girona.

Jardins de la Francesa (French Gardens)
Immediately north of the Jardins dels Alemanys, you'll find the 'French Gardens', a place once owned by a Frenchwoman who Girona's Archbishop developed a crush on – she inspired the sweet botifarra sausages you can still find in the city today.
Navigating Girona
Girona has a compact city center that you can easily cover on foot. And, with several walking routes on offer, it's a lovely way to explore this pretty city. As well as the obligatory Game of Thrones self-guided walking tour, you could also try walking the city walls – a free activity that I really enjoyed.
However, if walking's not your thing, there are other ways to get around Girona, including:
Local buses
There are 10 bus routes in and around Girona operated by Transports Municipals del Girones. One-way tickets cost €1.40 and can be purchased from the bus driver when boarding.

Taxis
There are several taxi hubs in Girona, including Girona railway station, the bus station, Plaça Independència, and Carrer Joan Maragall.

Cycling
Girona has a good cycle network, which makes getting around the city on two wheels quick and easy. If you're visiting for a day, there are several places to hire a bike in the city center.
Best Time to Visit Girona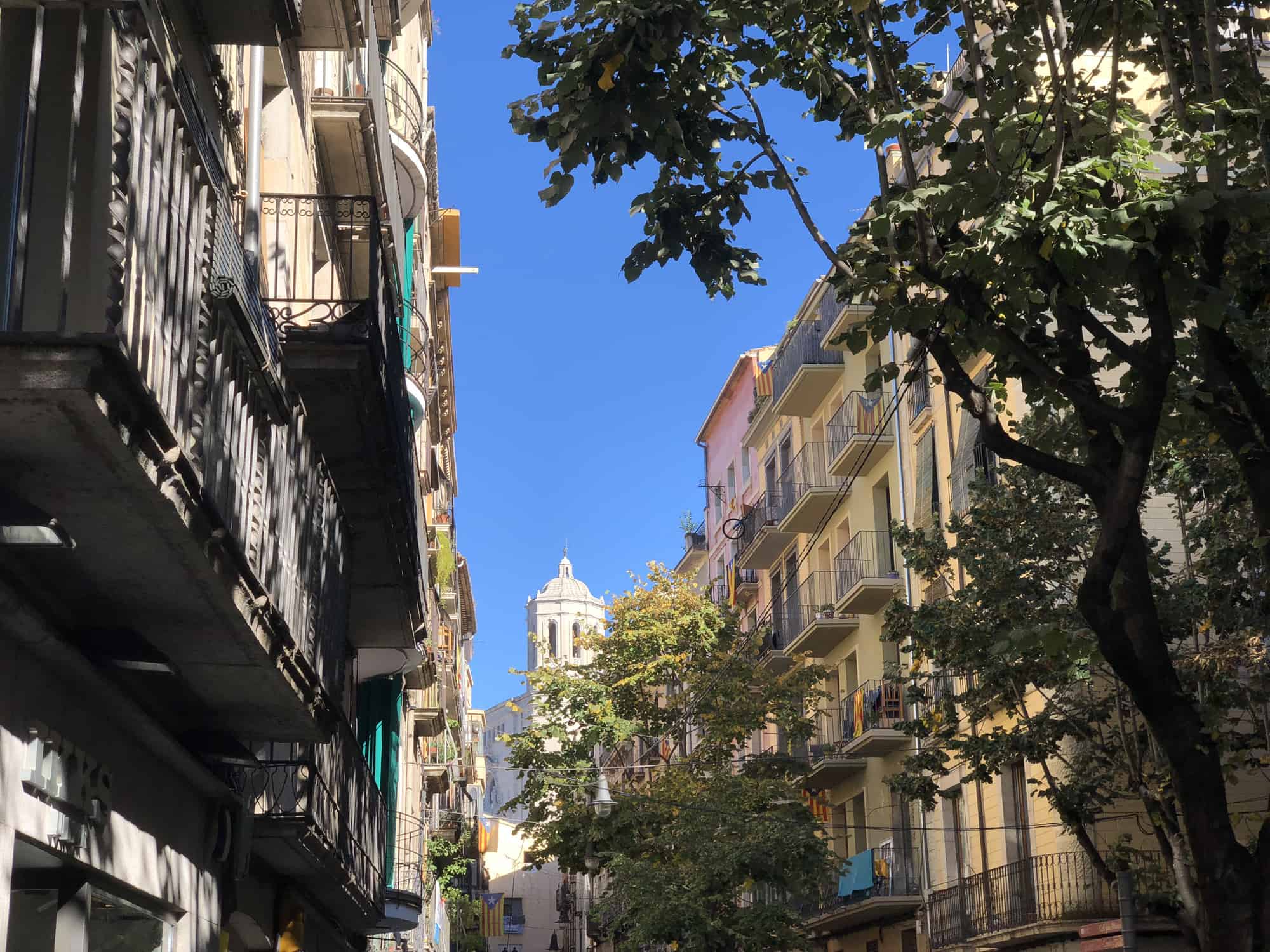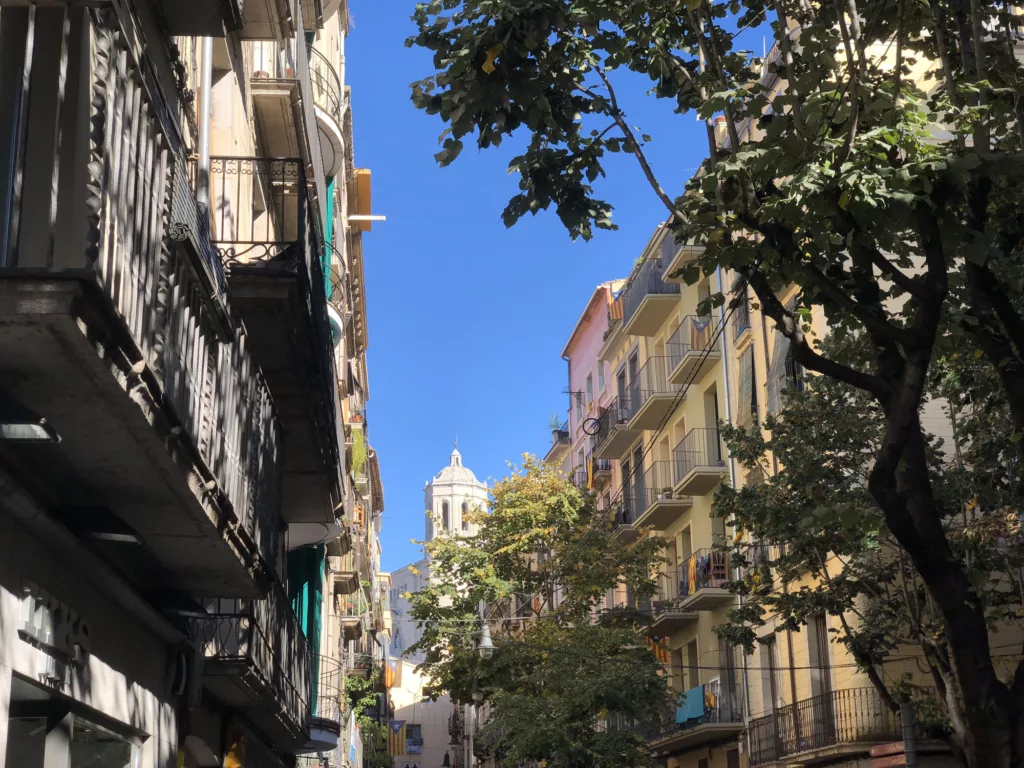 Weather-wise, the best time to visit Girona is between April and September, when temperatures are warm and days are (generally) long and sunny. By October, you can expect more rain and before April, it can be a little chilly – although it's still warm compared to many northern European cities. I visited in May, and you can see from my photos that the weather was beautiful!
A couple of times each year, tourist numbers will peak. Of course, the summer holidays (July and August) are classed as high season, and the city is always busy. But the Temps de Flors flower festival in May and the Sant Joan festival in June, are also very popular city events. Factor this into your planning, and you could either experience a unique celebration – or know when to avoid the crowds!
Experience Girona through Guided Tours
Girona offers a range of guided tours perfect for making the most of your Barcelona to Girona day trip. Whether you want to learn more about the history of this Catalan city, sample some of its best local food and drinks, or hear about the impact of Girona's Jewish population, there is a tour to pique your interest.
Here are some of the best tours on offer:
Cycling in Girona
Girona is a fantastic place to visit if you love exploring by bike. Not only is its city center bike-friendly, but there are also beautiful cycling routes all over Girona province.
If you're interested in a full-on cycling holiday, this 8-day experience will challenge you physically, as you explore eastern Spain's coastline and some of its most beautiful Medieval villages, including Monells and Begur in the Baix Emporda region.
Visiting Girona: FAQs
Still have questions? This FAQ section right here will clear up any questions you may still have about your Barcelona-to-Girona day trip. Let's dig into it!
How much time do you need in Girona?
A full day in Girona gives you a good taste of the city. If you want to see more of Girona besides the hot spots, schedule another day to explore the local side of Girona. I've visited Girona multiple times and never got bored of the city. 
How much does it cost to go to Girona from Barcelona?
Getting to Girona from Barcelona is quite affordable! A one-way train ticket costs around 15 to 20 euros. Depending on when you book, you might even get a discount.
Is Girona Spain walkable?
Absolutely! Girona is incredibly walkable. In fact, walking is the best way to enjoy the city. Personally, I love getting lost in the many small cobblestone streets. Just remember to wear comfy shoes!
What is special about Girona?
Girona is special for so many reasons! The colorful houses lining the River Onyar are a sight to behold. The city's Jewish Quarter is rich in history, and the food, oh the food, is out of this world! But what sets Girona apart is its warm, laid-back vibe.
Wrapping Up Your Girona Day Trip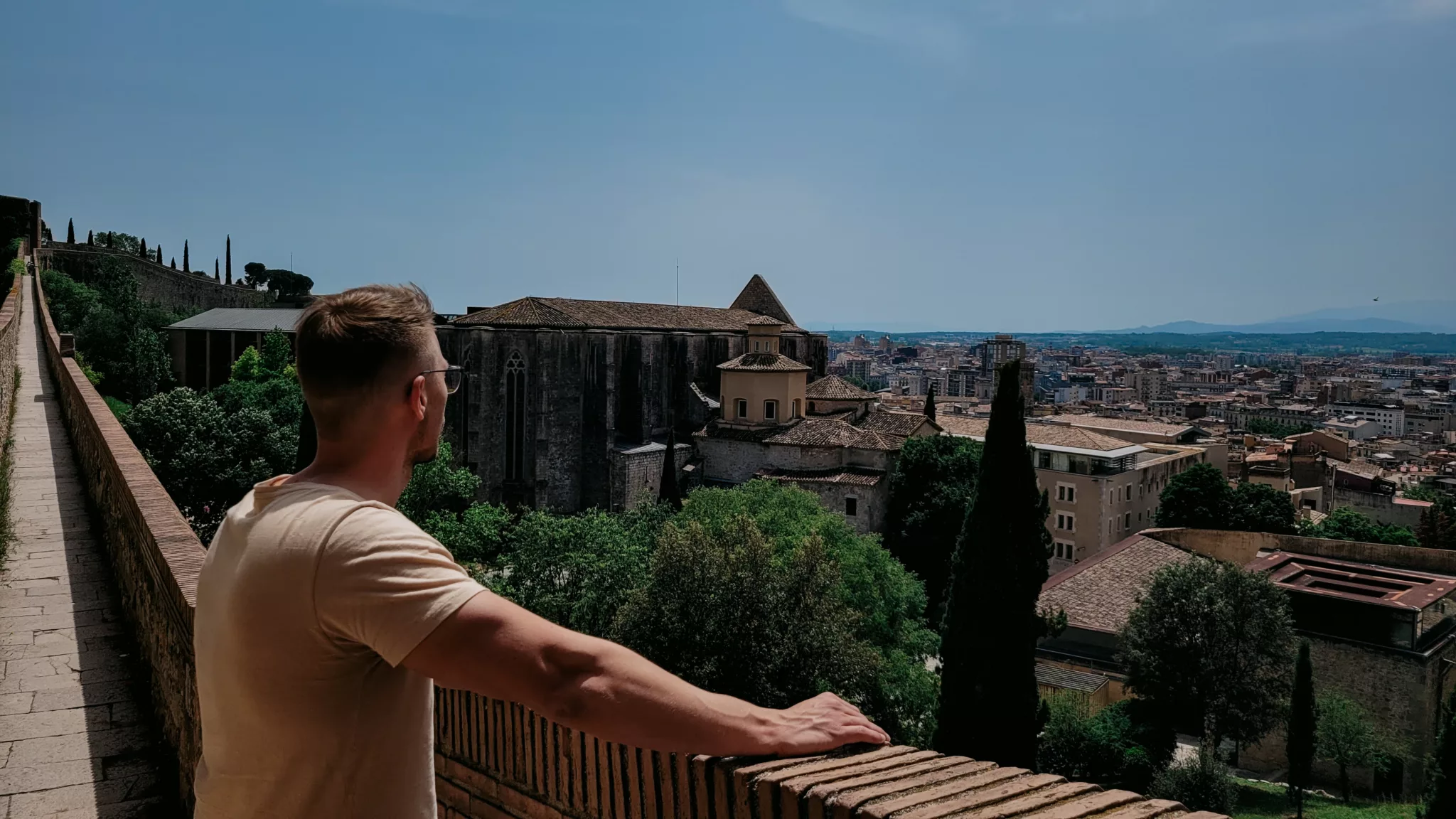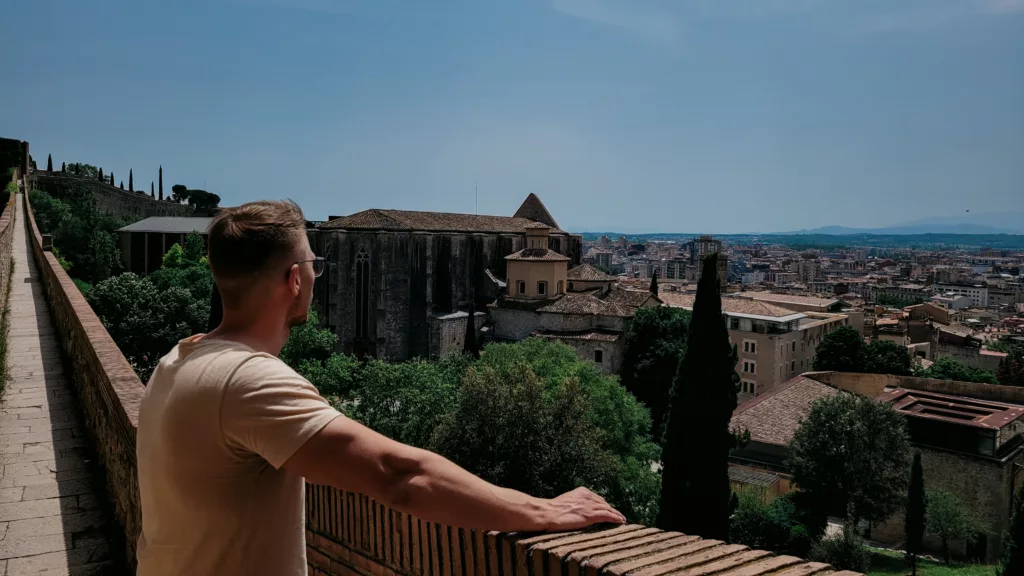 So, now I've shared a little more about Girona, what do you think? Are you tempted to add a Barcelona to Girona day trip to your Spain itinerary?
Girona has something to offer everyone, from its fascinating medieval history and its beautiful, winding Old Town streets to the more recent Game of Thrones links. And, while other destinations get more attention, visiting Girona will show you an authentic Spanish city where you'll encounter more locals than tourists and where you can always find a quiet corner to enjoy.
I believe Girona will only get more popular each year, so whether you visit for a day or a week, I wouldn't hesitate to include Girona in your next Spanish adventure.
Just letting you know
When you buy something through my links, I'll earn a small commission—don't worry, it won't cost you any extra! It's a win-win, right?
Exclusive Heymondo Travel Insurance Offer
Planning a trip? Make sure you're covered! We've teamed up with Heymondo to give our readers a special deal: 5% off travel insurance. Grab this deal and know you're looked after on your next trip.