Everyone knows that the darkly dramatic Game of Thrones was filmed in Croatia and Ireland, but did you know that Girona also played a starring role in this popular drama? I took a self-guided tour of this lovely Spanish city's Old Town when I visited Girona. As expected, I saw loads of landmarks and features I recognized from Game of Thrones. But I also got to experience one of Spain's most underrated destinations along the way.
So, which season of Game of Thrones was shot in Girona? And how many filming locations does the city have? Read on for everything you need to know about the perfect Girona Game of Thrones self-guided tour.
Hi, I'm Timon!
I've experienced the heartbeat of Spain firsthand. Over the last five years, I've immersed myself in the dynamic cities of Spain, truly living the Spanish way. My insights into this beautiful country are rooted in genuine experience.
Game of Thrones Locations and Route in Girona
Here's a handy map showing you where they all are to help you get a visual on Girona's Game of Thrones filming locations.
If you want to explore the locations but only have a day in the city, you're in luck, as the whole route only takes 2-3 hours to complete – depending on how many photos you take, of course. (And, if you're anything like me, you'll want to take plenty of pictures to remember your visit!)
Girona Self-Guided Walking Tour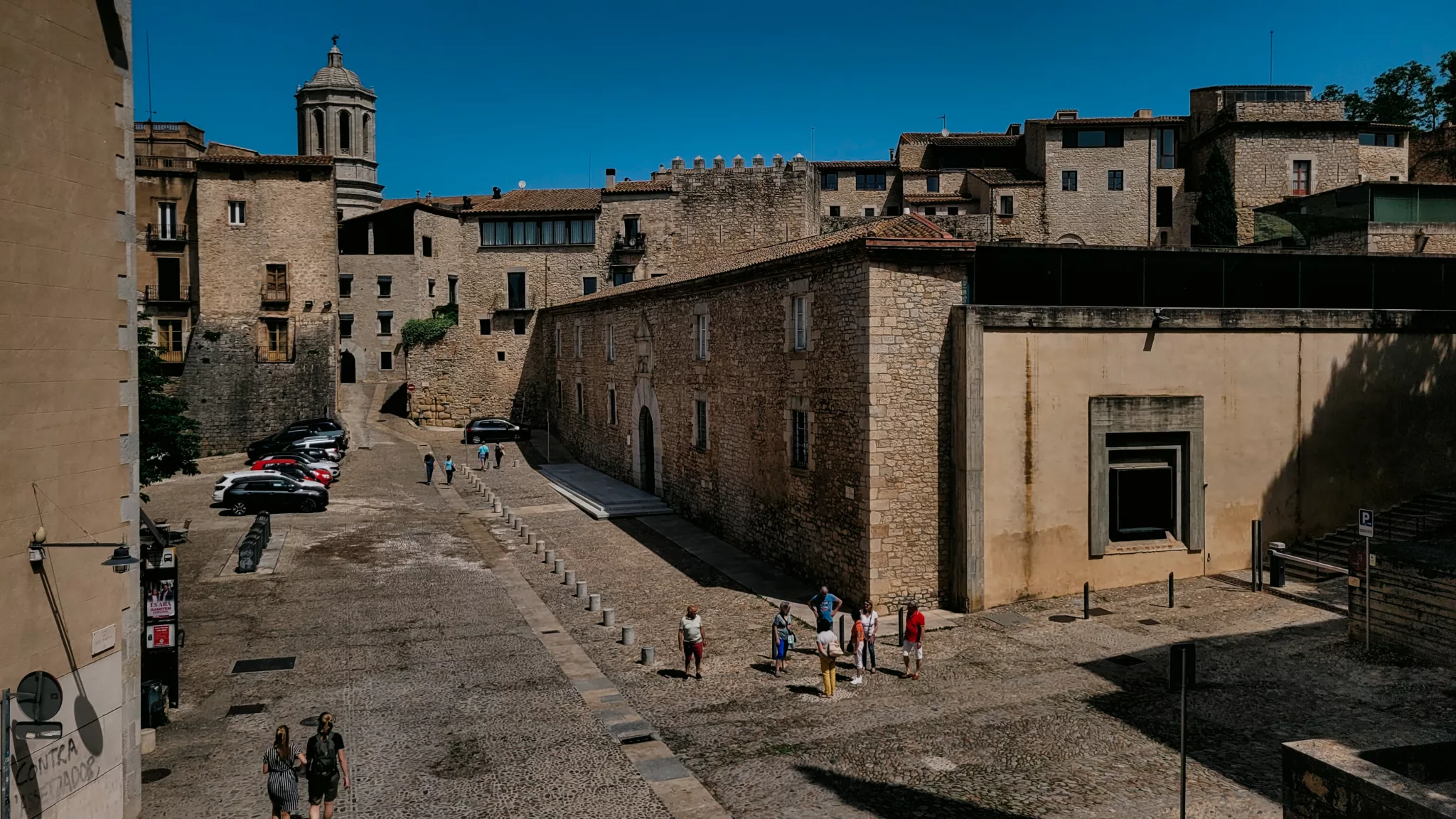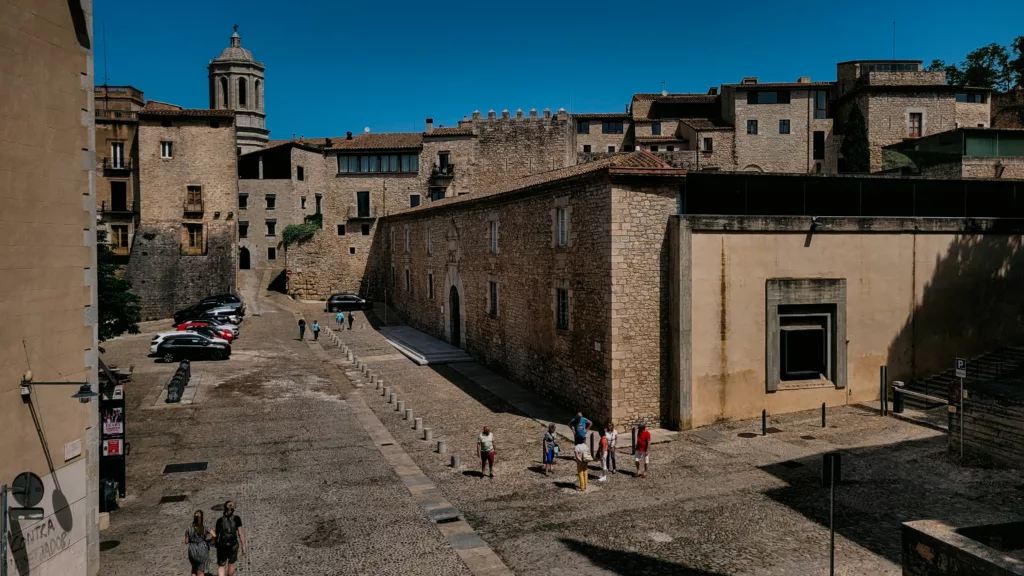 If you're arriving in Girona by car, you'll need to find somewhere to park before you begin your tour. I found a great parking spot close to the start of the route that's safe and free to use. I definitely recommend parking there if you can.
If you're not driving, you can take the train to Girona from the nearby city of Barcelona – it takes less than 40 minutes to make the 100 km trip. If you're unfamiliar with the Catalan capital, you can check out if Barcelona is worth including in your vacation here.
As you enter the city of Girona, you'll get a first glimpse of the impressive medieval center. As you can see from these photos, it's gorgeous. I couldn't wait to get out of the car and start exploring the narrow streets of this overlooked Spanish gem.
1. Streets of Braavos / Bishop José Cartañà Street
One of the most well-known Game of Thrones locations in Girona is found at Bishop José Cartañà Street. It features heavily in the first episode of season six, and if you're scratching your chin trying to work out the plot from that episode, let me help you out.

As you can see in the photos, I'm sitting in exactly the same place as Arya Stark. In this episode, Arya is blinded by Jaqen H'ghar as a punishment for taking a life that he claimed belonged to the Many-Faced God, and she is forced to beg on the streets of Braavos. I got chills sitting here imagining how it would have felt to be Arya forced into such a vulnerable situation. I was glad to move on to the next location, which happens to be Girona's most well-known landmark – its huge cathedral.
2. Great Sept of Baelor / Cathedral of Girona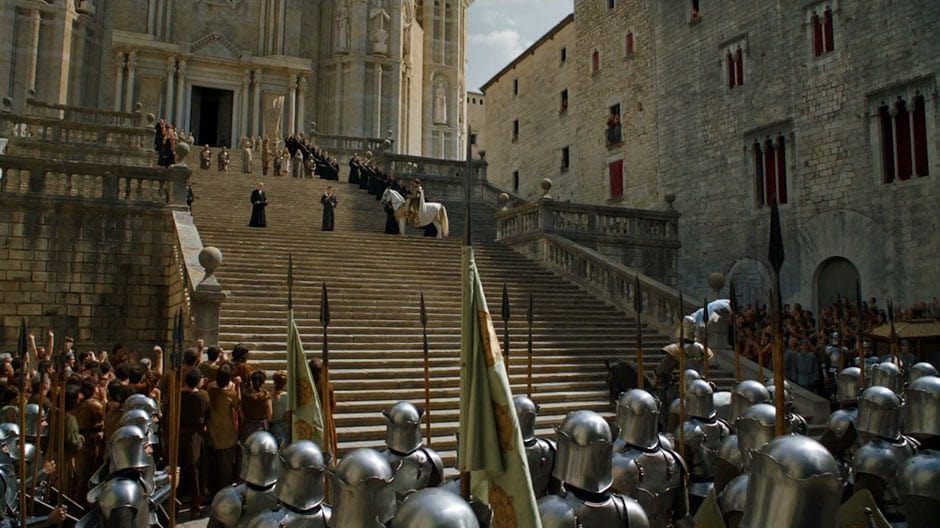 Girona's majestic cathedral played a memorable part in the show as Kings Landing's Great Sept of Baelor. This was where King Tommen Baratheon's wife, Queen Margaery, was about to take a walk of atonement through the crowd-lined streets of Braavos. However, thanks to the timely arrival of Jaime Lannister and a whole host of troops, Margaery's humiliation was spared.
Looking up the stairs towards the gothic cathedral – parts of which date back to the 11th century – you can recognize the facade immediately. However, if you stand here, at the top of the stairs looking away from the cathedral, it's an entirely different story.
In Kings Landing, the Great Sept overlooked the ocean, with far-reaching views towards the craggy edge of the island. But in Girona, the cathedral is fronted by a small plaza lined with tall, narrow houses. I was certainly impressed by the quality of CGI when I saw the difference between the show and reality!
I think Girona Cathedral is the best place on the self-guided tour for snapping some pictures, as it's so naturally photogenic. Plus, I was lucky enough to visit when the weather was great – and those blue skies really emphasized the beauty of the cathedral's exterior.
3. Braavos Port Market / Ferran el Catòlic Street & Archaeological Walk
Another important Game of Thrones location is the bustling Braavos Port Market, which was filmed on Ferran el Catòlic Street, part of Girona's Archaeological Walk. It's here we see Arya Stark trying to find a way out of Braavos, making her way through the market to locate someone willing to help her.
In contrast to the busy chaos we see in the Game of Thrones marketplace, the real Ferran el Catòlic Street is a much more sedate part of the city despite still being super close to the Cathedral. It's also – in my opinion – one of the prettier locations used in the show. I stopped for a break on the stairs here (from inside the Arab Baths), soaking up the sounds of the city.
4. Baths of Braavos / Banos Arabes (Arab Baths)
Girona's Baños Arabes, or Arab Baths, are a fascinating place to visit in their own right. They date back to the 1100s and have been owned at various times by doctors and nuns, and they were also a ritual bath – or mikveh – for Girona's Jewish population.
In Game of Thrones, the Braavos Baths serve as a backdrop for Arya, who the Waif is pursuing in episode 8 of season 6. After being chased through the Baths and catacombs, Arya comes out victorious, killing the Waif with 'Needle,' the tiny sword gifted by her brother, Jon Snow.
The Arab Baths are a super atmospheric location and one of the more unusual spaces in Girona's Old Town. They're pretty easy to find, and you can explore them for a bargain sum of €3. Although the baths are small, they're really well preserved, and I recommend taking the time to visit.
5. The Theatre of Braavos / Plaça dels Jurats
Who can forget when Arya visits the Theatre of Braavos to watch a play depicting the lives of the Lannister family? She's been sent to kill Lady Crane, an actress playing the part of Cersei Lannister. But the play hits a bit too close to home when it recreates the gruesome death of Arya's father, Ned Stark.
In the case of life imitating art, the small square used as the Theatre of Braavos is now also the location of an occasional theatre in Girona.
This sunny square is another great spot to take a break while exploring Girona, perching on the long wall, and imagining yourself in an episode of Game of Thrones. I also got some photos of the Braavos Bridge from Placa dels Jurats – more about that next.
6. Braavos Bridge / Galligants Bridge
Girona's Galligants Bridge was used to depict the Braavos Bridge in Game of Thrones.
In the show, a mighty river flows beneath the bridge, which Arya throws herself into to escape the Waif. However, a touch of CGI magic was required to create that river – in reality, it's completely dry. Also digitally added was a huge statue Arya gazes towards as she stands on the Braavos Bridge.
Despite all the enhancements, it's great to visit the bridge, which makes for a quality photo opportunity – I found it a really attractive part of the tour.
7. King's Landing Cloister & The Library of Oldtown / Sant Pere de Galligants Cloister
The Library of Oldtown, filmed on location in Sant Pere de Galligants Cloister, was particularly important to the character Samwell Tarly – best friend of Jon Snow. Always drawn to knowledge, Samwell would use the gigantic library to help prepare him as a maester. Interestingly, Sant Pere has a double role in Game of Thrones – it also features as the King's Landing Cloister.
Although Sant Pere de Galligants isn't a highly decorative building, I found it easy to recognize from the show, and the sheer scale of it is really impressive. As you'll see from my photo, it's low-lit and instantly identifiable as a religious building. There's a lovely atmosphere in here, and it's well worth the €6 entry fee to take a look around.
8. Braavos Market / Ascent of Sant Domènec
If you happen to be strolling up the stairs of Pujada de Sant Domenec and think you recognize the ornate green door at the top, you're right – this is another Game of Thrones location.
This is where Arya Stark, trying to escape the Waif in episode 8, jumps down from a ledge into the heart of a marketplace but loses her footing and knocks over a box of oranges. Quick to recover, Arya jumps back up, and the chase continues.
This scene really sticks in my mind for some reason, so I was pleased to see this location. There's now a restaurant halfway up the long staircase leading to the doorway, which is perfect for a relaxed cup of coffee as you contemplate this pivotal Girona Game of Thrones spot.
9. Streets of Braavos during Arya's Escape / Old Quarter Girona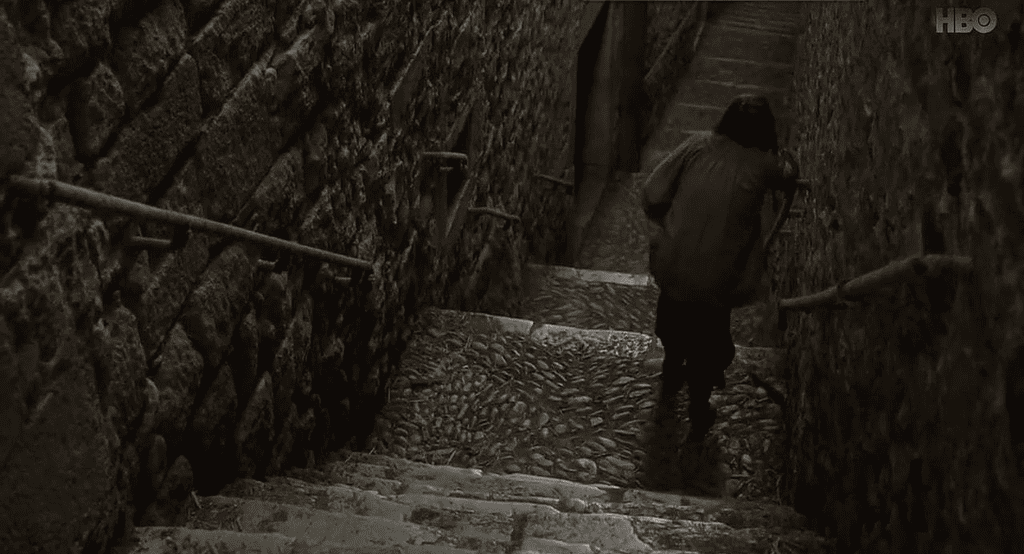 You could lose days if you tried to identify every Old Town street you see when Arya's running away from her would-be captor, the Waif. But the easiest street to find is La Rambla de la Llibertat, one of the main thoroughfares running adjacent to Girona's River Onyar.
Also featured in the show is the narrow, cobbled street where you can see me standing – I made the most of the shade, enjoying a few minutes of respite from Girona's hot and sunny weather. I certainly enjoyed it a lot more than Arya would have when the Waif was pursuing her!
10. Jaime Lannister's hand, Game of Thrones icecream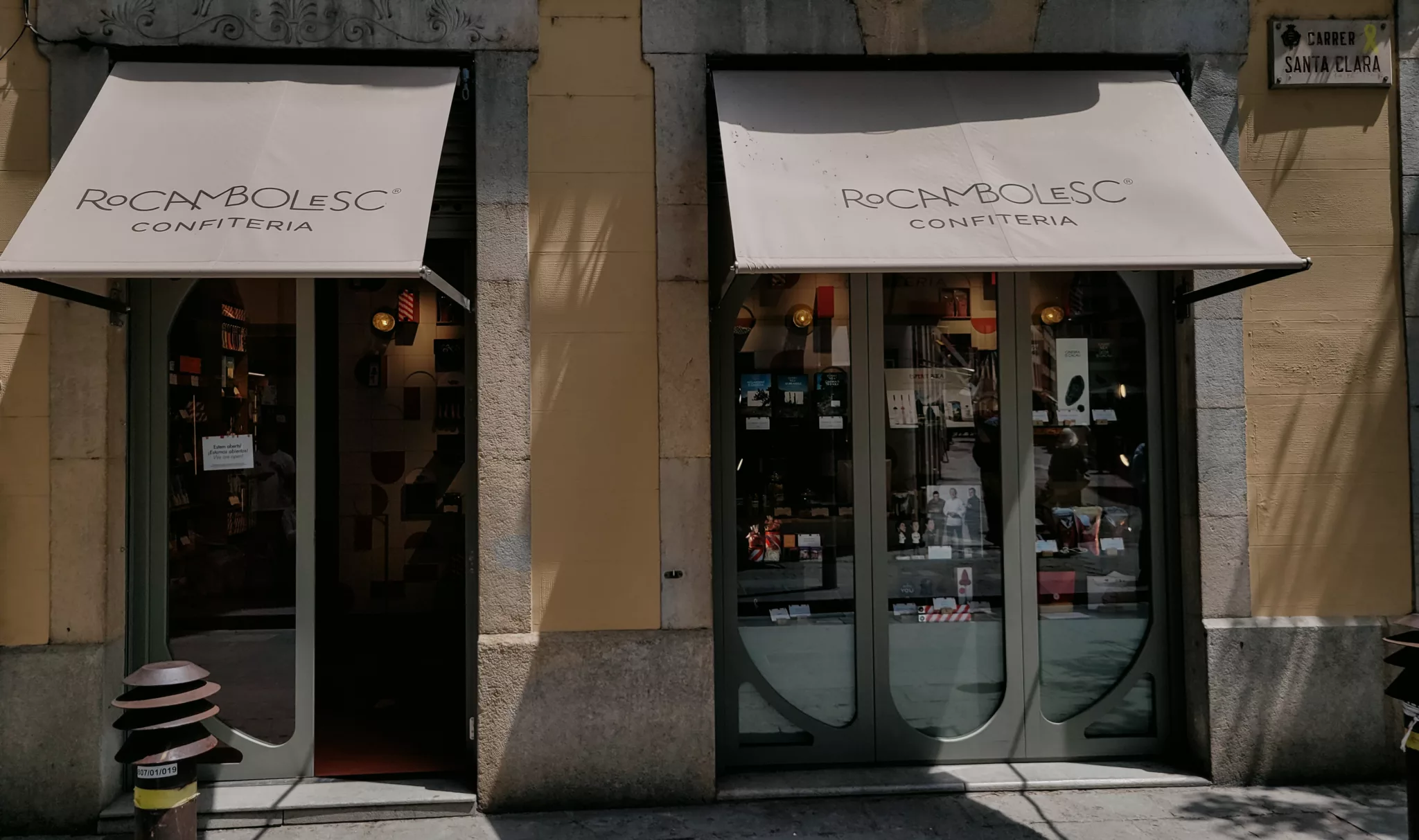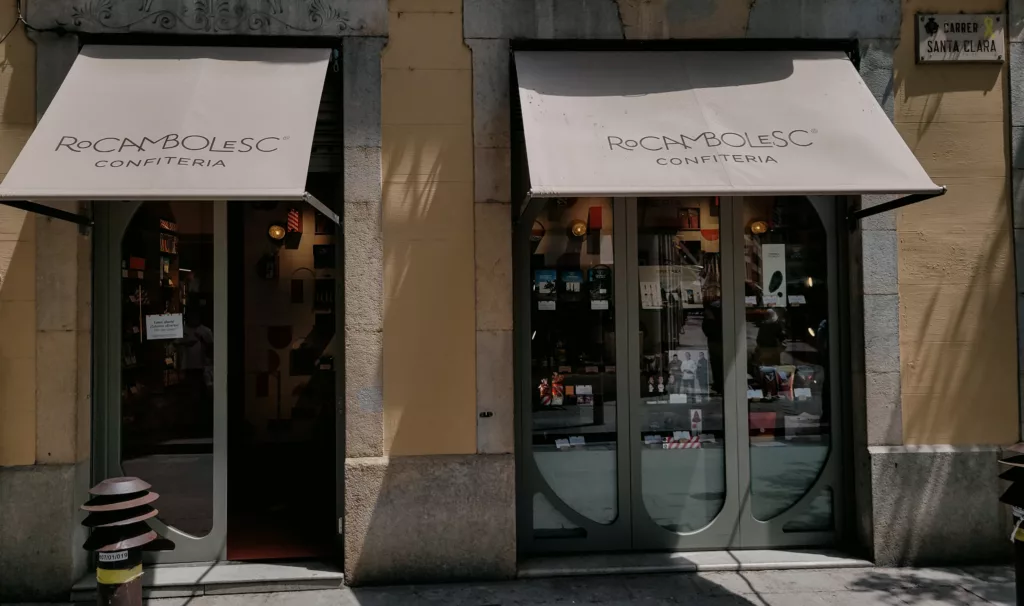 The final stop on your Girona Game of Thrones self-guided tour may not strictly be a filming location, but you'll be ready for a little refreshment at this point.
Rocambolesc is an ice cream shop on the other side of the river from most of the filming locations. Take a walk across the crisscrossed red metal bridge of Pont de les Peixateries Velles, taking in the colorful 'hanging houses' as you go. You'll find Rocambolesc in an unassuming shop just around the corner.
Why's it so special, you ask? Well, notable local chef – and former world's best pastry chef – Jordi Roca created a blood orange and mango ice cream in the shape of Jaime Lannister's false hand, and it has been crazily popular ever since. It was still available when I visited in May 2023, and the delicious ice costs €5.50 – it's a fun way to end your tour.
Game of Thrones Walking Tours in Girona
If you're not sure about a self-guided tour and you'd rather discover Girona's links to Game of Thrones with an expert guide, there are some great options around.
You'll be guaranteed not to get lost – which is worth a lot in a city with so many winding streets – and you'll also likely meet other Game of Thrones enthusiasts who are just as excited to see these locations as you are.
Choose whether to meet in Girona or to join a tour that includes transport from Barcelona – whichever suits you best. Here are my top recommendations for Girona Game of Thrones walking tours.
Conclusion: Game of Thrones Filming Locations in Girona
I loved Game of Thrones when it was on TV, so when I found out Girona was a filming location, I knew I had to go there. I'd had Girona on my must-visit list for a while, but being able to tie in exploring the medieval Old Town with seeing locations from one of my favorite shows gave me the push to finally book a trip. You could consider adding a day trip to Girona from Barcelona if you'd like to explore more of the culturally rich Catalan region.
What I loved during my Girona trip was seeing all these parts of the city I recognized from Game of Thrones while also learning more about a gorgeous Spanish destination that – in my opinion – not enough people visit. I think Girona will carry on growing in popularity thanks to its Game of Thrones links, so the sooner you visit, the better!
Just letting you know
When you buy something through my links, I'll earn a small commission—don't worry, it won't cost you any extra! It's a win-win, right?
Exclusive Heymondo Travel Insurance Offer
Planning a trip? Make sure you're covered! We've teamed up with Heymondo to give our readers a special deal: 5% off travel insurance. Grab this deal and know you're looked after on your next trip.