Of all the places I've visited in Spain, Deià, Mallorca in the northwest is one of my favorite spots. The pretty hillside town with honey-stone houses and shuttered windows is a popular A-list hideaway. It's also known as the island's gastronomic capital.
You can wander along winding cypress and palm-lined streets, browse gift shops and boutiques, admire arts and crafts, or sit in a quaint café sipping a glass of wine overlooking the landscape. The panoramic views are stunning, blanketed in different shades of green with a backdrop of rocky mountain peaks belonging to Serra de Tramuntana.
In this article, I'll share the best things to see in Deià, how to get around, where to stay, local events and much more. I hope you love this charming Mallorcan town as much as I do!
Hi, I'm Timon!
I've experienced the heartbeat of Spain firsthand. Over the last five years, I've immersed myself in the dynamic cities of Spain, truly living the Spanish way. My insights into this beautiful country are rooted in genuine experience.
A Brief Introduction to Deià, Mallorca
If you're seeking a laid-back, upscale introduction to the Mediterranean lifestyle, Deià, Mallorca is the place to be. The former artist's colony in the foothills of the Teix mountains has been home to authors, composers and artists since famous poet Robert Graves arrived in 1932.
Surrounded by verdant landscapes, it's a place to spend lazy days by a hotel or villa pool. You can hike the routes of Serra de Tramuntana, lounge on the beach, or even take a catamaran tour to hidden coves for the day.
Whether you're interested in shopping, fine dining, seeking out nearby tourist attractions, or cycling in the local area, Deià ticks all the boxes for a memorable island stay.
Journey to Deià: How to Get There
If you're arriving at Palma Airport, the easiest way to travel to Deià, is by a rental car in Mallorca. I rented a vehicle from Discovercars.com and drove along the Ma-1110 and Ma-10 from Palma, which took around 40 minutes.
Their website compares online car rental deals from several companies, making finding a vehicle to suit your needs easy. Unlike some other sites, they also add all fees and taxes to your quoted price, so there are no unpleasant surprises when you collect your vehicle!
They take bookings online 24/7 and offer free cancellation if circumstances change before your trip. The rental desk will ask for a deposit when you collect the vehicle and remember to check the mileage policies.
TIP: If you're traveling during peak season, always book early for the best deals.
Traveling to Deia from Palma by Vintage Train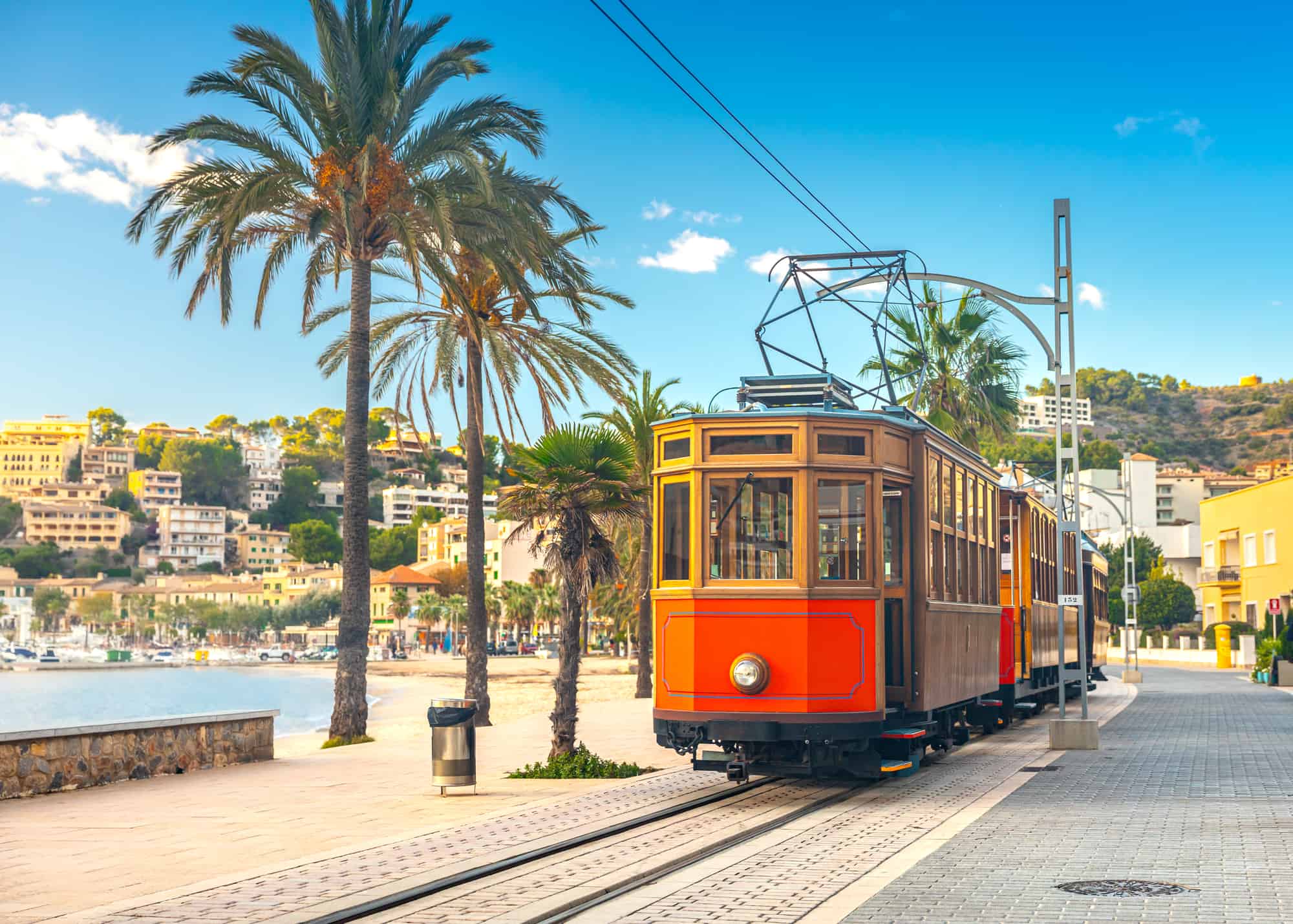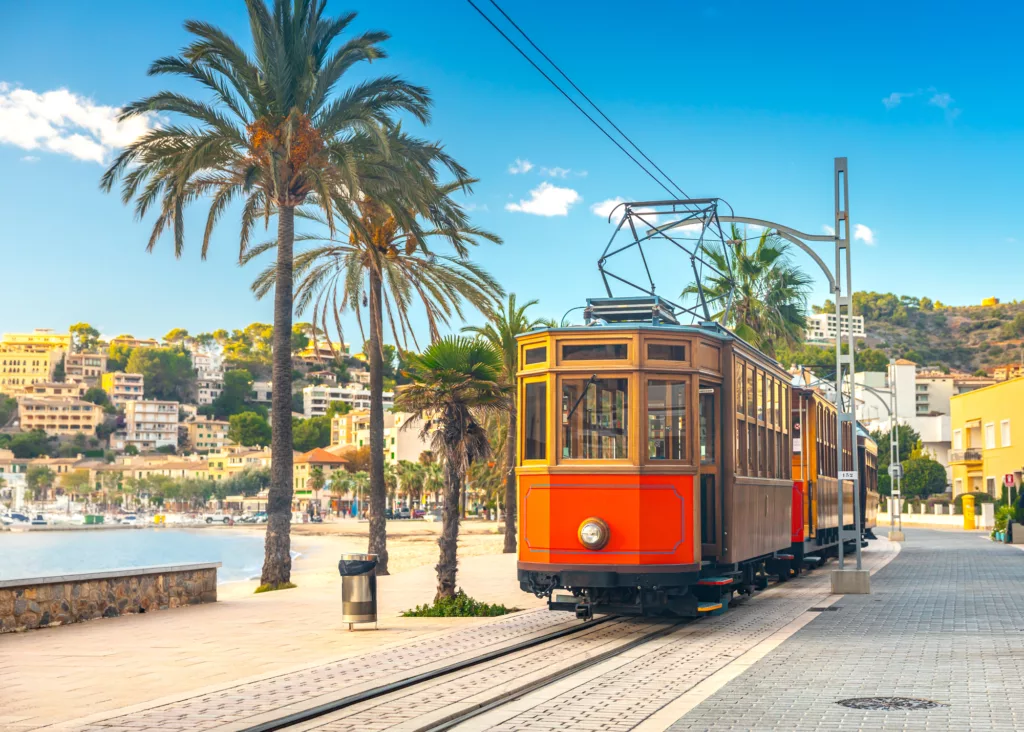 If you don't fancy driving in Mallorca, you can take the vintage train (Tren de Sóller) from Palma to Sóller (€18 EUR) one way, then change to a bus or taxi to reach Deià.
Getting from Palma to Deia by Bus
The No. 210 bus also operates from Palma to Port de Sóller and then you can transfer to the No. 203 bus to reach Deià or Valldemossa.
Taxis to Deià
Taxis to Deià cost around €17 EUR from Sóller and €14 EUR from Valldemossa. If you travel by taxi from Palma Airport to Deià, the cost is around €40 EUR (slightly more at weekends).
➡️ Rent a car with Discovercars.com
Navigating Deià: Getting Around
Deià, Mallorca is easy to navigate on foot, and taxis and buses are also available to reach neighboring destinations.
Personally, I enjoyed renting a bicycle to get around. It's possible to cycle from Deià to Valldemossa, Sóller and into the beautiful mountain villages of Serra de Tramuntana.
I rented a bike through Bikesbooking.com during my stay. They operate in 1700 global locations and rent out premium bikes, ATVs, and scooters through their affiliates.
It's easy to book online with a deposit, and with your e-voucher, you can pick your bicycle up in your chosen location. If you enjoy cycling around Deià, check out the best cycle routes in Mallorca.
➡️ Secure your ride with BikeBooking.com today
The Best Time to Visit Deià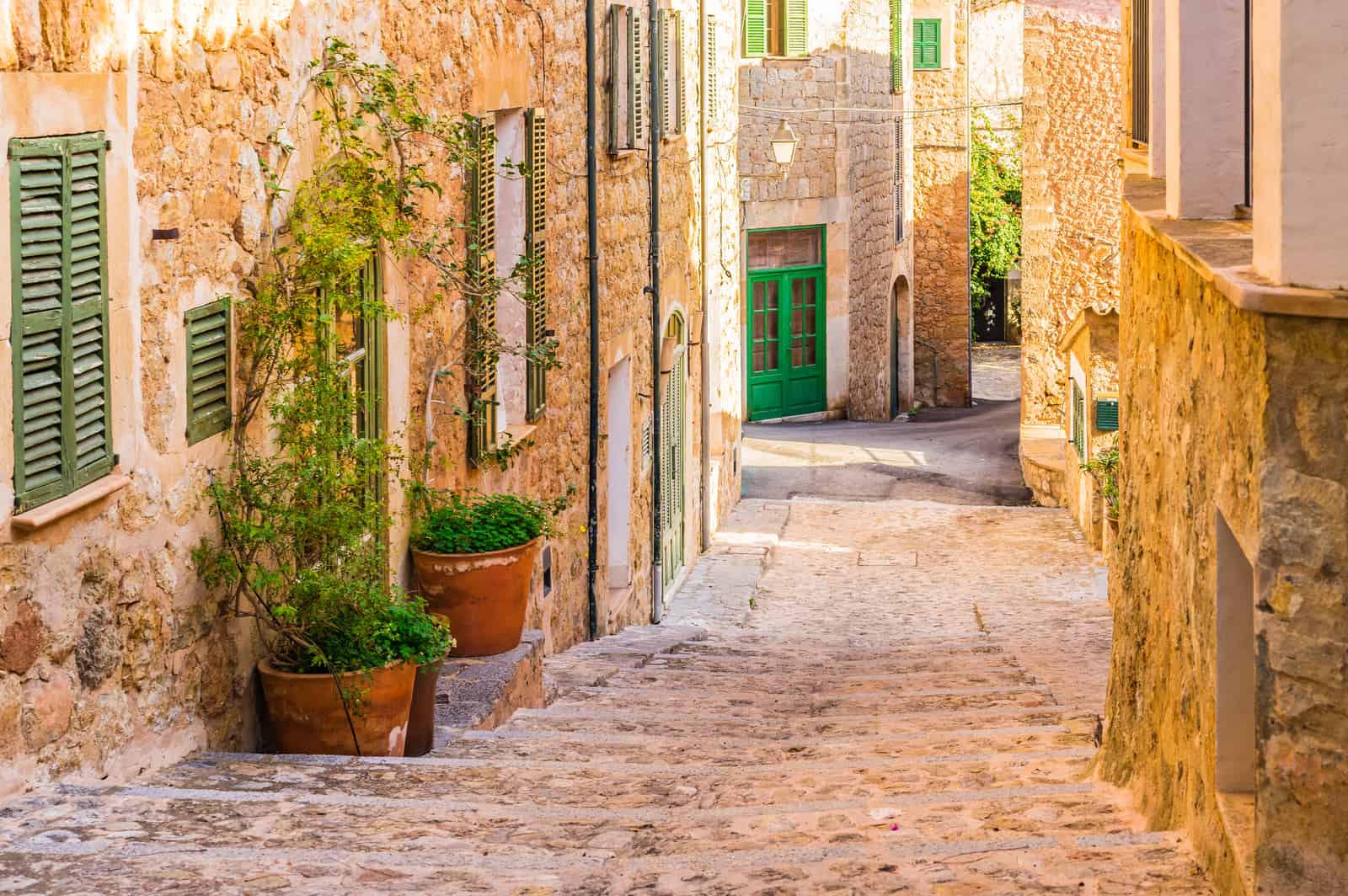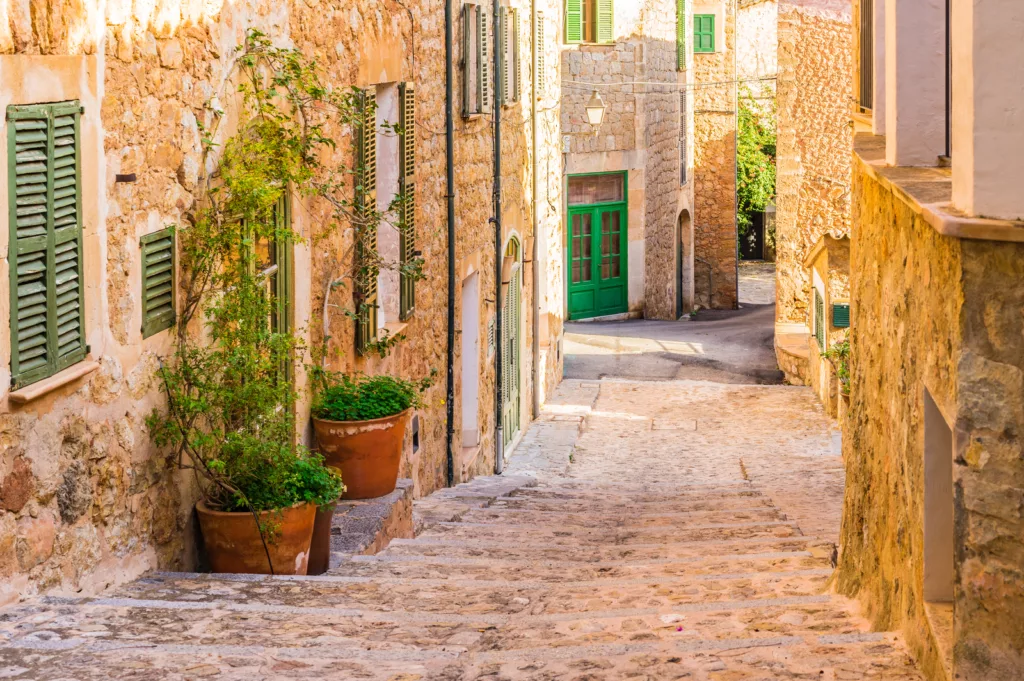 The Mallorcan town of Deià can be enjoyed during any season. Summers are dry and warm with temperatures reaching highs of 28°C (82°F) – perfect for beach, sailing and pool days, and winters are cooler with average temperatures of 10°C (50°F) – ideal for hiking and exploration trips.
If you're seeking sunshine but don't want to pay peak season prices of July and August, I suggest visiting in May, June, September, or October. These are ideal times to take vintage train journeys and romantic balloon rides while avoiding intense heat and hordes of tourists.
For hiking and cycling in the Tramuntana Mountains, March and April are also great months to visit. If you wish to use the town as a base to explore, you can obtain fabulous hotel and flight deals during winter if you don't mind cooler weather.
TIP: Check out our article – best time to visit Mallorca for a broader understanding of the island's climate.
➡️ Romantic Sunrise Balloon Tour on Majorca
➡️ Mallorca Hidden Marvels: Guided Routes for Small Groups
Experiencing Deià: Top Attractions and Activities
If you're interested in local history and culture, you can walk or cycle to explore Deià's main attractions. Visit Son Marroig – a beautiful temple with a mountainous backdrop and magical sunsets. The estate, once home to an Austrian duke, also doubles as an interesting museum.
Drive to the oldest building in Mallorca – Monestir de Miramar. With Byzantine gardens, ancient towers, and a famous library, it's a wonderful place to spend a few hours. You can also explore the historic church of San Juan Bautista, high on the hillside surrounded by cypress trees. The cemetery is the resting place of iconic poet and novelist Robert Graves, whose house you can also visit within the town (La Casa de Robert Graves).
For the best sea views, hike to Mirador de Can Corraca, where lush landscapes sweep down the terraces to the azure Mediterranean seas.
Planning to explore further afield? I recommend purchasing a Jardines de Alfabia entrance ticket. The Moorish gardens in Serra de Tramuntana date from the Arabic era, with shady plane trees, a historic country house and an outdoor café serving fresh juices from the orange groves. Alternatively, enjoy a half-day hike or take a leisurely boat trip from Sóller to Sa Calobra.
Deià is also a haven for food connoisseurs. Bens d'Avall, a clifftop family-run Michelin-star restaurant, is located a few kilometers outside the town. They serve delicious dishes created from fresh, seasonal local ingredients. The town center also boasts a variety of cafes and Mediterranean restaurants, including Sebastian – No. 1 on TripAdvisor.
For further inspiration, check out things to do in Mallorca to discover more exciting island activities.
➡️ Mallorca: Valldemossa & Sóller Tour
The Deià Coastal Delight: Beaches and Deià Bay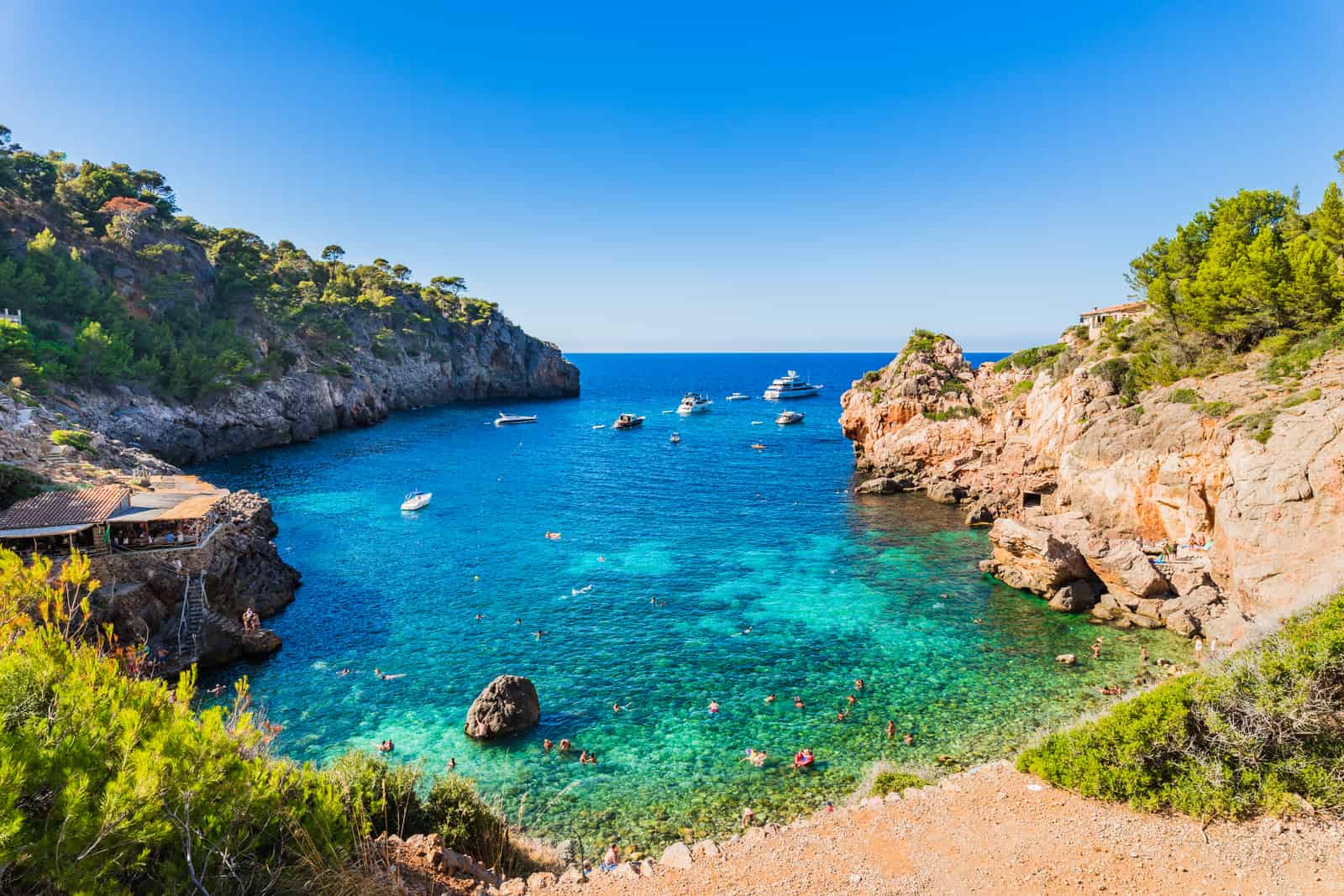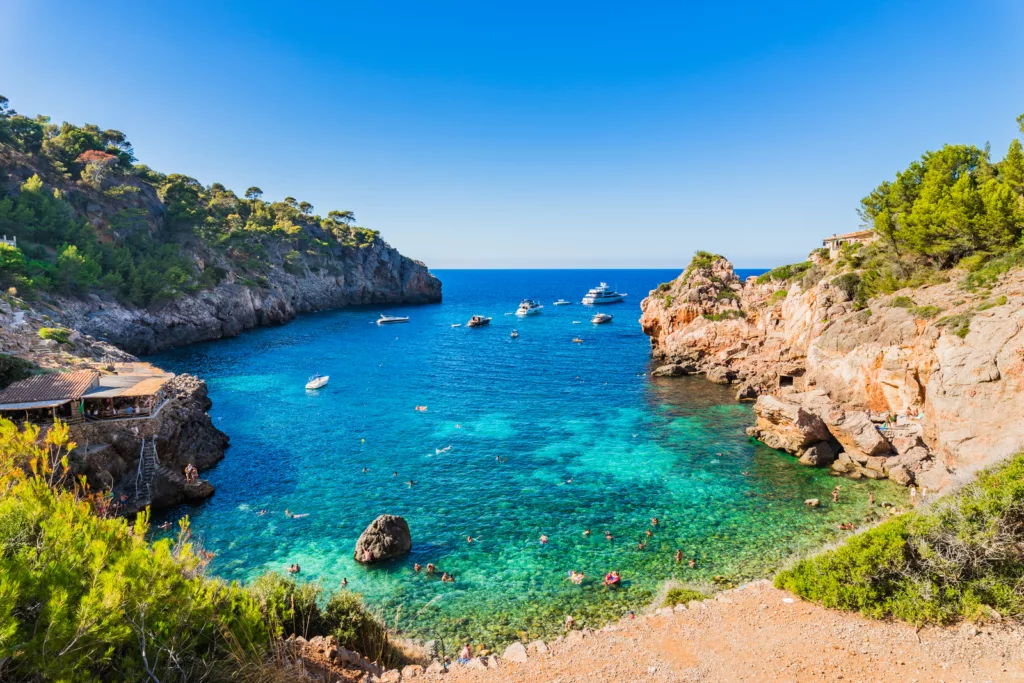 Spend a relaxing day on Cala Deià Beach. The small pebble beach is flanked by cliffs and trees with clear turquoise waters – perfect for swimming and snorkeling. The walk from the town to Cala Deià is beautiful too, through olive groves and lush valley landscapes. You'll often see artists with their easels on the terraces painting and discover that the bay has been featured in many TV series thanks to its exclusive villas, pine forests and cliffs.
You can drive to the beach, although parking is limited. There are also two restaurants here serving typical Mallorquin cuisine – the perfect place to dine and sip sangria before making your way back up the hill.
Look at our Best Beaches in North Mallorca article to discover more places to sun worship and swim along the coast.
Staying in Deià: Accommodation Guide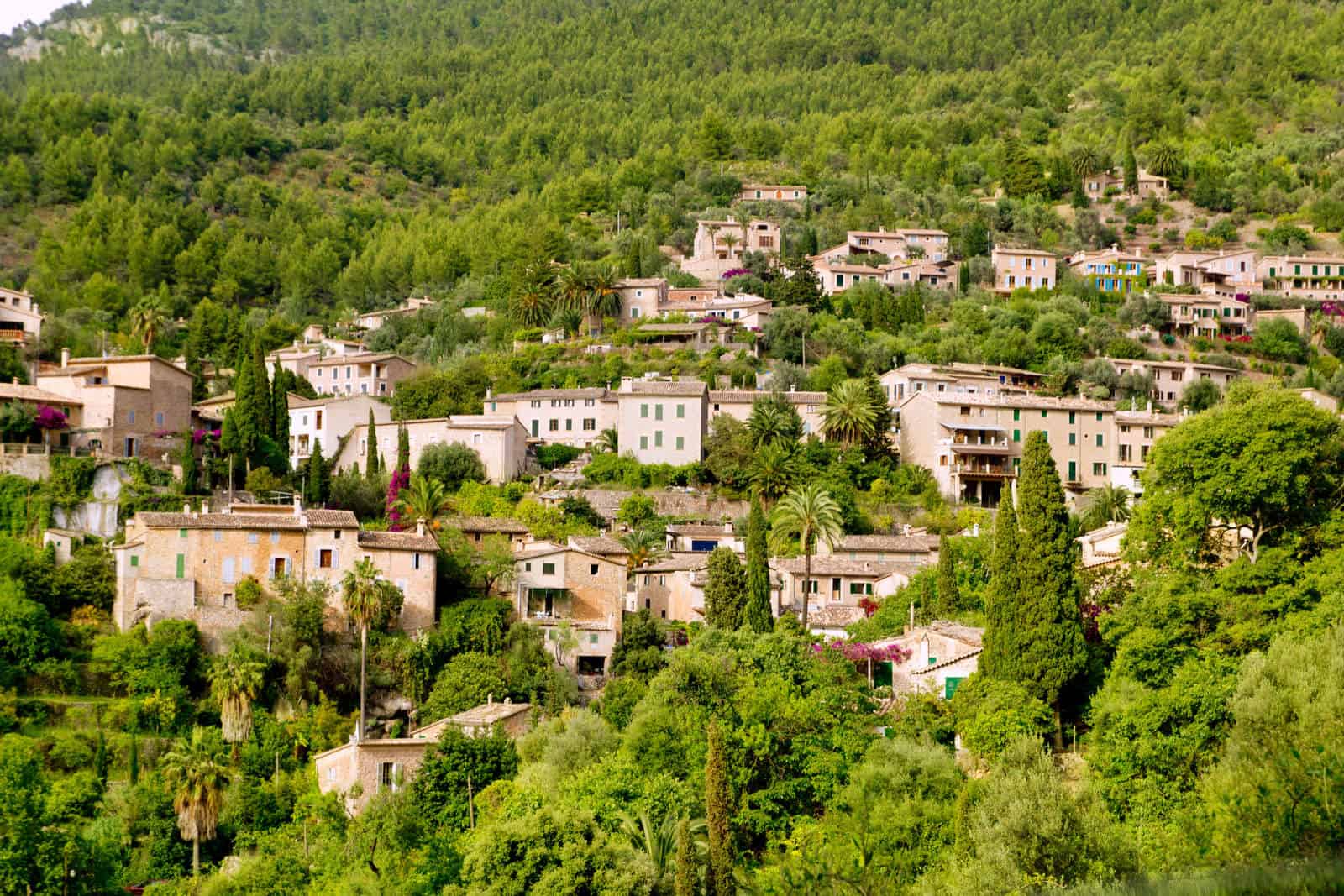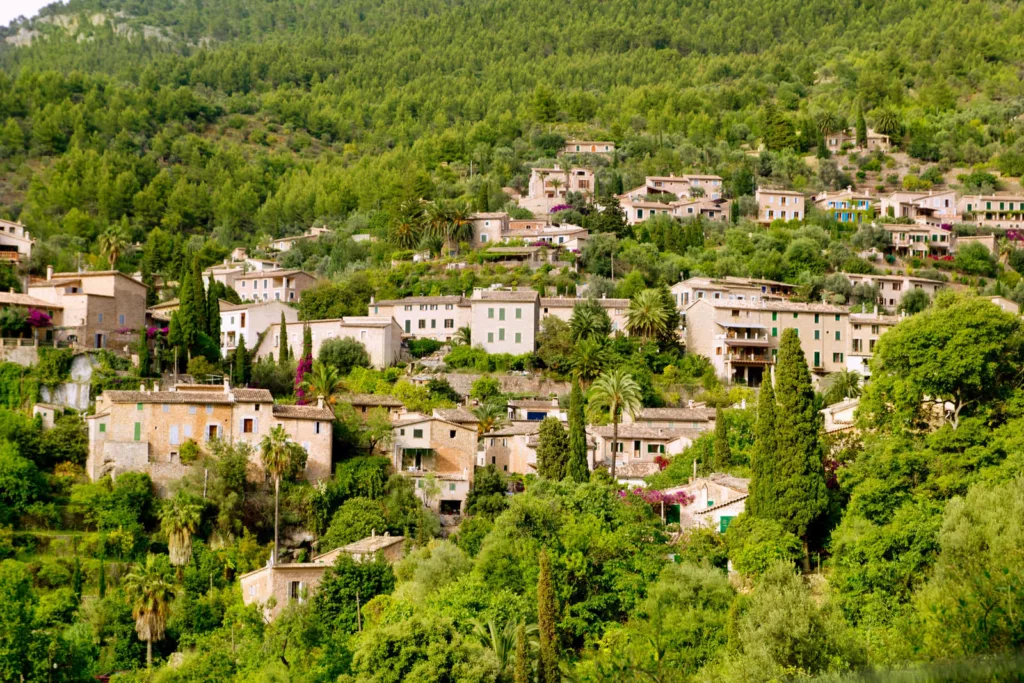 If you're searching for the perfect accommodation in Deià, there are budget, mid-range and luxury properties catering to all needs. Choose low-key hostels for Mallorca trips with friends or a secluded stone cottage nestled in the mountains for a romantic stay.
Grand traditional houses with swimming pools and panoramic views are great for multi-generational stays, or treat yourself to a luxury suite in an elegant five-star hotel.
For those preferring to stay outside Deià or to experience a two-center holiday in Mallorca, check out where to stay in Mallorca for further inspiration.
➡️ Private and Secluded Charming House for 2
➡️ Hotel y Apartamentos DES PUIG
➡️ La Residencia, A Belmond Hotel, Mallorca
Living the Deià Life: Local Events and Lifestyle
Deià is a town for creatives – a place where new ideas are born, where writers and musicians gather to sip wine and dine on delicious cuisine. Narrow streets are strewn with bougainvillea and emerald green shutters shade the houses from the midday sun. It's a place to embrace traditions and local culture and to enjoy the finer things in life, including attending annual festivals.
Deià International Music Festival
Deià and the surrounding areas offer many exciting festivals throughout the year. One of the most popular is the Deià International Music Festival – a celebration of classical music held in Deià and Valldemossa.
The concert began in 1978 with professional and amateur musicians getting together to play their music. Today, it has become one of the island's most iconic events, with many performances from the Balearic Symphony Orchestra at Son Marroig. The festival is held on various dates in June, July and August.
Sant Joan Festival
Another festival taking place across Mallorca is the Sant Joan Festival. Held in late June, visitors can enjoy bonfires, fireworks, picnics and music by the water's edge.
Festival Sant Pere
Head for the Tramuntana Mountain Villages to Festival Sant Pere at the end of June. This fun celebration dedicated to Saint Peter occurs over a week with music concerts, parties, sporting events and fireworks in the town of Esporles.
Verge del Carme Festival
If you travel in July, Verge del Carme Festival occurs in neighboring Port de Sóller. The party begins with a procession of the virgin – the revered statue is placed on a decorated boat and transported out to sea as the fiesta continues on the shore.
Le Patrona Festival
In Pollensa, check out La Patrona Festival in early August. This fiesta depicts a mock battle between the Moors and Christians. The town is adorned with decorations; there are market stalls, food carts, exhibitions, and children's entertainment.
Beyond Deià: Exploring the Surrounding Areas
Renting a car with Discovercars.com makes it easy to explore Mallorca
Around 15 kilometers south of Deià is the beautiful town of Valldemossa. With its blond stone, green shuttered houses, this historic town sits on a hillside surrounded by almond, oak, and olive trees. Wander winding streets dotted with galleries and restaurants and visit the famous monastery where composer Frédéric Chopin and author George Sand once stayed.
North of Deià, the pretty towns of Sóller and Port de Sóller are both accessible via bus, bike, car, or taxi.
The town of Sóller has an old-world charm and abundant tourist highlights to discover. Visit the impressive Sant Bartomeu Church or sip café con leche in the main square Plaza de la Constitución. Browse specialty shops, museums or botanical gardens, or if you prefer to head for the beach, hop on a tram to Port de Sóller with its fine harborside restaurants.
You can also take the vintage tram from Sóller to the Mallorcan capital Palma for the day. In Palma, wander through the historic old town, visit 14th century Bellver Castle overlooking the bay, see the famous La Seu Cathedral and sample the island's delicacies, ensaïmada – a light pastry, or sobrasada spicy sausage.
Just outside Deià, the UNESCO World Heritage Site Serra de Tramuntana offers several excellent hiking routes, transporting you through historic villages and orange groves to scenic viewpoints for the best photographs. I recommend stopping at Biniaraix and Fornalutx, both described as the most beautiful villages on the island.
➡️ Rent a car with Discovercars.com
A Final Word: Deià, A Must-Visit Mediterranean Haven
The Mediterranean town of Deià can easily be overlooked, but stay awhile to understand what sets it apart from other Mallorca destinations. If you're looking for a party town, this may not be the place for you, but if you're seeking fine Mallorcan food, a relaxing romantic retreat, or an upscale family holiday, Deià is the perfect location.
It's a great base for exploring the north and west coastlines of Mallorca, Serra de Tramuntana, and the capital Palma is just over half an hour away.
Deià is one of my favorite places in Mallorca, so whether you visit for a day or spend your entire vacation here, you're sure to have a wonderful time in this picture-postcard island town.
Just letting you know
When you buy something through my links, I'll earn a small commission—don't worry, it won't cost you any extra! It's a win-win, right?
Exclusive Heymondo Travel Insurance Offer
Planning a trip? Make sure you're covered! We've teamed up with Heymondo to give our readers a special deal: 5% off travel insurance. Grab this deal and know you're looked after on your next trip.