Set in a lush valley on the edge of the Tramuntana Mountains, Valldemossa, Mallorca is a sight to behold. Blond stone houses with emerald green shutters and cypress trees dot the landscape. The town's characterful streets feature a selection of shops, cafes, art galleries, and the famous Valldemossa Carthusian Monastery.
The town is an ideal base for outdoor adventurers, hikers, cyclists, and those seeking a relaxing, upscale retreat away from livelier Mallorcan resorts.
In this article, I'll take you on a journey to Valldemossa, Mallorca, detailing how to get here, my favorite places to see, and where to dine and stay. So, without further ado, let's begin this exciting adventure!
Hi, I'm Timon!
I've experienced the heartbeat of Spain firsthand. Over the last five years, I've immersed myself in the dynamic cities of Spain, truly living the Spanish way. My insights into this beautiful country are rooted in genuine experience.
Introduction to Valldemossa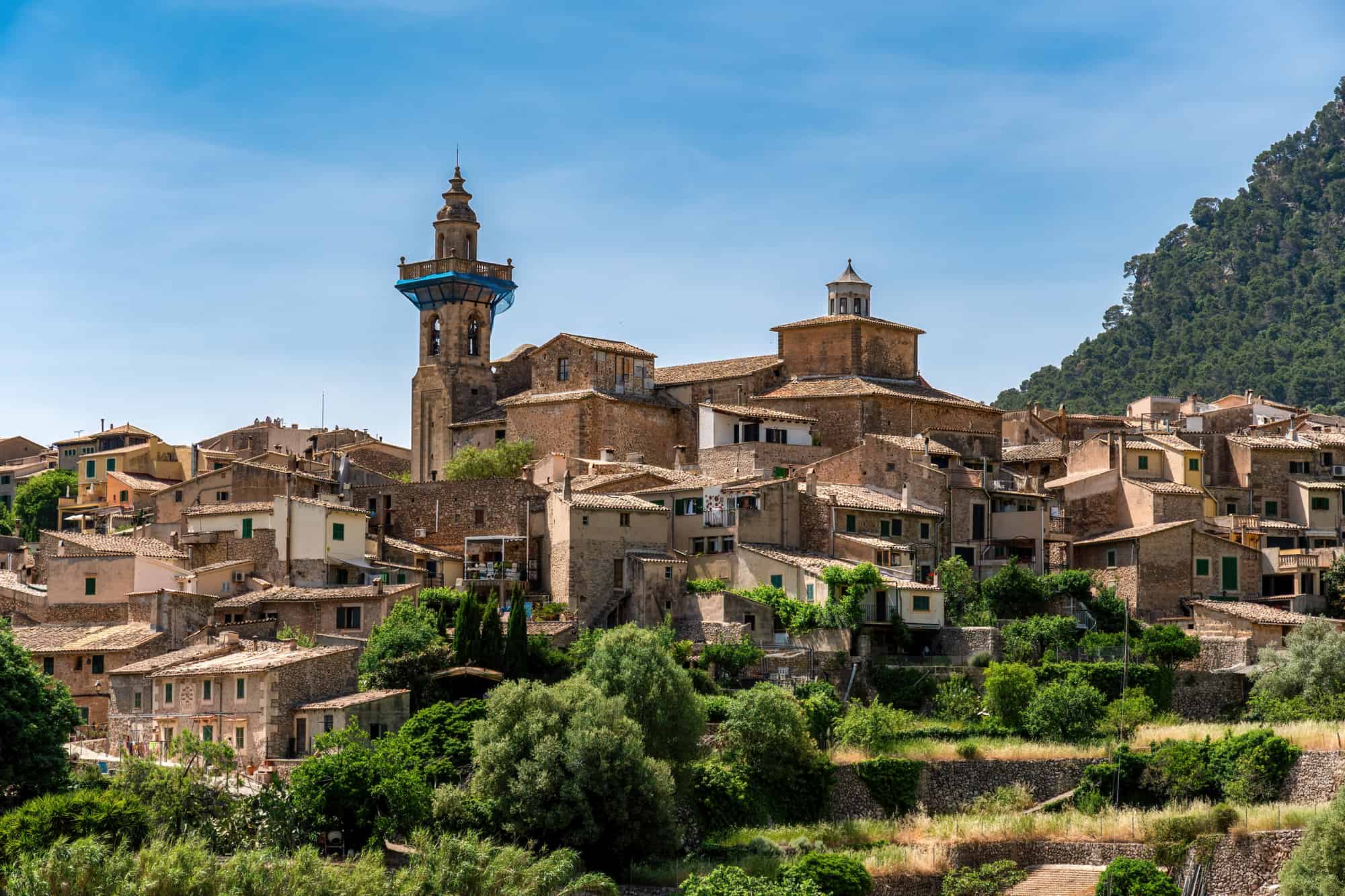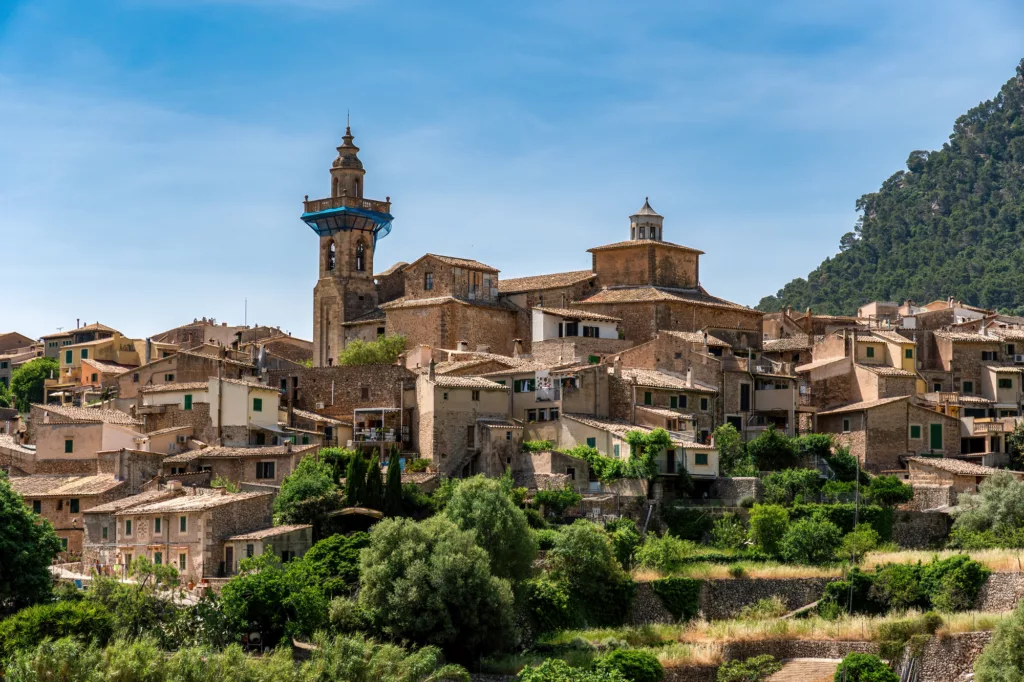 Valldemossa is one of my favorite Mallorcan towns. Once known as Musa Valley, when the Moors ruled the island, it's a place steeped in rich history. It was the birthplace of Mallorca's first patron saint, has been home to royalty, and features a monastery made famous by composer Frederic Chopin and writer George Sand.
With pretty gardens, a cultural center, scenic hiking trails, fine shops, and restaurants, Valldemossa is a place to relax, discover the storied heritage of islanders, and enjoy serene moments amid stunning natural landscapes.
Getting to Valldemossa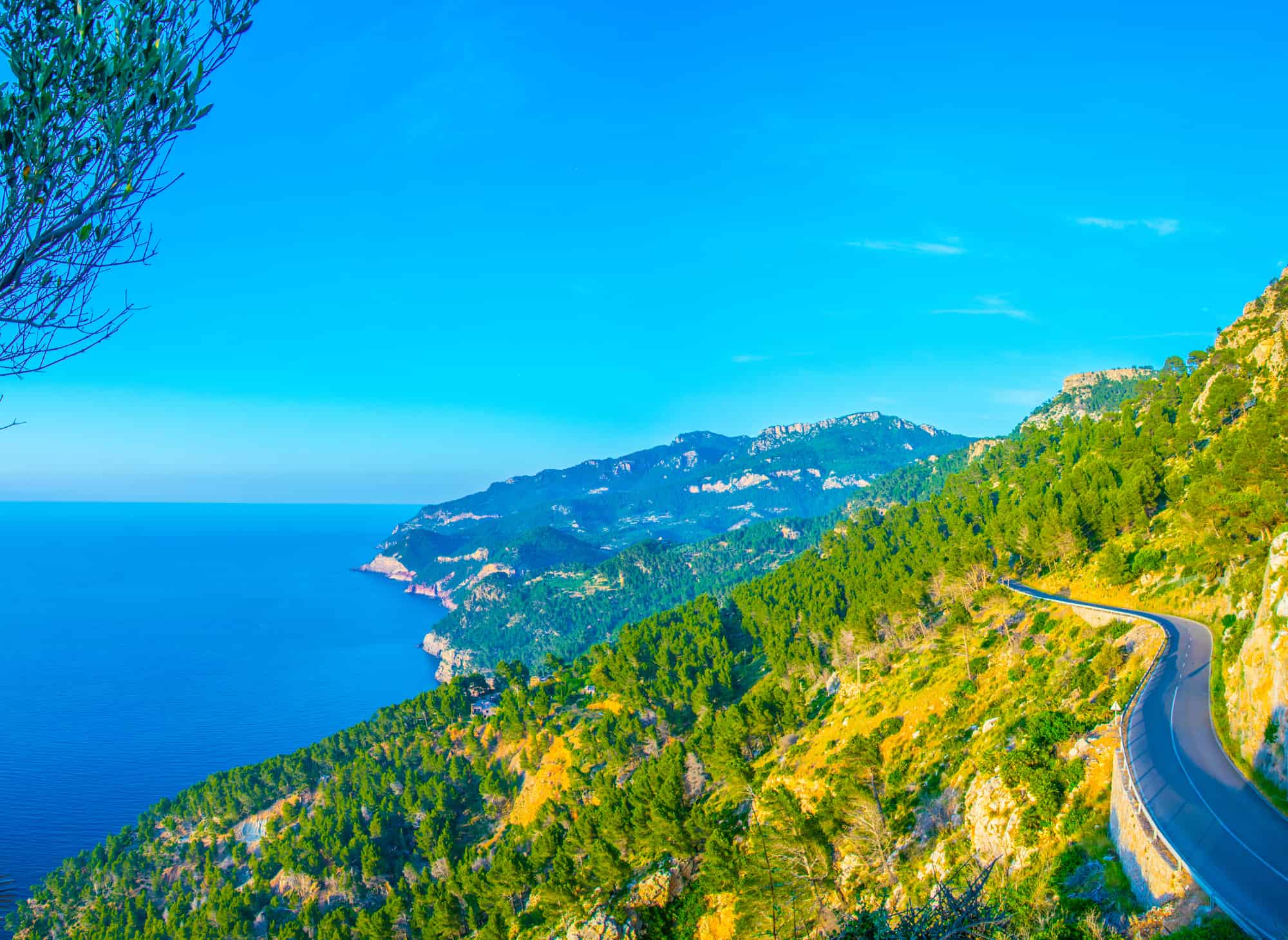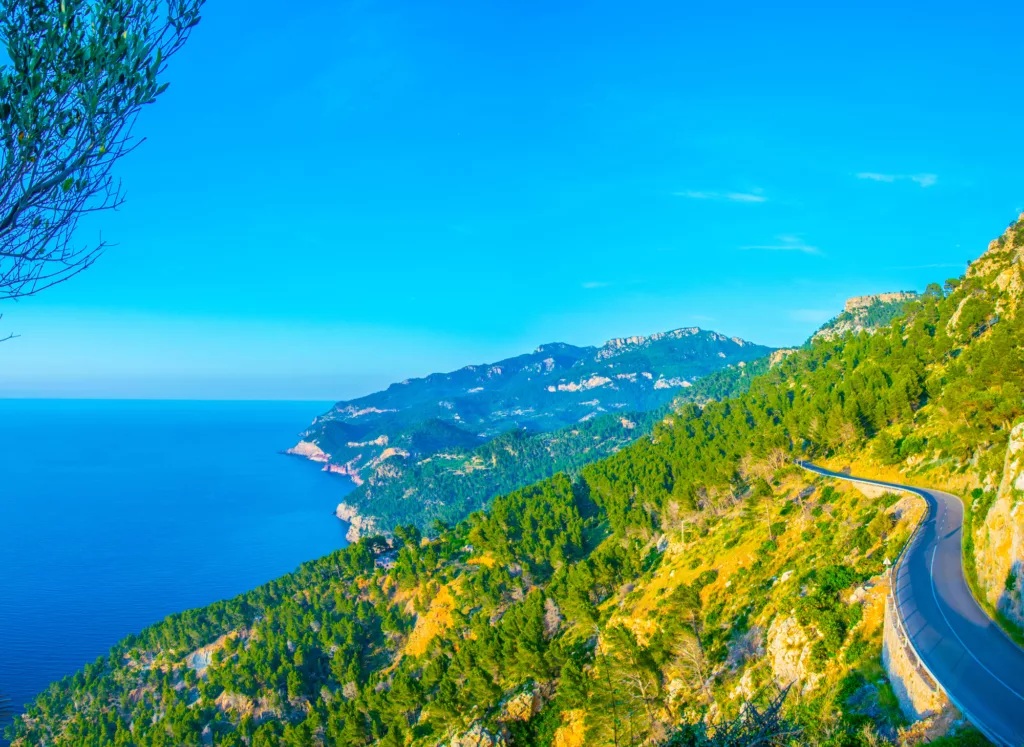 Valldemossa can be reached from Palma in less than 30 minutes along the Ma-1110 road. If you plan to fly into the island's main airport in Palma, I recommend booking a rental car. I personally use Discover-cars.com. You can choose your vehicle and reserve it online. Plus, they compare prices with the main providers on the island, so you gain the best price.
Rental cars in Mallorca allow me to explore secluded beaches, the mountain villages of Serra de Tramuntana, and the picture-postcard towns of Deià and Sóller.
If you don't plan to drive, you can reach Valldemossa in other ways. The bus number 203 operates to and from Palma Intermodal Station, or you can book a guided tour for the day.
Moving Around Valldemossa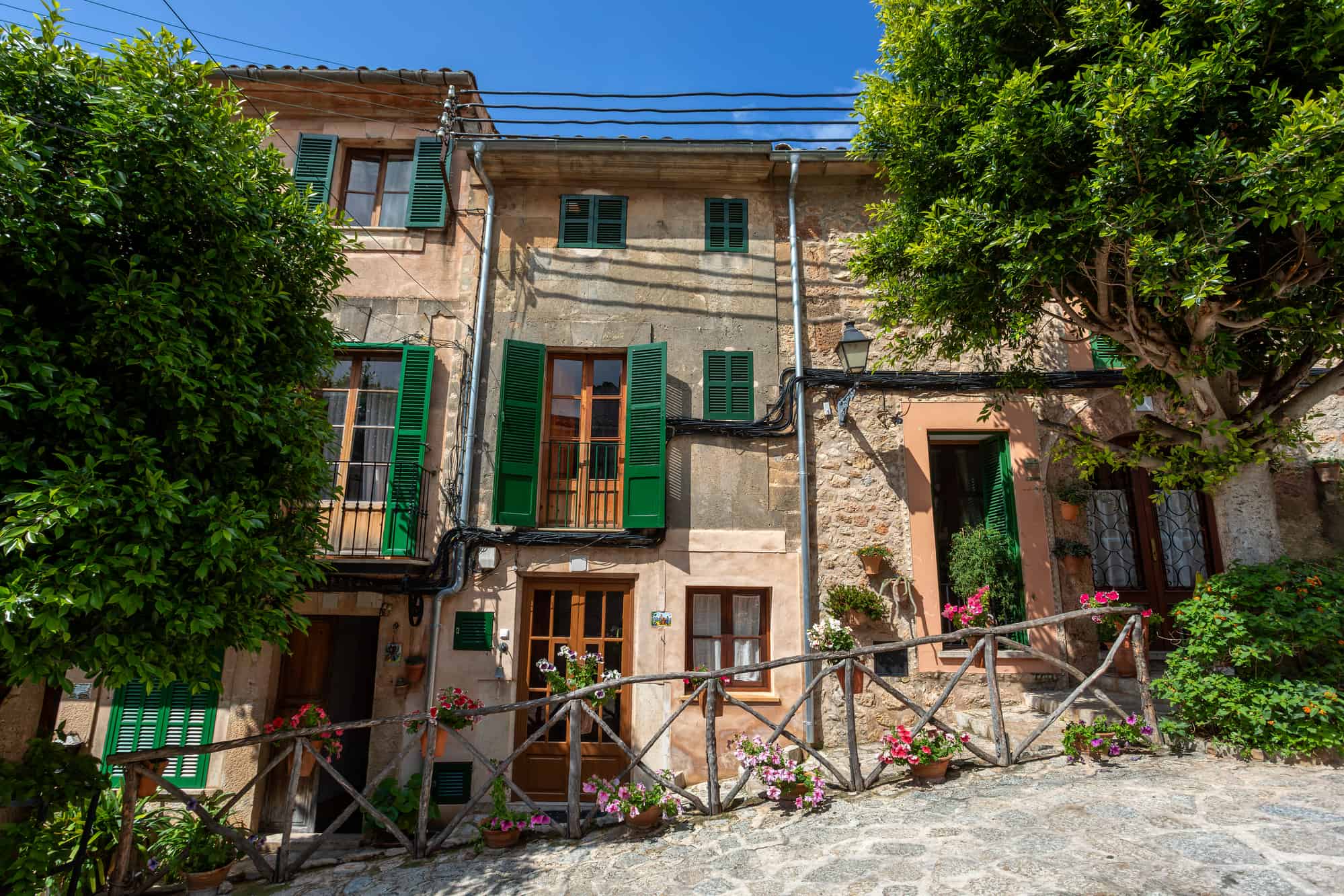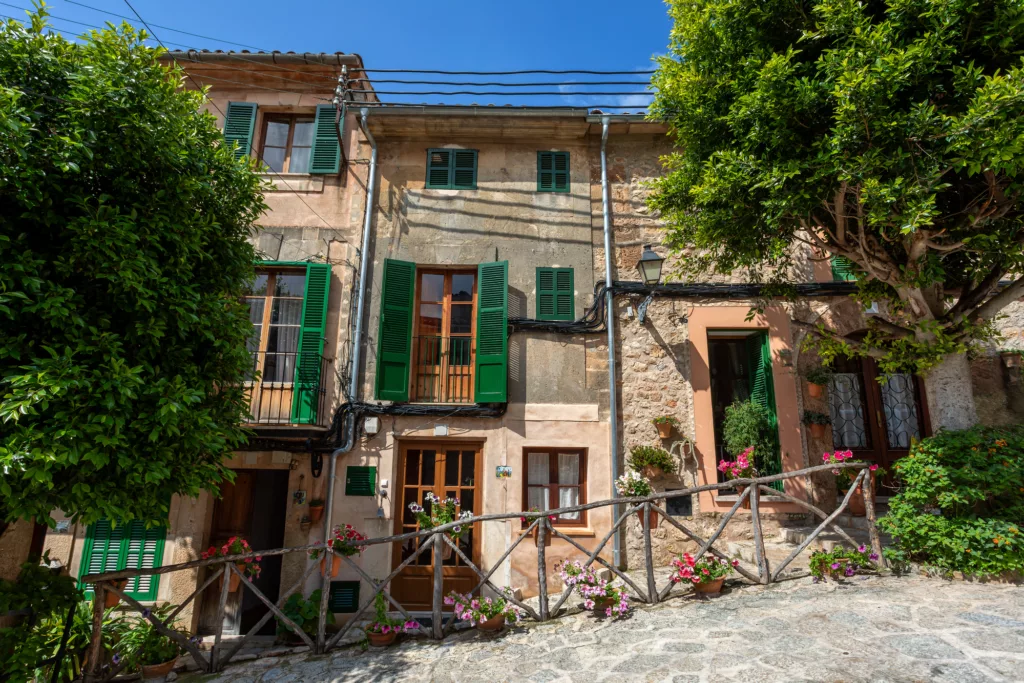 Valldemossa is a compact town and easy to navigate on foot. If you wish to explore outside the town, there's a local bus service, the number 203. This can transport you north to Port de Sóller stopping at Deià. Heading south, the service terminates at Palma.
If you're super fit, hike along the Archduke's Bridlepath or follow the Route of the Olive Trees to Deià. However, should you plan to visit places like Port de Valldemossa, Banyalbufar, Esporles, Jardin d'Alfabia or further afield, a car will be necessary.
Best Time to Visit Valldemossa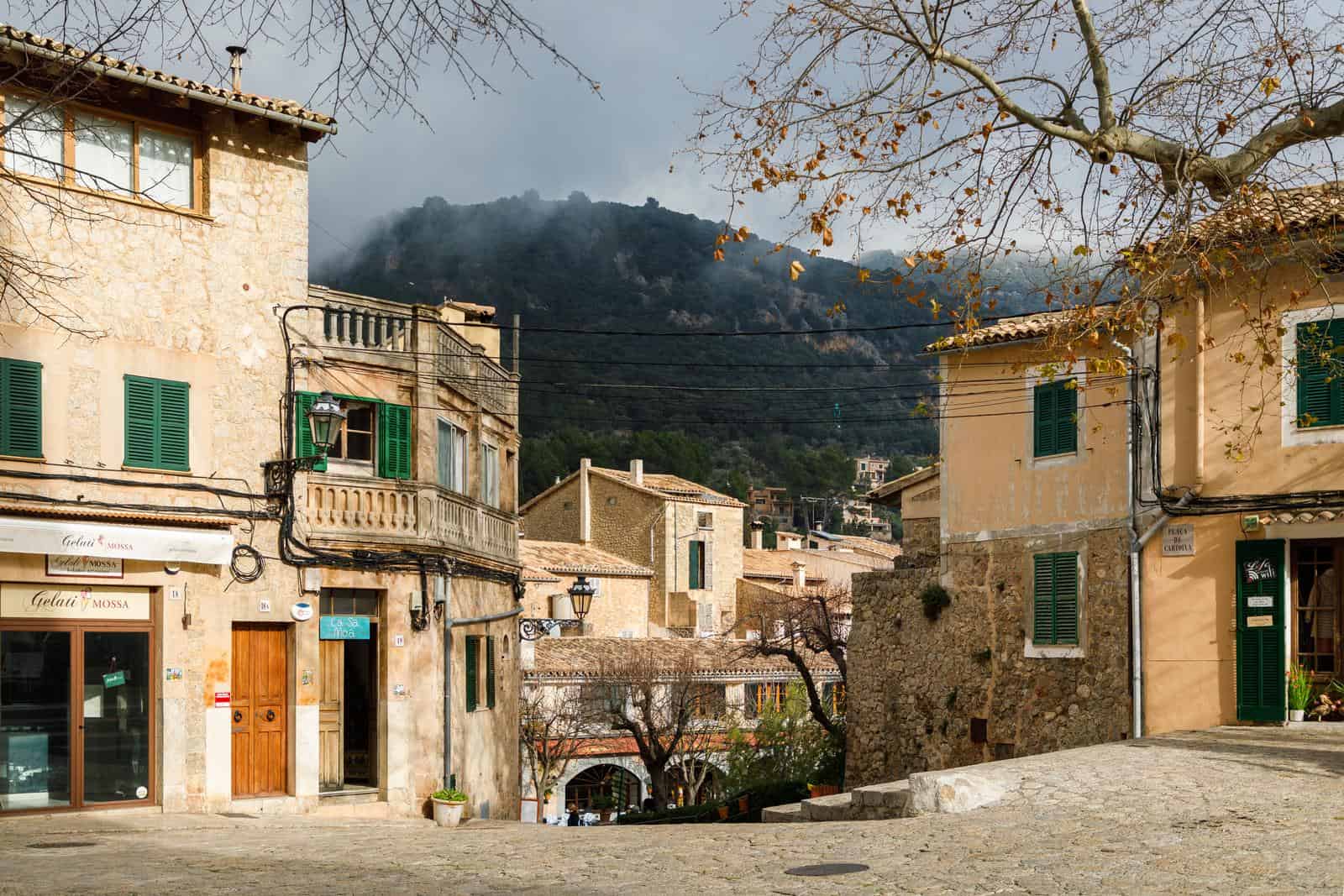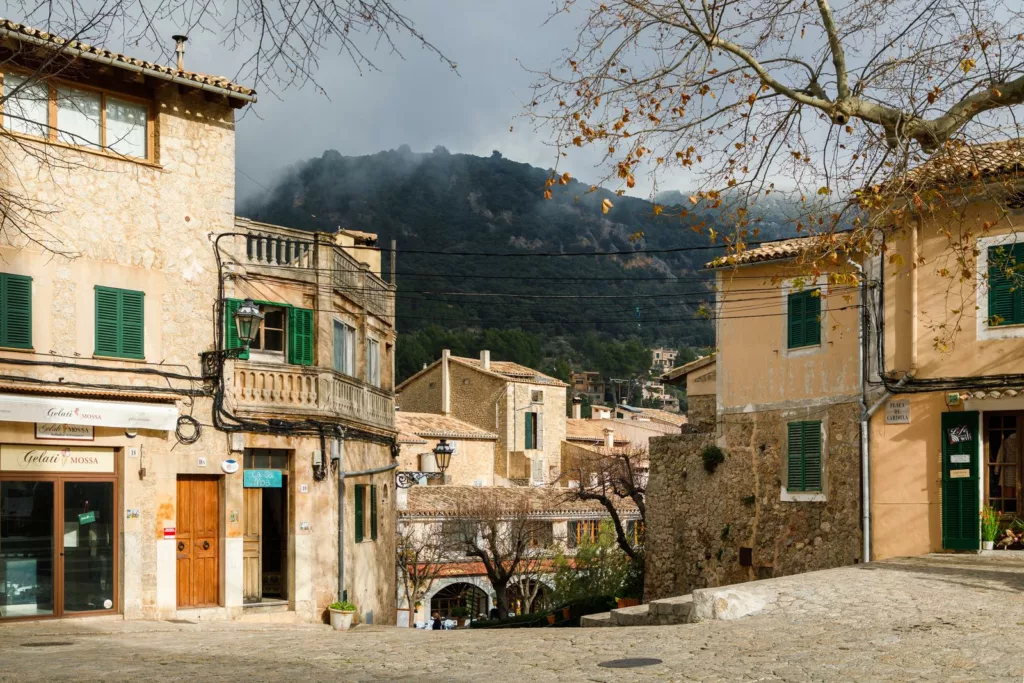 There's much to tempt you to Valldemossa at any time of the year. For guaranteed sunshine, mid-June to mid-September are the hottest times with an average high of 27°C/80°F. Most town festivals also take place in July and August.
I personally like to visit in spring or fall when the climate is a little cooler for hiking in the mountains. However, be prepared for a few wet days in May and October as these are the rainiest times.
Winter is a perfect time for a shorter stay. You may even have a little snowfall. Hotels are reasonably priced, and if it gets cold, you can always hunker down in a restaurant with a plate of coca de patata or tasty tumbet.
Where to Stay in Valldemossa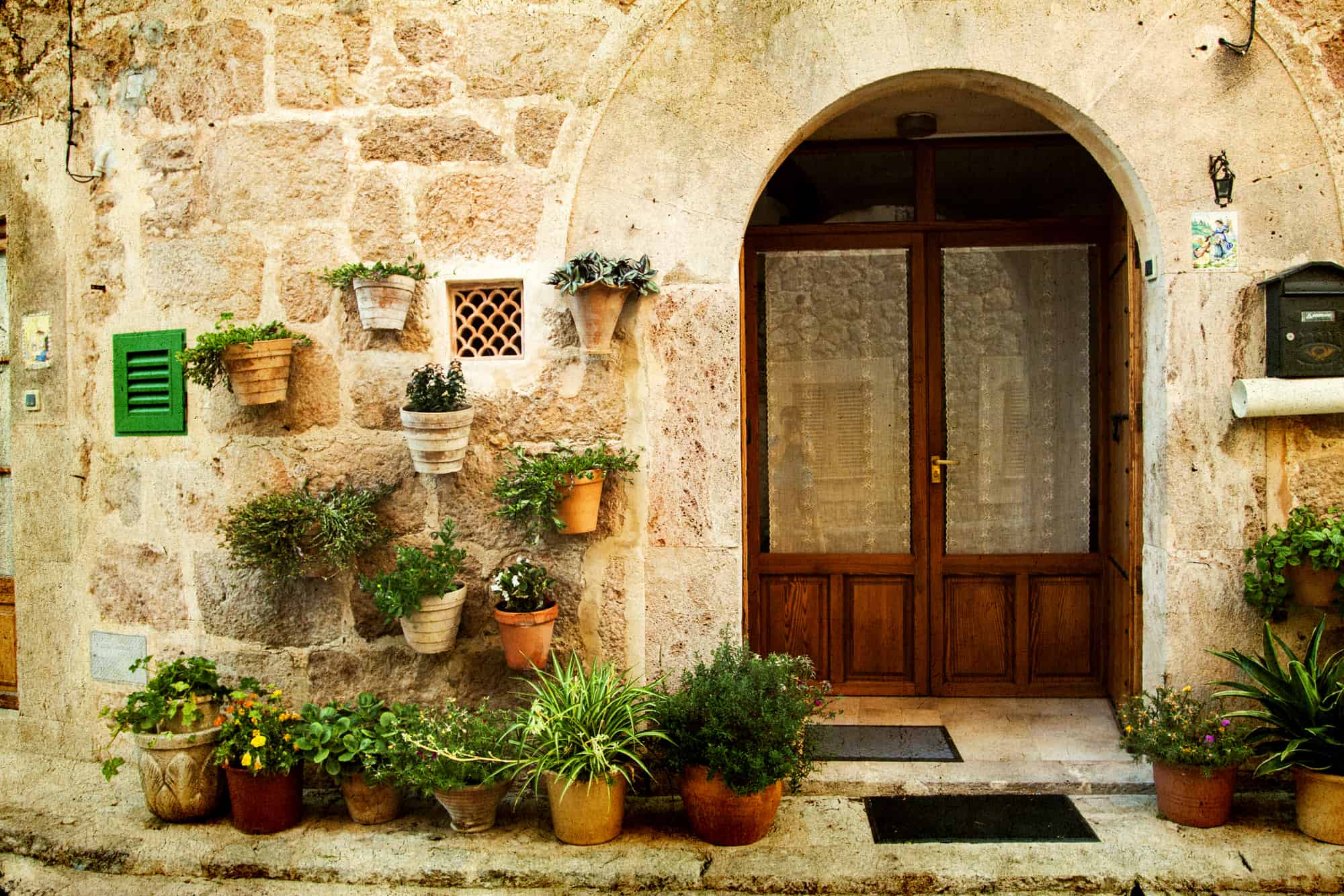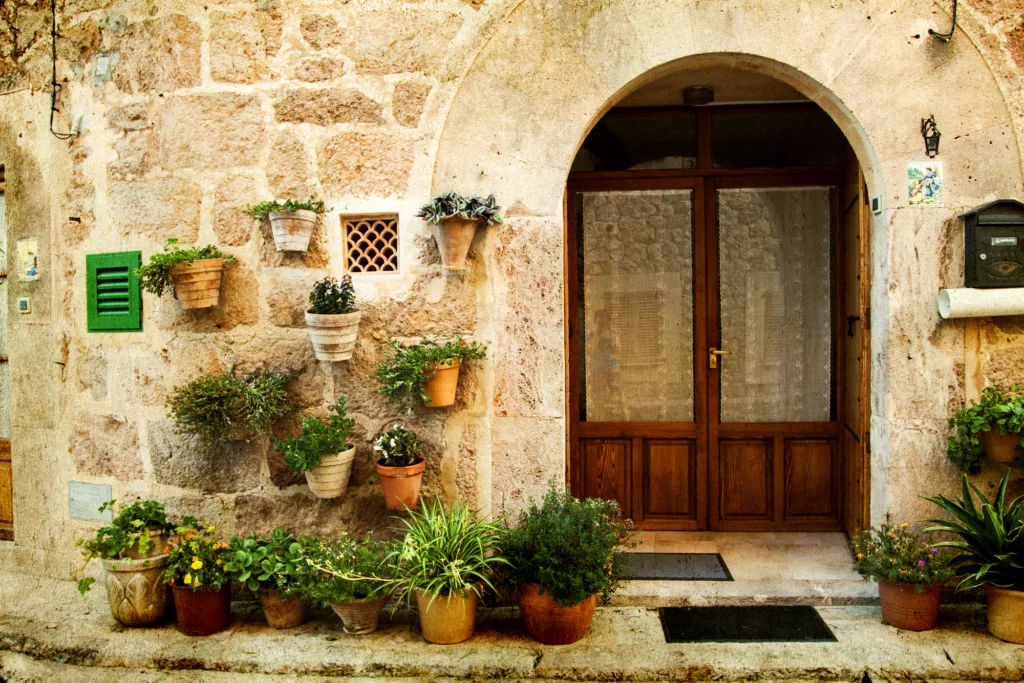 The second home of Hollywood A-listers Michael Douglas and Catherine Zeta Jones, Valldemossa can often be perceived as an expensive vacation destination. However, you'll be delighted to know that this enchanting town caters to all budgets regarding accommodation.
Wondering about where to stay in Mallorca? Valldemossa has small and cozy town center hotels, luxury private villas with swimming pools, and agriturismo properties with countryside views. Some of my favorite accommodations are listed below.
Best Stays in Valldemossa
Budget Stays in Valldemossa
Top Attractions and Activities in Valldemossa
There are many things to see and do in and around Valldemossa. You can capture photographs from Mirador des Lledoners, browse the bustling Sunday morning market or pop into the impressive monastery museum.
It's also an excellent base for Mallorca cycling, with Deià just 30 minutes away and Jardin d'Alfabia, a leisurely hour's cycle ride.
You can enjoy Valdemossa on a guided tour from other destinations in Mallorca too. I recommend the Mallorca: Valldemossa and Soller Tour and the Full Day Coastal and Mountain Tour by Cabrio Bus. Check out my Things to do in Mallorca article for further inspiration.
Visiting Carthusian Monastery Valldemossa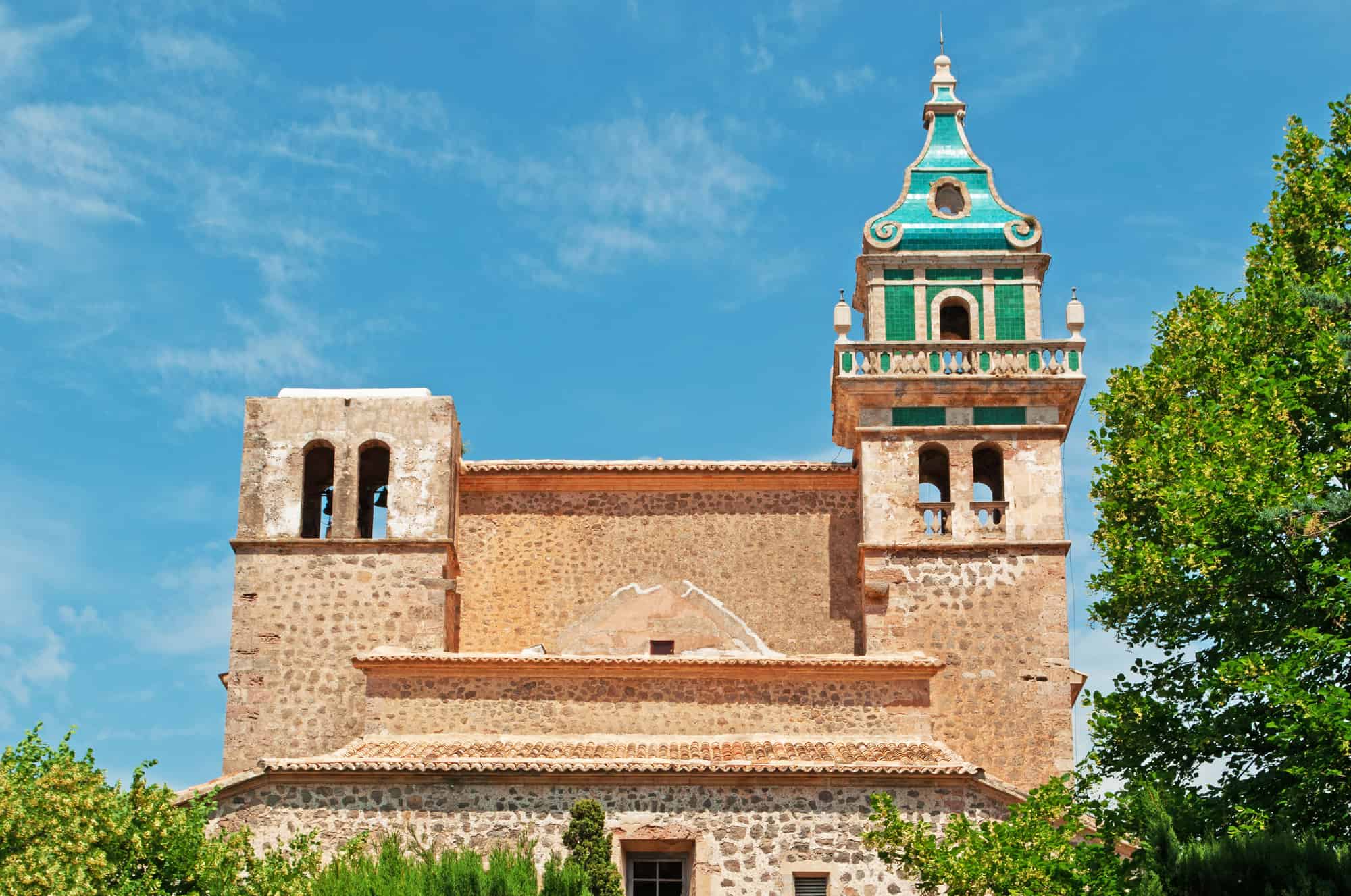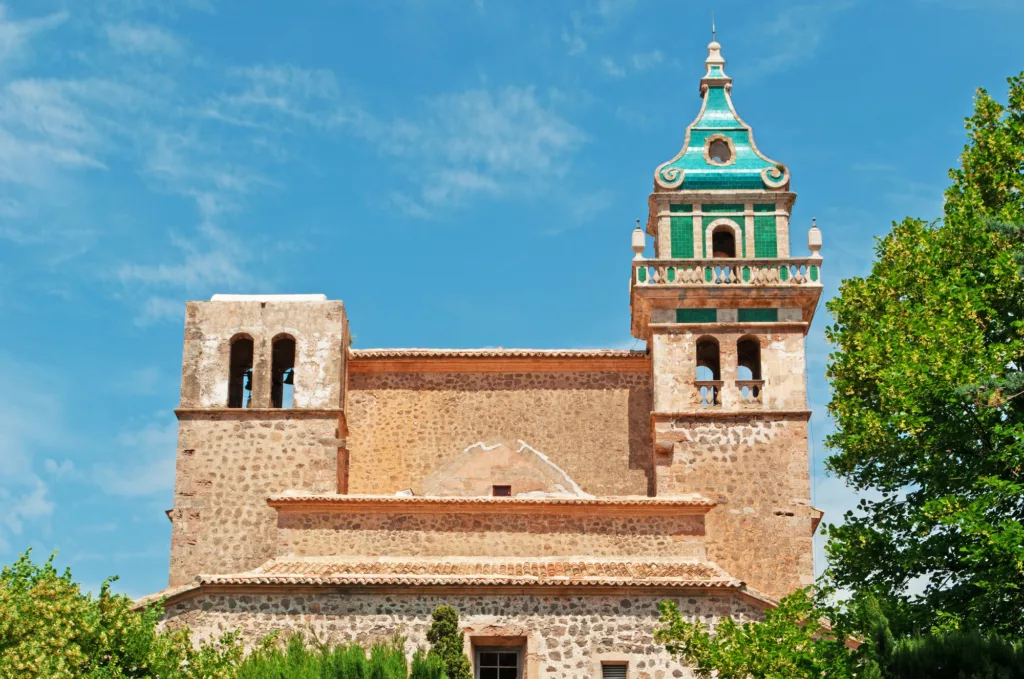 One of the highlights of Valldemossa Mallorca is the 14th-century Carthusian Monastery that lies within the town. It was originally founded as a residence for nobility before being used for religious purposes. The monastery (and town) became famous when composer Frederic Chopin visited with his lover, writer George Sand in 1838.
It is said that some of Chopin's finest works were composed here. George Sand also used the time to write an interesting book about their experience entitled 'Winter in Mallorca' during their stay.
The monastery is a fascinating place with living quarters, an old apothecary, cloisters, and a museum featuring Chopin's piano, manuscripts, and artifacts to visit.
Visitors can also take tours of the Palace of King Sancho located within the complex, with a unique and storied history of its own.
Exploring Via Blanquerna
Via Blanquerna is the main street of Valldemossa. A pretty, tree-lined thoroughfare with cobbled pavements, cafes, galleries, shops, and restaurants.
Here, stone houses are decked with flowers and pot plants, shops sell clothing, bags, and souvenirs, and burgundy awnings shade windows filled with mouth-watering baked goods. An observation deck with stunning views of Serra de Tramuntana can be found at the far end of the street. It's a great place to take photographs.
I also recommend making a stop at Ca'n Molinas. The award-winning café/bakery dates back to 1920 and serves some of the best coca de patata on the island.
Witnessing Església de Sant Bartomeu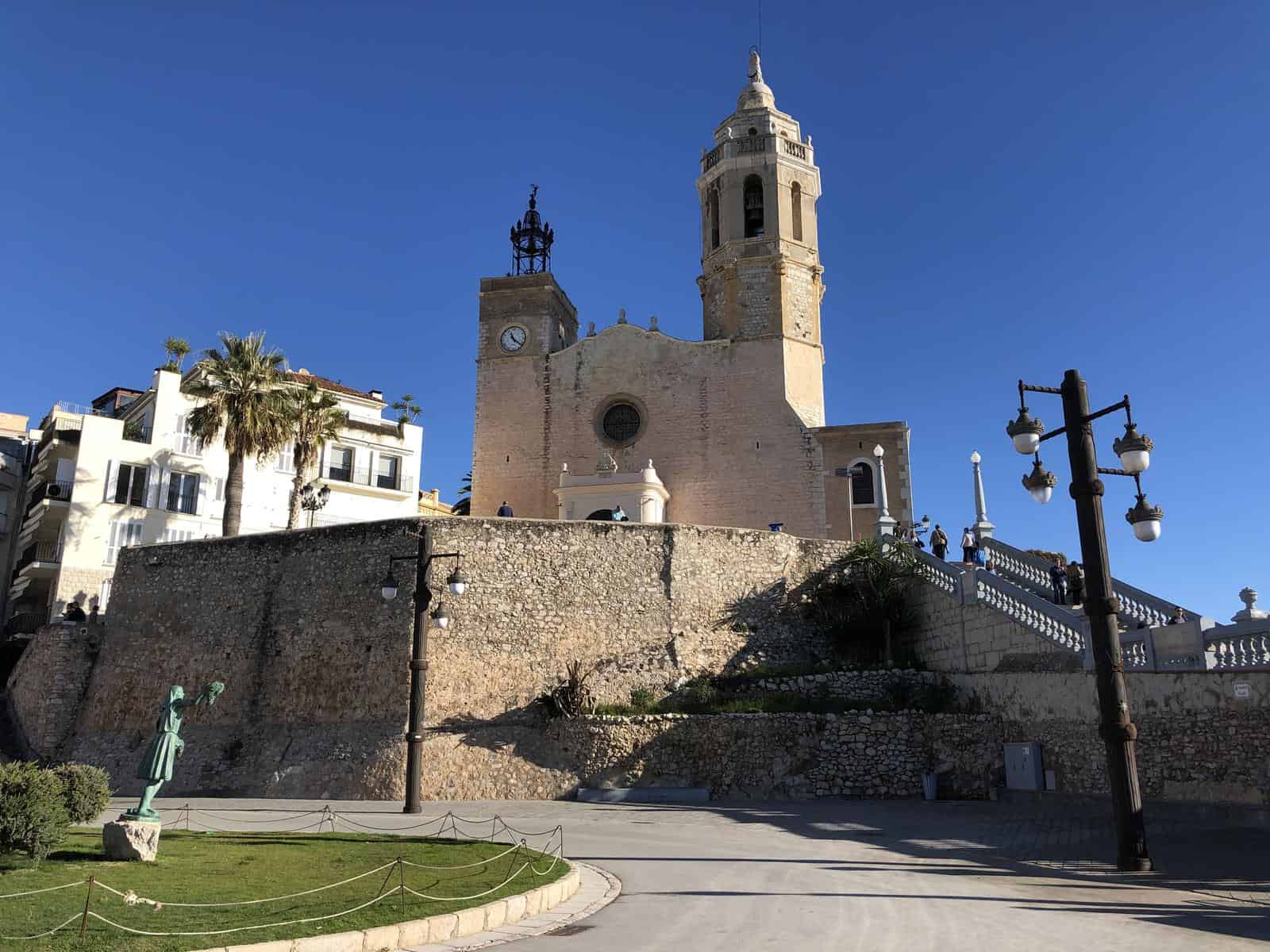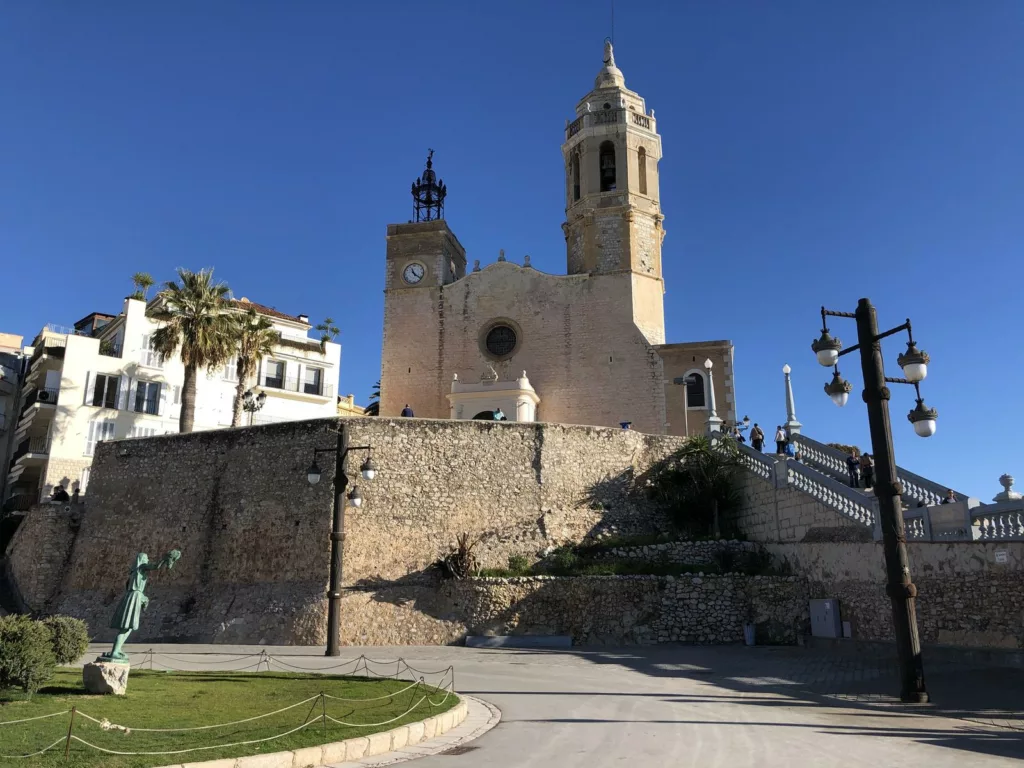 Església de Sant Bartomeu is one of the most significant buildings in Valldemossa, Mallorca. It was originally named the Church of Santa Maria and existed before its first known documentation in the mid-1200s.
The town was essentially built around the church – it became the heart of Valldemossa – a political and cultural center for villagers. In the 14th century, its name changed and was dedicated to Sant Bartomeu. Today, it's still one of Mallorca's smallest basilicas.
Step inside to learn about stories of the town's economic hardship, observe the bell tower and see the organ built to symbolize the courage of those who remained faithful to the church.
Tea Time at Valldemossa's Tea Shop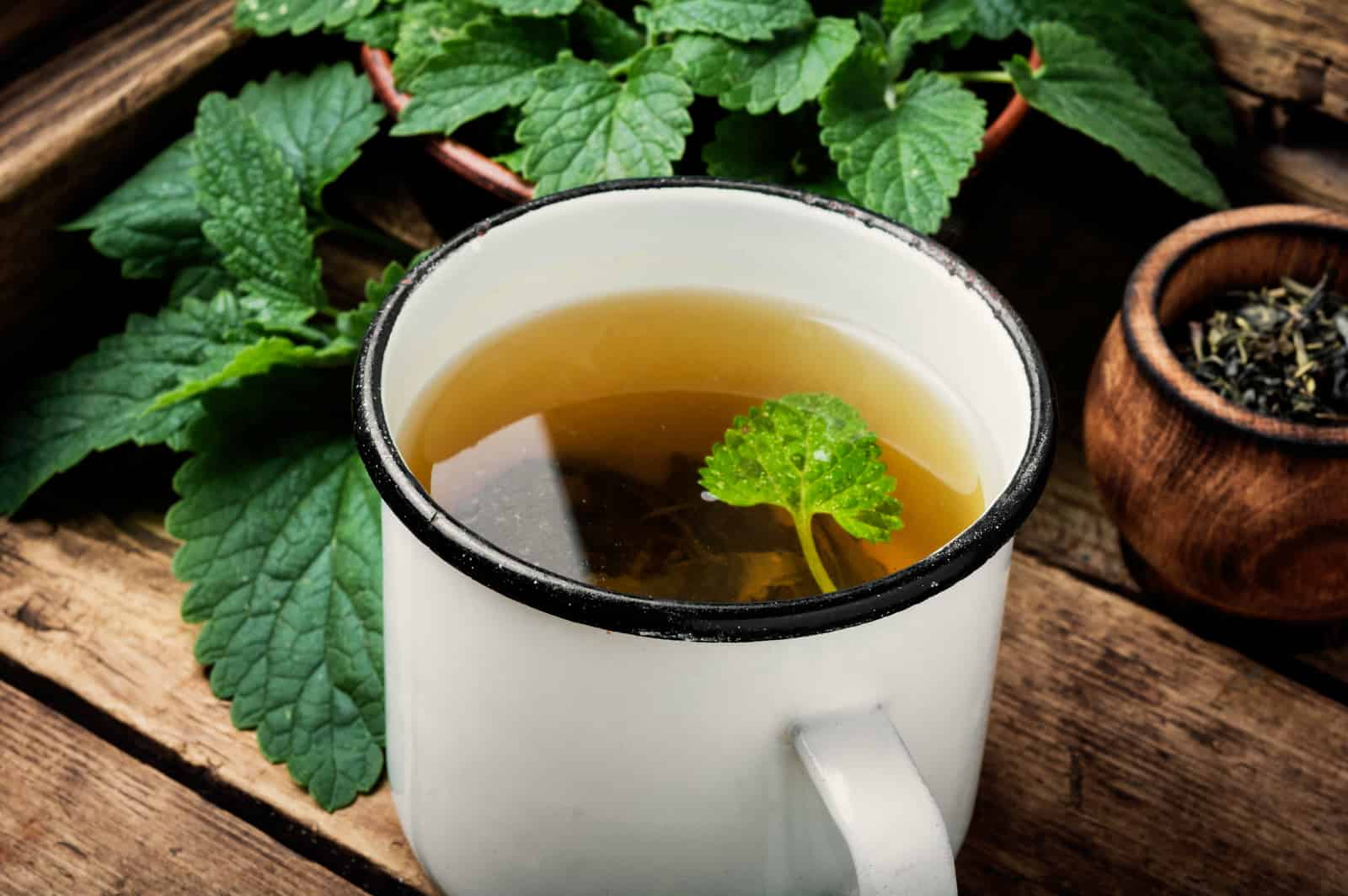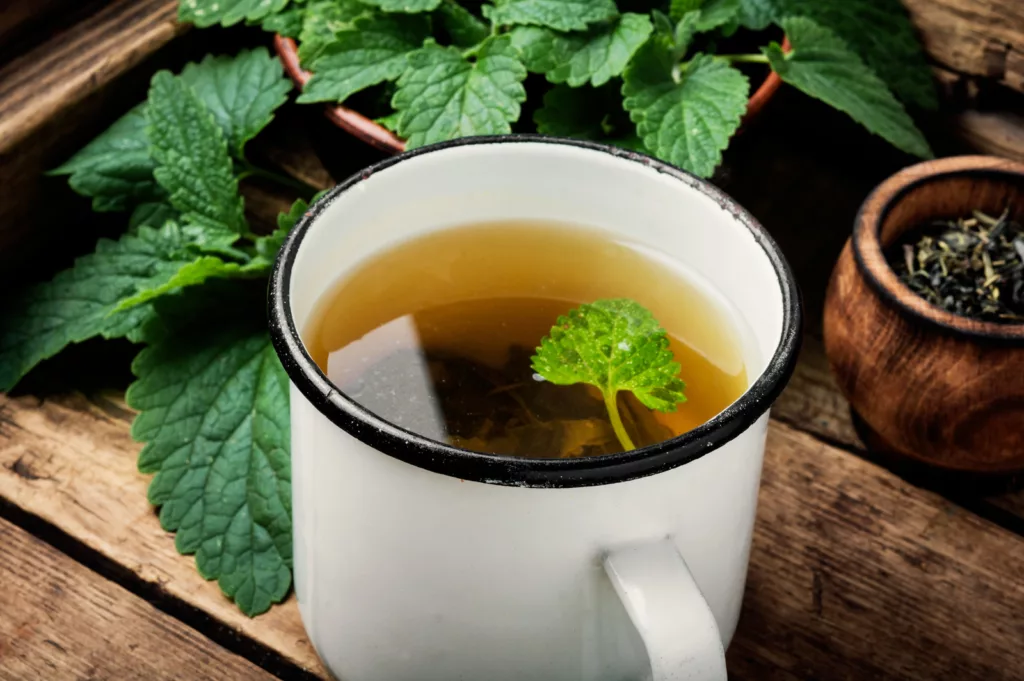 Castarosa on Carrer de la Rosa sells the most exquisite organic, fairtrade and handmade teas on the island.
Their vision is to contribute to well-being and health solely using natural properties. Customers can pick up a box of Milky Oolong, Morning Light, or their own Valldemossa tea blend. The cozy tea shop sells everything from cocoa, matcha, and mate to mugs and gift boxes of tea.
Visiting this diminutive store is akin to stepping back in time, and the owners clearly have a passion for tea, often inviting customers to try it before they buy.
Best Photo Spots in Valldemossa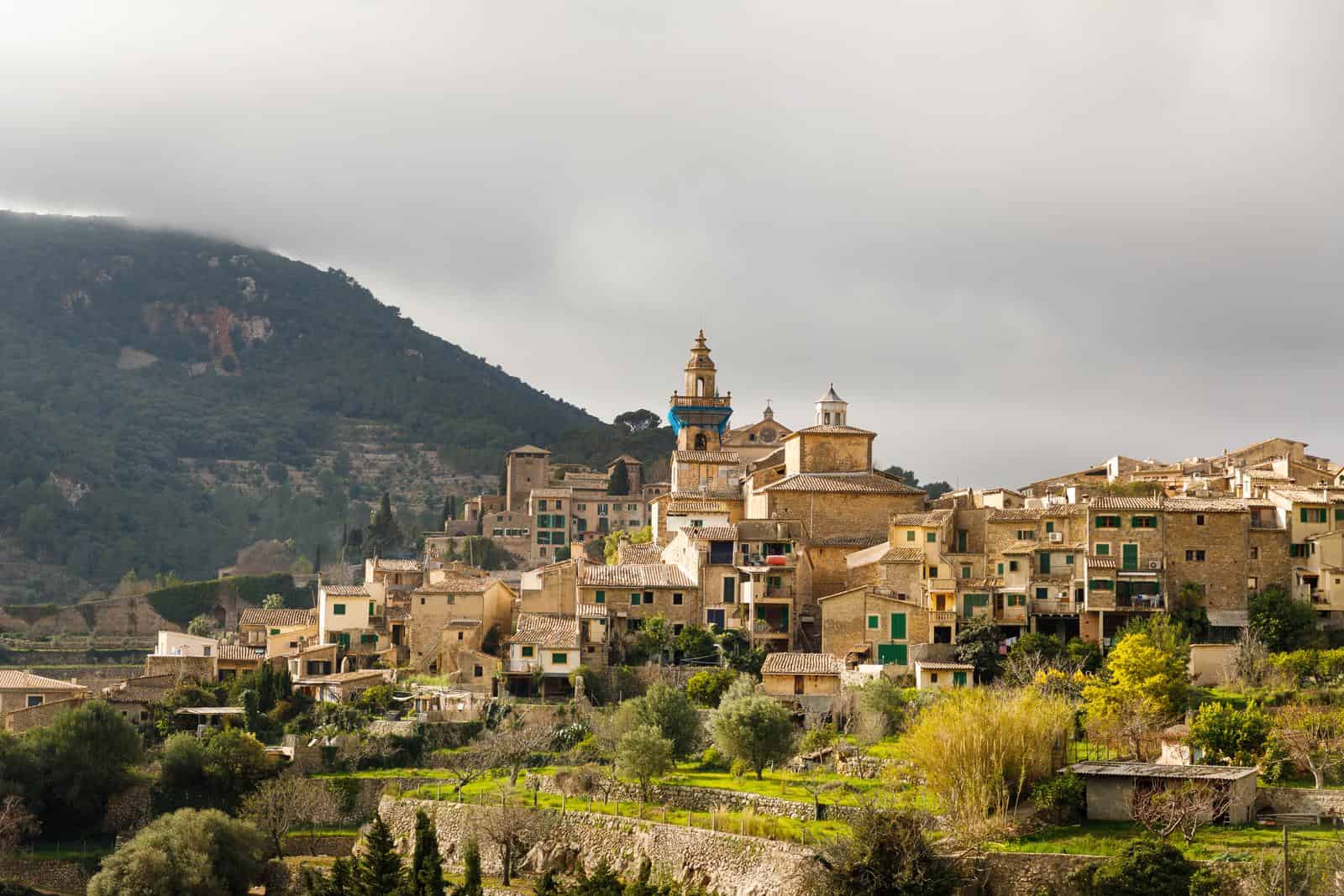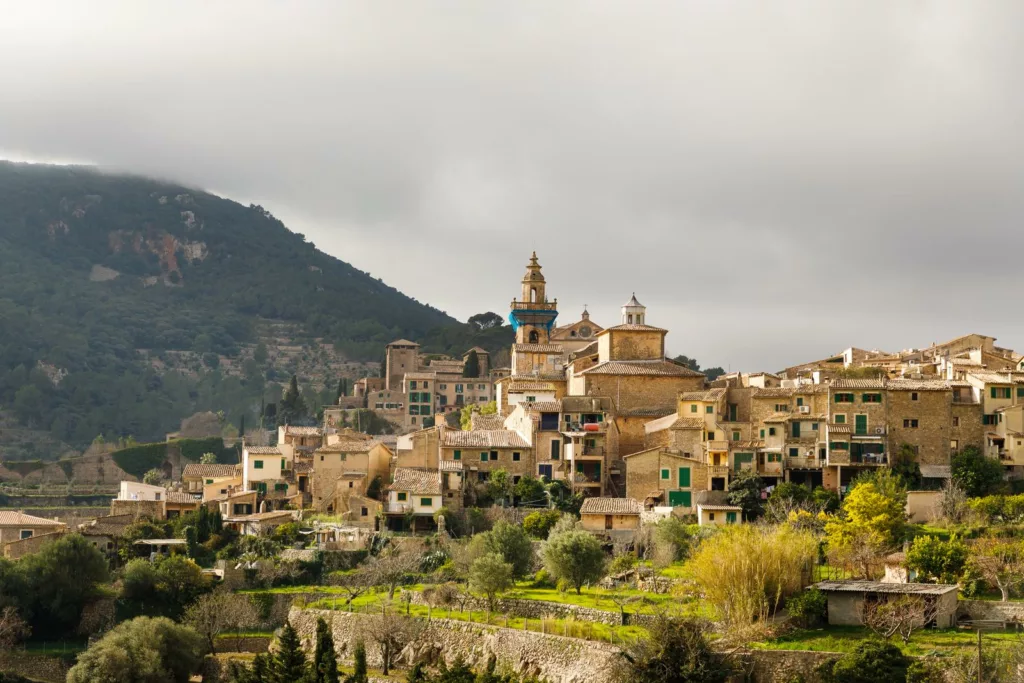 Valldemossa has abundant opportunities for photography, and some of the best Instagram hotspots can be found along the Ma-1110 en route from Palma.
Stop at the three viewpoints just before leaving Valldemossa to achieve different panoramic views. And time your arrival just before sunset as the light casts a golden glow on the stone buildings.
Valdemossa Viewpoint I
Valdemossa Viewpoint II
Valdemossa Viewpoint III
Inside the town, you can achieve amazing photos from Mirador des Lledoners near Palau de Rei Sanç (Palace of King Sancho) next to the monastery. Or head to Carrer de la Rosa where geranium-filled plant pots and wooden shutters add contrast to the blond stone houses.
If you're hiking along the trail to Deià, make time to pause at Mirador de Ses Basses. From this incredible viewpoint you can see Valldemossa, Serra de Tramuntana, and all the way to Palma.
Day Tours from Valldemossa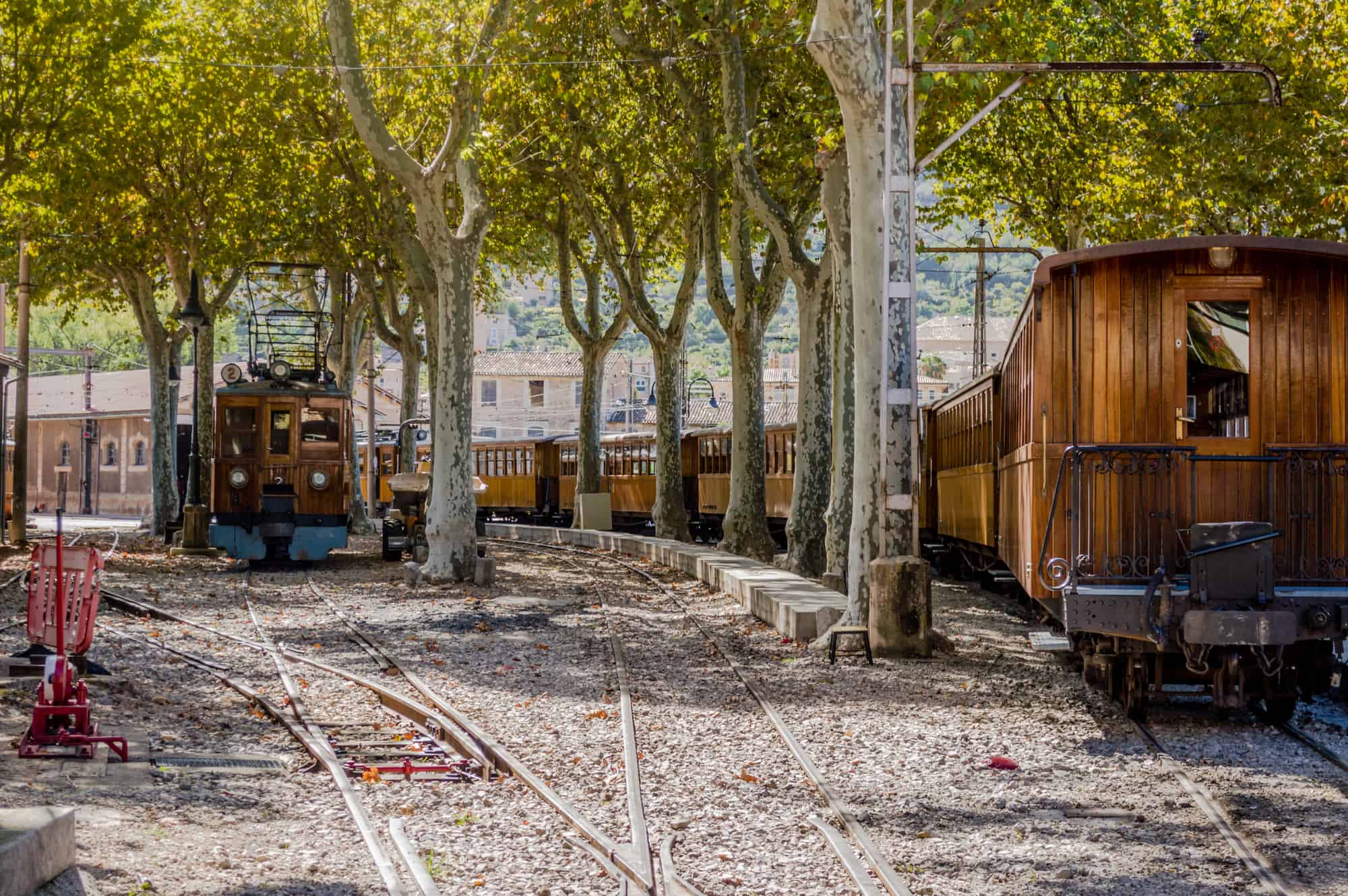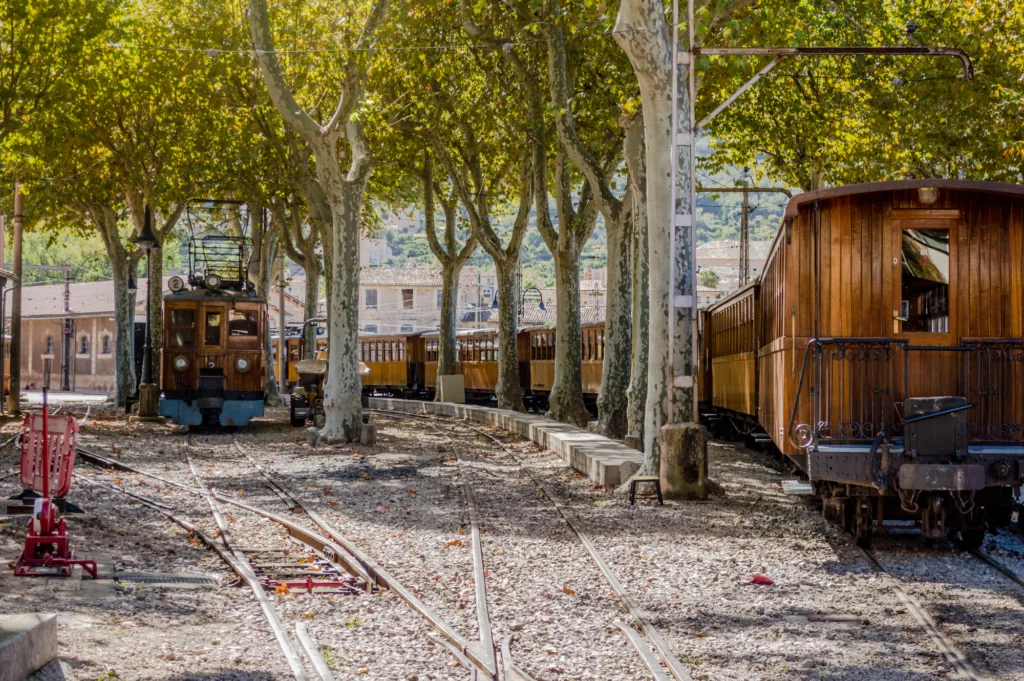 There are a few places to add to your itinerary if you stay in Valldemossa for more than a few days. The artsy hilltop town Deia, Mallorca is popular with creatives and A-listers – home to cobbled streets, art galleries and fine restaurants. I recommend visiting the home of poet Robert Graves and heading to Son Marroig for the sunset.
Add Soller, Mallorca to your vacation schedule too. Sant Bartomeu church and Can Prunera Museum of Modernism, with their 19th and 20th-century artwork collections, are two highlights of this historic town.
If you wish to venture further afield, Jardin d'Alfabia is a must-see attraction. The Moorish gardens are dreamy with palm-lined avenues, rare plants, and historic houses. With the Mallorcan capital Palma just half an hour away too, you can visit for a day of shopping and sightseeing.
Best Restaurants and Cafés in Valldemossa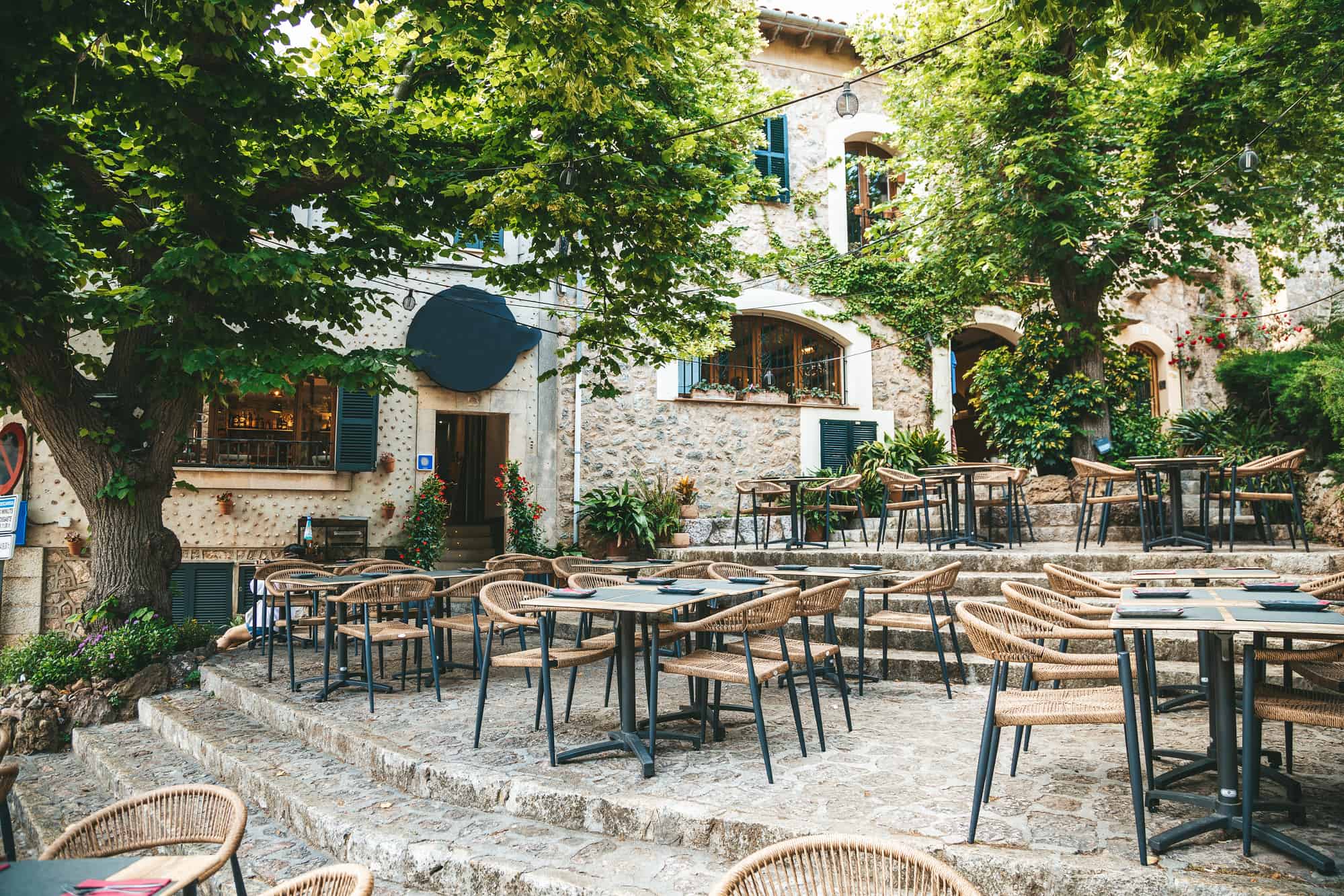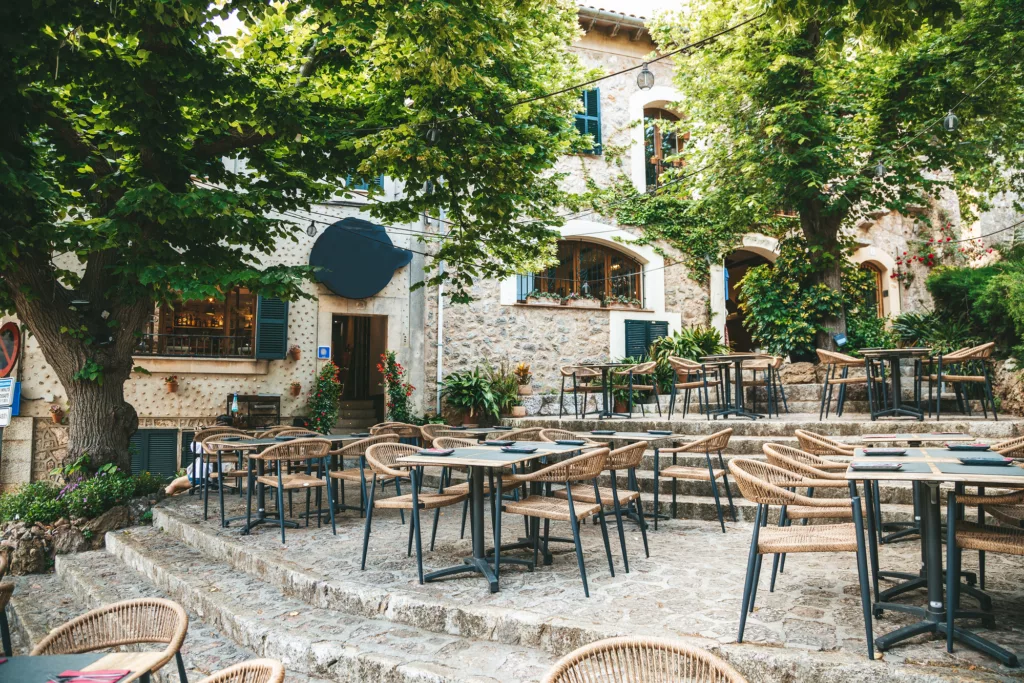 Valldemossa boasts a range of cafes and restaurants serving Spanish, Mediterranean, Asian, vegetarian, and vegan cuisines.
My go-to spots for morning coffee are Grand Café Cappuccino and Barbaflorida Café on Placa Cartoixa. I've had lovely tapas at S'estret, and I also recommend Es Taller Valldemossa for sharing plates, entrees, and their decadent dessert menu.
If you have access to a vehicle, make the five-minute drive to Ca'n Costa Restaurant to sample typical Mallorcan food such as Frito Mallorquin, Arroz Brut, and Tumbet. Located in a preserved olive mill, the eatery is characterful, with historic artifacts decorating the walls and ceilings.
Beach Excursions Near Valldemossa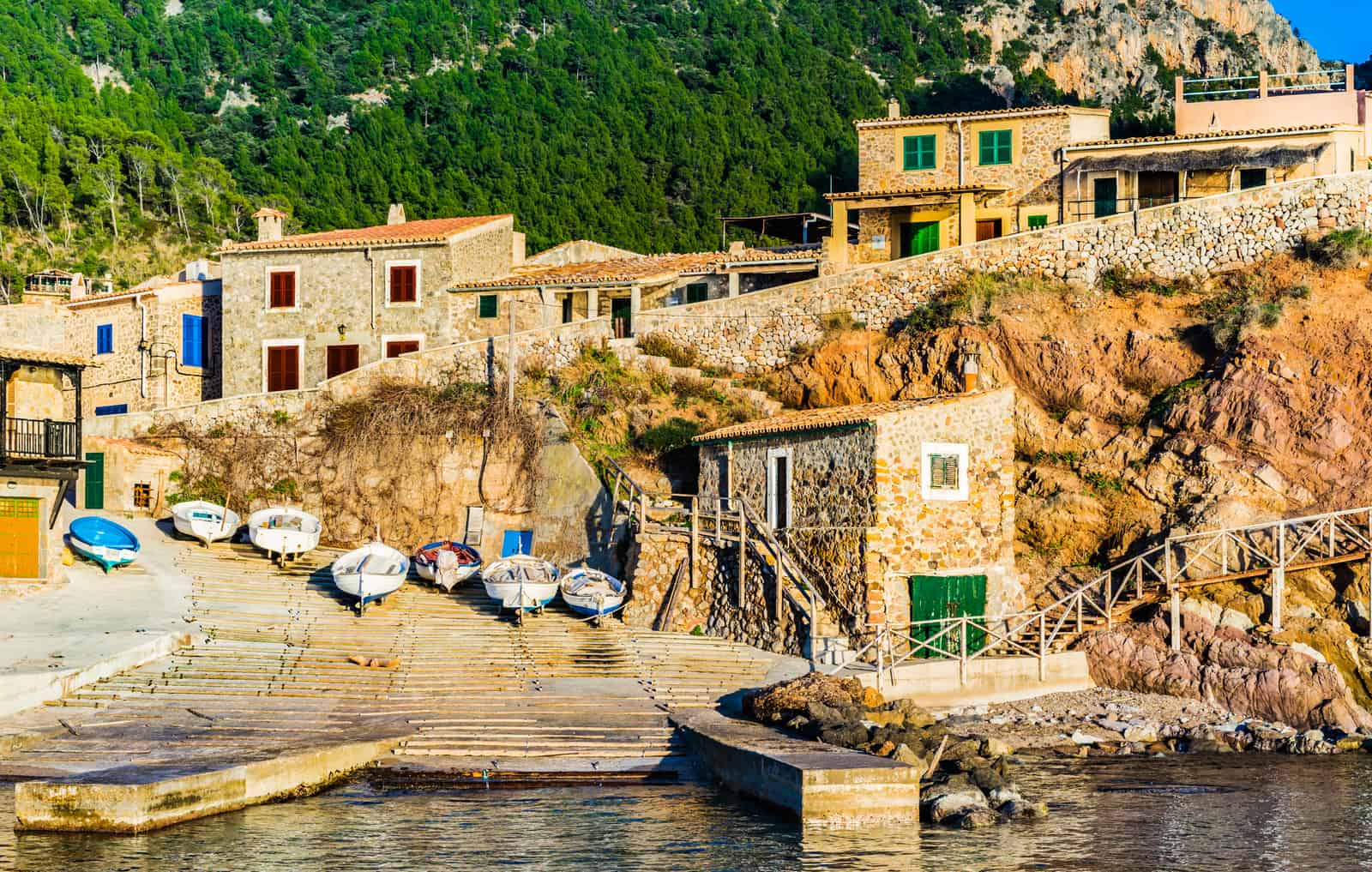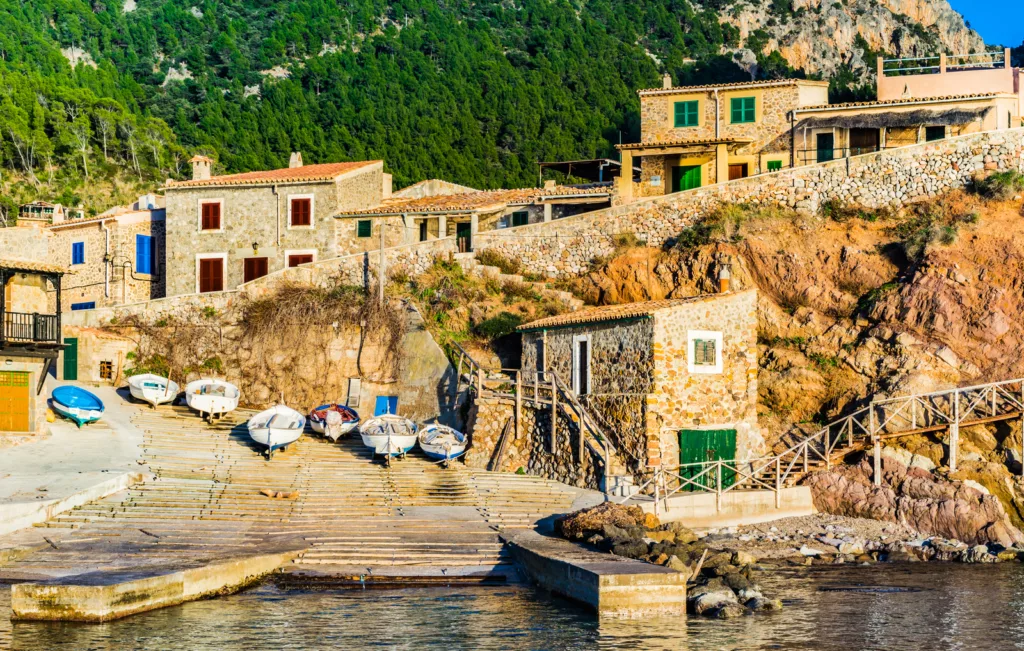 The west coast of Mallorca is punctuated with tiny beaches and fishing hamlets. A good example is Port de Valldemossa, with a pebbled beach area sweeping down to the sea. It's an idyllic location for swimming, there's a good restaurant, and the sunsets are spectacular.
I also like to spend the day at Port de Sóller, as it's home to two golden sandy beaches, palm-lined promenades, luxury hotels, and restaurants. Boat trips along the coast operate from here, and the sea is calm and clear for swimming.
If you're seeking a more secluded option, choose idyllic Cala Banyalbufar with its rocky cliffside backdrop and vegetation. There are no facilities here, so remember to pack snacks and drinks.
If seeking out marine life is your chosen pastime, some of the best snorkeling beaches in Mallorca are less than an hour's drive away, and you can also check out the best beaches in North Mallorca for lots of family-friendly activities.
Valldemossa's History and Culture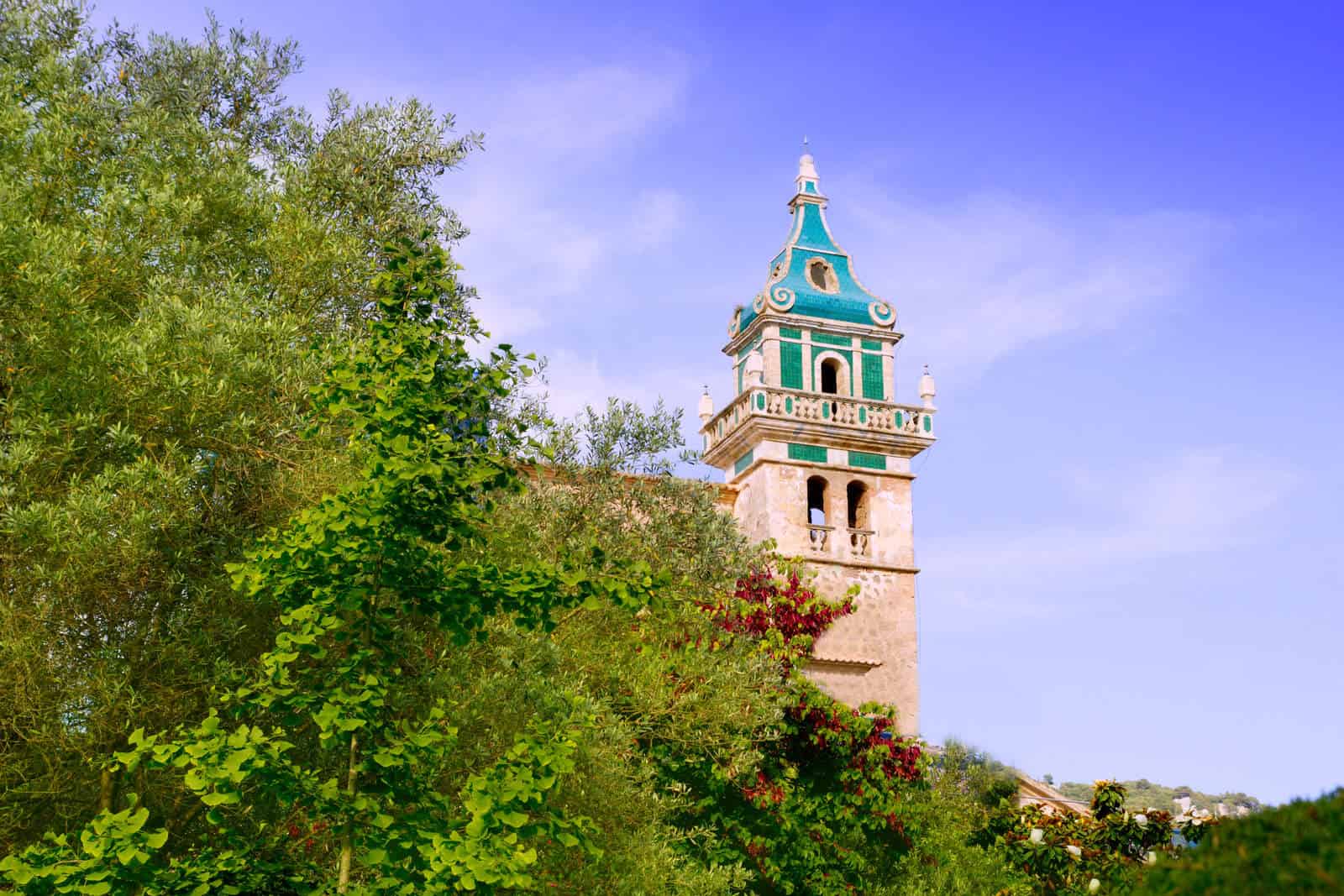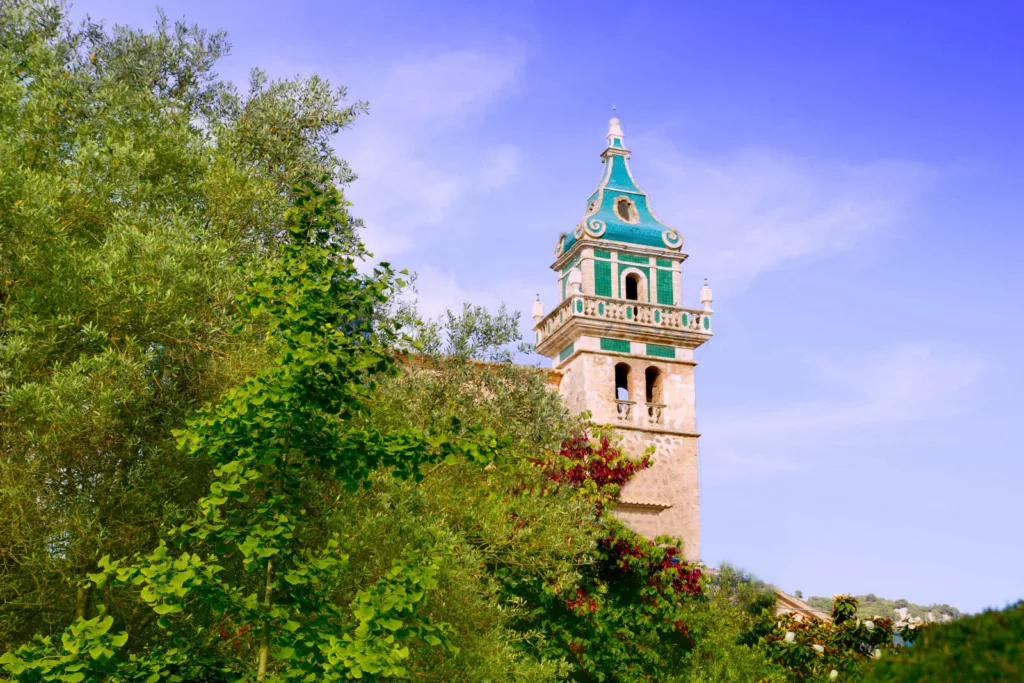 Valldemossa was ruled by the Moors for a few hundred years from the 10th century. Throughout the valley you can see where they left their mark, irrigating and cultivating terraces for successful crop growth.
They were driven off the island in 1229 by King Jaume I. A short time later, a philosopher named Ramon Llul arrived in Valldemossa. He founded a monastery where Franciscan monks came to study. It still exists today. Valldemossa's Monastery was the birthplace of the island's first patron saint and became internationally known when Frederic Chopin and George Sand stayed one winter.
Locals here are proud of their heritage, celebrating their patron saint, the arts and music with annual festivals. Food recipes in local restaurants derive from Moors and Catalan explorers who once called Mallorca their home, and the valley is a reminder of those who planted seeds to facilitate fruitful harvests each year.
Annual Events in Valldemossa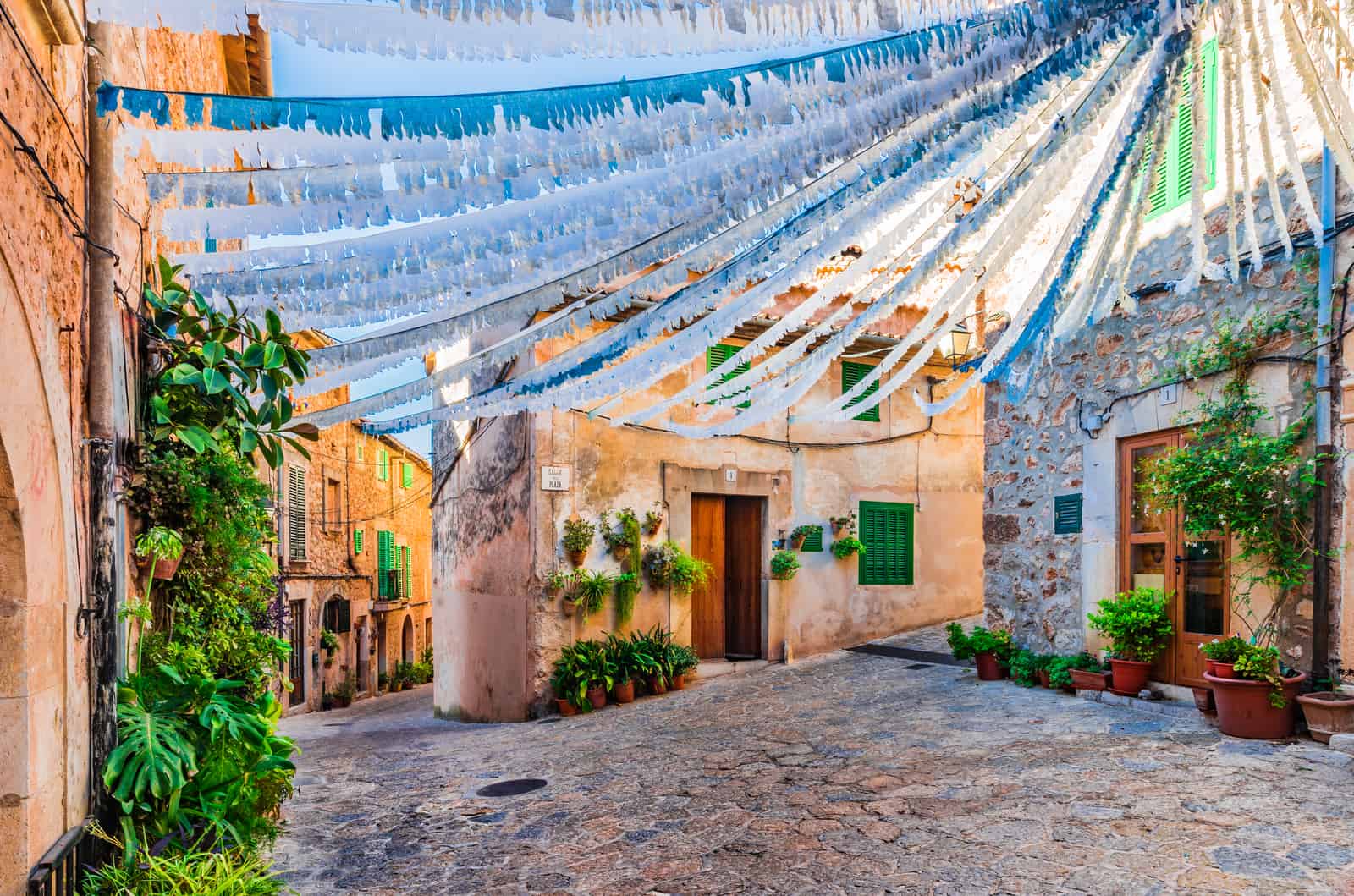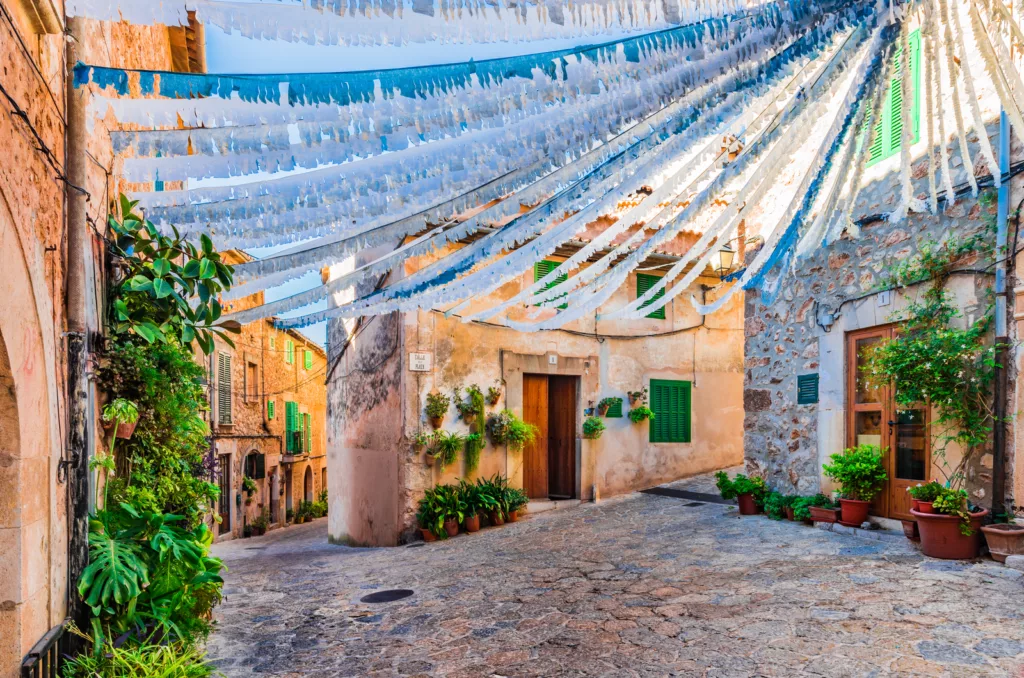 The main events and festivals in Valldemossa take place in July and August. Festes de la Beata in late July celebrates Santa Catalina Thomas, Mallorca's first saint. It's the town's most important festival, and all residents take to the streets for parades and parties. Also in July, Artdemossa Fair showcases local artworks, concerts, and performances.
Plan a stay around August's Chopin Music Festival and listen to alfresco classical music performances held across the town. In late August, the lively Sant Bartomeu fiesta thrills and entertains with sporting contests and musical concerts.
Parking Tips in Valldemossa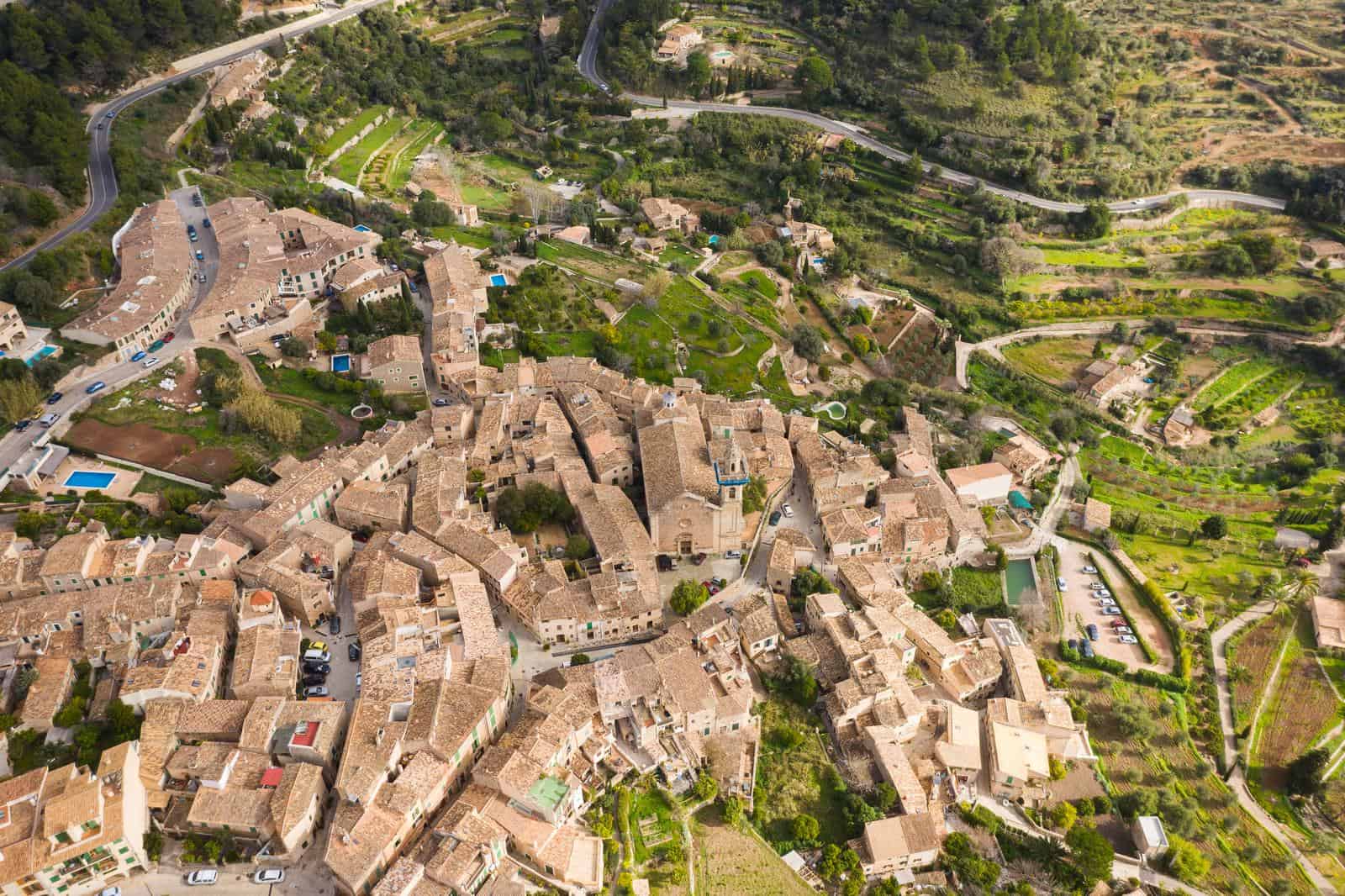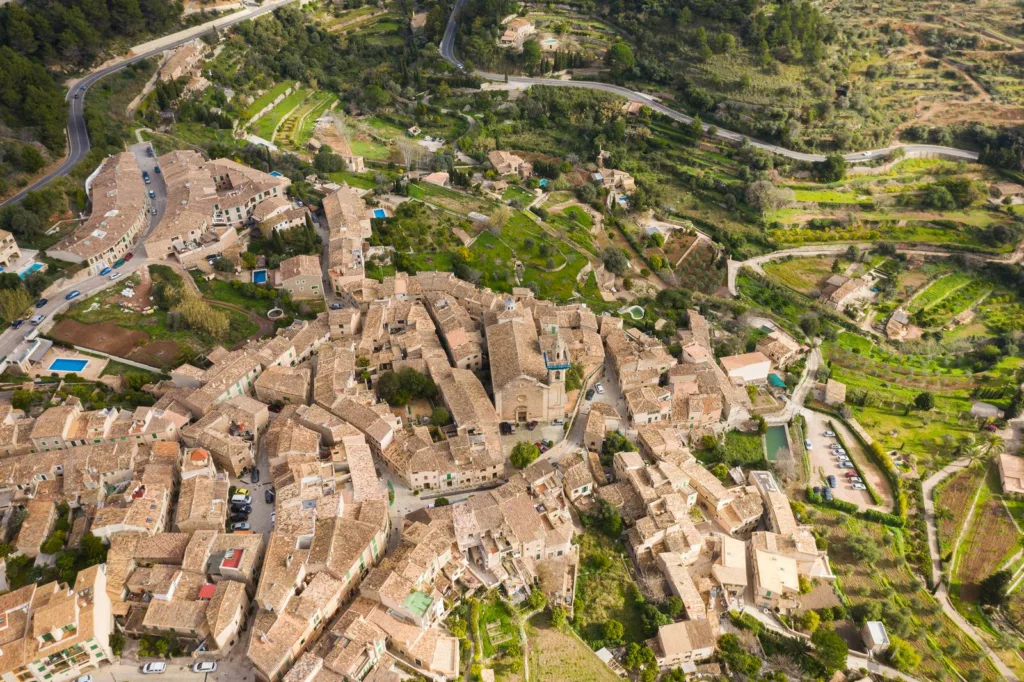 It's easier to park in Valldemossa than in other towns and cities in Mallorca. There are two main car parks with pay meters and designated zones painted in blue where you can park in the town center.
As the town is compact, the parking areas are all within walking distance of major attractions. You'll find the main parking areas on the left-hand side of the Ma-1110 to the west of the town center.
Wrapping Up: Valldemossa, a Must-Visit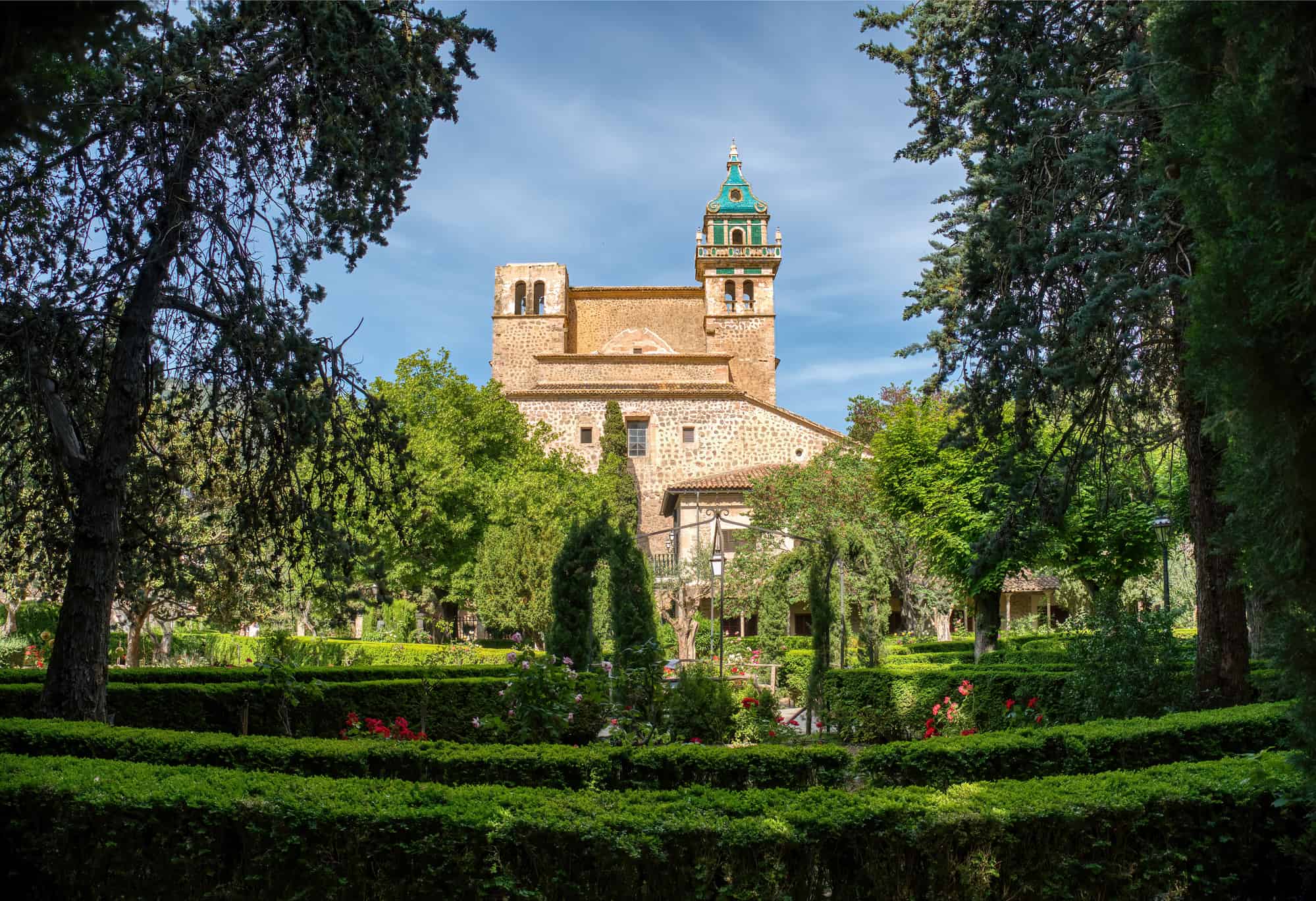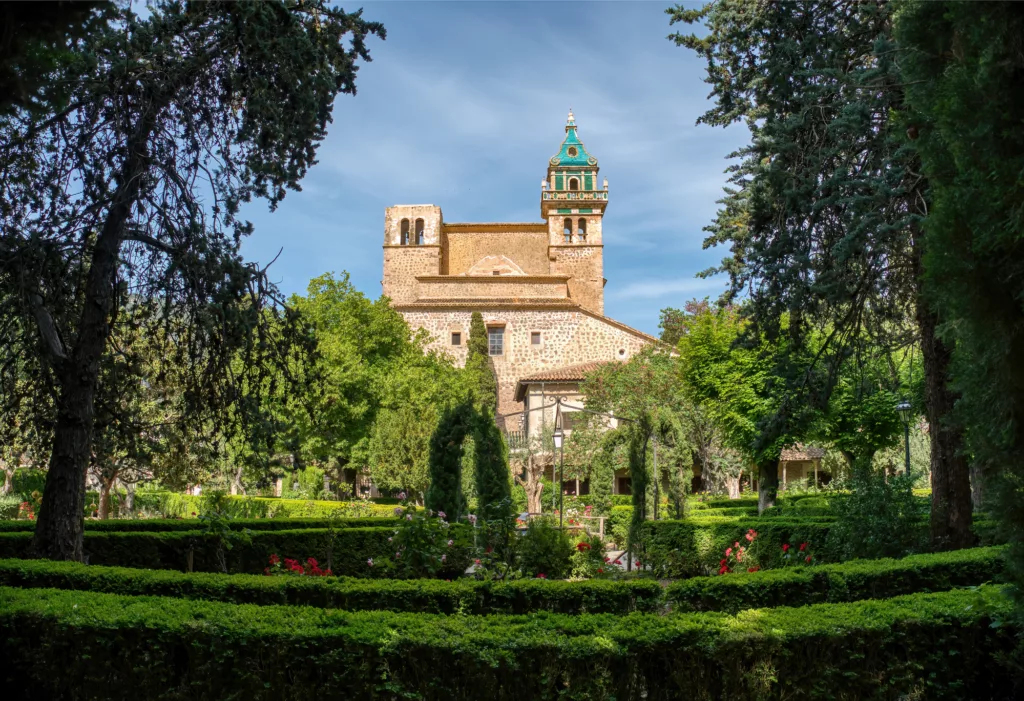 I find Valldemossa a perfect two-center holiday choice when combined with livelier coastal resorts or stays in Palma, and it's an ideal base for exploring the west coast of Mallorca.
The scenery is an artistic canvas, and the town's history captivates with new elements to discover at every turn. You can connect with nature on the hiking trails, achieve amazing photographs and sample some of the finest food on the island. I hope you enjoy it as much as I do!
Just letting you know
When you buy something through my links, I'll earn a small commission—don't worry, it won't cost you any extra! It's a win-win, right?
Exclusive Heymondo Travel Insurance Offer
Planning a trip? Make sure you're covered! We've teamed up with Heymondo to give our readers a special deal: 5% off travel insurance. Grab this deal and know you're looked after on your next trip.