Sóller, Mallorca is a place where local cultures and traditions remain strong. The town sits in Serra de Tramuntana, Mallorca's World Heritage Site, amid lush valleys of olive and citrus groves, mountain villages, and hiking trails.
The pretty town in western Mallorca is home to art museums, botanical gardens, and lively squares with cool cafes where you can enjoy Mallorquin tapas over a glass of wine with friends.
Sóller is the perfect place to visit in any season with hiking, cycling, and festivals held year-round. Just five kilometers away is Port de Sóller, home to beautiful sandy beaches, boat cruises, and stylish harborside restaurants. If you're interested in renting a boat in Mallorca during your visit, this is your place to be!
Hi, I'm Timon!
I've experienced the heartbeat of Spain firsthand. Over the last five years, I've immersed myself in the dynamic cities of Spain, truly living the Spanish way. My insights into this beautiful country are rooted in genuine experience.
The History of Sóller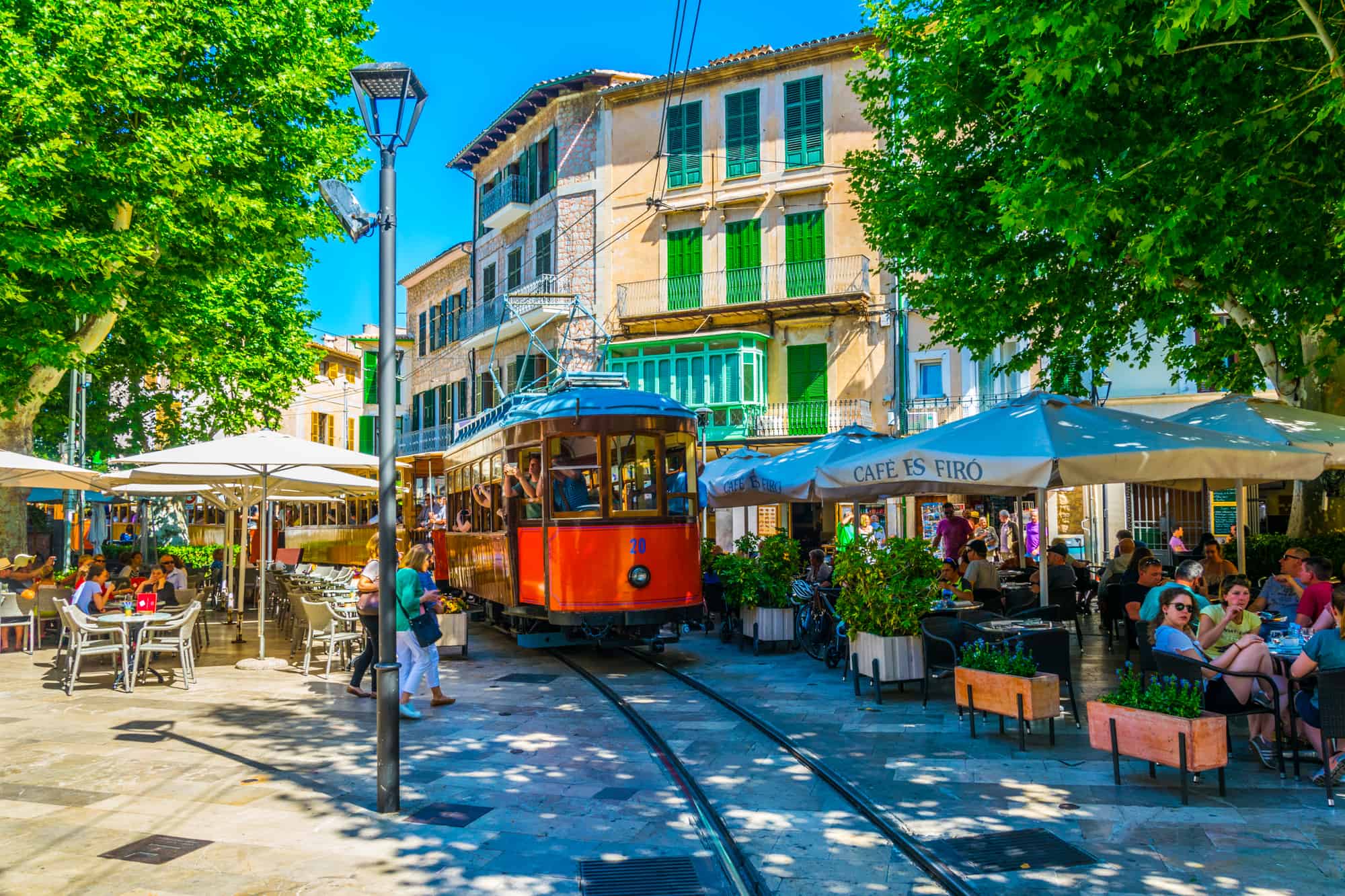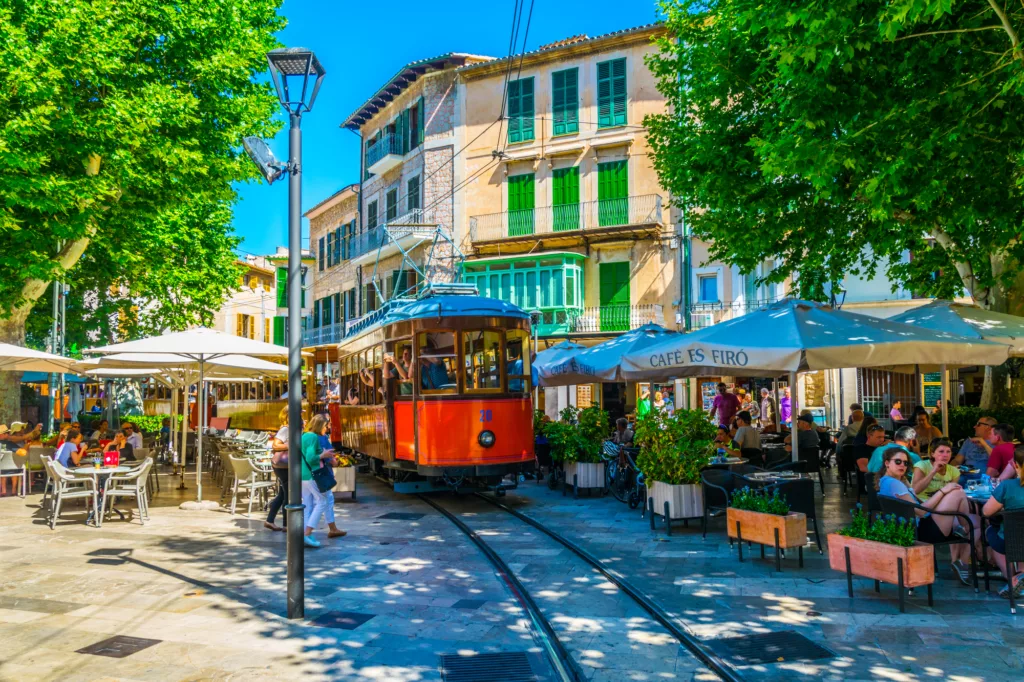 Sóller is often described as a charming Mediterranean town with a rich history dating back to Talayotic times. The city avoided much of the Roman occupation, thanks to its then-isolated location in the Tramuntana Mountains. However, it didn't escape pirate invasions from the Moors. Mallorca was a treasure trove for Mediterranean invaders, and Sóller's location, a few kilometers from the sea, saw many battles.
The Sóllerics didn't take these invasions lightly. In 1561, they emerged victorious when they defeated the pirates. The epic event is celebrated annually during the Moors and Christians festival (Es Firo) in May when the battle is re-enacted by locals on the beaches of Port de Sóller.
The town has recently become famous for its olive oil and citrus fruit exports. The fertile landscapes of Serra de Tramuntana were the ideal place for cultivation. This brought much wealth to the area, and in the early 1900s, a tram line was built for transporting oranges to the port, and a rail link was added to Palma. The wooden heritage trains still operate through the mountains and valleys today.
Sóller, Mallorca is also linked to great artists. Their works can be seen at the Can Prunera Museum of Modernism in the town center. The 20th-century Art Nouveau building showcases art from the age of Modernism to the present day, with collections from Joan Miró, Picasso, Toulouse-Lautrec, and Sóller artist Juli Ramis.
If you want to learn more about local art and culture, consider visiting nearby Deià, Mallorca. The charming hillside town is a haven for writers, poets, composers, and creatives. It's home to La Casa de Robert Graves, the famous poet who moved here in the 1930s. The town offers a range of events relating to the arts.
Things to Do in Sóller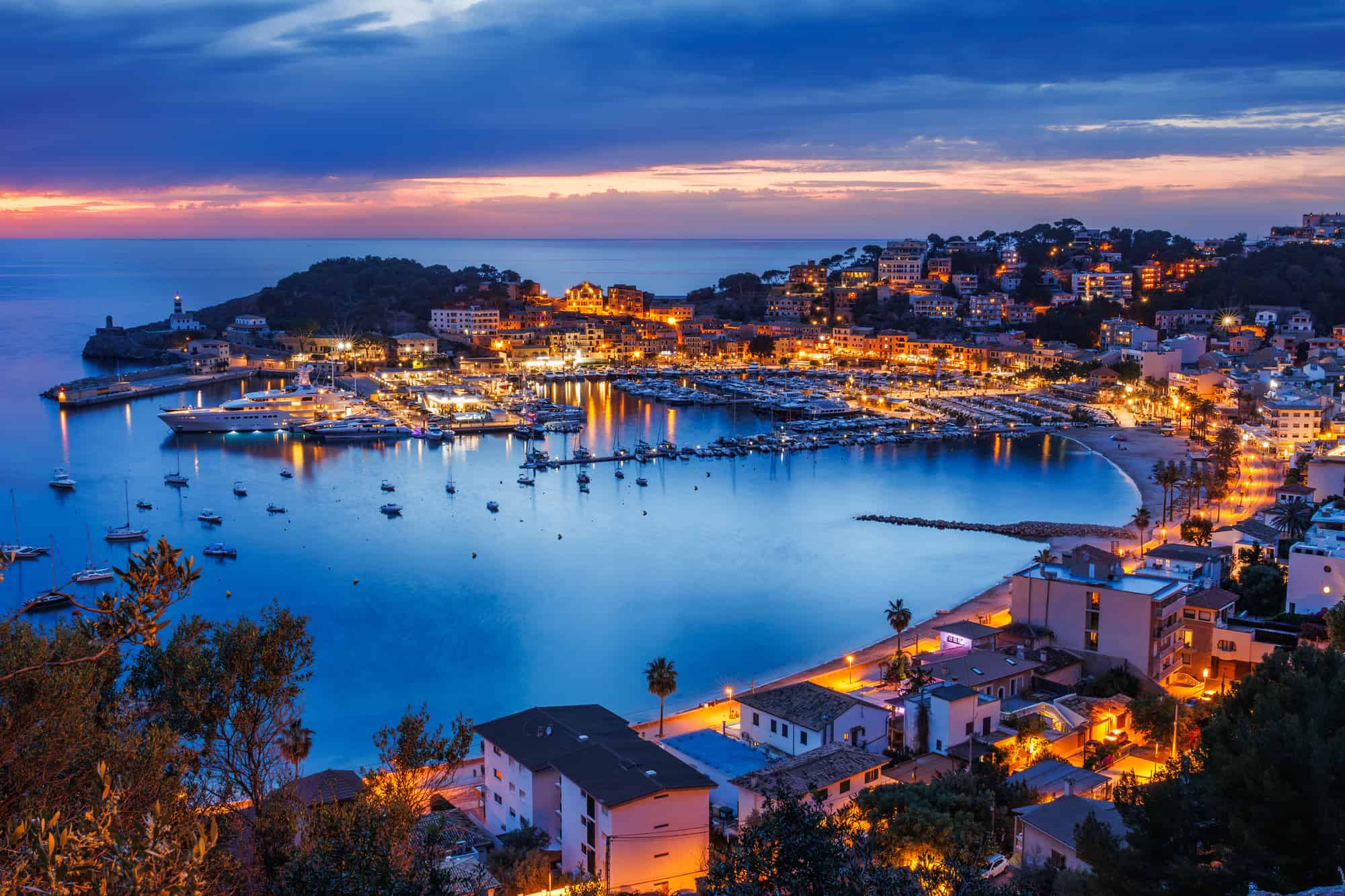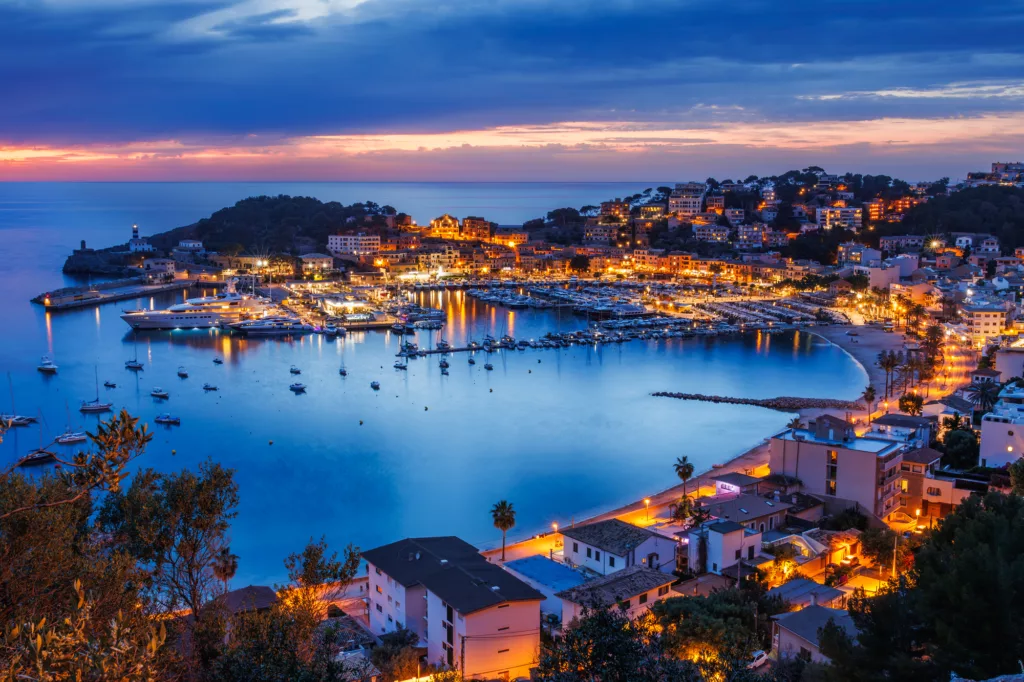 Aside from browsing artisan shops in quaint cobbled streets or sipping café con leche in Plaza de la Constitución opposite Sant Bartomeu church, there are also several museums to explore in Sóller.
Visit the Natural Science Museum – home to fossils, plants, and minerals, then stroll through the nearby botanical gardens. With towering palms and plants and one of the country's most extensive seed banks, it's a great way to spend a leisurely afternoon.
Step inside Can Prunera Modernist Museum, housing collections by Miró, Matisse, and Picasso, or venture to Ecovinyassa to discover a working citrus farm in the Tramuntana Mountains.
You can also spend a day soaking up the sun on the beach at Port de Sóller. The picturesque coastal town is accessible via tram or bus in minutes. A place to swim, sunbathe, cruise, or dine on fresh seafood by the water's edge.
Several tours are available from Sóller too. Enjoy a guided tasting tour of Can Det (an olive oil factory) or a private tour of Sóller, discovering the town's stories and architectural gems, including Sa Casa de sa Lluna and the Bank of Sóller building.
Cycling in Sóller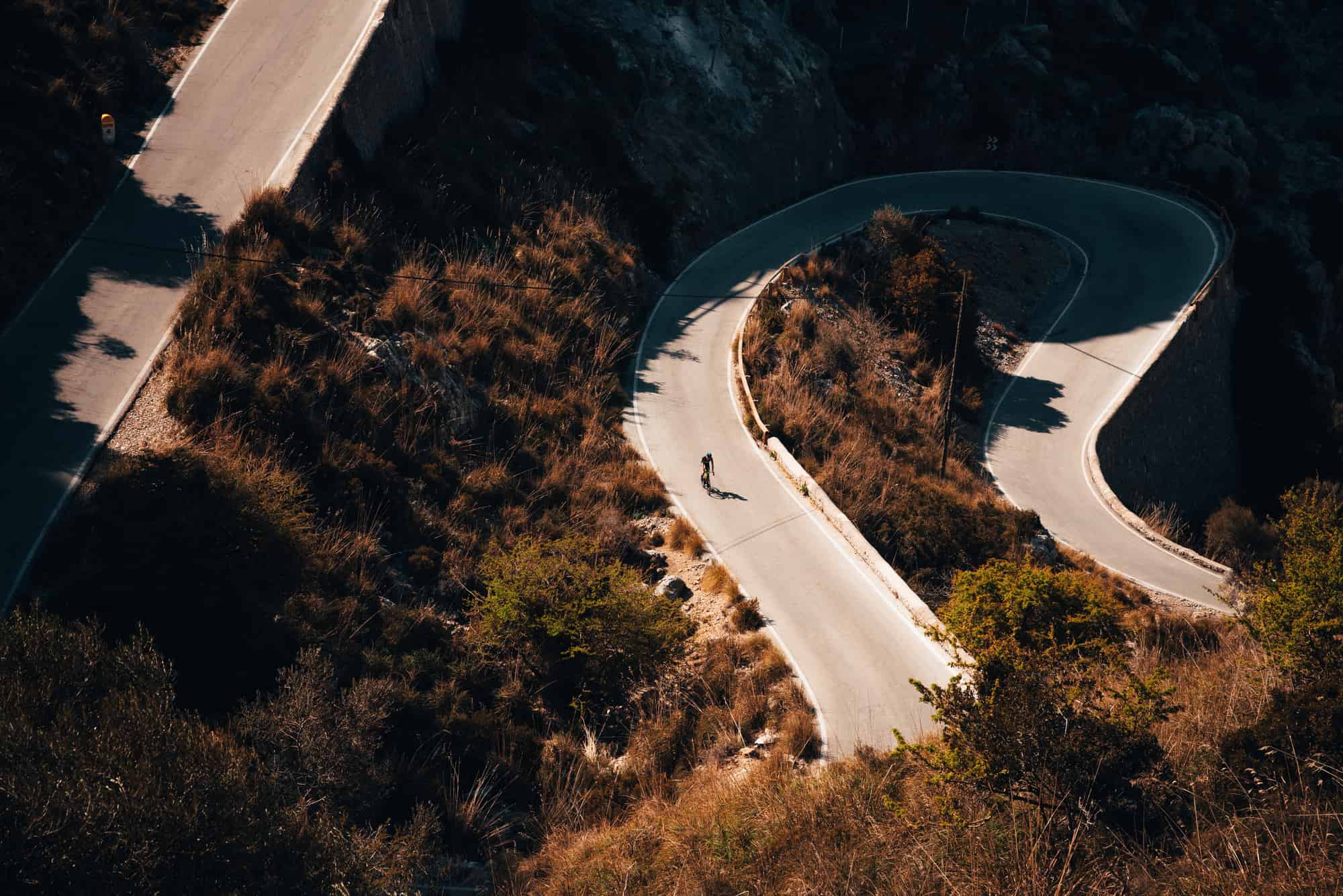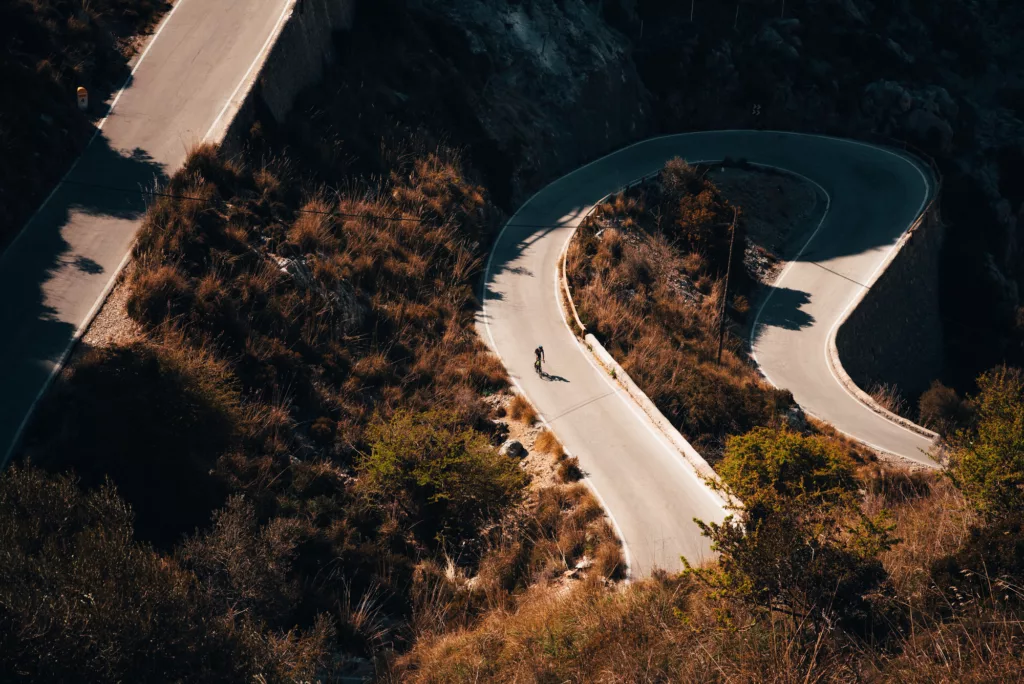 I find that renting a bicycle is a great way to gain a unique perspective of the towns and countryside of western Mallorca.
From Sóller, you can easily access Port de Sóller and some of the island's most beautiful villages – Biniaraix and Fornalutx. There are multiple cycle trails in Serra de Tramuntana and routes transporting you to picture-postcard Deià a few kilometers southwest.
Renting a premium bike, scooter, motorcycle, or ATV is easy with BikesBooking.com. I hired my bike through them to navigate some of the island's most popular trails detailed in the Mallorca cycling article. You can reserve your bike online 24/7, pay a deposit, then present the e-voucher when you collect the bike!
Discover Sóller's Surroundings by Car
If cycling isn't your thing, or if you have limited time on the island, consider a rental car in Mallorca. I recommend Discovercars.com. They compare the best deals from multiple companies and include all fees and taxes in the final price, so you avoid any unpleasant surprises!
Mallorca is an easy island to navigate by car. You can drive north to south or east to west in under two hours. I went from Sóller to Palma de Mallorca, with its historic buildings, enchanting old town, and hilltop castle, in less than 40 minutes.
The historic towns of Deià and Valldemossa are also less than 30 minutes away. You can tackle the 26 hairpin bends of Sa Calobra in the north or continue onto Pollensa, a charming town with historical attractions.
Renting a car in Mallorca also gives you access to Mallorca's most famous market in Inca, 40 minutes away. It's been held weekly since the 13th century and is open for business on Thursdays.
The island's coves and stunning beaches can also be discovered by car. Check out the best beaches North Mallorca for details on the best places to visit.
Must-Visit Restaurants in Sóller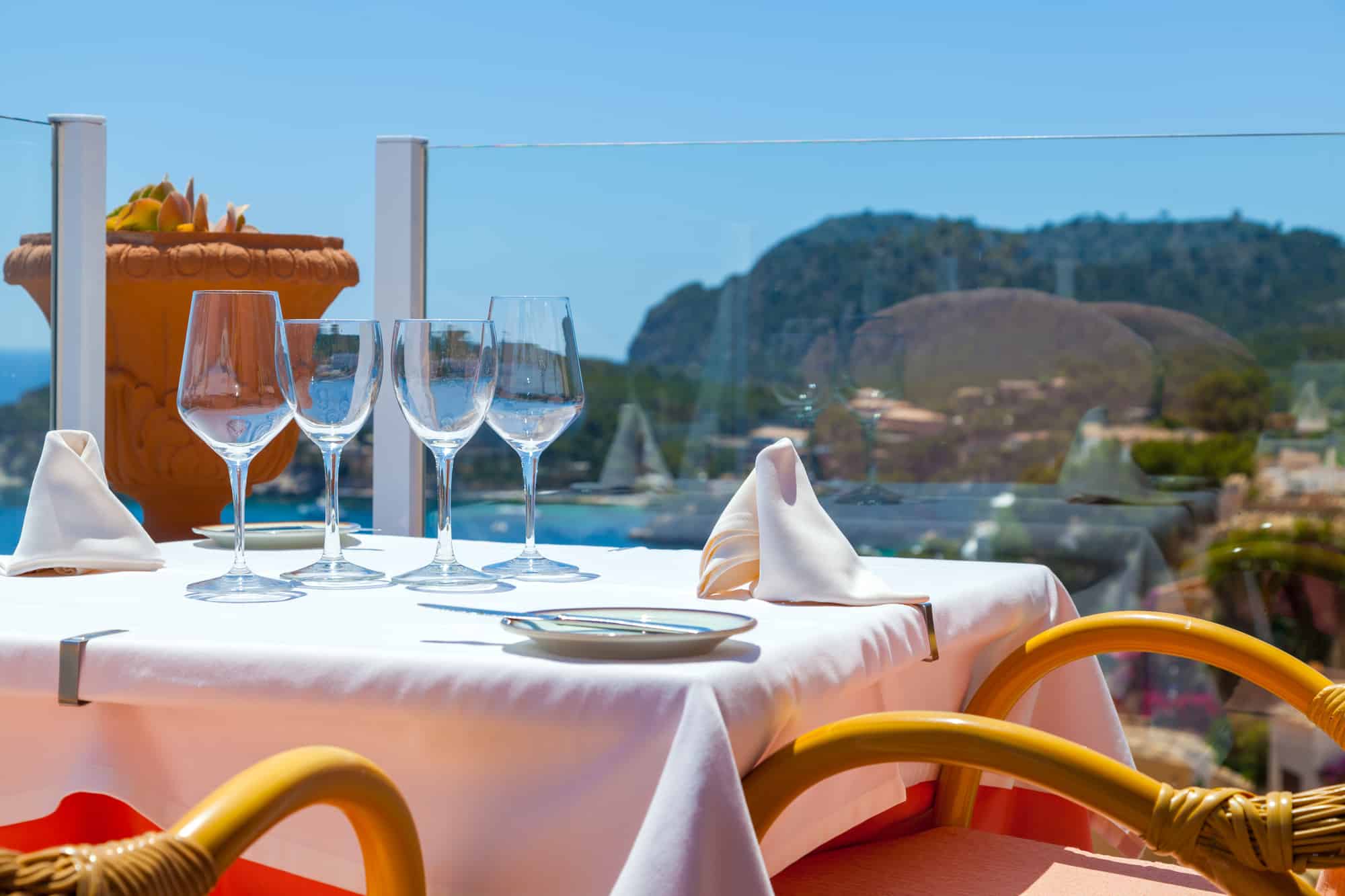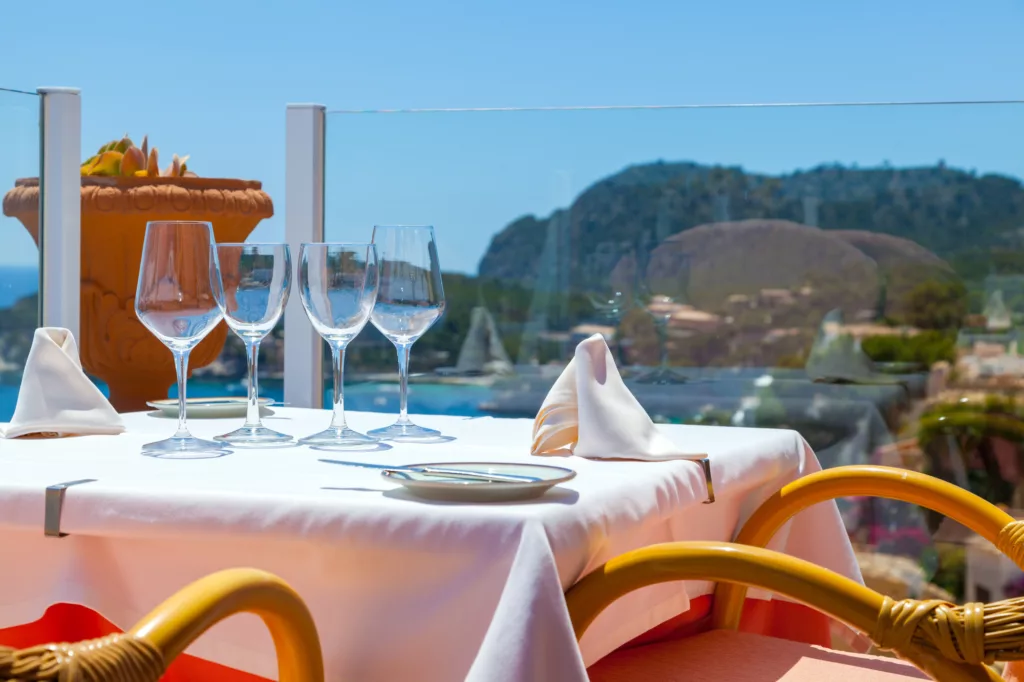 In Sóller, stylish cafes line the town squares, and traditional restaurants are tucked away in honey-hued houses along the side streets. Their menus burst with flavors to tempt all culinary palates, serving everything from typical Mallorcan food, grilled meats, and seafood dishes to vegetarian, Mediterranean and Indian food.
If you're seeking Michelin-star dining, head for Bens d' Avalls on the cliffside outside the town, or experience Restaurante Café Med in nearby Fornalutx, serving fresh, seasonal cuisine.
Other highlights include Kingfisher Restaurant in the port, specializing in fresh seafood, and Café Bistro Scholl Sóller with its classic ambiance and menu with delicious vegan options.
Alternatively, drive or cycle to Finca Son Mico. The quaint country café serves freshly squeezed juices, soups, and citrus-infused cakes – perfect for a lunchtime snack after a morning hike.
If, like me, you adore sampling regional cuisine, there are a few dishes you can try while in Sóller. Locals often start their day nibbling on ensaïmada – a delicious flaky pastry.
For lunch, try sobrassada, a cured pork sausage, local cheeses, Mallorca empanadas, or trempo – a fresh salad with green pepper, tomato, and onion.
At dinner, tuck into tumbet – a Balearic stew of vegetables served with fish or pork loin and end your meal with a delicious citrus dessert.
Where to Stay in Sóller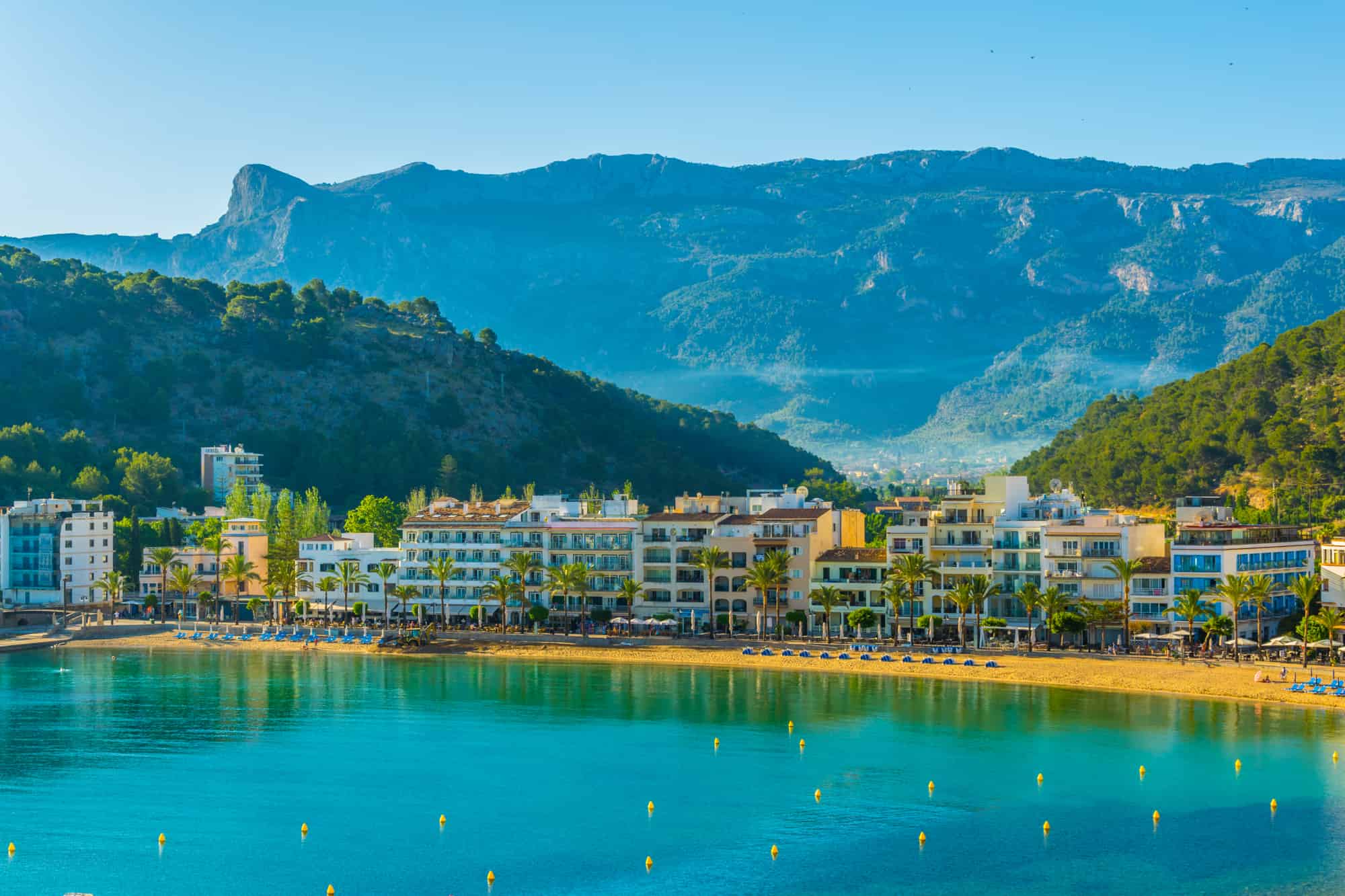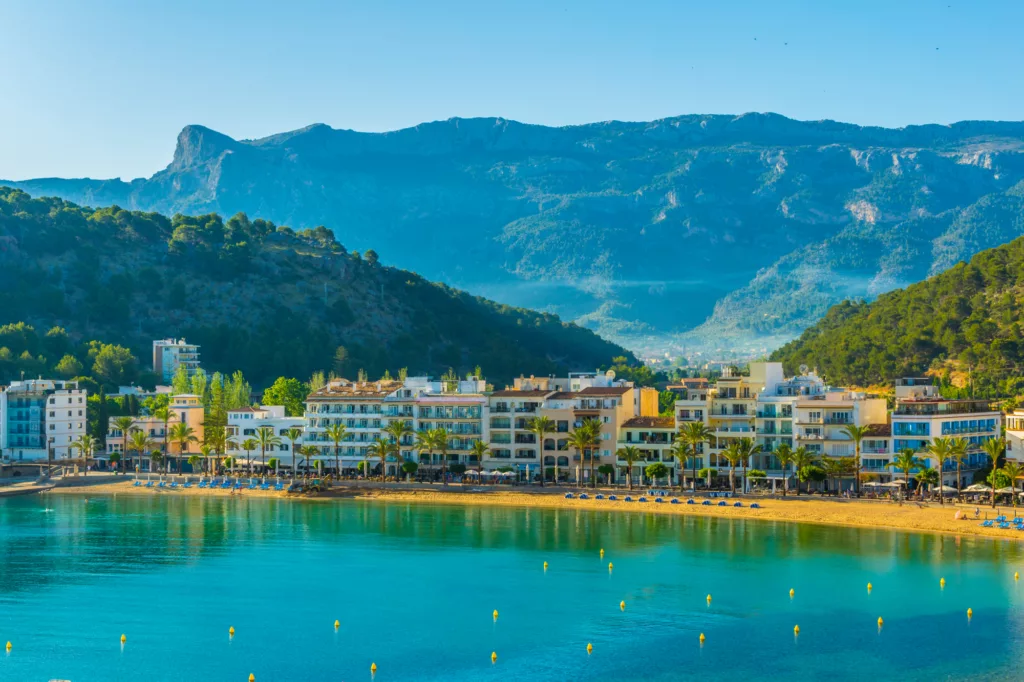 Sóller accommodations are tailored to suit all requirements. For romantic vacations, you'll discover everything from boutique boltholes to five-star hotels with swimming pools and spas. Or if you're traveling in Mallorca as a family with children, you may seek a finca or villa with additional amenities.
There are many benefits to choosing Sóller as your base compared to other Mallorca towns. You're located within a few kilometers of the sea and mountains. It's easy to travel to surrounding destinations, plus, historic sites of interest can be accessed on foot, by bike, tram, bus, train, or car.
If you want further information about where to stay in Mallorca, this article will help you decide the best place to suit your vacation needs.
The Vibrant Festivities of Sóller
The residents of Sóller, Mallorca love to embrace local cultures and traditions, and along with everyone else on the island, they enjoy a good party! If you can, time your visit to coincide with one of the many festivals occurring here throughout the year. You'll be treated to live classical music, firework, food festivals, and battle reenactments!
Here are a few of my favorite, must-visit events:
January – Feast of St. Anthony (Sant Antoni)
This two-day festival is held on 16th January and is dedicated to Sant Antoni (the patron saint of animals). Legend has it that he crossed the desert, avoiding temptation by walking across burning embers.
On the eve of the festival, music plays, and bonfires burn in the town to depict the triumph of good over evil. Locals dress in devil horns and vendors grill sausages for snacks with copious amounts of wine.
Day two is all about the animals. There's a huge blessing of animals outside churches in towns throughout Mallorca. Don't be surprised to see pigs, chickens and horses wandering the streets!
May – Es Firo Festival
The Es Firo Festival celebrates the Sólleric's victory against pirates when they invaded Mallorca in 1561.
Highlights of the fiesta include flower offerings, artisan craft displays, and a grand re-enactment of the beach invasion followed by battles between locals dressed as Moors and Christians.
The four-day celebration concludes with firecrackers, dancing, and reveling in the main plaza.
June – Orange Festival – Fira I Jornada de Sa Taronja
This festival in early June pays homage to all things citrus fruit. During this time, cafes, hotels, and restaurants in Sóller offer culinary delights infused with these flavors. Expect to sample special tasting menus, cakes, and refreshing juices.
August – Fiesta of St. Bartholemew
This festival, held in late August, is dedicated to the patron saint of Sóller. The huge party is one of Mallorca's best events – showcasing many cultural activities, concerts, sports, and fireworks displays.
September/October – Musica Clasica Port de Sóller
The annual classical music festival has occurred in Port de Sóller since 2004. It's one of the most popular events for music lovers in Mallorca and is held at Museo del Mar – the former Santa Caterina monastery by the harbor.
Navigating Sóller: How to Reach and Get Around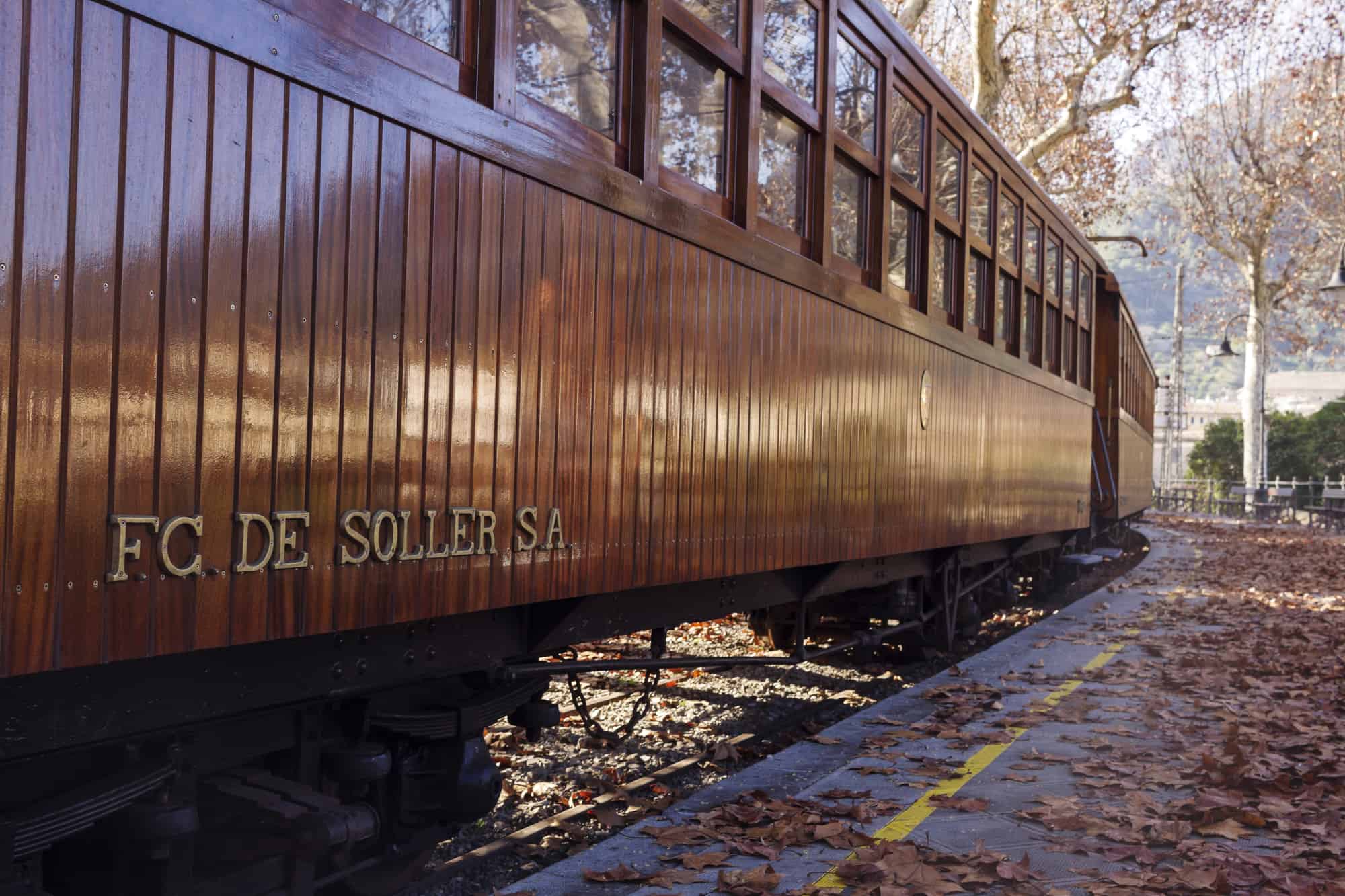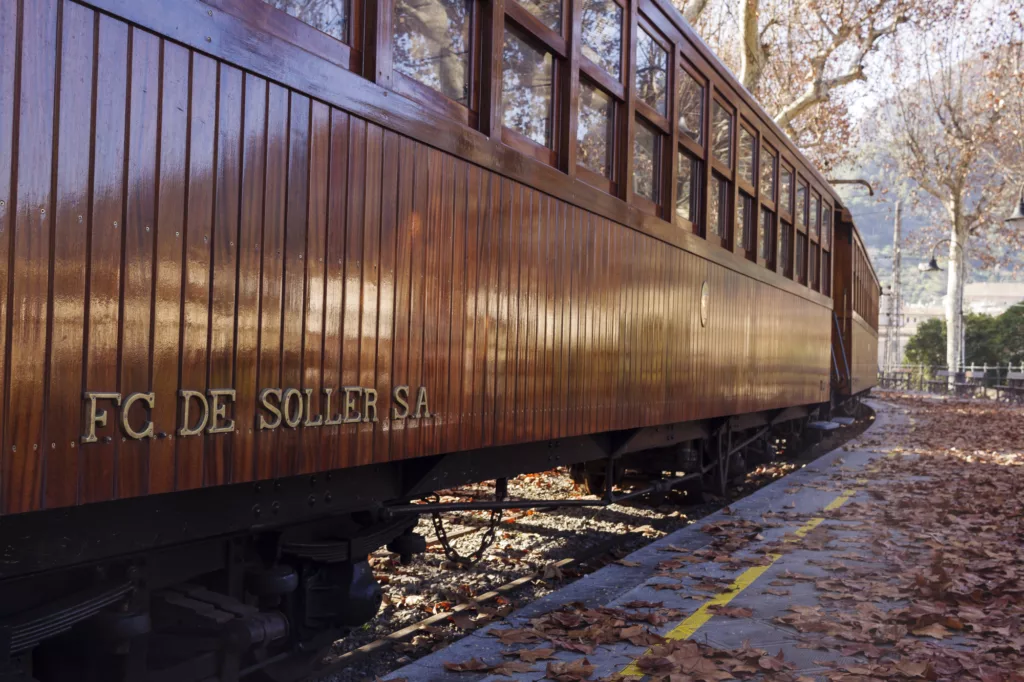 It's easy to reach Sóller, Mallorca from different locations on the island, especially if you rent a car.
Driving from Palma to Sóller is a simple task traveling along one route, the Ma-11. It takes just 30 minutes. If you prefer not to drive, the 204 bus also operates on the route from the capital stopping at Jardines d'Alfabia.
You can also ride the vintage wooden train. The scenic route through Serra de Tramuntana is a favorite of tourists, although it can be busy in peak season. Taxis from Palma Airport to Sóller usually cost between €40-50.
If you wish to reach celebrity hideaway Deià from Sóller, it's a 20-minute drive. You can also hop aboard the No. 203 bus, which continues to Valldemossa.
The northern Mallorcan town of Pollensa is an easy one-hour drive via Inca – home to the largest outdoor market on the island. Or, if you wish to take your adventure further afield, drive east to the world-famous Caves of Drach and stop off in Manacor – the home of Mallorca Pearls on the way.
I found Discovercars.com is an easy website to use for renting a car in Mallorca. They compare prices from different car hire brands on the island; all costs are displayed upfront, so there are no surprises.
More to Explore on Mallorca
Besides the west coast and Tramuntana Mountains, there are many other noteworthy destinations to explore in Mallorca.
In the east, I recommend the Caves of Drach, the town of Arta, and Cala Figuera near Santanyi, a beautiful fishing village with crystal-clear waters. Palma de Mallorca is my top spot to the south, along with Es Trenc beach – one of Mallorca's finest.
In the north, I love the drive or bike ride to Sa Calobra, and I would also check out Pollensa and Cap de Formentor peninsula if you have the opportunity.
It's fair to say Mallorca has something for everyone, from digital nomads and solo travelers to couples, groups, and families.
If you're drawn to western Mallorca or any other destination on this awe-inspiring island, you can begin planning your itinerary today.
Take a look at my things to do in Mallorca article for inspiration. It highlights the island's top attractions, giving you insight on the best places to stay and when to visit, to gain the most from your Balearic stay.
Just letting you know
When you buy something through my links, I'll earn a small commission—don't worry, it won't cost you any extra! It's a win-win, right?
Exclusive Heymondo Travel Insurance Offer
Planning a trip? Make sure you're covered! We've teamed up with Heymondo to give our readers a special deal: 5% off travel insurance. Grab this deal and know you're looked after on your next trip.