I knew Palma de Mallorca was a special place from the moment I arrived. The sea surrounding the city is a rich, deep blue. The rugged, Gothic landmarks that the city is home to need to be seen to be believed. All of these elements, in tandem, created a truly magical effect.
I was equally captivated by this as I was by the striking natural beauty that can be perceived in Palma from every angle.
What's more, there are plenty of great things to do in Palma de Mallorca with something to offer for everyone. That's right; it's home to excellent art galleries and cafes. On top of that, you'll find countless rustic, authentic boutiques. I'd go so far as to say the city is a bonafide cultural icon for both local and international creative workers, too.
And, what do you get when you combine this with its proximity to some of Spain's most pristine beaches and forests? Nothing less than one of the country's most alluring and unique getaway destinations.
1. Exploring Palma Cathedral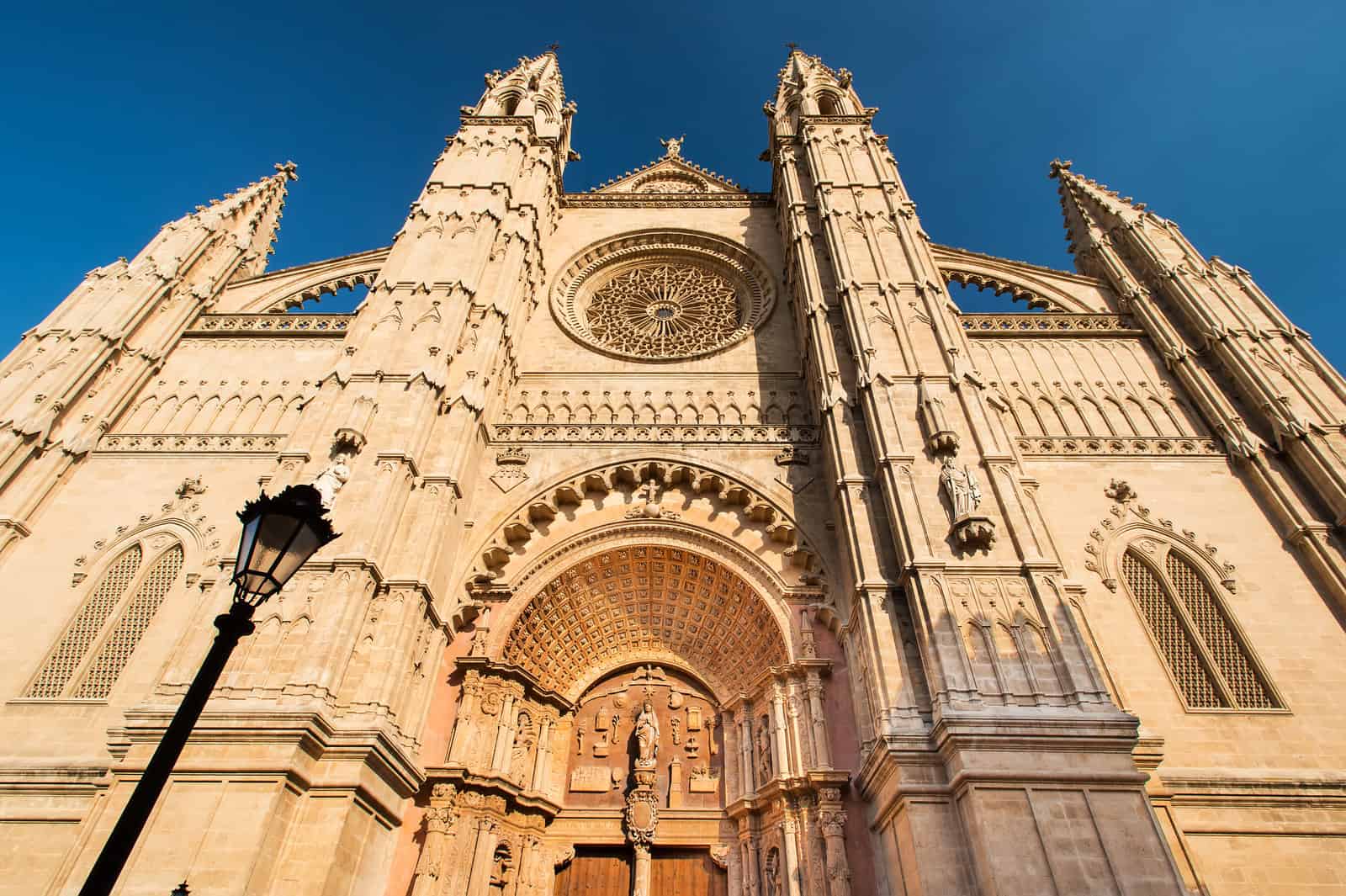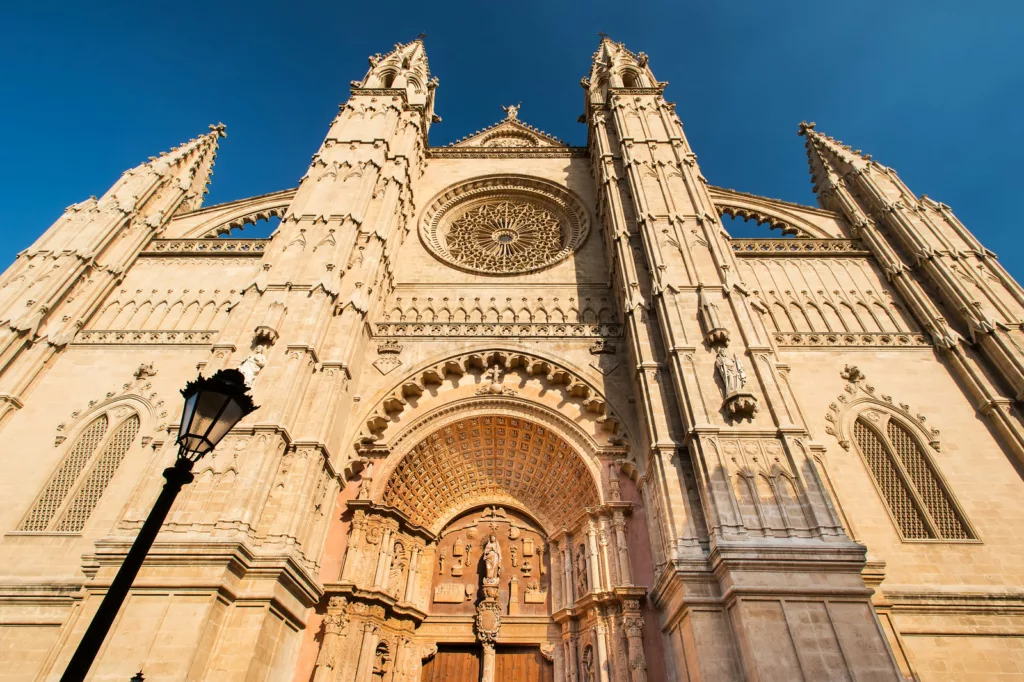 Known locally as La Seu, Palma's magnificent cathedral is easily one of Spain's most impressive religious landmarks. At its heart is the rose window, which absolutely captivated me the first time I visited La Seu; so, too, did the rest of its stark, grand interior.
Constructed in the 14th-century, the cathedral is one of the tallest Gothic structures in Europe and makes an unforgettable first impression for anyone arriving in Palma by sea.
Note that La Seu usually opens for visitors around 10:00 am each morning, but timings can vary throughout the year; I recommend checking the opening hours listed on the official website before your visit.
2. Journey to the Royal Palace of La Almudaina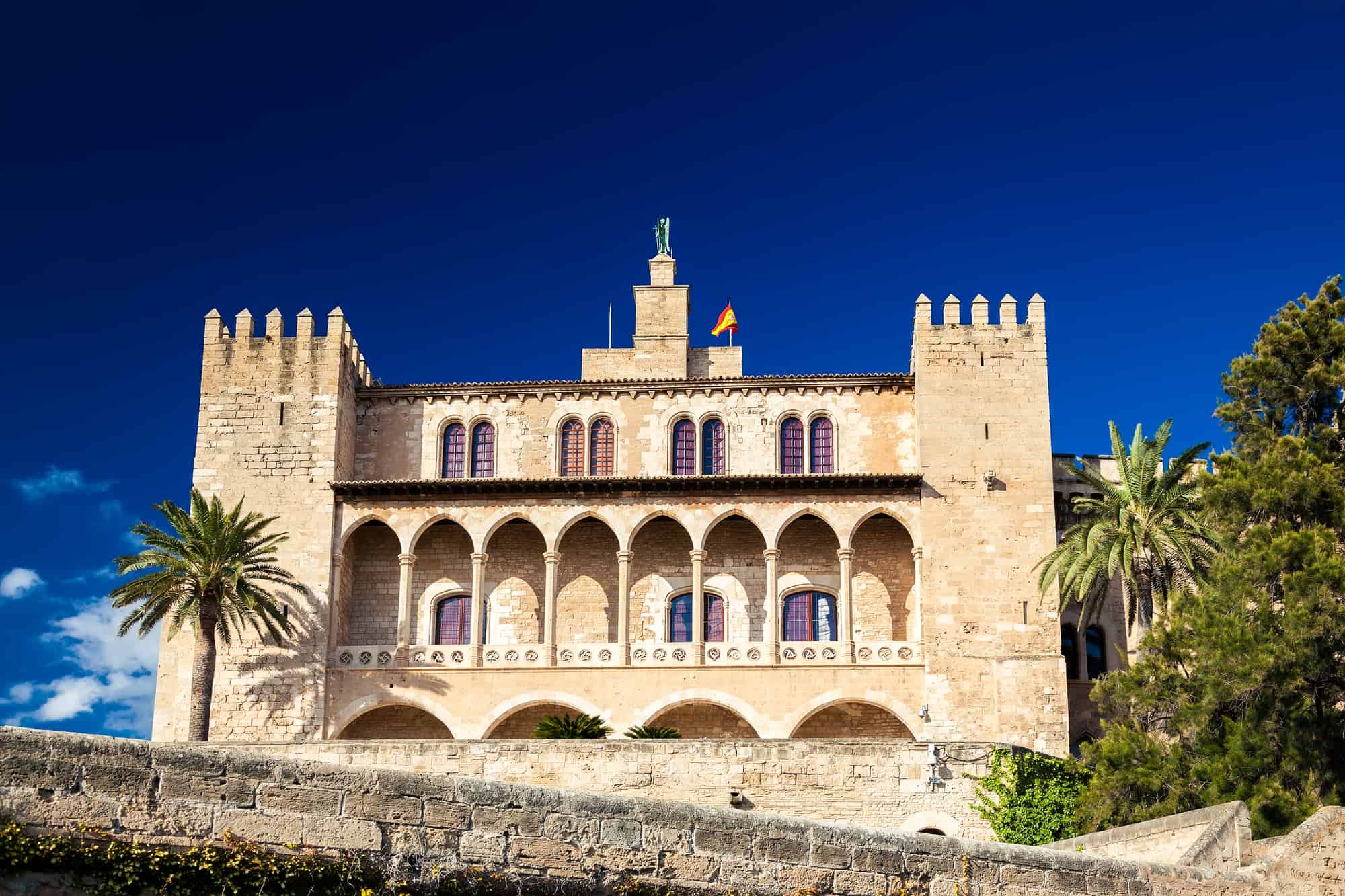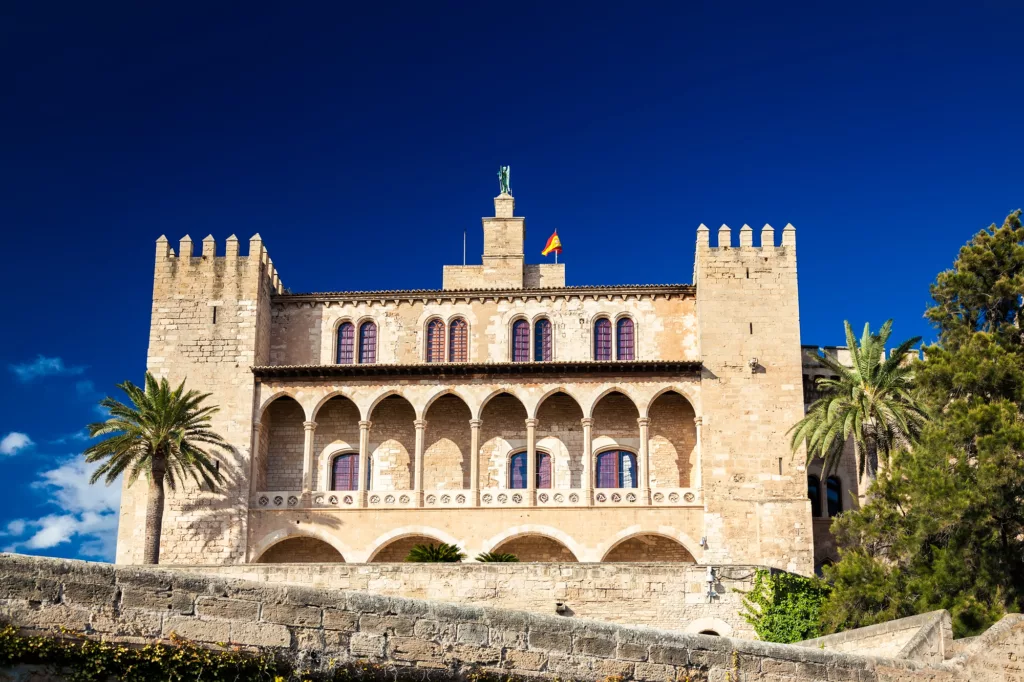 Palma's iconic Royal Palace of La Almudaina is easily one of Mallorca's most recognizable buildings. The royal family still uses the 14th-century royal residence during their visits to the island; it's also open to visitors throughout the year, allowing you to glimpse its understated elegance firsthand. 
When I visited La Almudaina, I was struck by how the complex blends its royal apartments and accommodation with imposing defensive features, creating a cross between a fortress and a palace. This is, in fact, a style of Islamic court known as Alcázar in Spain, of which La Almudaina is one of the best-preserved examples today.
3. Delighting in Palma's Beaches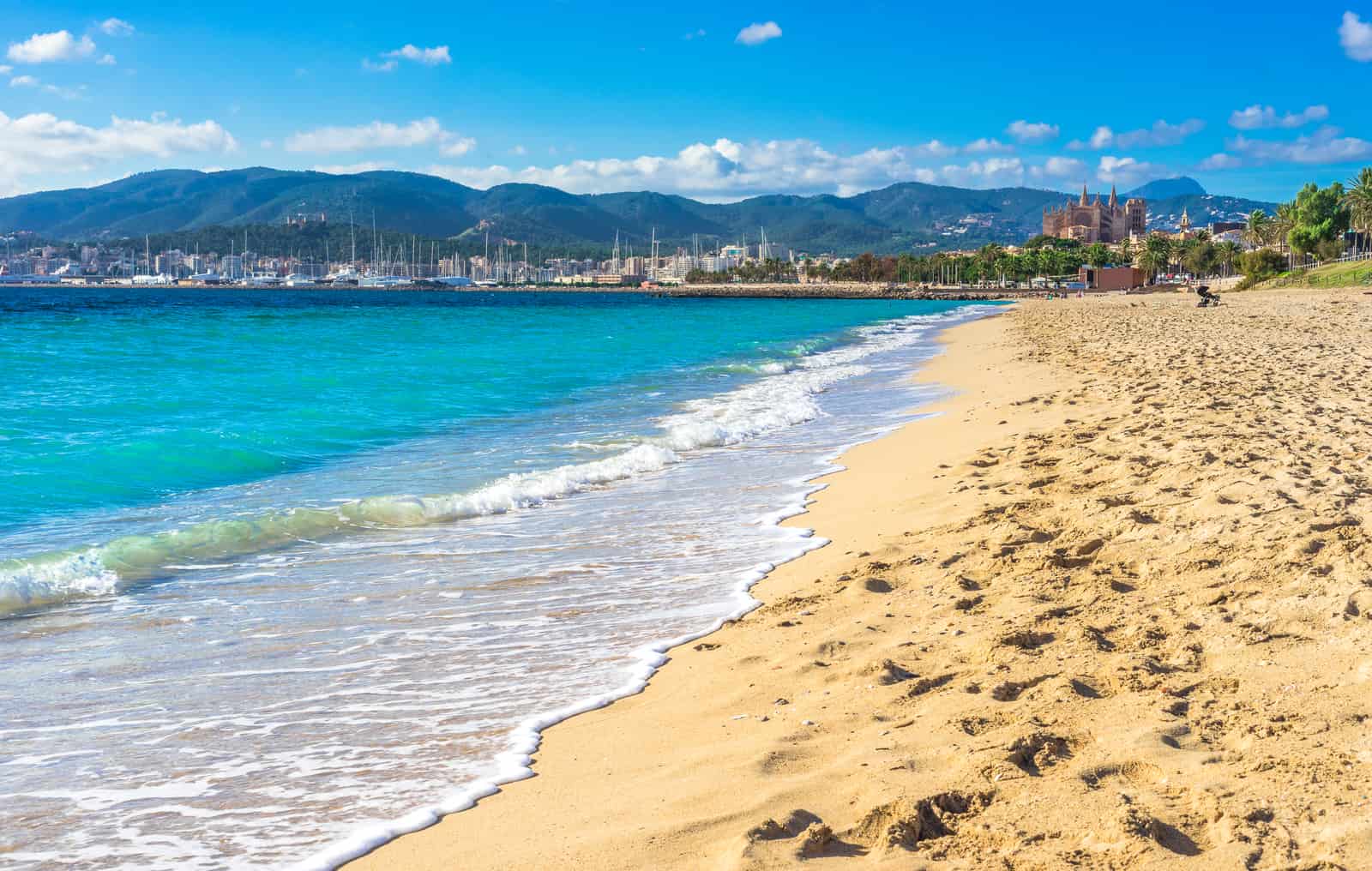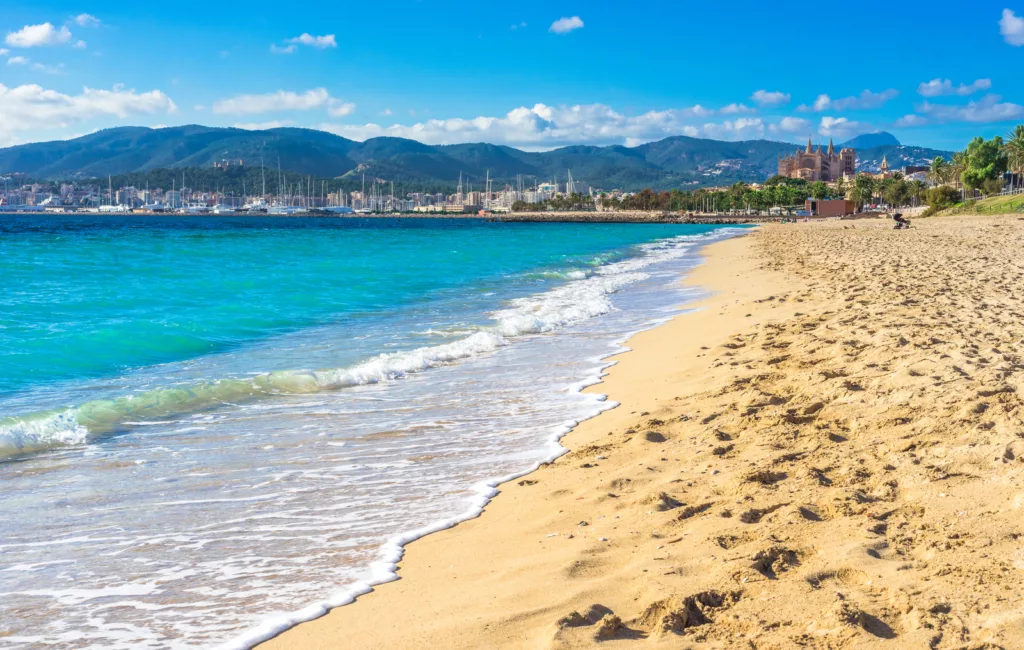 Amazingly, while Palma is the capital city of Mallorca, it's also home to some of the best and most pristine beaches on the entire island.
The coastline of the Balearic Islands is known in general for boasting exceptionally clear water, and I can tell you that Palma de Mallorca's beaches are no exception there.
I'd go so far as to argue that the Mallorcan capital is home to some of the best beaches in South Mallorca. And, offering great access to amenities and gear hire, there's no better place on the island to experience Mallorca's incredible underwater landscapes while snorkeling.
4. A Trip to Bellver Castle
The striking Bellver Castle is yet another of Palma's gothic landmarks; constructed in the 14th century, Bellver is one of the few castles in Europe to be circular. The castle's history amazed me when I could pay a visit; while it was once home to Mallorca's kings, in the 18th century, Bellver was, believe it or not, transformed into a prison!
I was also amazed to hear that, on multiple occasions, invading forces had tried to capture the castle complex; I'd had no idea that the peaceful Balearic Islands had once been an independent territory, or that they were the site of such intense military conflict. In dreamy, modern-day Palma, it's pretty hard to imagine!
5. Tasting Mallorcan Cuisine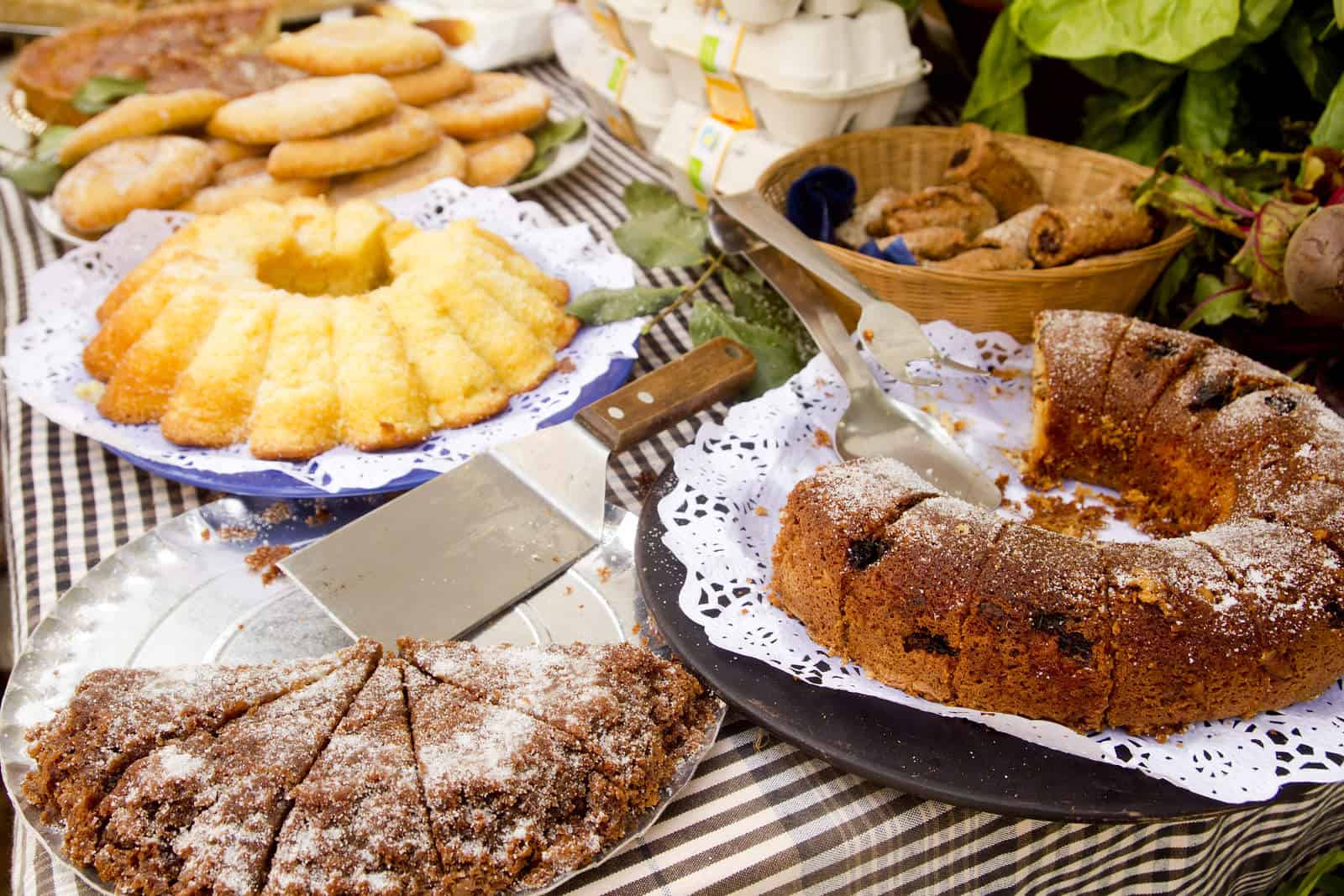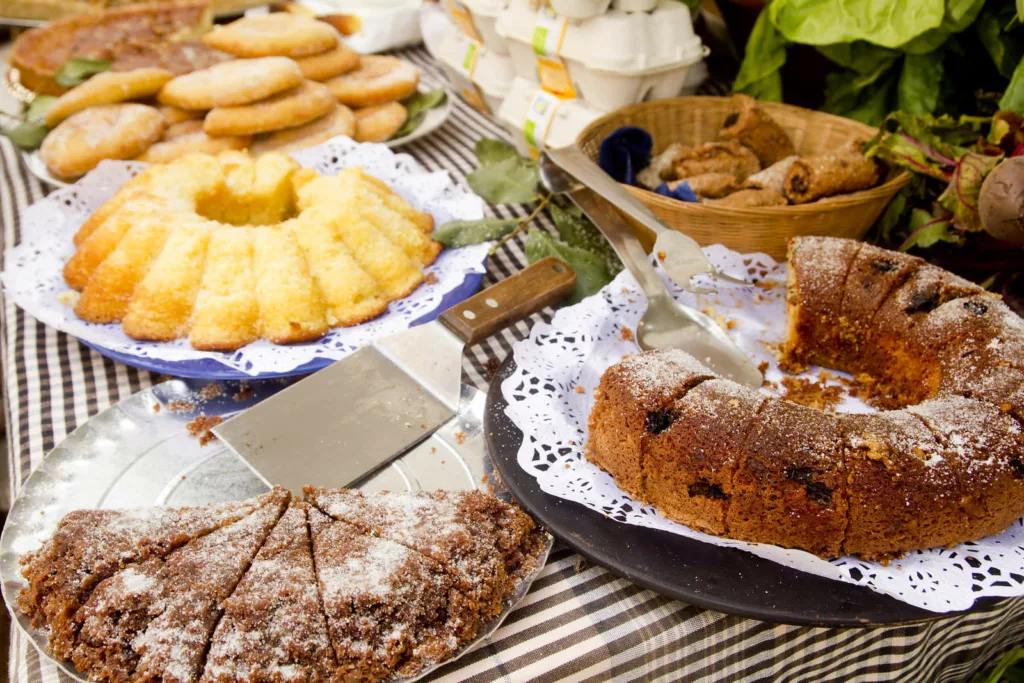 Hearty and rugged, Mallorcan food predominantly focuses on locally grown pork, seafood, and fruits and vegetables.
My first time sampling Mallorcan cuisine included trying arros brut, a delicious, aromatic rice stew, and bunyols, which are like doughnuts made from a potato base.
One fact about food in Spain that most of you are probably already aware of is that tapas is king on the Spanish mainland; the same is more or less true in Mallorca!
6. Discovering Palma's Old Town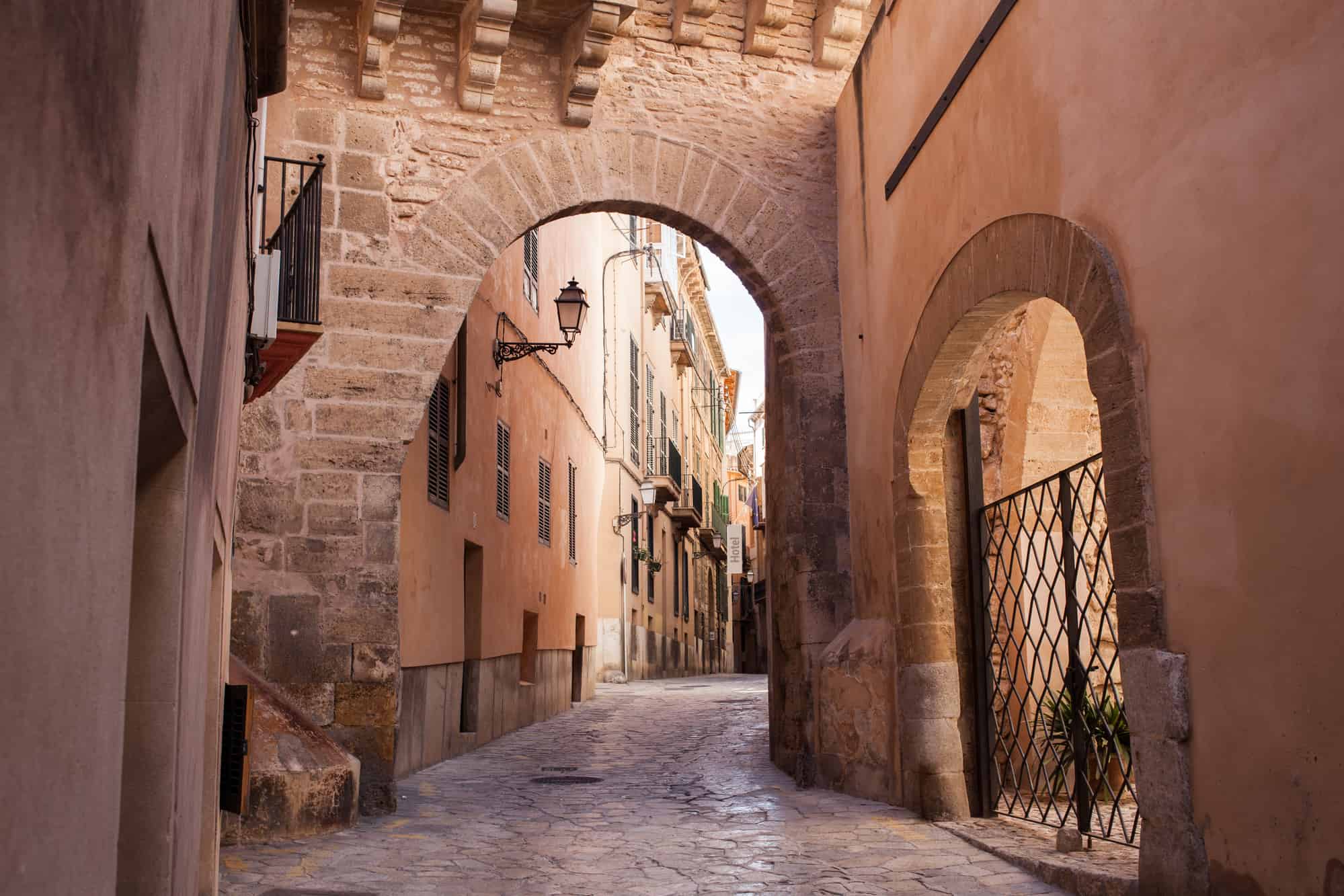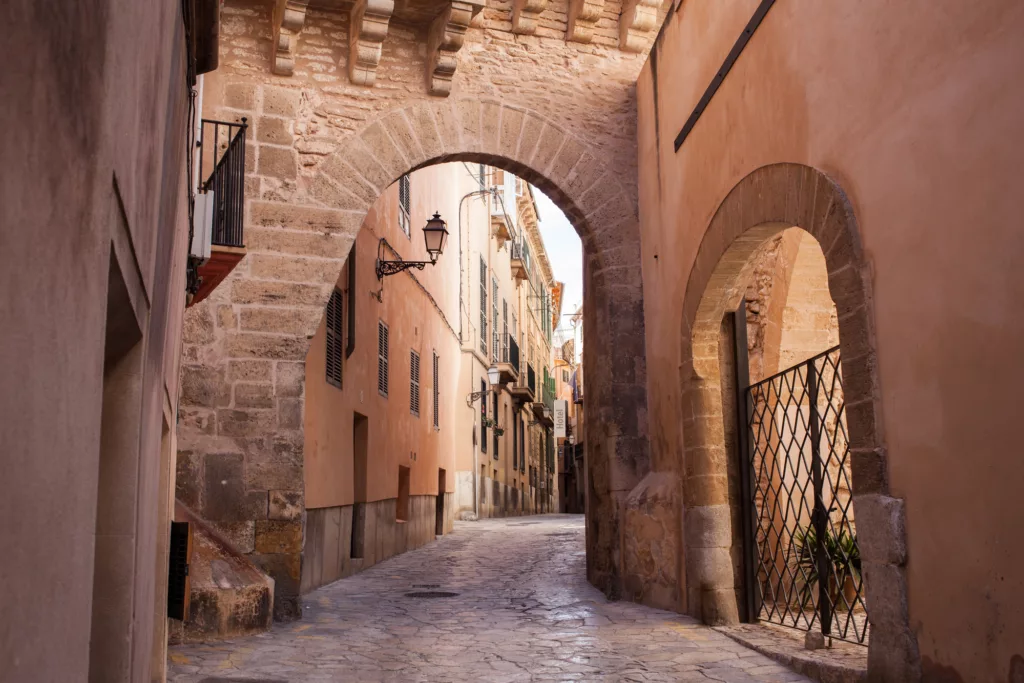 Palma's Old Town is far more than a tourist trap; it's a unique, characterful, and deeply atmospheric district where you could spend a full day getting lost.
Leafy plazas, winding alleyways, and a diverse blend of typically Mallorcan architecture all give the Old Town its distinct feel. The lush, quiet S'Hort del Rei garden was probably my favorite hidden gem in the area – I also stumbled upon (and fell in love with) the Mallorcan-style restaurant Aromata while there.
7. Visiting Palma Aquarium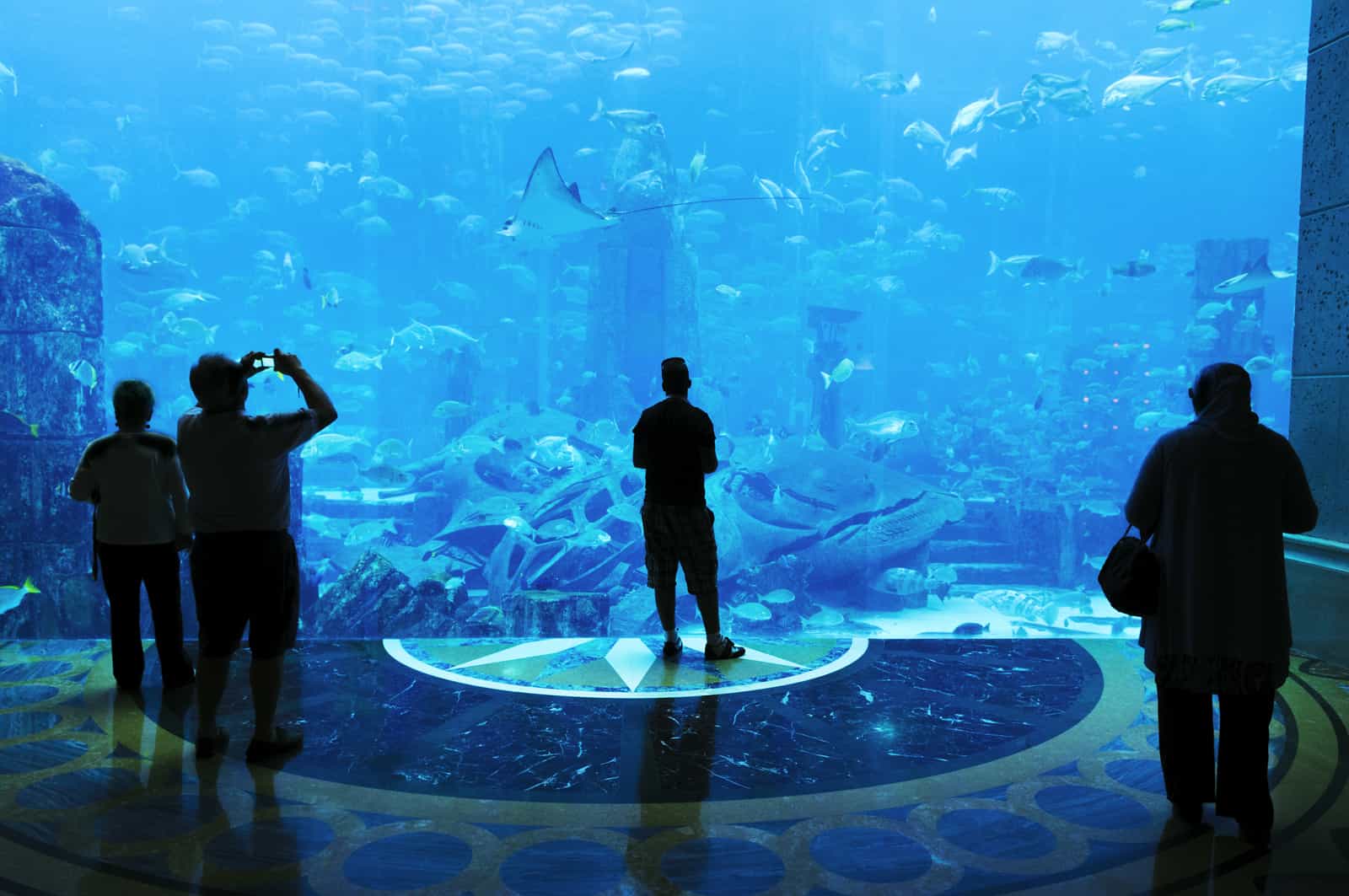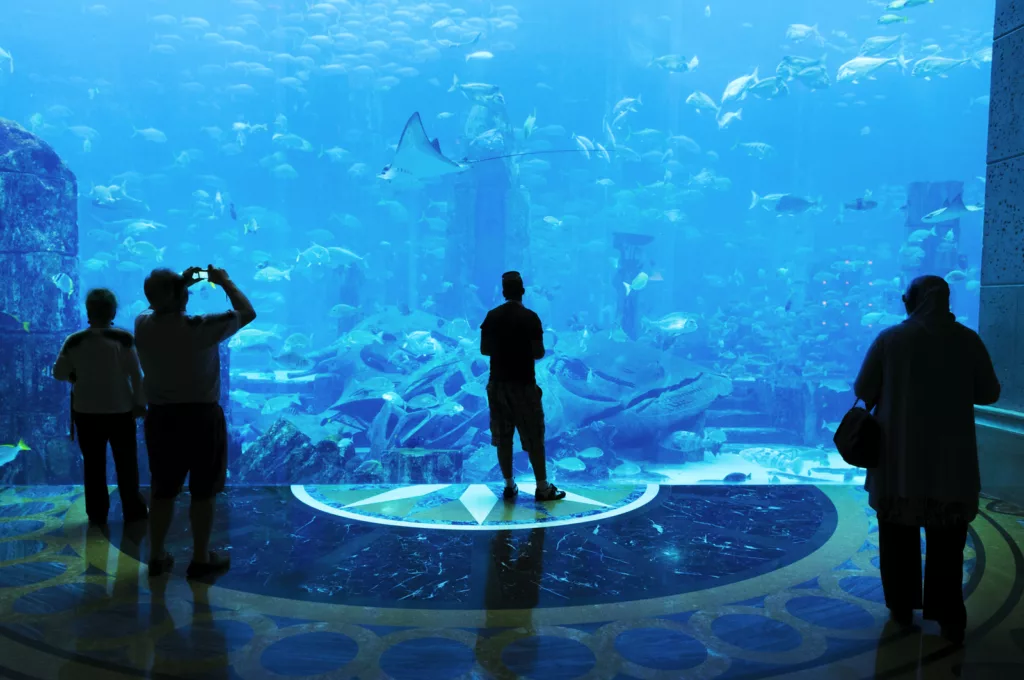 Being that it's right on the coast, it's probably not hugely surprising that Palma is home to a fantastic, spacious aquarium.
This underwater wonderland features some awesome activities – during my visit, I learned a ton about different aspects of the ocean and marine life. What's more, Palma Aquarium has a mind-boggling array of aquatic creatures on display. Sharks? Check! Turtles? Check!
Seeing these incredible creatures in the flesh is a great educational experience. And, it's a fantastic reminder of just how wonderful our oceans and the life they support are!
8. Experiencing Palma's Coastline and Parks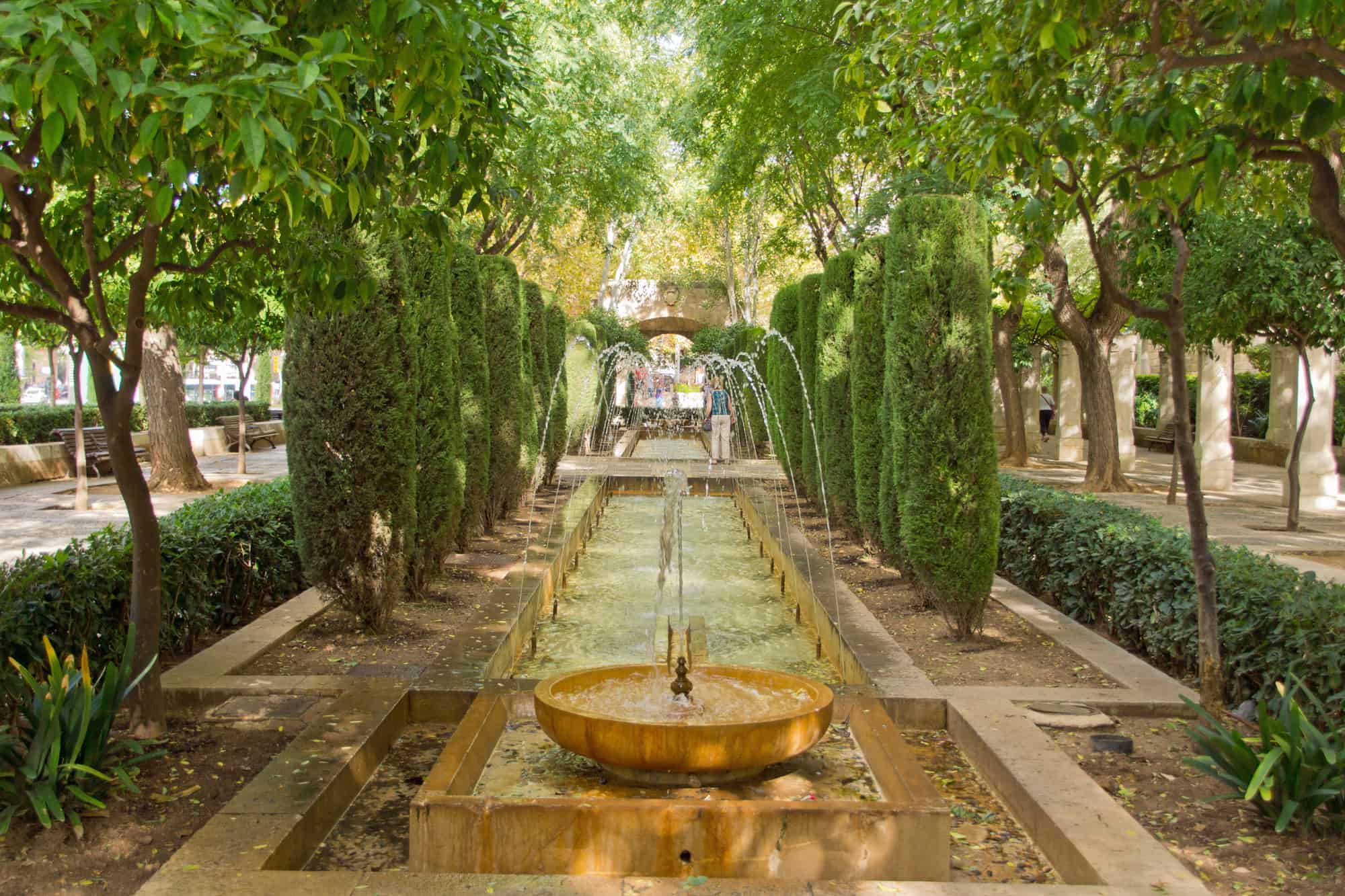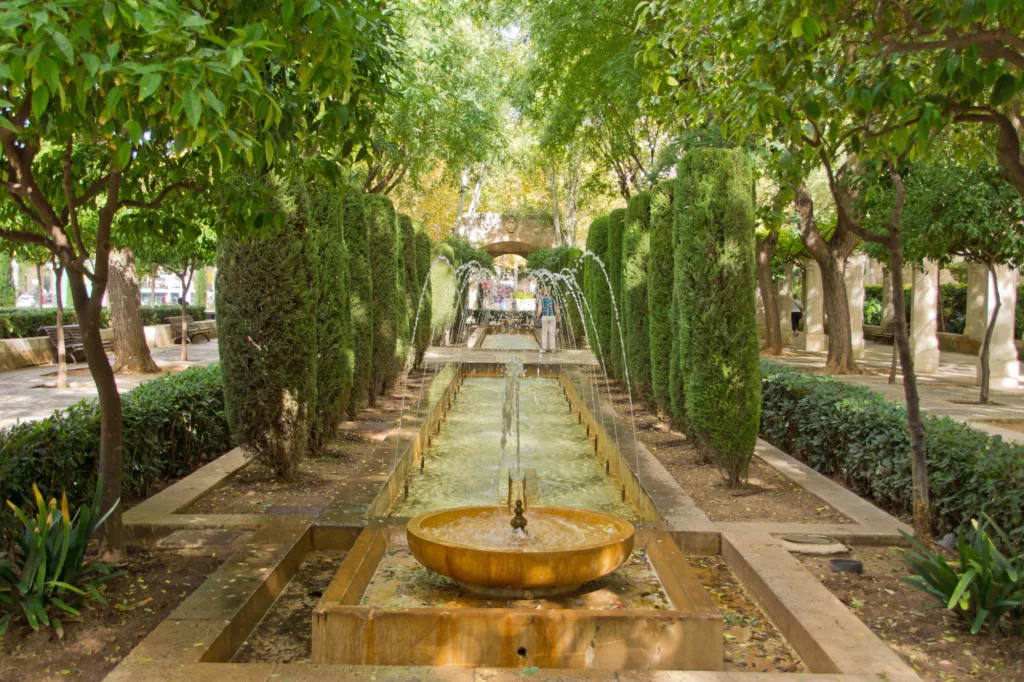 As I mentioned earlier in this article, one of Palma's greatest strengths is the wealth of incredible natural landscapes and parks that can be found right on the city's doorstep.
Indeed, Palma is pretty much paradise for nature lovers; whether you enjoy swimming, hiking, sunbathing, running, or just sitting and enjoying your surroundings, the area in and around the city will have just the nature spot for you.
One of my favorites is Es Carnatge, a nature reserve on the coast just outside of Palma, which is a beautiful place to enjoy a walk during sunset.
If you prefer parks and gardens, the gorgeous Parc de Sa Feixina is worth visiting. Decorated with monuments and water features, it's perfect for spending a lazy afternoon enjoying the sunshine.
9. Checking Out Palma's Markets
Mallorca is renowned for its markets, and Palma has a pretty incredible variety for you to visit, should you choose.
Artá Market is one of my favorites; the olives you can get there are pretty much to die for, and the ceramics often for sale are always worth checking out.
History buffs will probably want to visit the Sineu Market; it's been held since 1306 (!) and, being one of the few markets in Mallorca to sell live animals still, is said to be the most authentic of all the Mallorcan markets.
Haggling is fairly commonplace at Mallorcan markets, so don't hesitate to negotiate a better deal than the listed price if you want to purchase something.
10. Shopping in Palma
While shopping may not be an activity up everyone's alley, there's no denying that Palma is one of Spain's best destinations for a spot of retail therapy.
Whether you're after something more low-key or are a fan of luxury brands, Palma's many shops and boutiques will be able to cater to you, with no problem.
Lined by picturesque statues, the leafy pedestrian street La Rambla is home to quaint chocolatiers and florists; I picked up some delicious chocolates while exploring the area.
On the other hand, Passeig del Born, often referred to as Mallorca's 'Golden Mile,' is home to high-end boutique after high-end boutique. Thanks to the eye-catching Modernista buildings dominating the area, it's worth checking out even if you're not planning to purchase anything.
Shop attendants in Palma tend to be fairly laid back and will give you space and time to browse (within reason, anyway). Of course, this does vary depending on where you're looking; staff in luxury shops are often somewhat more attentive.
11. Exciting Boat Trips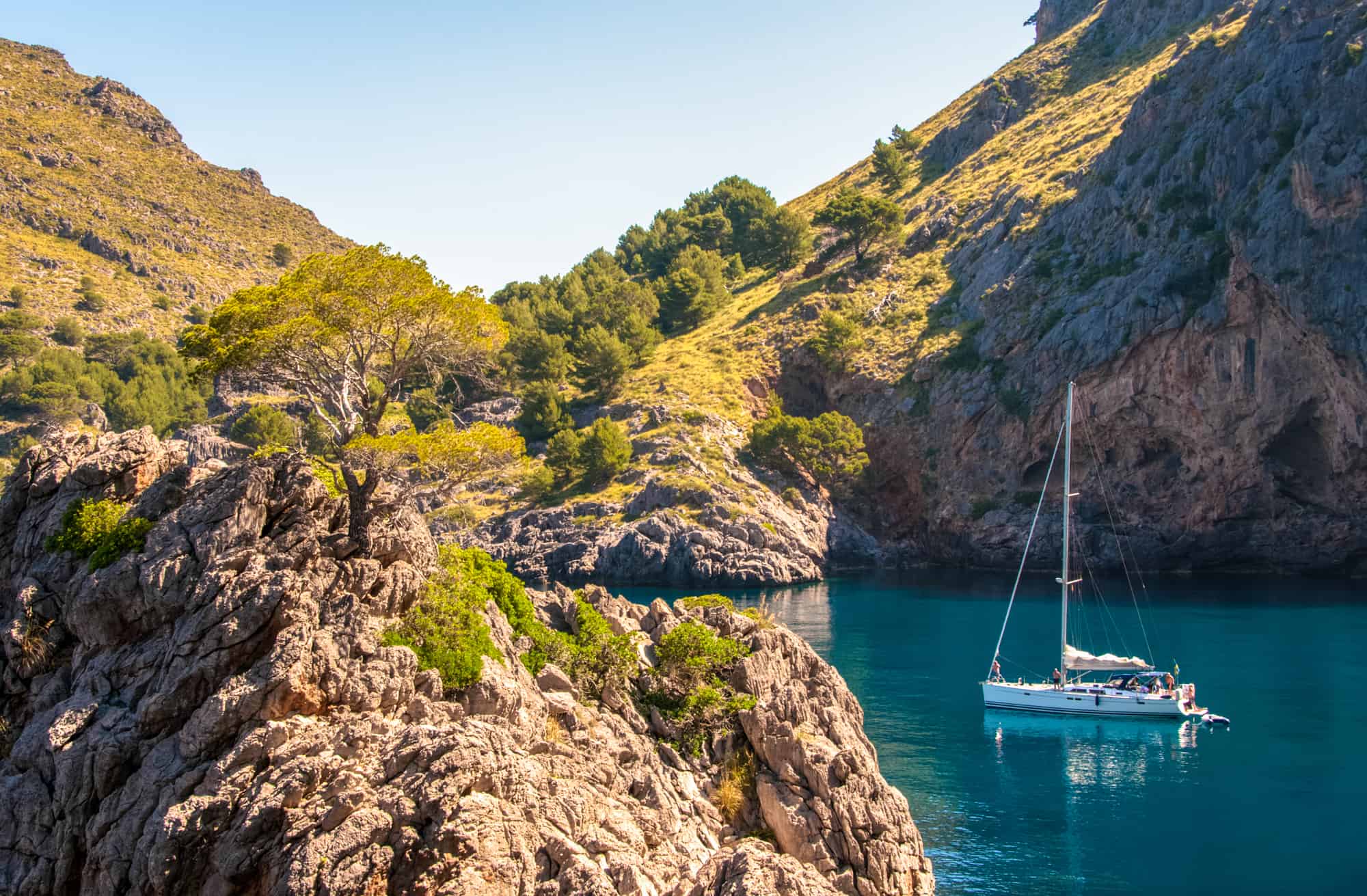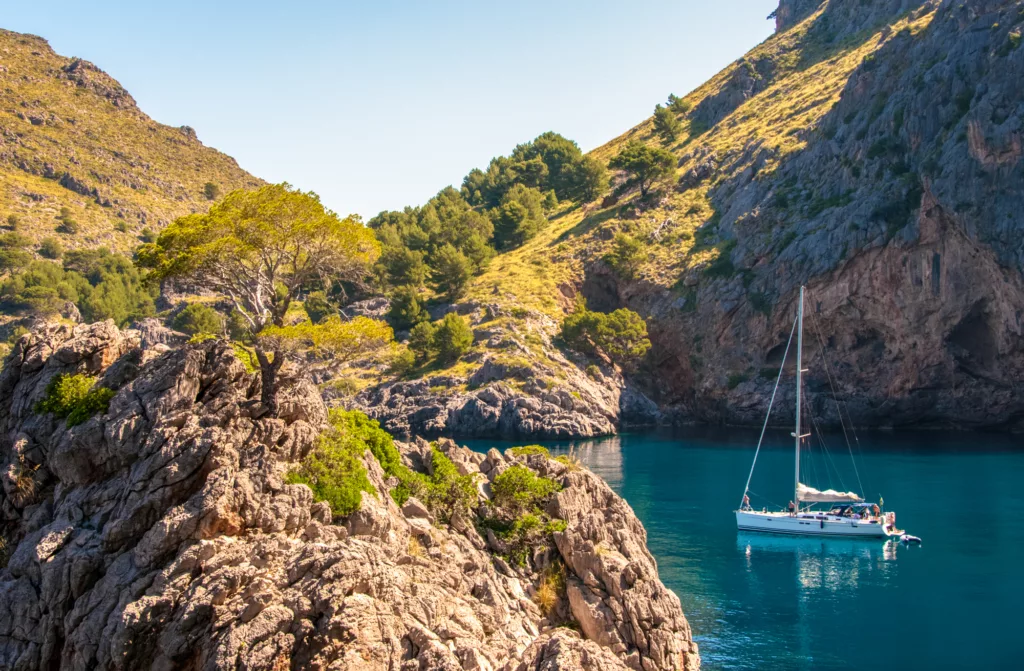 Nothing says civilized quite like a boat trip! And, fortunately, Mallorca has no shortage of opportunities to try one (or several).
The waters off the coast of Mallorca are a remarkable shade of blue, and you gain a whole new appreciation for its beauty at sea. Many providers offer different boat tours from Palma itself; some will take you snorkeling, for instance, while others provide tapas, refreshments, and, in many cases, entertainment, too.
Depending on where you go and what time of year you visit Mallorca, you may even be lucky enough to see marine life like dolphins or turtles as part of your boat trip.
If you're interested in renting a boat for yourself, check out my article on boat rentals in Mallorca for more information and tips.
12. Day Trip to Soller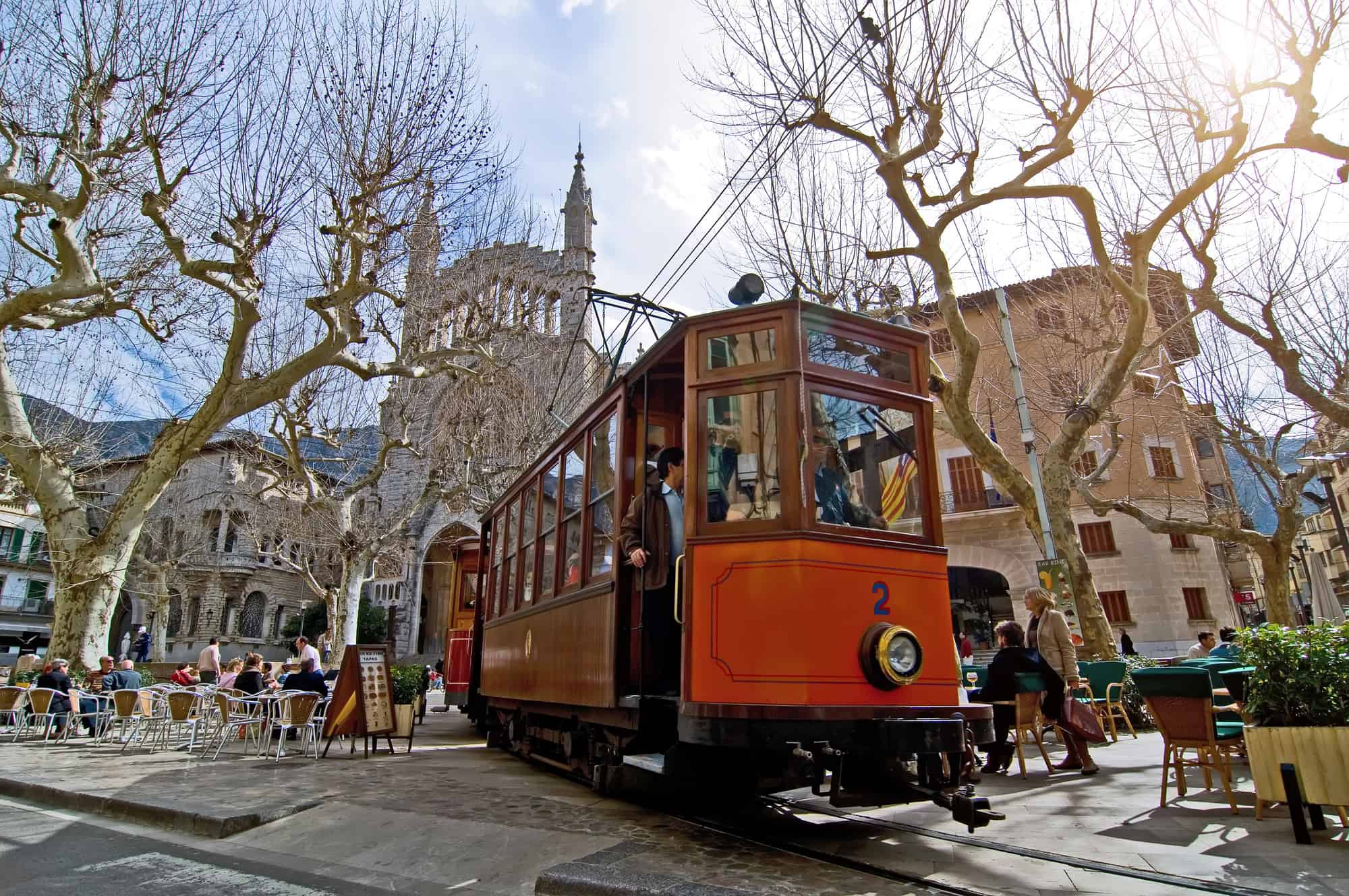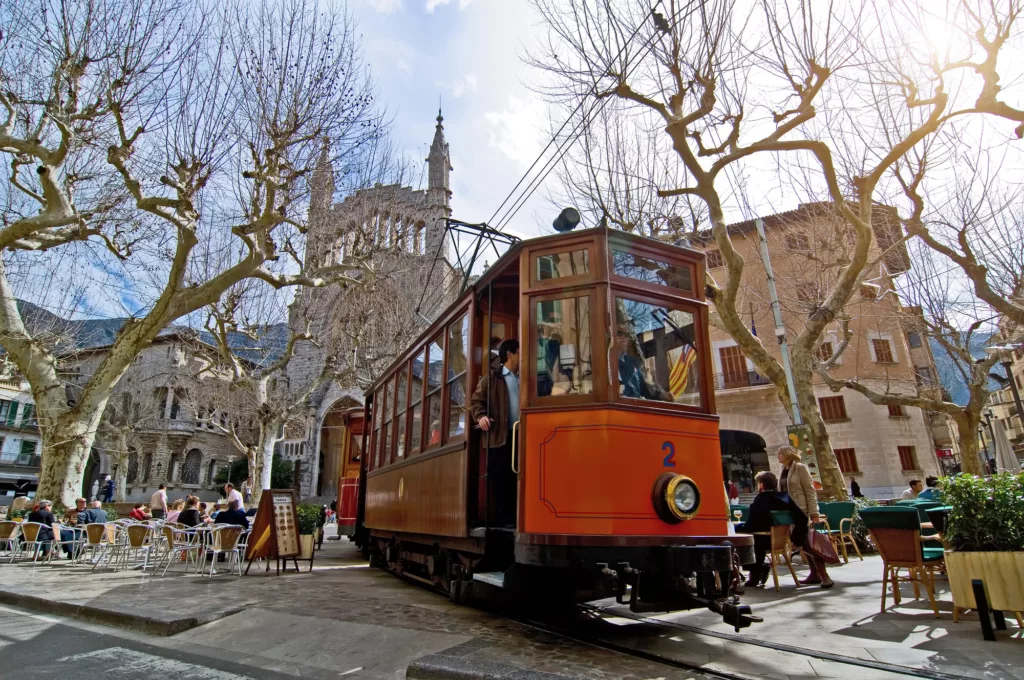 Soller is regarded as one of Mallorca's most charming, picturesque villages, and it's easy to see why.
Nestled in a deep valley among countless orange groves, Soller is historic and remarkably well-preserved, allowing visitors to glimpse what life in Mallorca might have been a hundred years ago or so.
It is possible, but somewhat impractical, to reach Soller via public transport. From Palma, there's a daily train service, which doesn't leave much flexibility in terms of planning.
The drive from Palma to Soller takes just over 30 minutes. I loved every second of it – it gives you a bird's eye view of Mallorca's most jaw-dropping scenery. This isn't a road trip you'll forget anytime soon!
13. Santa Catalina Neighborhood Tour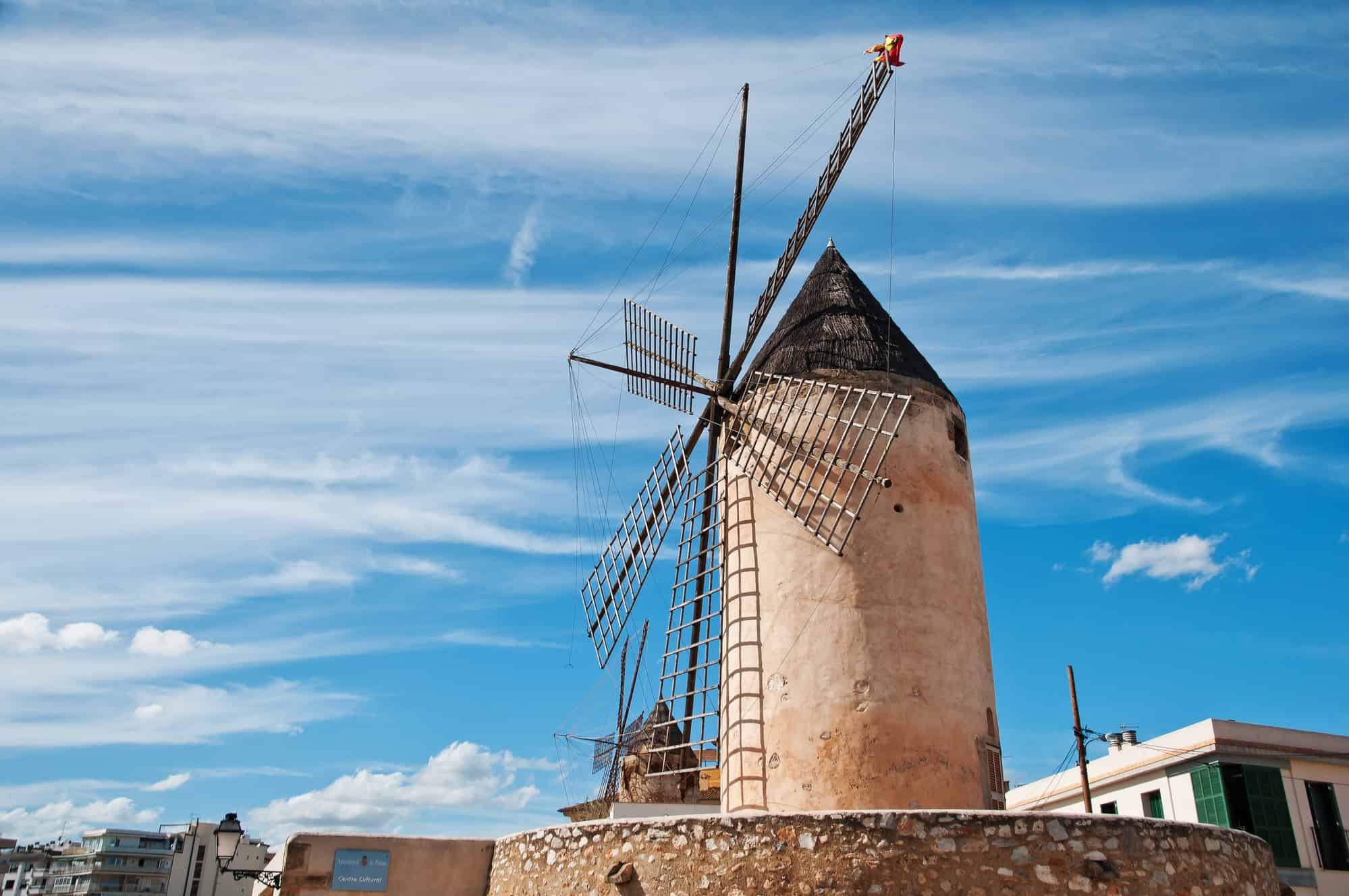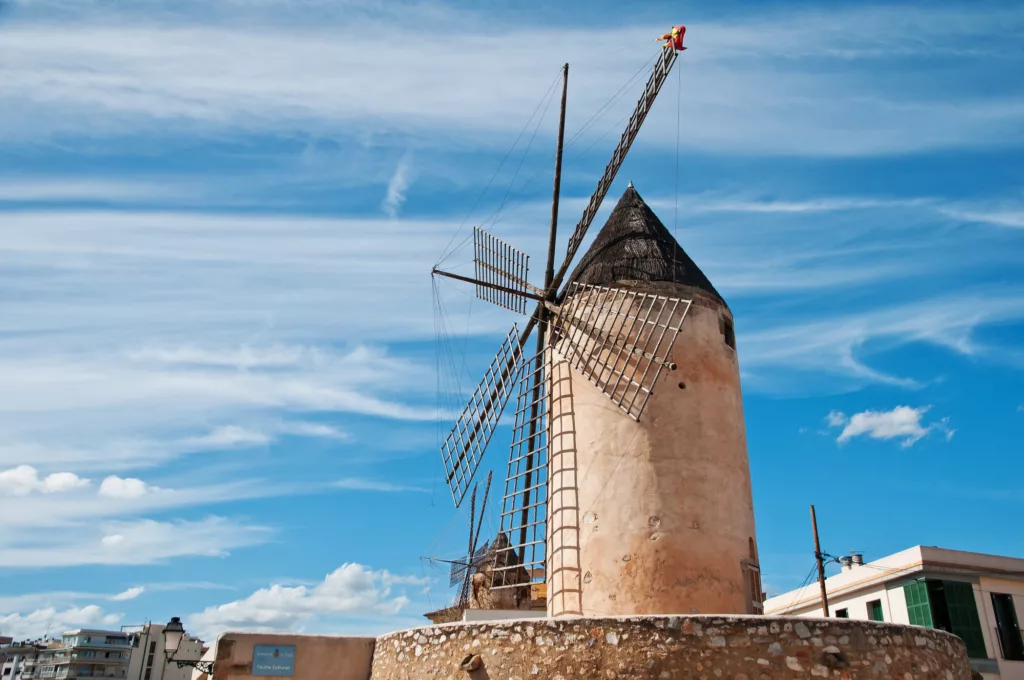 Santa Catalina is one of Mallorca's most distinctive, characterful neighborhoods. It's commonly described as having a village atmosphere; you can think of it as a refuge from the busier parts of bustling downtown Palma.
Exploring Santa Catalina on foot is one of my favorite things to do in Mallorca. While it's reasonably quiet and largely a residential area, I found it incredibly charming and atmospheric; every corner of the neighborhood was decorated with bright flowers, rustic cafes and eateries, and elegant architecture.
Ultimately, if you're looking to find part of Palma that captures an authentic, local Mallorcan feel, you can't overlook Santa Catalina.
14. Visiting the Arab Baths
While perhaps not as popular as some of Palma's biggest tourist attractions, I'd argue that the Arab Baths are one of the island's most interesting and unique historical sites and are a must-visit for anyone with a passion for the past.
Dating back to Mallorca's period of Islamic rule, the Arab Baths are incredibly well preserved, showcasing some of the various architectural styles and building techniques that saw widespread usage at the time.
It's believed that the Baths were constructed in the 11th century. They're now found within the gardens of Can Fontirroig, and the central room within the bath complex would have served as a place for hot baths to be taken by the Muslim rulers and their men.
Moreover, other parts of the baths are believed to have originally been part of a palace built for the Islamic ruling class in Mallorca at the time. At one stage, there was a cold bathroom, too, but this part of the structure was sadly lost to the passage of time.
I was most struck by the sheer engineering feat that the Arab Baths represent. The many columns and horseshoe shapes used to suspend the domed roof of the building were as mindboggling as they were beautiful.
It's worth noting that opening hours for the Arab Baths vary throughout the year; from April to November, opening hours are from 9:30 am to 8:00 pm. If you're visiting from December to March, the opening hours are from 9:30 am to 7:00 pm. The entrance fee is approximately €2.
Since this is an attraction on the smaller side, you probably won't need to anticipate spending more than a few hours here, making it a great choice for combining with other, more intense activities.
15. Biking in Palma
One of my favorite things about Palma is how bike-friendly the city is. In fact, the city is known for it. I've spent what feels like countless hours crisscrossing Palma on a bicycle!
For one, this is great exercise and an environmentally friendly way to see the sights. It also allows you to strike out on your own and explore corners of Palma that you otherwise might never have uncovered.
A cycle trip I spent one day riding along the bay of Palma led me to the San Carlos History Museum, which became one of my favorites nearby the city!
Your cycling adventures don't have to end in Palma, either. Overall, Mallorca really lends itself to being explored on two wheels, thanks to its compact size, decent roads, and great weather.
16. Driving Sa Calobra Road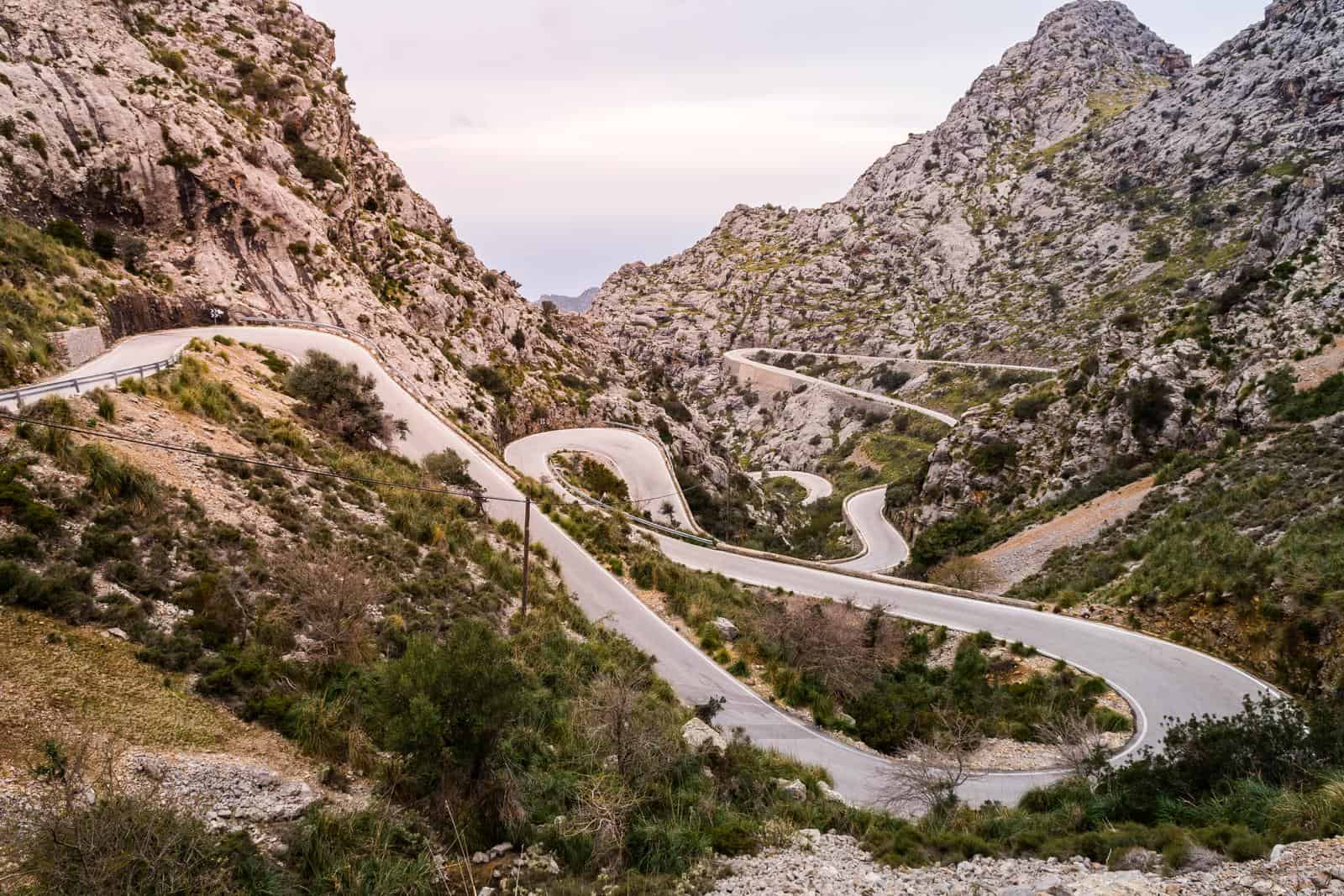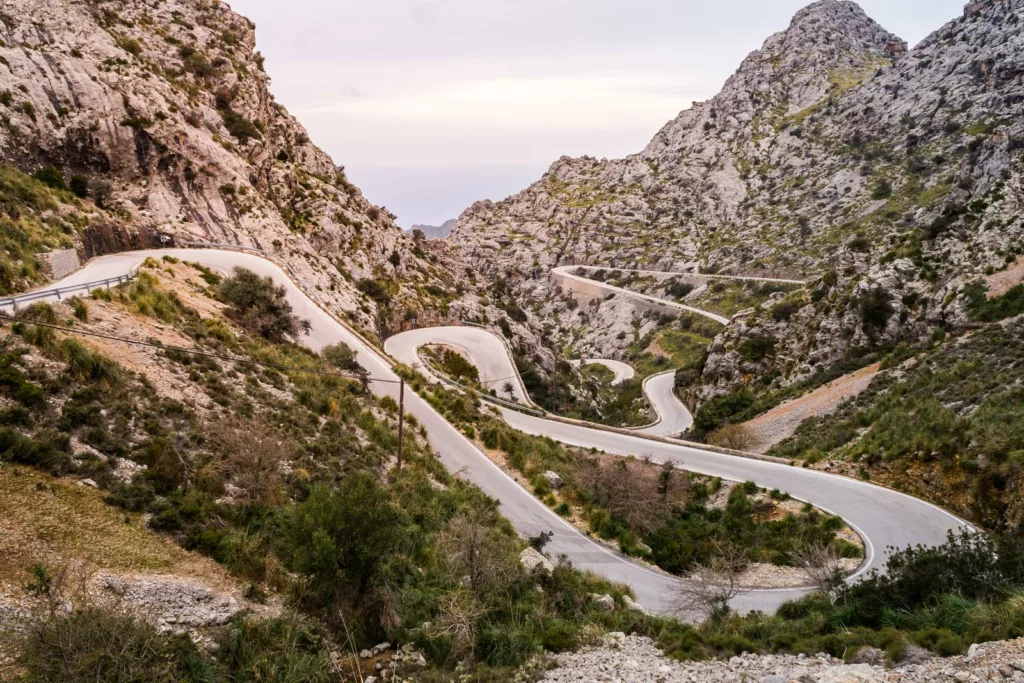 Mallorca's Sa Calobra Road is arguably one of Spain's most exciting drives.
The road takes you right up into the mountains. You'll find yourself twisting and turning almost constantly; I remember how this allowed me to take in the surrounding vista from every possible angle fully.
17. Art Museums in Palma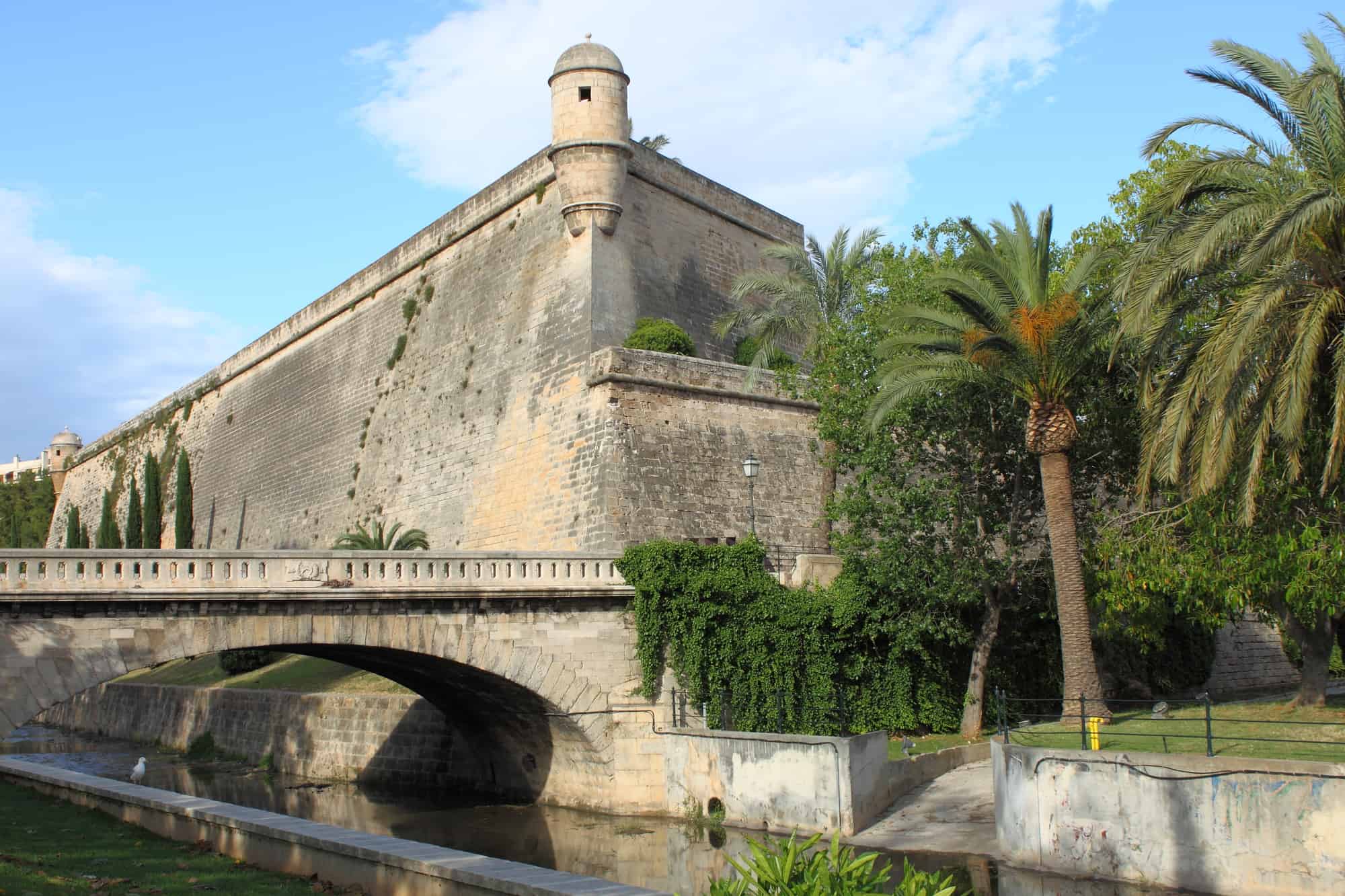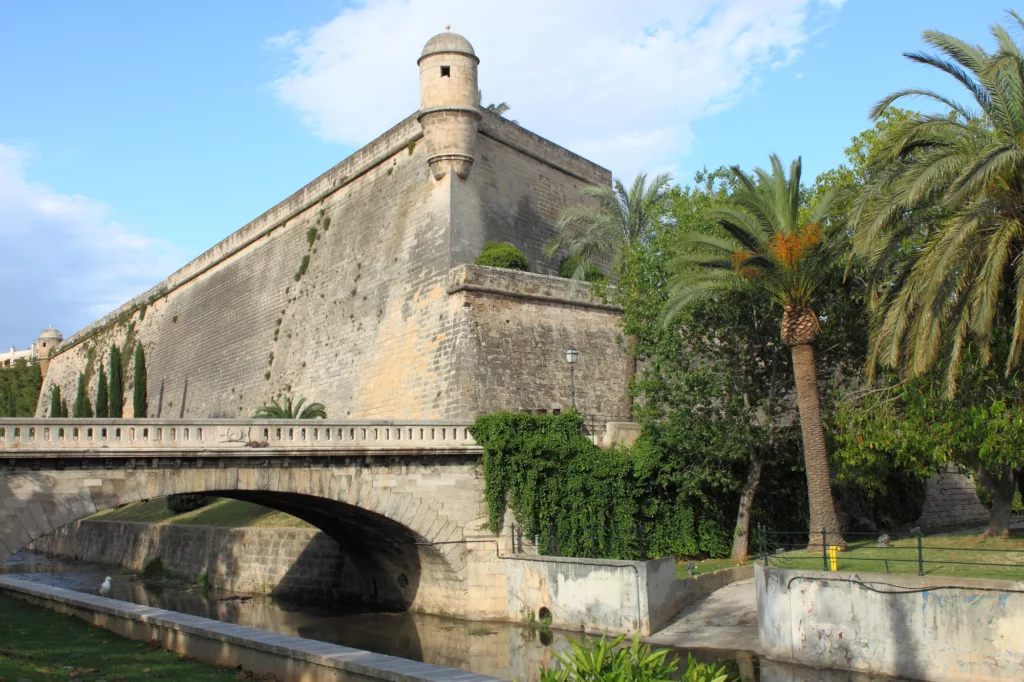 Palma is one of Spain's greatest cultural bastions, and the city is known throughout the country for its rich, vibrant art scene and impressive collection of galleries and museums.
One of my favorite galleries in Palma is the Es Baluard Museu d'Art Contemporani de Palma, which blends over 700 works by artists from the Balearic Islands and the rest of the world to create an eclectic, compelling collection that focuses predominantly on contemporary art.
Part of Es Baluard's permanent exhibition includes a series of ceramic works by Picasso; it was truly fascinating to see his take on a more traditionally Spanish style of artwork than the paintings he is best known for. In this sense, it was interesting to contrast more traditional Mallorcan aesthetics and culture with the artworks produced by artists from other parts of the world.
Two other galleries that are especially worth checking out are the Museu Diocesa and the Fundacio Miro Mallorca. While the Fundacio Miro is dedicated to the life and work of Joan Miro, the Museu Diocesa displays religious art and artifacts collected from across various periods.
18. Experiencing Palma's Nightlife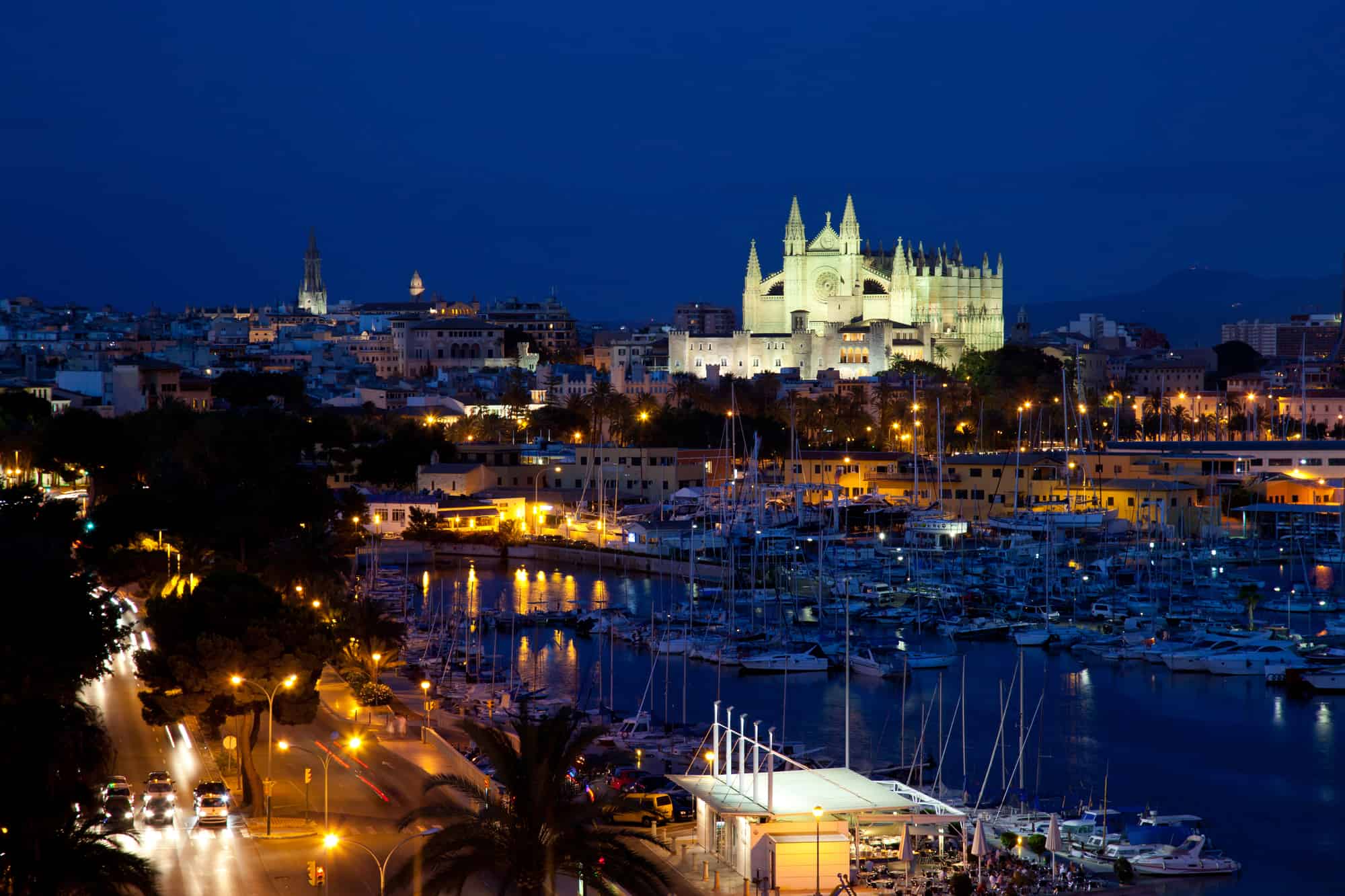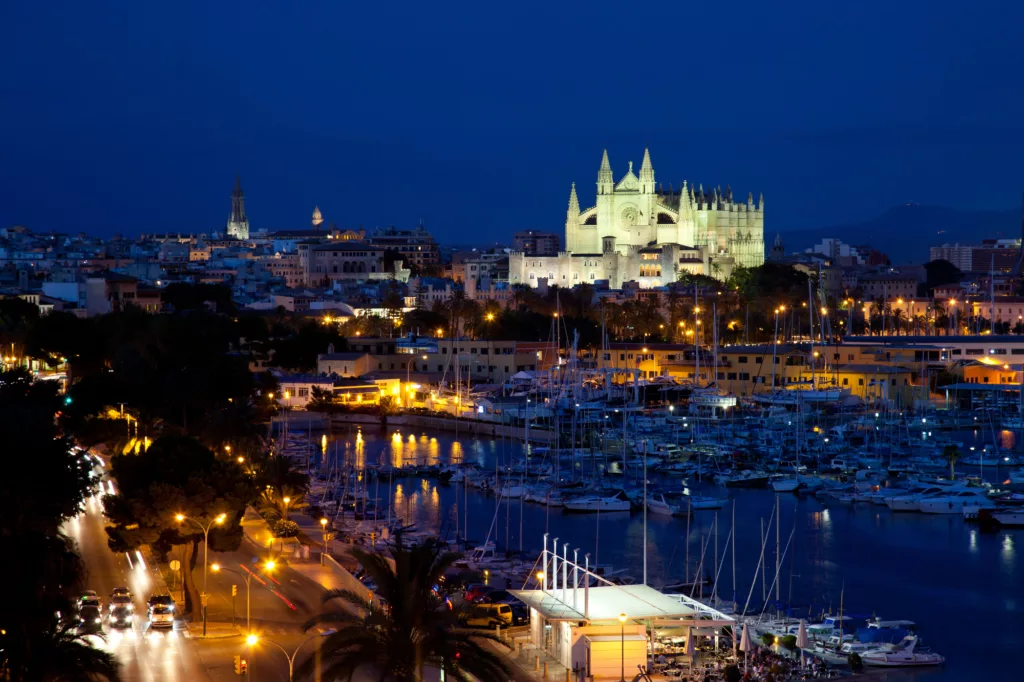 Despite being on the smaller side, Palma's nightlife is hardly what you'd call lacking. The city is home to a diverse array of nightclubs and venues, meaning that, no matter how you like to spend nights out, Palma is guaranteed to have something to offer you.
Times Square Music Club and Kaelum Club are two popular nightlife spots in Palma. Locals are friendly and welcoming, and both clubs tend to attract fairly varied clientele, ensuring that the atmosphere inside is eclectic and dynamic.
19. Touring the Caves of Drach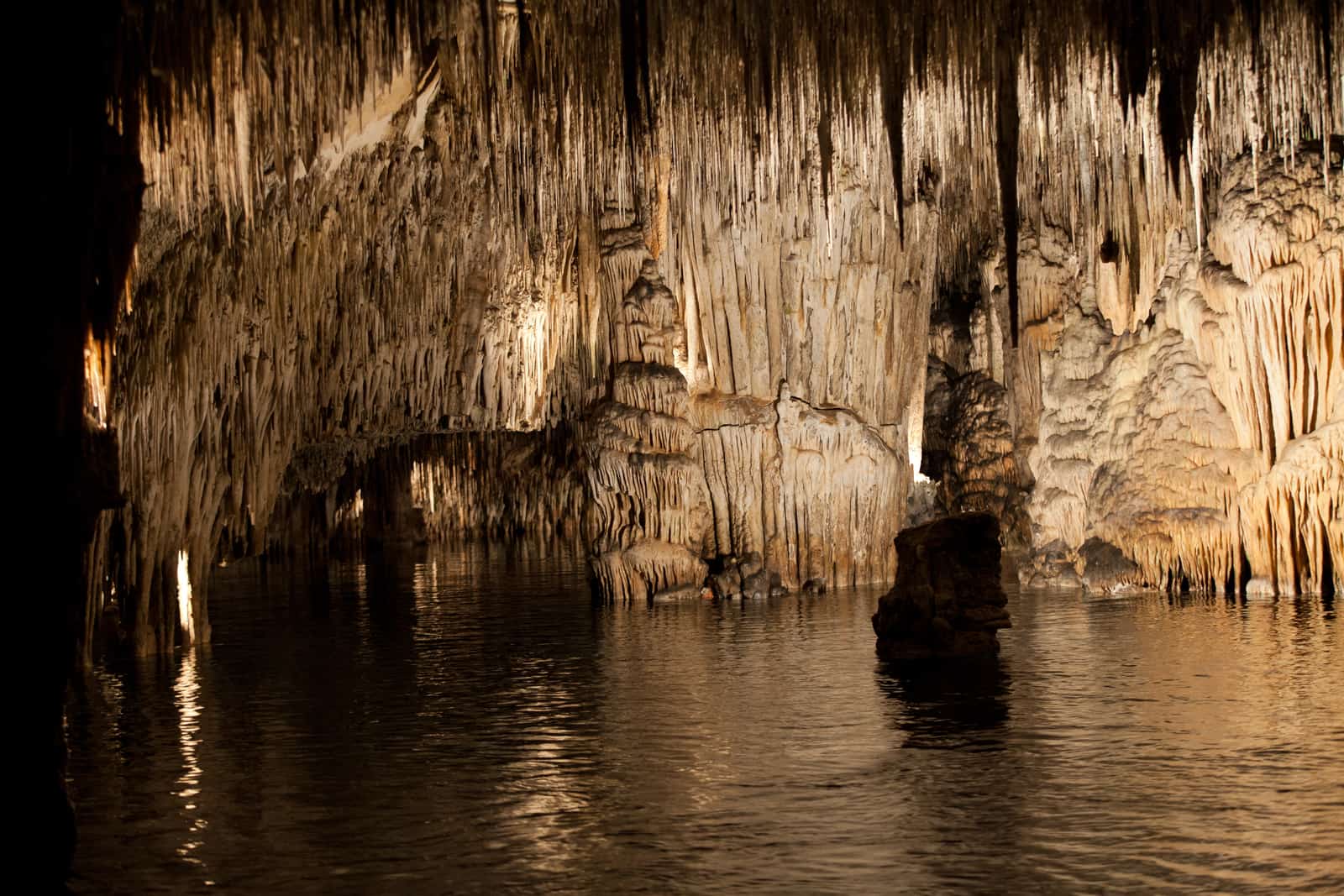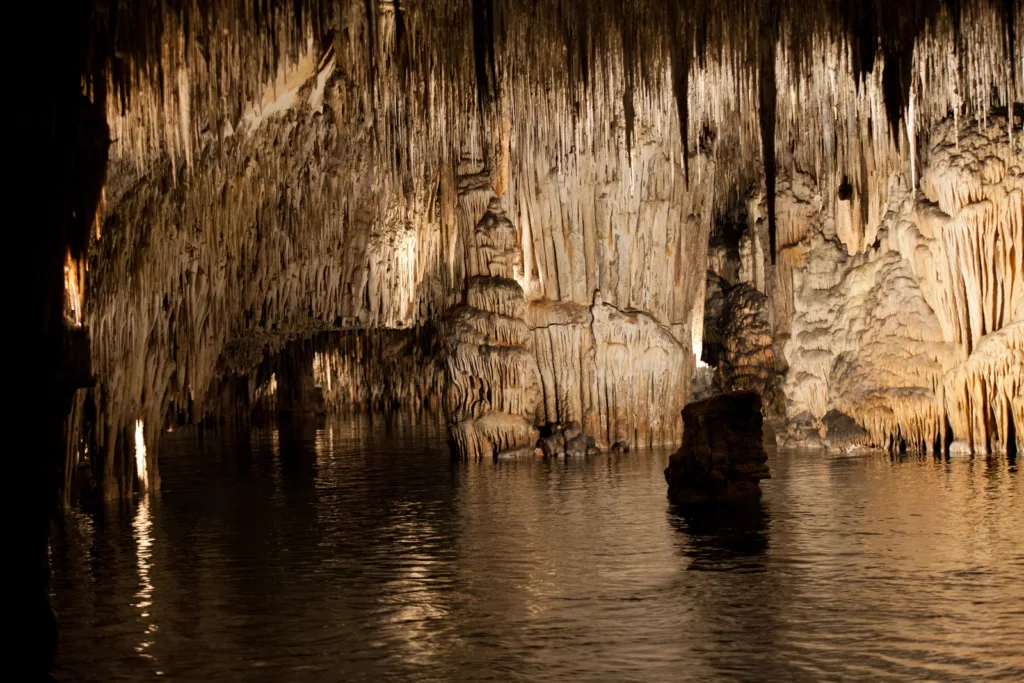 The spectacular Caves of Drach truly have to be seen to be believed. Visiting the Caves is definitely a memorable experience; descending into the earth to be greeted by the illuminated stalactites and stalagmites in the caves was breathtaking.
While this would perhaps not be the most appropriate activity for anyone suffering from claustrophobia, the Caves of Drach offer a unique opportunity to immerse yourself in some of the planet's most fascinating geological phenomena.
Part of the cave system is Lake Martel, which is one of the largest underground lakes in the world; not exactly something you see every day!
20. Enjoying Local Festivals
If you're eager to sample authentic Mallorcan culture and traditions, partaking in the island's many local festivals is a fantastic way to do so. Festivals are a crucial part of the Mallorcan social calendar and run throughout the year to celebrate or commemorate various holidays and occasions.
Naturally, festivals for dates of special significance, like Easter and Christmas, are especially significant.
Don't sleep on the smaller festivals, though! You'll find plenty to attend throughout the year; they're just as interesting and are worth checking out in their own right.
Carnival, for instance, is a big deal in Mallorca; with parades being thrown across the island, this is an especially family-friendly event where locals and visitors alike dress up in elaborate costumes and enjoy music and games with one another.
Festes del Rei en Jaume is a local Mallorcan tradition, with celebrations held in early September to commemorate Mallorca's victory from the Moors in the 1200s.
Tips for Traveling in Palma de Mallorca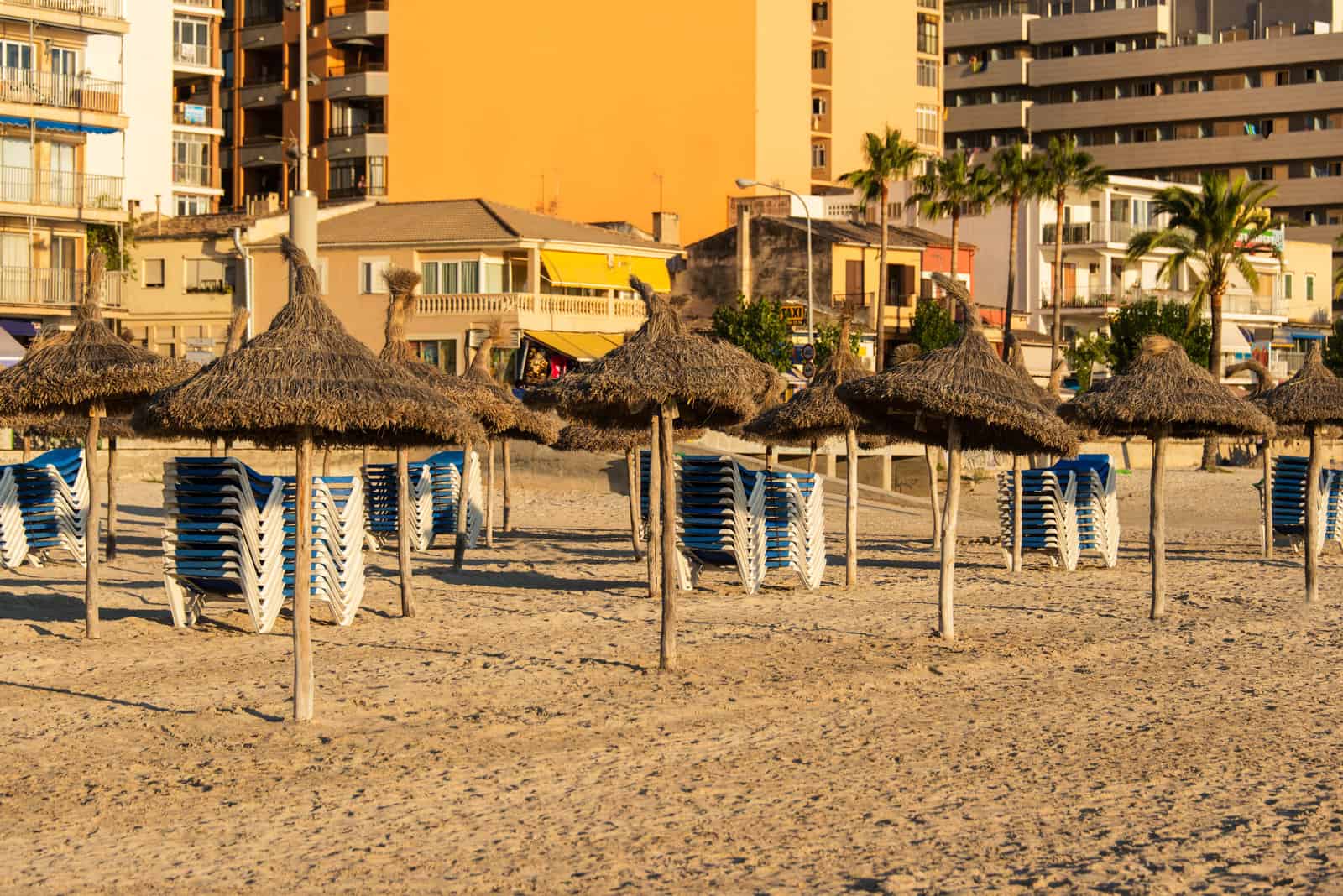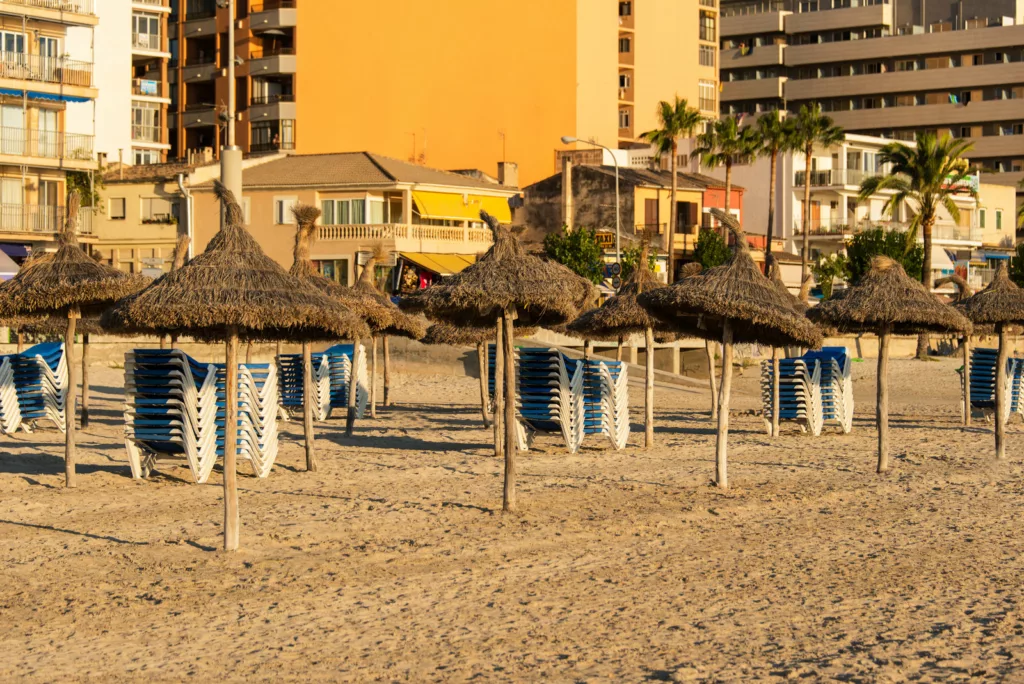 If you're currently organizing your vacation in Mallorca, you might be wondering which forms of transport are best for navigating the island. Overall, public transportation in Mallorca is clean, reliable, and more than sufficient to get from A to B.
However, one limitation of exploring the island via public transport is that, naturally, its buses won't be able to take you whenever you want. For instance, many of Mallorca's more remote beaches aren't directly accessible by public transport.
I strongly suggest that you rent a car or scooter – either for some, or all, of your trip. Why? If you do so, you can choose what you want to see and when.
As far as I'm concerned, this makes a huge difference if you decide to explore much outside of Palma itself. Timing is also a key component of planning your trip to Mallorca! Determining when the best time to visit Mallorca isn't always straightforward. It depends greatly on what you want to get from your stay there.
This honestly comes largely down to what kind of weather you prefer. For example, visiting over the summer will likely be a no-brainer if you love the heat. Conversely, if you'd like to see Palma during a less crowded time of year, you'll want to head to Mallorca outside of the peak season – spring and autumn, while quieter than summer, still tend to have better, warmer weather than winter.
With all that being said, it's also important to consider how the weather during your trip will impact the activities you plan on participating in. During summer, for instance, the beaches will be at their most crowded, making snorkeling or other watersports more challenging from a logistical standpoint.
Something else I'd like to encourage you to do here is to make the most of the opportunity you have in Mallorca to learn about Mallorcan culture, history, and the Mallorcan language.
Visitors to the island commonly (and erroneously) believe the native language there to be Spanish; while Spanish is certainly spoken extensively in Mallorca (and is, indeed, the first language of many of its residents), it's not the only language in use there.
Catalan is the island's other official language, and, what's more, a local dialect of Catalan, known as Mallorqui, is also used widely by locals. And, while it might seem like a simple gesture, going to the effort of learning some phrases in Mallorqui can mean a great deal to Mallorca's proud people.
Conclusion: Things to Do In Palma de Mallorca
It's honestly hard to describe what an impression visiting Palma de Mallorca made on me. This city is truly one of a kind; the combination of its smaller size, highly unique architecture and landmarks, pristine natural surroundings, and deep history make it easily one of the most interesting places I've ever had the privilege of traveling to.
While Palma has a reputation for being the kind of place you'd spend a weekend away partying, it's so much more than that. So, why not visit and see for yourself?
Just letting you know
When you buy something through my links, I'll earn a small commission—don't worry, it won't cost you any extra! It's a win-win, right?
Exclusive Heymondo Travel Insurance Offer
Planning a trip? Make sure you're covered! We've teamed up with Heymondo to give our readers a special deal: 5% off travel insurance. Grab this deal and know you're looked after on your next trip.