Mallorca is one of the Balearic Islands, a 50-by-60-mile holiday paradise that entices visitors back over and over again – me included. In this article, I'll share the reasons why it's one of my favorite Spanish destinations, as well as everything you need to know about its weather and seasons so you can decide the best time to visit Mallorca.
The island is beautiful – it's one of those rare spots where glorious views greet you at every turn. Whether you're soaking up the relaxing atmosphere on one of Mallorca's prime beaches, exploring the attractive capital city of Palma, cycling through Mallorca, or driving along winding roads through the mountainous interior, Mallorca will continuously delight you.
The time of year you visit can have a big impact on your visit to Mallorca. Arrive in August, and you'll see the island at its busiest and hottest – perfect for enjoying its beaches. But visit in May, and although it will be quieter, it'll still be warm enough to wear a t-shirt as you explore the island's charming mountain villages.
Now let's discover more about Mallorca, everything you need to know about its weather and the best time to visit.
Hi, I'm Timon!
I've experienced the heartbeat of Spain firsthand. Over the last five years, I've immersed myself in the dynamic cities of Spain, truly living the Spanish way. My insights into this beautiful country are rooted in genuine experience.
Mallorca: What Makes it a Must-Visit Destination
I could list hundreds of reasons why you should visit Mallorca, but here are what I consider Mallorca's best bits that make it a must-visit destination.
Beaches
The island of Mallorca has been a popular tourist spot since the 1970s, largely thanks to its world-class beaches, including the stunning Palma de Mallorca beaches. It has over 260 to choose from in total, from bustling stretches of golden sand with all the facilities you could want, to hideaway coves where the only other creatures you'll see are mountain goats.
Cosmopolitan capital city
Palma, the island capital, is a joyful place to be. It's ideal for a city break, exploring the winding yellow-hued streets of its old town, gazing up at the impressive Santa Maria cathedral, and stopping off for a waterside coffee at any obliging cafe. I love visiting the Mercat de L'Olivar when I'm there. It's a huge marketplace full of fresh produce – and best of all, it feels like a place locals and tourists use.
Charming towns and villages
There are dozens of towns and villages to visit, each with its own character and traditions. The scenic Valldemossa, Deià, and Fornalutx are both particularly popular. The beautiful town of Soller and its next-door neighbor, Port de Soller, are two of my favorite places to visit in Mallorca. I have such happy memories of a journey I took on the slow, wooden train through the lemon groves of Soller towards the ocean.
Mountain ranges
Mallorca may surprise you with how mountainous it is. The Serra de Tramuntana mountain range follows the island's northwestern edge for a total of 55 miles and has ten peaks that rise over 1,000 meters above sea level. How agriculture has been managed here is so culturally important that it has been named a UNESCO World Heritage Site.
So, while you might initially come to Mallorca for the beaches, if you're anything like me, the many other attractions will keep you coming back.
Mallorca's Climate: Sun, Sand, and Seasons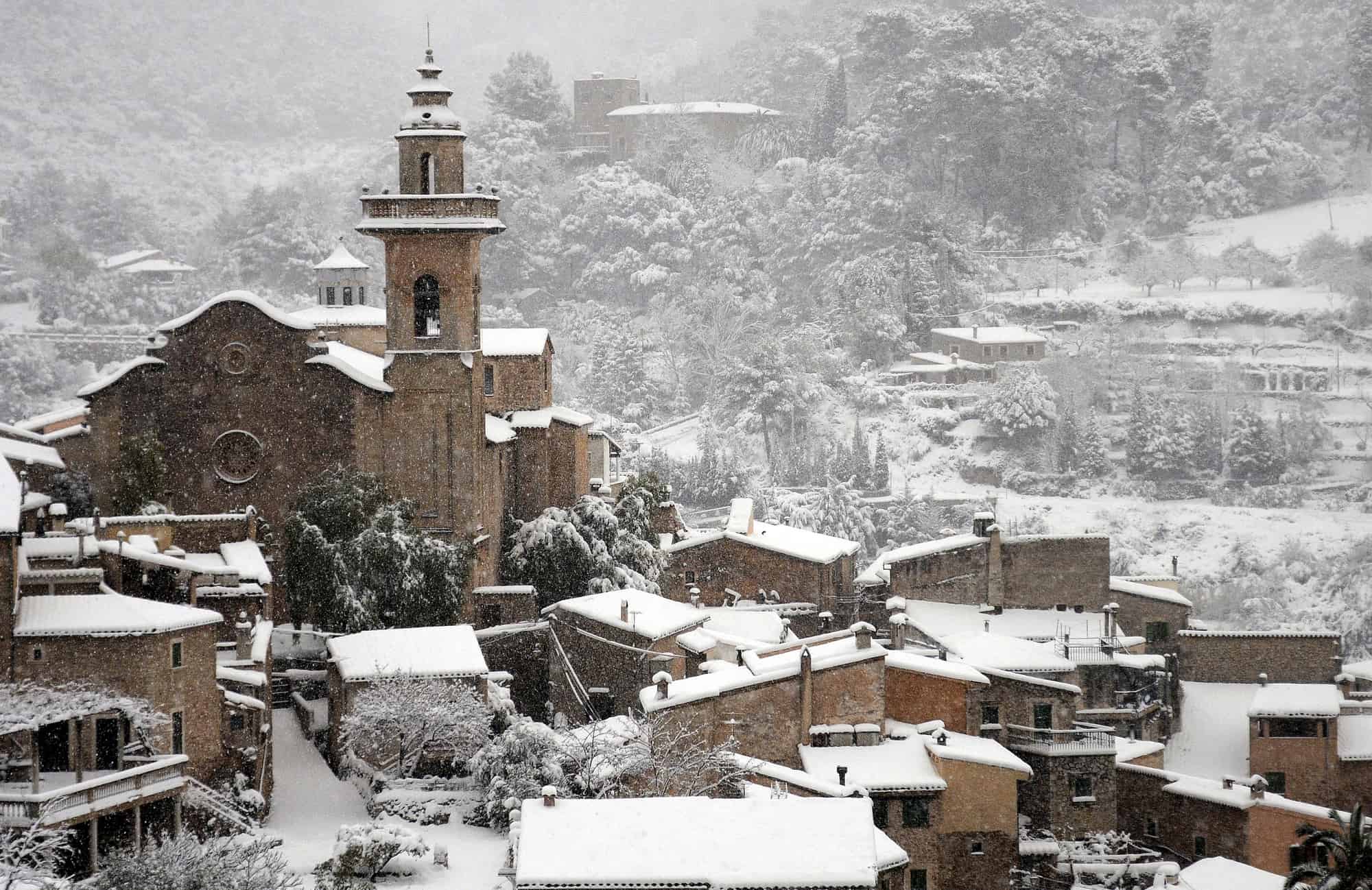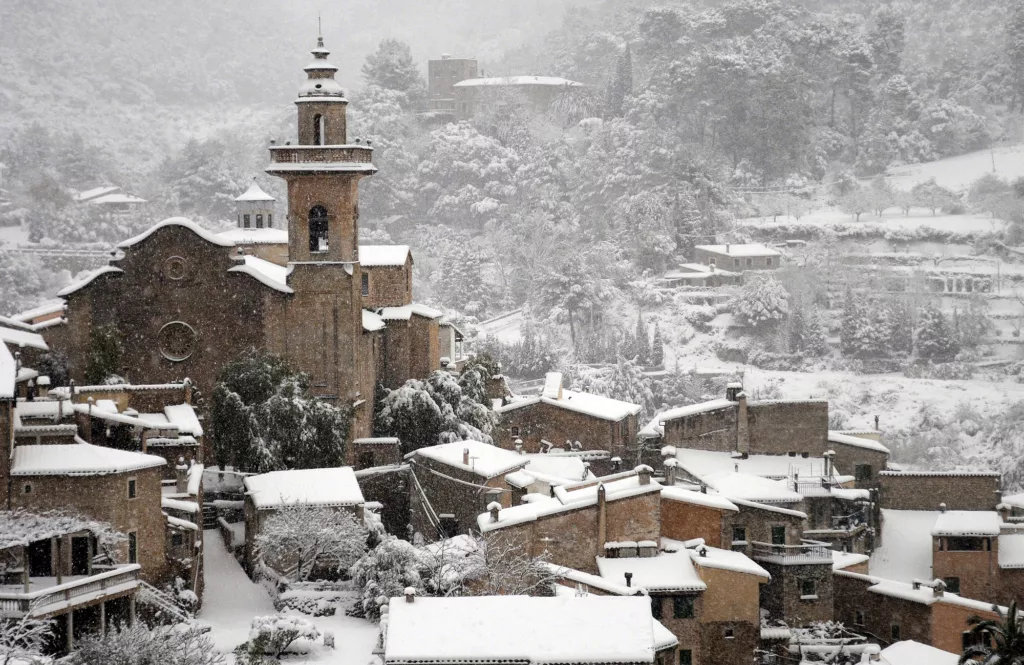 Everyone knows that summer in Mallorca is wonderfully hot and dry. But the other seasons aren't spoken about so often. Temperature and rainfall can vary depending on where you are on the island – for example, Mallorca's mountainous region is naturally cooler than the coast.
Humidity and wind speed also vary throughout the year in Mallorca. Generally speaking, from June to September, it can feel very humid in Mallorca, and if you add that to the high temperatures, you may find it uncomfortable. There are also lower average wind speeds in the summer, so fewer cooling breezes take the edge off those temperatures.
As temperatures and rainfall are the most important weather-related elements when planning a visit, let's see the monthly averages in Mallorca.
Temperatures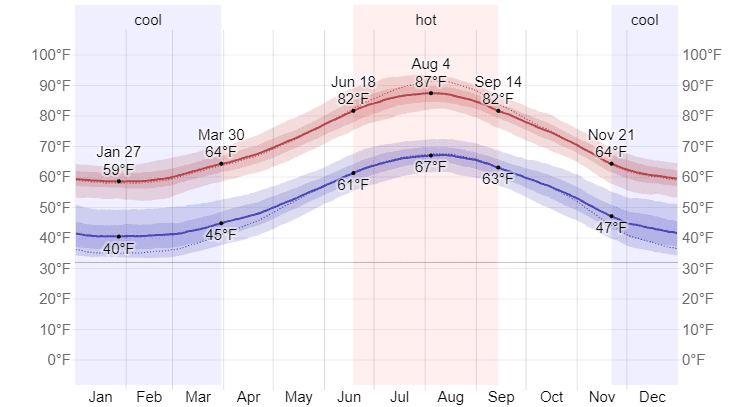 Generally speaking, all year round, the temperature will fall somewhere between 60°F (15°C) and 86°F (30°C) during the day. It will rarely, if ever, drop below freezing at night, even in January and February, which are the coldest months.
You can expect these average monthly temperatures:
| Month | Temperature in Degrees (Low/High) | Temperature in Fahrenheit (Low/High) | Weather Condition |
| --- | --- | --- | --- |
| January | 5°C / 15°C | 41°F / 59°F | Tolerable weather |
| February | 5°C / 15°C | 41°F / 59°F | Tolerable weather |
| March | 6°C / 17°C | 43°F / 63°F | Good weather |
| April | 9°C / 19°C | 48°F / 66°F | Good weather |
| May | 12°C / 23°C | 54°F / 73°F | Good weather |
| June | 16°C / 27°C | 61°F / 80°F | Perfect weather |
| July | 19°C / 30°C | 66°F / 86°F | Perfect weather |
| August | 19°C / 30°C | 66°F / 86°F | Perfect weather |
| September | 17°C / 27°C | 63°F / 80°F | Good weather |
| October | 14°C / 23°C | 57°F / 73°F | Tolerable weather |
| November | 9°C / 19°C | 48°F / 66°F | Tolerable weather |
| December | 6°C / 16°C | 43°F / 61°F | Tolerable weather |
Rainfall
Mallorca's rainiest season is autumn, with the wettest month in November, but even then, there are only usually seven wet days and a total of 55 mm of rain.
If you're visiting in the wettest part of the year (September to November), the chances of constant rain are pretty low. This is great news if you want to visit out of season, as it means your visit is likely to be pleasant, with at least some dry weather to enjoy.
The driest month in Mallorca is July, when there's only usually one day and 6 mm of rain. So it's safe to say you won't need to pack an umbrella!
Each month, you can expect the following rainy days/mm of rain:
| Month | Average Monthly Rainfall (Days) | Precipitation (mm) |
| --- | --- | --- |
| January | 5.2d | 30 mm. |
| February | 4.5d | 27 mm. |
| March | 4.5d | 23 mm. |
| April | 5.2d | 32 mm. |
| May | 4.1d | 27 mm. |
| June | 2.1d | 12 mm. |
| July | 1.3d | 6 mm. |
| August | 2.5d | 15 mm. |
| September | 5.6d | 40 mm. |
| October | 7.0d | 53 mm. |
| November | 6.9d | 55 mm. |
| December | 5.7d | 36 mm. |
Navigating the Calendar: The Prime Time to Visit Mallorca
So, now you have all the stats you need about the weather and climate, which is the best time to visit Mallorca? That depends on what you're looking for.
If enjoying the island's beaches when they're hot and sunny is most important, then summer is the best time to visit. But, if you're more interested in Mallorca's natural landscapes, spring or autumn would probably suit you better, as the temperatures will be more comfortable. Winter is cooler and less consistent when it comes to sunshine, but think about what the weather's like at home in those bleak winter months, and a few days in Mallorca might be the perfect escape.
The Seasonal Spotlight: A Deep Dive into Each Season
Mallorca is often viewed as a summer-only destination. But it has plenty to offer whatever season you visit. So, let's take an in-depth look at the island during each season. I'll give you the real positives and negatives to help you decide the best time to visit Mallorca.
Spring in Mallorca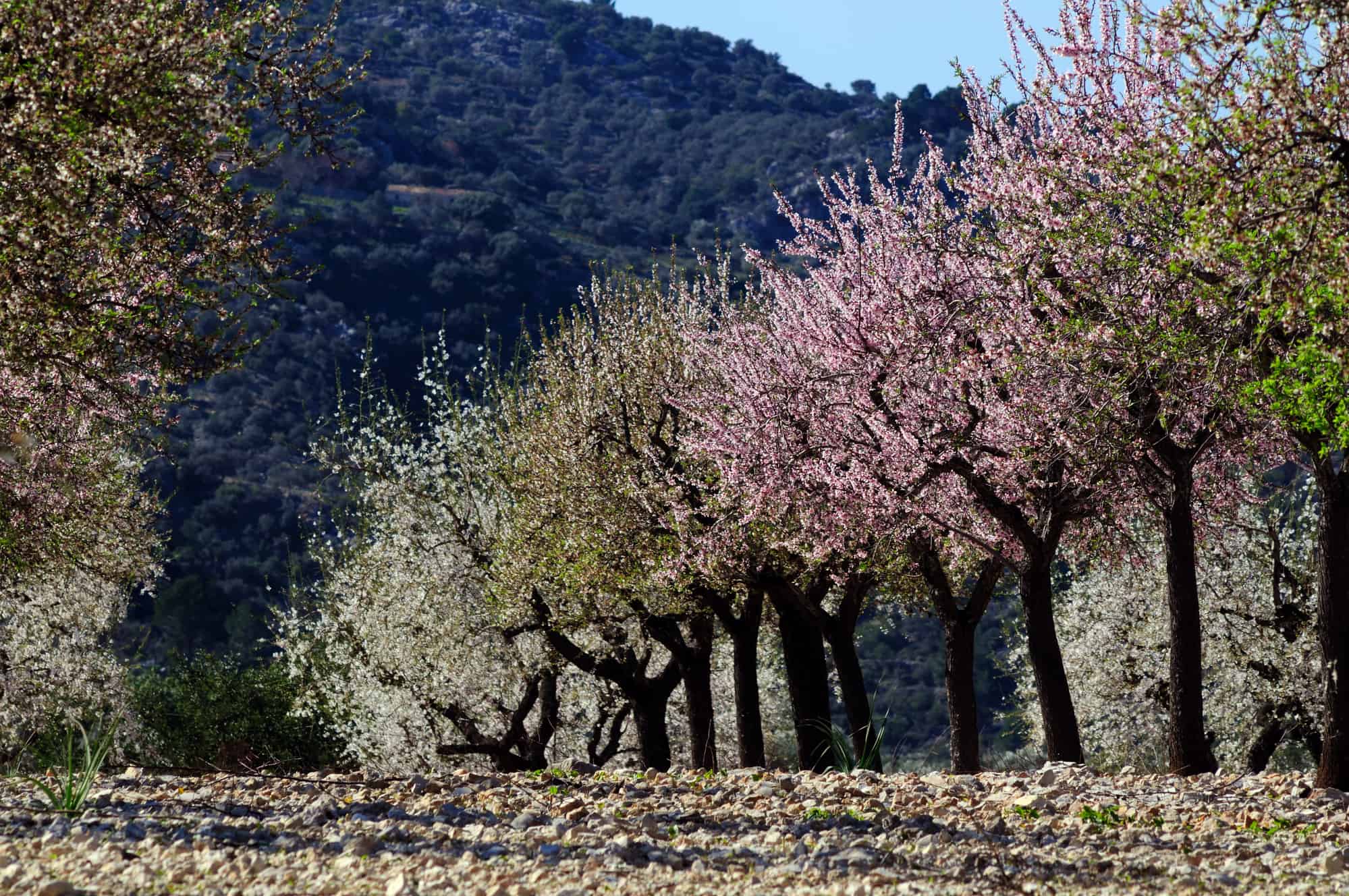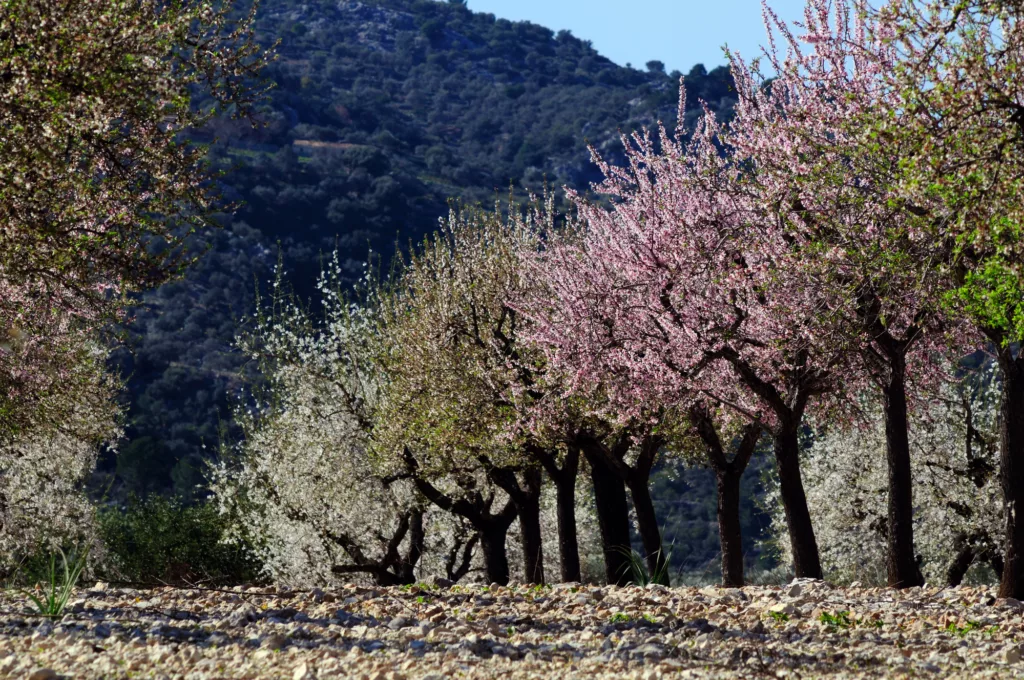 Spring is a lovely time to explore Mallorca – in fact, it's my preferred season. Temperatures are on the up, and the chance of rain is lower than in the autumn or winter.
Visiting in spring allows you to see the island's varied plants and flowers as they burst into life. You'll be able to spot colorful wildflowers in fields and woods and masses of almond trees in blossom. It makes for a beautiful sight. Spring is also a great time to enjoy Mallorca's epic sea views, as the water's at its most clear and dazzlingly turquoise.
The spring season brings Easter, and as Mallorca is a religious island, there are loads of festivities during Holy Week. Palma is the hub of activity, with processions and parties all week.
One more benefit to visiting in spring? Fewer crowds. People tend not to stay in large numbers in spring because the water isn't warm enough for swimming, and beach days can't be guaranteed. But, the more tranquil feel in springtime makes exploring all the more pleasurable.
Summer in Mallorca
Summer is the most popular time to visit Mallorca because the weather is super warm, and there's a low chance of rain. And, as it coincides with the school holidays, it's when most families visit the island. This is great if you're a family taking your kids abroad, but maybe less appealing for child-free couples or groups.
Summer is also peak season in Mallorca, so accommodation is generally busier and more expensive. The most popular beaches will be filled, as will restaurants and bars. If you're looking for a lively atmosphere, this is perfect, but it isn't the time to visit if you want a quiet break.
Autumn in Mallorca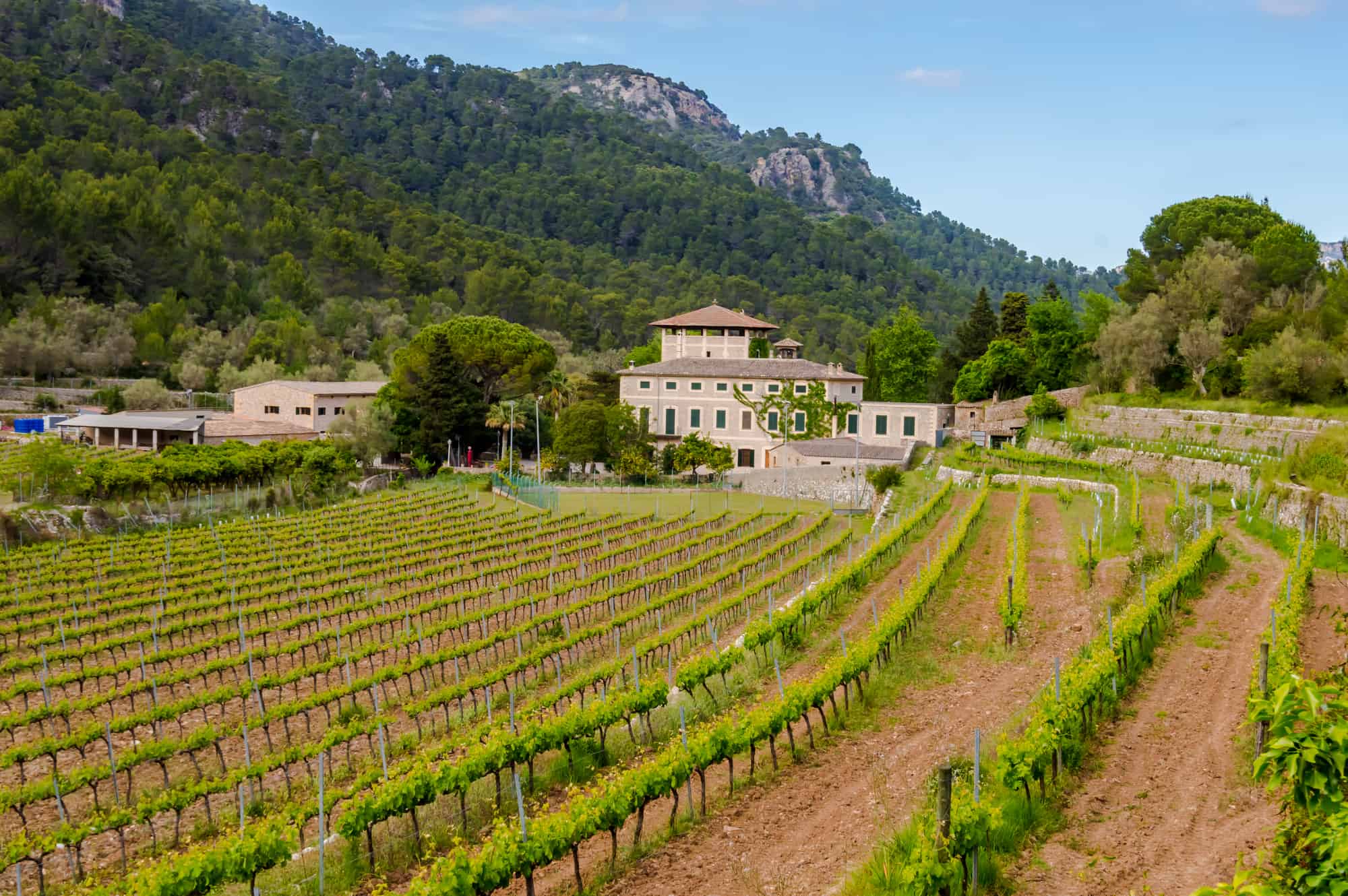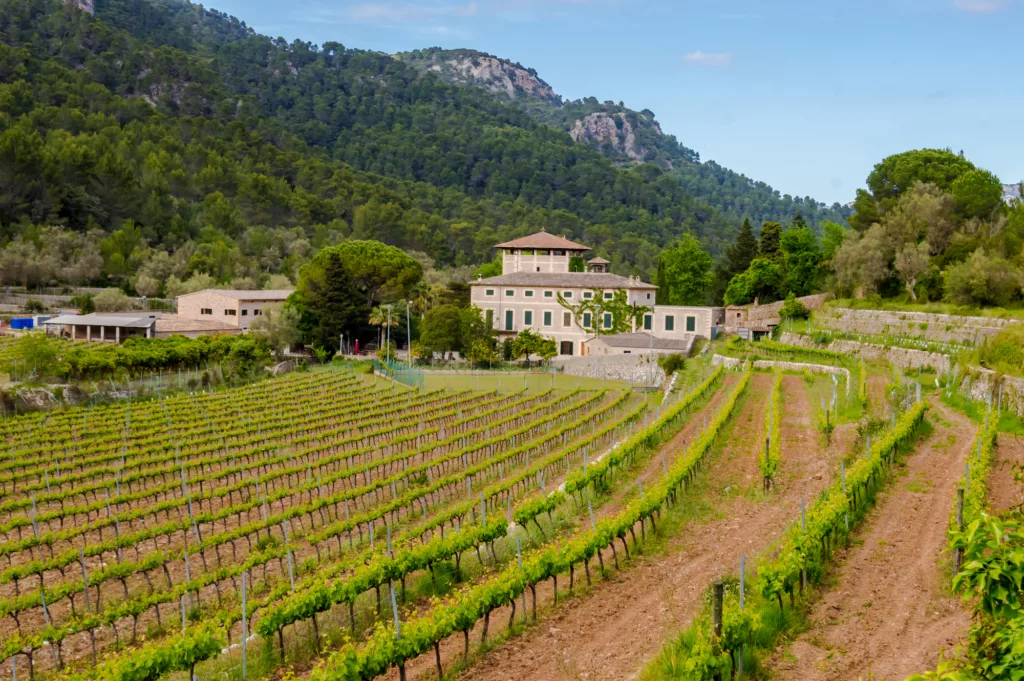 When Autumn arrives in Mallorca, the number of visitors begins to decline. The weather becomes cooler but still pleasantly warm throughout the season. And, because the sun has been warming the sea all summer, you can still swim comfortably in the water, despite the air temperature dropping off. Just be aware that lifeguards will no longer be on duty on the beaches.
One of the other major perks of visiting in autumn is that hotel prices are noticeably lower, making a cheap break an easier prospect. Also, if you're in Mallorca in September, it will coincide with the island's annual grape harvest and the 9-day Festa des Vermar wine festival in the inland town of Binissalem. The grape crushing is lots of fun – and also very messy!
Although many of the facilities in the tourist hotspots will begin to close in October, Palma is very much open for business in the autumn. This is a great time to enjoy a city break in Mallorca's cosmopolitan capital.
Winter in Mallorca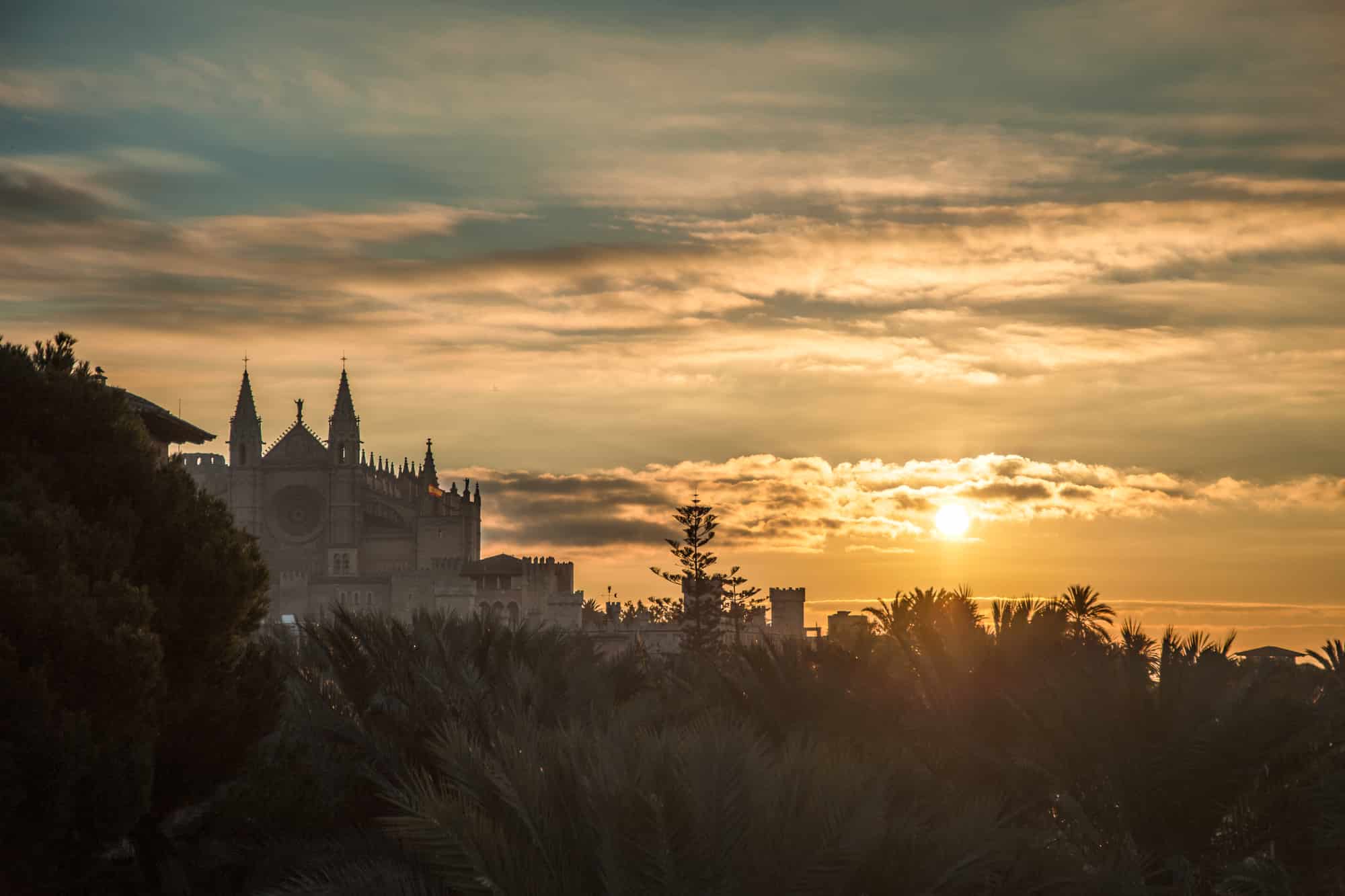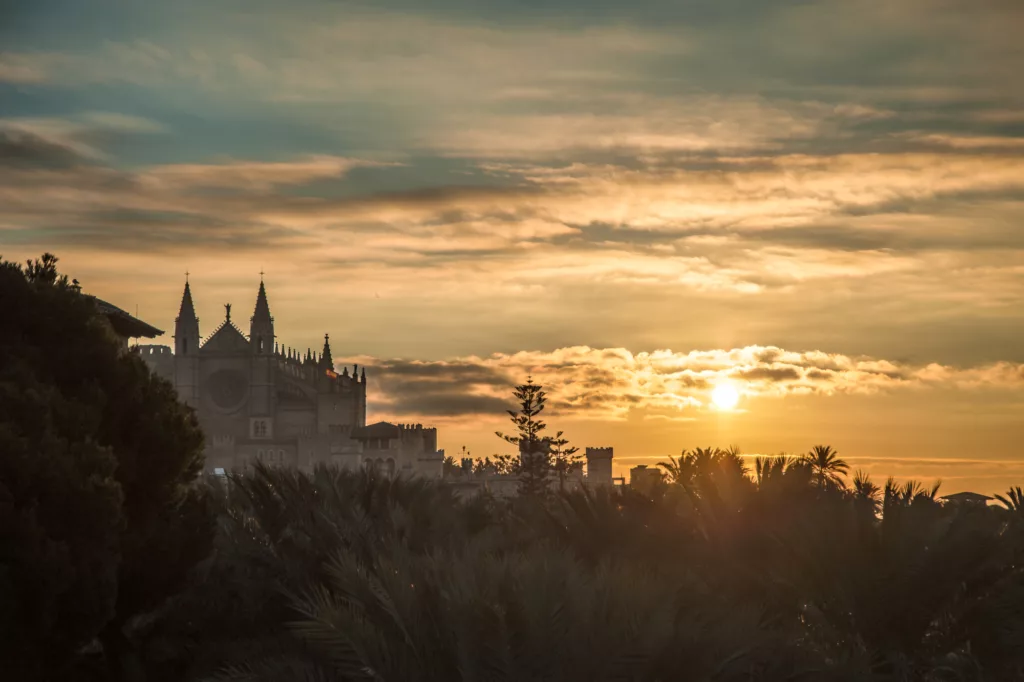 As winter rolls in, Mallorca's tourist numbers reduce further; for some, this makes it the best time to visit. Sure, you may see some rain, and it's unlikely you'll be sunbathing on the beaches, but it's still way warmer than most other places in Europe. And, if you want to hike or explore some of Mallorca's pretty towns, this can be a lovely time of year to do it.
As there are fewer tourists, your experience will likely feel more authentically 'Mallorcan', as locals go about their daily business through the cooler months. If you take the time to visit more traditional restaurants to taste typical Mallorca food, you may find you're the only non-Spanish diners.
If you're visiting Palma in winter and it happens to rain, you can dive into one of the city's fantastic museums or galleries. Consider the Es Baluard Contemporary Art Museum, one of my favorites. And if you're in the city in November, the annual TaPalma tapas festival is worth a look.
Exploring Mallorca: Beaches and Snorkeling Spots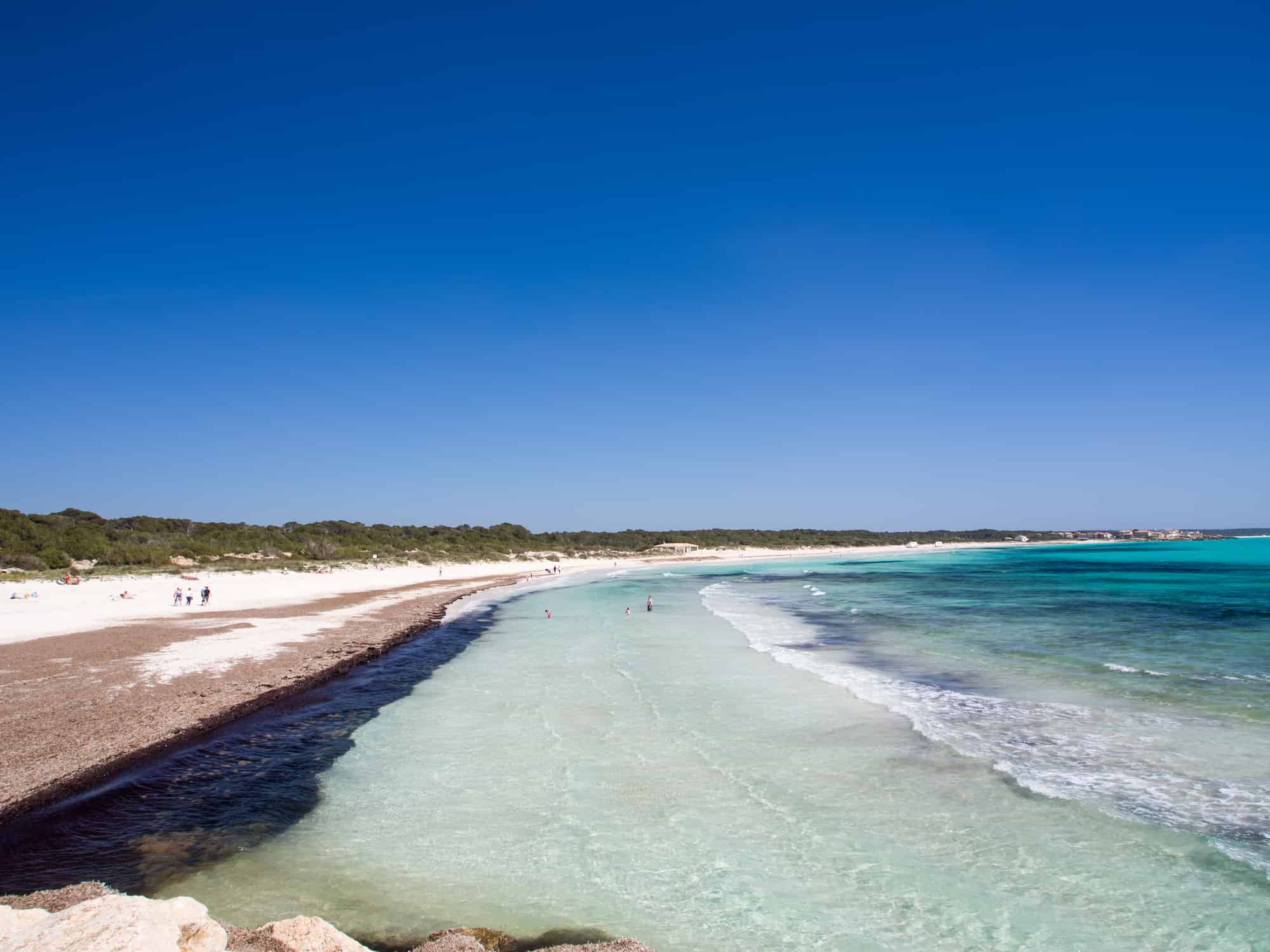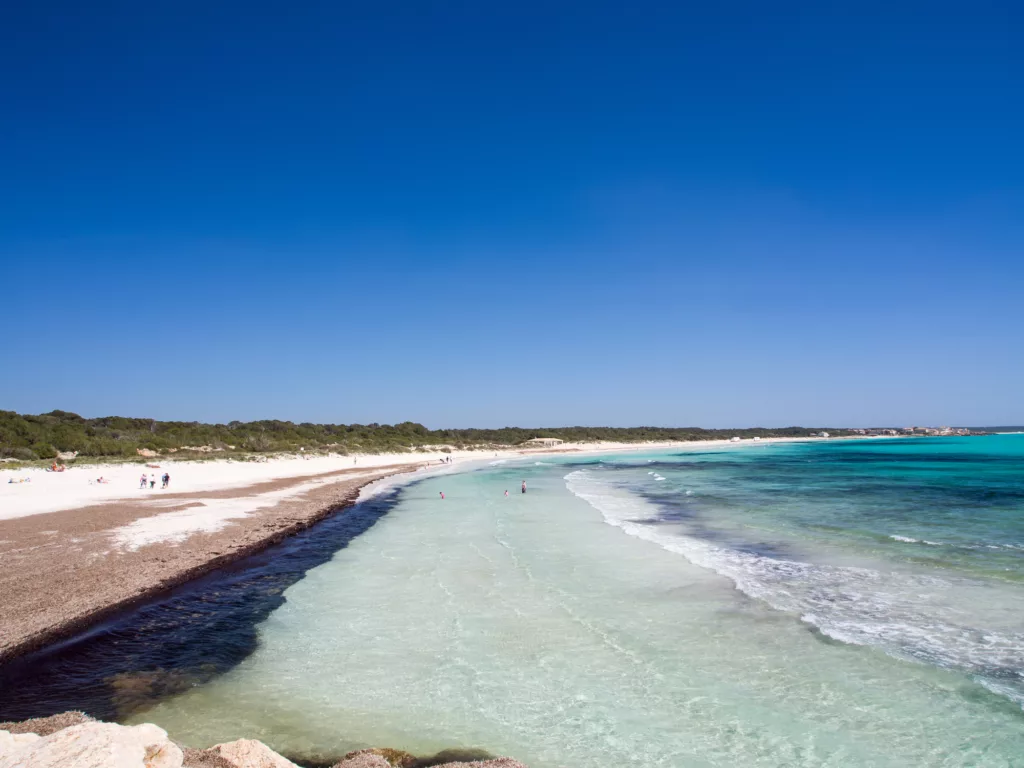 No matter how many exciting things there are to do in Mallorca, there's no escaping the fact that, for most people, the appeal will always be the beaches. There's something magical about the island's crystal clear turquoise ocean and fine, golden sand.
If you're staying in one of the northern resorts, like Puerto Pollensa or Alcudia, why not find out about the best beaches in North Mallorca? One of the show's stars is Cala Agulla, a dream beach backed by a gorgeous, heavily scented pine forest.
Visitors to Can Pastilla or S'Arenal, both found along the island's south coast, can learn more about South Mallorca's beaches, including Es Trenc, a long stretch of family-friendly beach that has managed to escape development, retaining its inherent natural charm.
If you're visiting the Eastern coastline, perhaps staying in Cala D'Or or Cala Millor, find out more about the amazing beaches on East Mallorca's coast. The beach at Platja de Muro is the longest on the island and is lovely whichever season you visit.
Mallorca has beaches ideal for snorkeling – often straight from the shore. If you want to investigate the marine life that calls the island home, visit any of Mallorca's prime snorkeling beaches, and you'll be greeted with all kinds of colorful fish, starfish, and maybe an octopus or two.
Renting a car in Mallorca is best if you want to explore more than just your little corner. My recommendation is the reputable international rental company Discover Cars. They offer reasonable pricing, impeccable service, and convenient pick-up and drop-off locations, including the airport.
It's worth noting that while Uber in Spain is a popular ridesharing option in the major cities, it's not common in places like Mallorca. So, if you're looking for flexibility in your travels, renting a car is the way to go.
Another great way to explore Mallorca is by renting a boat. Mallorca is yours to explore, so why not make the most of your hard-earned vacation by taking your own beach-themed road trip?
Economical Stay: Cheapest Places to Live in Spain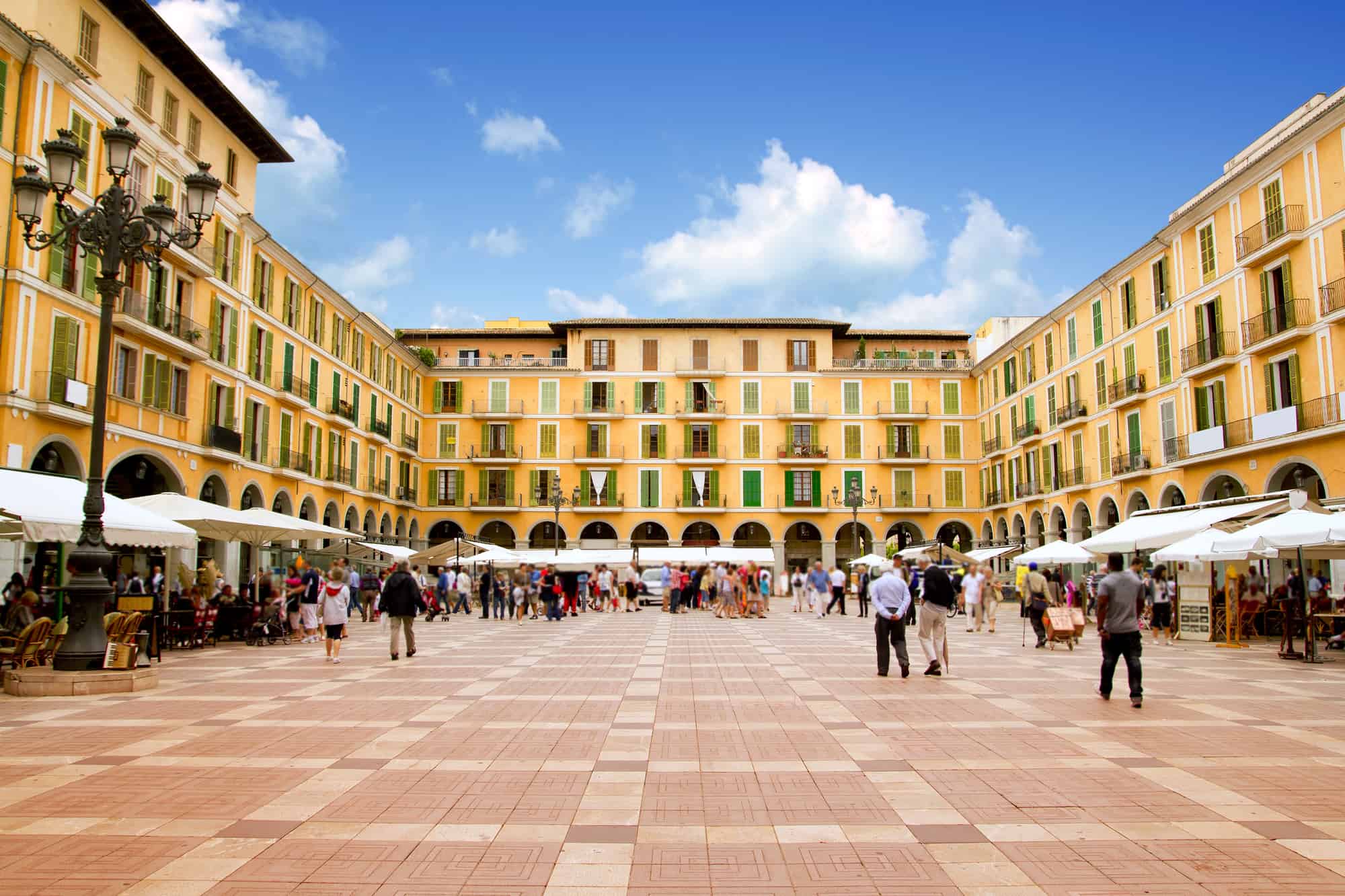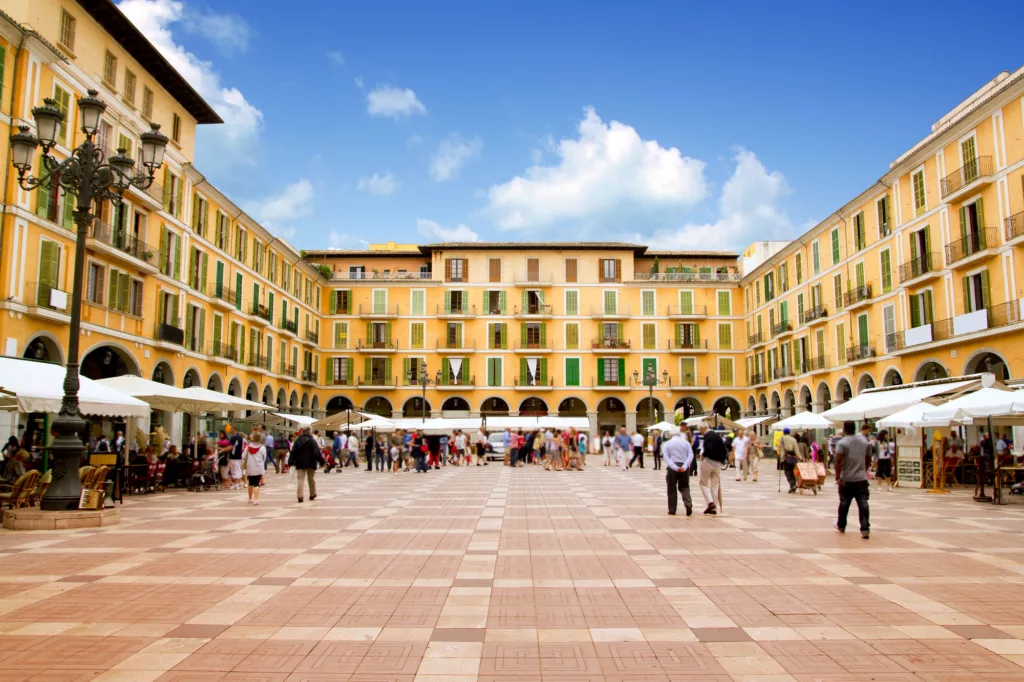 Mallorca is voted one of the best places to live in the world. And, if that's not enough, it's also considered one of the cheapest places to live in Spain. This may be surprising, as islands are often more expensive than their mainland counterparts. But no, it's official, Mallorca is affordable – especially compared to major cities like Barcelona and Madrid.
Wondering about the best places to stay in Mallorca for your vacation? Our simple guide suggests top towns and lodgings for an unforgettable island journey.
In Mallorca's capital, Palma, a one-bed rental would cost you a reasonable €750 EUR per month, and for a two-bed apartment, the going rate is upwards of €900 EUR per month. With Mallorca's incredibly mild climate, intriguing towns and villages, and gorgeous beaches, many people consider staying in Mallorca for the longer term. It's a great spot for digital nomads and expats, with thriving communities across the island.
Final Thoughts: Choosing Your Ideal Time to Visit Mallorca
So, now you know more about Mallorca's weather and climate, is there a time of year that particularly appeals to you? Perhaps, like me, you'll plan your next visit to coincide with the springtime flowers and Easter festivities. Or, just as summer is ending across Europe, maybe you'll come to Mallorca to enjoy September's sunshine and one last swim in the ocean.
Summer will, of course, always be popular, and if the beaches are what draw you to the island, that's going to be the best time to visit Mallorca for guaranteed beach time. But also, don't forget the crowd-free and lower-cost winter season. When you time it right, you can see beautiful Palma adorned with twinkling Christmas lights.