The popularity of Mallorca and Ibiza can't be denied, with millions of people holidaying there each year. But how do you choose which one to visit? In the battle of Ibiza vs Mallorca, what's important to you? Perhaps it's the cultural attractions or natural landscape, the nightlife, or accommodation choices – it all depends on your priorities.
In this article, I'll use my personal experience of having visited both Ibiza and Mallorca numerous times to compare the two, helping you decide which appealing island to add to your 'must-see' list.
Quick Look at Ibiza and Mallorca
To get this Ibiza vs Mallorca comparison started, let's take a general look at each place.
Ibiza overview
Ibiza is the most westerly of the Balearic Islands, sitting closest to mainland Spain. Here are some handy facts to get you acquainted:
Ibiza covers an area of 221 square miles – around 10 times bigger than New York's Manhattan Island.
Its main resorts include Ibiza Town, San Antonio, and Playa d'en Bossa.
Ibiza has a world-famous reputation for its superclubs.
Parts of Dalt Vila – the oldest section of Ibiza Town – date back as far as 650 BC.
Mallorca overview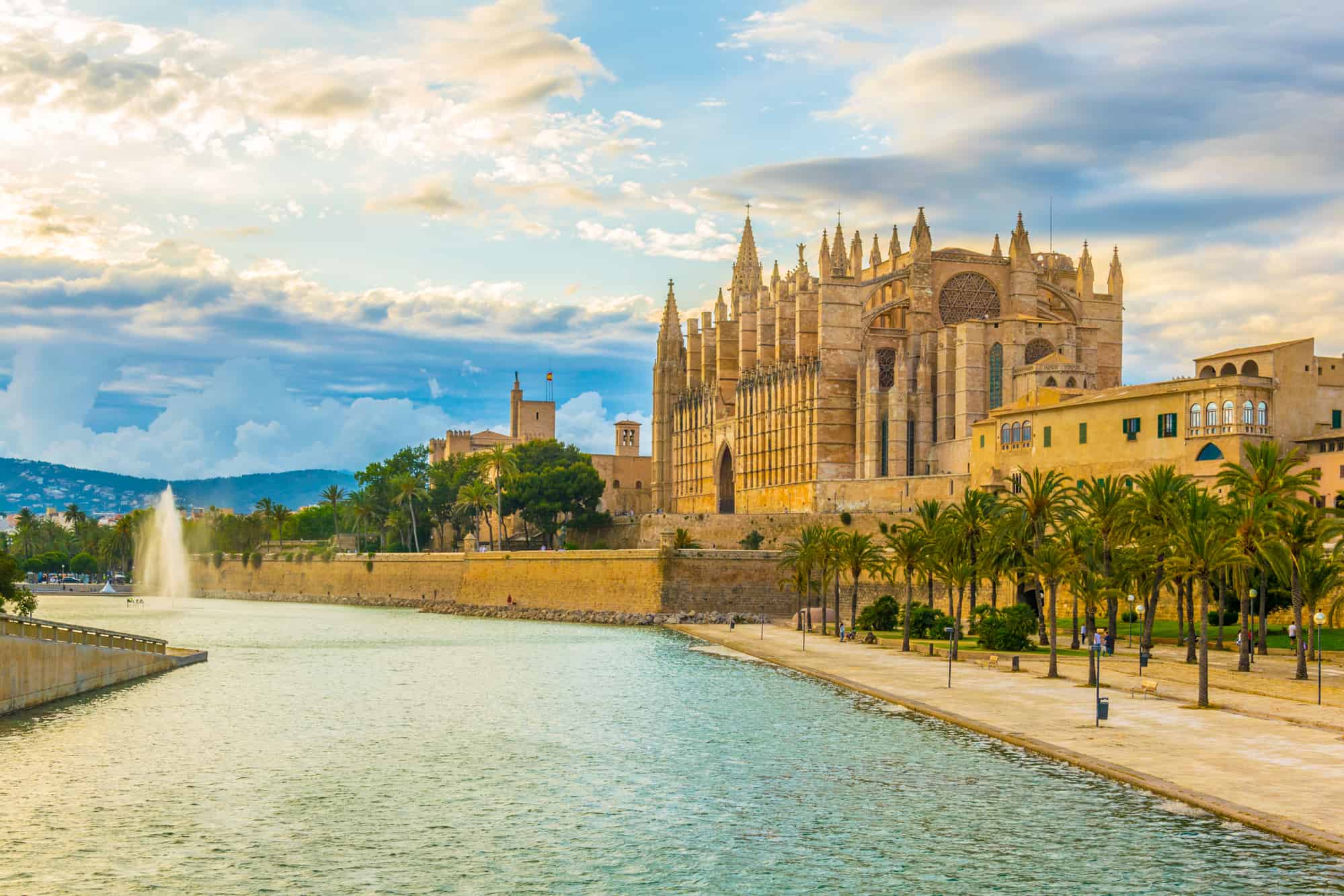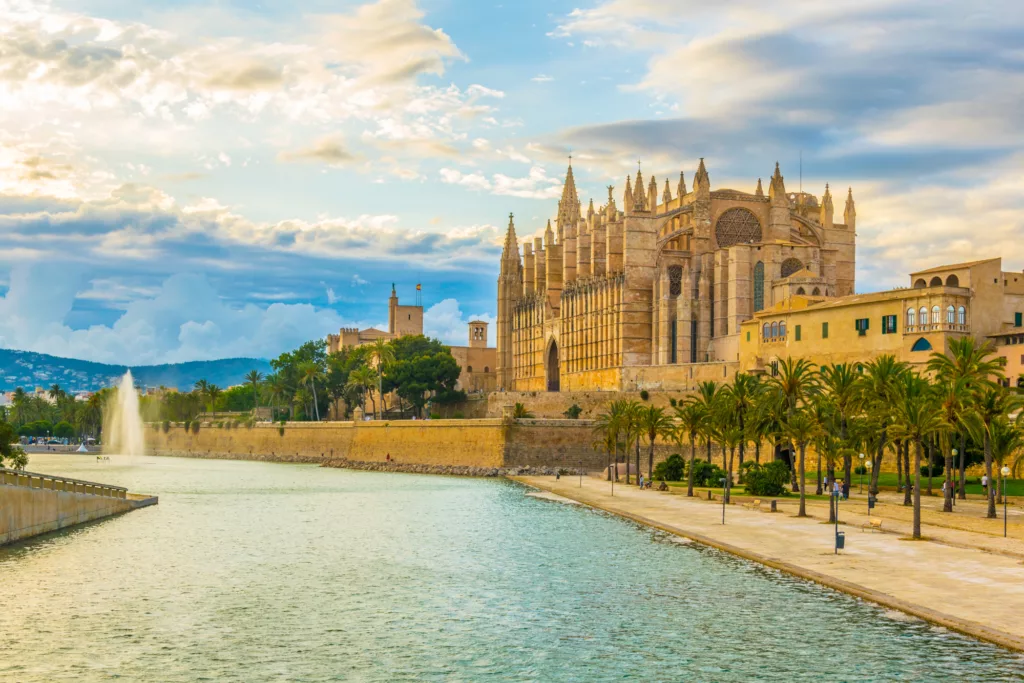 Mallorca is the largest Balearic island, around 125 miles off mainland Spain. Here are some facts about the popular holiday destination:
Mallorca covers 1,405 square miles making it almost 6.5 times as big as Ibiza.
There are many island resorts, but among the most famous are Magaluf, Puerto de Pollensa, and Alcudia.
There are over 260 beaches in Mallorca.
The 55-mile-long Serra de Tramuntana mountain range is a UNESCO World Heritage Site.
Best Season to Visit Ibiza and Mallorca
Mallorca and Ibiza are located in the Mediterranean Sea, around 80 miles apart. Their climates are very similar, each seeing months of sunshine and deliciously warm summers. Both also have mild winters, making them ideal for a winter break.
Given the consistent summer weather, it makes sense that both Ibiza and Mallorca are popular in July and August. This is when the island beaches are most tempting and when tourist facilities are filled with visitors worldwide.
Ibiza's nightclubs are packed with revelers, enjoying world-class DJs through the long, balmy evenings. And Mallorca's family-friendly resorts see kids splashing happily in the pools and enjoying the calm waters of the beaches.
But both islands are equally appealing out of peak season. Ibiza's superclubs close from October to April, and visitor numbers in Mallorca drop outside of the summer season, which means prices also fall dramatically.
I can vouch that both islands have natural beauty in spades. And if you choose to visit in spring or autumn, temperatures will be perfect for exploring the stunning mountains of Mallorca and the numerous hiking trails that crisscross Ibiza.
Although winter is cooler in Ibiza and Mallorca, it's significantly warmer than in many other northern European or American destinations. I always love to take a few days away in January or February, enjoying a relaxed coffee in the late winter sun, overlooking a square in Palma or historic Ibiza Town.
Best of all, I'll often wear a T-shirt, which is infinitely more pleasant than being bundled up in a huge winter coat!
What to Do: Ibiza vs Mallorca
Ibiza and Mallorca have very different reputations. When you hear 'Ibiza', you may immediately think of nightclubs, hippy vibes, and long evenings spent sipping cocktails at trendy beach clubs.
Mallorca may conjure images of golden, sandy beaches, and cosmopolitan city breaks in Palma, or tourist resorts perfectly suited to families with kids.
And while these stereotypes are accurate to a point, both islands have so much more to offer. Water activities and boating are popular on the islands — in fact, if you're interested in boating, check out my article on renting a boat in Mallorca. Both are great for hiking and cycling holidays. Plus, Ibiza and Mallorca each have loads of sightseeing to enjoy.
A tour could be ideal if you want to see the main attractions with the least effort. I've taken walking tours in the island's capitals and enjoyed their beautiful architecture and fascinating histories.
Here, I'll share a few of my favorite tours on each island.
What to Do in Ibiza
Ibiza comes alive at night, whether you're at a packed beach club awaiting a spectacular sunset, or heading to Ibiza Town's classy nightlife. During the long summer days, activities focus on relaxation – enjoying your hotel's pool, admiring the beaches on a scenic boat trip, or feasting on a restorative brunch.
Here are three of Ibiza's premier tours that will each give you a taste of this magical island:
➡️ Oceanbeat Ibiza boat party
Hop aboard Ibiza's largest party boat for a half-day all-inclusive adventure. Take Ibiza from the water while enjoying open bars and a huge dance floor on the top deck.
➡️ Ibiza Quad ATV Tour
Departing from Sant Josep da sa Talaia, this high-octane ATV excursion will take you on a whirlwind tour of Ibiza's best sights, including pretty villages, jagged cliffs, and hideaway beaches.
➡️ Yoga & Brunch by the Sea in Ibiza
Join this revitalizing yoga session for the best possible start to your day. Bend and flex to the sound of the ocean waves, then finish with a healthy breakfast to nourish your mind and body.
What to Do in Mallorca
Mallorca is a destination for all people. Not only heaven for beach lovers, but Mallorca also boasts amazing scenery in the Serra de Tramuntana mountain range, which is one of the best opportunities to enjoy cycling in Mallorca and long-distance hiking.
Palma, the capital city, is full of things to do, such as visiting museums and art galleries. The city also offers the best cuisine in the Balearic.
➡️ Barca Samba: The best boat experience in Mallorca
On this 4-hour boating experience, you can take in Mallorca's stunning coastline vistas while enjoying drinks, a buffet lunch, and a DJ and live guitar music.
➡️ Spanish Cooking Experience in Mallorca
This immersive cooking experience is ideal for gourmets in training. Learn how to prepare and cook five classic Spanish dishes, before popping the cork on a Spanish vino as you taste your creations.
➡️ Mallorca Hot Air Balloon Ride
Enjoy the beauty of Mallorca from a different vantage point, as your hot air balloon gently floats through the air above northeast Mallorca's coastline, then celebrate your serene journey with a refreshing glass of champagne on landing.
Finding a Place to Stay in Ibiza and Mallorca
When considering Ibiza vs Mallorca, where you'll stay is an important factor. You'll be pleased to hear that both Mallorca and Ibiza offer a range of accommodations, from the super-budget to the ultra-luxury. Here are some of the best options on each island.
Where to Stay in Ibiza
Although Ibiza is famous for its nightlife, there are towns and resorts to suit everyone, whether you want to party all night or enjoy a chilled vacation.
Some coastal towns, like San Antonio and Playa d'en Bossa, offer budget options, including simple hotels or hostels with dormitory beds. Ibiza Town's prices are higher, but this is to be expected, with easy access to the island's best restaurants and bars.
In my opinion, these are three of Ibiza's best accommodations.
Where to Stay in Mallorca
Whether you want a budget beach break or to explore inland, Mallorca's varied accommodations will meet your needs.
Deia is known as an artist's town, a pretty place high in the Serra de Tramuntana mountains that offers a true taste of Mallorca.
Alcudia is a popular resort on the north coast where cheap and cheerful hotels are plentiful, and families arrive in their thousands each summer.

Find out more about where to stay in Mallorca or some of my favorite options below.
Beach Life in Ibiza and Mallorca
Ibiza and Mallorca have amazing beaches, from hidden coves to family-friendly options promising calm and shallow water. Ibiza has around 80 beaches to choose from, and its bigger neighbor, Mallorca, has over 260.
Beaches in Ibiza
Life is centered around the beaches in Ibiza. Many are lined with beach clubs and restaurants, constantly buzzing and energized.
Famous beach clubs like the Cotton Beach Club and The Beach by Ushuaia are ideal places to hang out with a cocktail while you wait for those famous Ibizan sunsets.
The most popular beaches in Ibiza include:
Cala Gracioneta
Located only a few minutes from San Antonio, Cala Gracioneta is a tiny cove with a relaxed feel where you can swim, catch the multi-hued sunset, or enjoy a seafood dinner at the beach's own restaurant, El Chiringuito.
Las Salinas
Las Salinas is considered Ibiza's best beach and is especially loved by the party crowd. Spend the day sunbathing and recovering from last night's excesses before revving up for another night of partying at one of the best beach clubs.
Cala Llonga
One of Ibiza's best beaches for families, Cala Llonga offers a wide sandy stretch and shallow, calm water. There are bars and restaurants within easy reach, and many facilities for kids, including a playground and mini amusement park.
Beaches in Mallorca
Beaches in Mallorca are endlessly inviting, from rocky coves that can only be reached by boat, to kilometer-long sandy bays lined with every facility under the sun.
North Mallorca boasts the spectacular Formentor Peninula, a wildly rugged part of the island, and beaches on the north Mallorcan coast are super popular.
South Mallorca's city beaches in Palma make a combined beach-and-city break a reality. In contrast, other beaches on the south coast of Mallorca tend towards the remote, showcasing a whole other side to Mallorca.
East Mallorca's beaches are varied and attractive, and offer some of the island's best snorkeling opportunities.
Here are some of Mallorca's best beaches:
Es Trenc
Es Trenc has escaped development, which makes the 2 km beach an enticing prospect for a relaxed beach day. The shallow water is great for kids, so this beach is packed with families in high season.
Cala Millor
Backed by a resort town filled with restaurants, bars, and shops, Cala Millor is super popular in summer. Pull up a sun lounger and unwind, or take a glass-bottom boat trip to see this pretty beach from the water.
Cala Mesquida
The gorgeous Cala Mesquida is found on Mallorca's northeast coast and is backed by a scented pine forest. As well as swimming and sunbathing, you can take in beach views from the well-rated Restaurant Mirablau, or enjoy a walk on the beach's dunes.
Life in Ibiza and Mallorca
Ibiza and Mallorca are wonderful places to live. Residents of both islands are extremely friendly, and love it when you take the time to learn a few words of Spanish. Both places are ideal if you want to relax, as the pace of life is slower than on the mainland, even in Palma and Ibiza Town, the islands' busy hubs.
Ibiza has something mystical about it, with tales suggesting the famous Es Vedra rock has one of the strongest magnetic fields on Earth. Events sprinkled throughout the year will give you a flavor of the island, including Kings Day in January, which is particularly popular in San Antonio, and the €2 Pintxos trail, which takes place each March.
Mallorca is consistently rated as one of the best places in the world to live. This could be for its mild year-round weather, low levels of crime, and value for money. It could also be helped by its many festivals, including St Sebastian Day (Mallorca's patron saint) in January or the Sa Rua Carnival that takes place before Lent each year.
Eating Out in Ibiza and Mallorca
Spanish cuisine has an international reputation, but the Balearic Islands rarely get to share the limelight, which I think is unfair. Mallorca, in particular, offers visitors high-quality culinary experiences and dishes found only on the island.
Food in Ibiza
Dinner in Ibiza tends to happen pretty late in the day, usually between 8 pm and 10 pm. This may seem unusual to visitors but is completely normal to locals – and it makes sense when you consider nights out run well into the early hours.
Some of Ibiza's best restaurants include:
La Gaia by Oscar Molina: Ibiza Town's premier Michelin-starred restaurant.
Ajo Blanco Vermuteria Ibiza: A Playa d'en Bossa hotspot serving traditional tapas dishes.
Marytierra: Santa Eulalia's marina hosts this highly-rated seafood restaurant.
Food in Mallorca
Mallorca is home to many unique dishes, including one of my favorites – Coca Mallorquina – a flatbread smothered in all kinds of toppings ideal for a midday snack. Mallorca's food scene is well-developed, with Palma, Mallorca's capital city, home to over twenty Michelin-starred or recommended restaurants.
Here are some of Mallorca's best restaurants:
Quadrat: A Michelin-starred fine dining restaurant in Palma.
S'Hortet: This Deia garden restaurant specializes in healthy dishes.
La Placeta: A Pollensa eatery serving up traditional Spanish and Mallorcan dishes.
Learning about Ibiza and Mallorca's Past
If you have a chance, the histories of Mallorca and Ibiza are well worth exploring when you visit.
Ibiza's history
Ibiza dates back as far as 650 BC and has been invaded many times, ruled by Phoenicians, Romans, Byzantines, and Moors during its long history.
Fast forward over a thousand years to the tourist trade, which first arrived in the 1930s. The migration of writers and artists soon followed, escaping the rise of fascism on the mainland, which helped to create the island's artistic reputation. Some of the oldest buildings remain today, including the Necropolis del Puig and the Temple of Tanit.
Mallorca's history
Like other Balearic Islands, Mallorca was inhabited and ruled by numerous groups, with Romans and Moors having the most long-lasting influences on the island's culture, food, and architecture. Important Roman ruins still exist near Alcudia, including the city of Pollentia, which can be visited today.
Overdevelopment took hold as the island became a popular tourist destination in the 1960s and 1970s. Still, once the Balearic Self-Government Statute was established, Mallorca began protecting its identity and its most precious asset – the coastline.
Ibiza vs Mallorca: For the Family
At face value, Mallorca is the most family-friendly island, with entire resorts dedicated to meeting the needs of multi-generational visitors. However, look beyond Ibiza's party reputation; you'll find a destination keen to welcome families to its shores.
Both islands have beaches well-suited to kids, with shallow, warm waters and little waves. Many also offer lifeguards, showers, public toilets, and cafes for little ones. However, some beaches in Ibiza are aimed at people wanting to enjoy the extensive nightlife, so they may not be as suitable for families, especially after the sun sets.
Mallorca offers many child-friendly activities, including waterparks like Aqualand, Western Water Park, and Palma Aquarium.
Ibiza has fewer family-specific attractions, but kids can enjoy the island's tourist trains, boat trips, and – if they're brave enough – the Acrobosc zip-line and climbing center located between Santa Eulalia and Es Cana.
Both islands offer family-friendly hotels, although if you're pitting Ibiza vs Mallorca, the winner would be Mallorca for the sheer number of family-focused resorts.
Alcudia, Puerto de Pollensa and Palma Nova on Mallorca are all super family-friendly. The best places for a family holiday in Ibiza are Santa Eulalia, Portinatx, and Es Canar.
How Much It Costs: Ibiza vs Mallorca
Ibiza will never win a 'cheapest destination' competition – it's actually one of the most expensive parts of Spain. So when it comes to best value, Mallorca is the winner, as accommodation, restaurants, and activities are all generally cheaper.
Consider that nightlife and alcohol will also increase your outgoings, especially in Ibiza, where entry fees for the most popular nightclubs can set you back €60, and drinks can cost more than €20 each.
If you're looking for estimated costs to visit Ibiza vs Mallorca, here's a breakdown:
If you want the flexibility to explore Ibiza or Mallorca without using unreliable public transport, or paying over the odds for taxis, you could consider renting a car. I always do this when I visit either island – with it, you can save a significant amount of cash.
Hidden Spots in Ibiza and Mallorca
Mallorca and Ibiza have dozens of well-known attractions that tourists will visit during their stay. But, if you want to find the hidden gems, keep reading.
Ibiza's Secret Spots
Secret beaches, tiny villages, and even deserted islands await you in Ibiza:
Aguas Blancas Beach
The remote beach of Aguas Blancas is only accessible by car, which means it's rarely crowded. With trademark white sand and turquoise sea, this is the place for a day of utter relaxation.
Isla de Espalmador
The uninhabited island of Espalmador is located off the southern coast of Ibiza. Its virgin coastline sits within the confines of the Ses Salines Natural Park, and it's only accessible by boat.
San Mateu d'Albarca
In the north of Ibiza, you'll find the tiny village of San Mateu d'Albarca. It is a cute place to stroll around, and you can also access local vineyards, scoring a wine tasting or two along the way.
Mallorca's Secret Spots
There are natural wonders, impressive engineering feats, and pretty mountain towns to discover in Mallorca:
Torrent de Pareis Gorge
If you're up for a challenging Mallorcan hike, the Torrent de Pareis Gorge is a lesser-known spot near Sa Calobra that is well worth your time. Allow 7 to 10 hours to complete the full route.
Soller to Port de Soller train ride
Hop aboard a wooden train and enjoy the hour-long trip through fragrant citrus groves between the historic town of Soller and the nearby coastal gem Port de Soller.
Deia
A visit to the artistic town of Deia, located in the Serra de Tramuntana mountain range, will give you an unforgettable taste of Mallorca as it used to be.
Nightlife: Ibiza vs Mallorca
Ibiza and Mallorca offer plenty in the way of nightlife, but if we compare Ibiza vs Mallorca, it would have to be a win for Ibiza.
Ibiza nightlife
Ibiza has a legendary reputation for nightlife and is home to exclusive – and intense – nights out. As well as offering endless beach clubs, where you can enjoy a colorful sunset along with your pre-drinks, Ibiza is also famously home to the world's best nightclubs, including:
Pacha
Since 1973, the world-famous Pacha has invited clubbers to enjoy its 3,000-capacity venue spread across 5 rooms.
Esparadis
With a botanical garden and water features, the multi-room, multi-genre San Antonio club is a place you won't forget.
Privilege Ibiza
Privilege is the epitome of a superclub: its 10,000-person capacity makes it one of the largest clubs in the world.
Mallorca nightlife
Mallorca has nightlife and beach clubs to entertain partiers, traditional evening shows, and a trendy bar scene in Palma. Mallorca also has beach parties galore, at places like Nikki Beach and Cotton Club Mallorca. Some of the best nightlife options include:
BCM Mallorca
This Magaluf staple has an impressive 7,000-person capacity and has hosted some of the world's best DJs during its 35-year run.
La Lonja district, Palma
Home to multiple bars, restaurants, and clubs, La Lonja is Palma's premier nightlife district. Check out The Jazz Lounge, or Jazz Voyeur Club for the ultimate live experiences.
Purobeach Club
Located in Palma, Purobeach Club is open all day, but renowned DJs raise the volume with pumping sets by night, and there's also live music to enjoy.
Ibiza vs Mallorca: The Verdict
As I've pitted Ibiza vs Mallorca, I hope you better understand which island will suit you best.
Perhaps you've been seduced by Ibiza's party lifestyle, hippy past, and laid-back beach culture. Or maybe Mallorca's stunning mountain towns, amazing beaches, and welcoming family atmosphere have you charmed.
I know that both islands are equally enticing to me, so I'll continue to visit both Balearic destinations year after year.
Just letting you know
When you buy something through my links, I'll earn a small commission—don't worry, it won't cost you any extra! It's a win-win, right?
Exclusive Heymondo Travel Insurance Offer
Planning a trip? Make sure you're covered! We've teamed up with Heymondo to give our readers a special deal: 5% off travel insurance. Grab this deal and know you're looked after on your next trip.